Many of our readers ask questions about the product marketing mix and service marketing mix. In fact, I recently had some people preparing a service marketing mix for a product. That's a folly.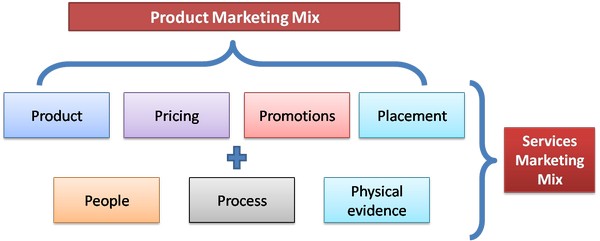 Product marketing mix is concerned mainly with 4 p's
Product
Price
Place
Promotions
Nowadays, a 5th P which is commonly included in products also is PEOPLE.
Service marketing mix has the same 4 P's as above, but it has 3 extra P's which have to be included in the service marketing mix.
Product
Price
Place
Promotions
People
Physical evidence
Process
Understanding the difference between products and services.
To understand the difference between product marketing mix and service marketing mix, we need to first understand the different between products.
There are different types of products. A product is basically a stand alone thing, which when sold to a customer, passes the ownership to the customer. A service is unlike a product, where the ownership remains with the company itself.
To understand more about the difference in products and services, read this article on characteristics of services. The article will outline the differences of services from products. We are going forward assuming that you know more about products vs services from the article characteristics of services.
Also note – price, place, products and promotions can be quite same for products as well as services. So we will differentiate on the basis of the 3 main P's where people get confused.
Let us look into the 3 main P's which differentiate product marketing mix from service marketing mix.
1) People 
In the case of products, when you have a product like Adidas, then you will always plot 4 P's for it – product, price, place and promotions. You can have a 5th P of people which can include your employee base your distribution channel and other channel networks. In the case of services, the people part is very important.
Services are generally made by people themselves. For example – Samsung is a product, but the customer care of Samsung is a service. If you have the right people in customer service, the brand will benefit, but wrong people over there can destroy the brand.
Similarly, modern retail, e-commerce, travels and tourism are all services (and not products). Therefore in service marketing mix, people play a major role. In travels and tourism, your guide plays a major role. In modern retail, the floor manager and executive plays a major role in your decision-making. In E-commerce, the customer service after purchase of product plays a major role (though E-commerce is trying to simply outdo manual services).
2) Physical evidence
One of the main differences between product marketing mix and service marketing mix is physical evidence. Physical evidence is the ambiance and the looks which you give to a service to make the customer "feel better" or "feel positive" for the service.
It refers to how a Samsung service center looks when the customer enters. It refers to the colors and user experience which an E-commerce portal provides. It refers to the lighting and ambiance and plush seats in a premium restaurant vs a cheap restaurant.
There is nothing in products which can be categorised as physical evidence. We can use packaging, but packaging itself becomes a form of promotions and hence it is a completely different P altogether. Physical evidence is used to describe the marketing mix of services only.
3) Process
Just like physical evidence and packaging, process too can be accommodated for services by outlining the way a product moves from factory to end point. But it is practically the same for each and every product. And hence product too is not a common distinguishing point for a difference between product marketing mix and service marketing mix.
On the other hand, look at the process of 3 different fast food chains – McDonald's,Subway, Pizza hut. All of them provide fast food, but the process of provision is very different. If we were to draw a service blue print, we will find that making a Subway sandwich is much simpler, then serving customers in McDonald's. Comparatively, serving a pizza and delivering pizzas is simply the toughest due to the number of ingredients involved, and due to the fact that the customers expect a kind of fine dine in Pizza hut, being the premium brand that it is.
Each and every service you go to, will have a separate process. Walmart will have a different layouts as compared to other hyper stores. The process of registering insurance might be different between LIC and Aegon religare.
Liked this post? Check out the complete series on Product Management