The "new product development" describes the process of bringing a new product to market, which includes generating the idea, assessing its market potential, refining it, creating a prototype, and ultimately launching it for sale.
For example, a company might choose to create a new software product. This would involve several steps such as conceptualizing the idea, researching its market potential, refining it based on customer feedback, developing a prototype, and finally launching it for sale.
What is new product development?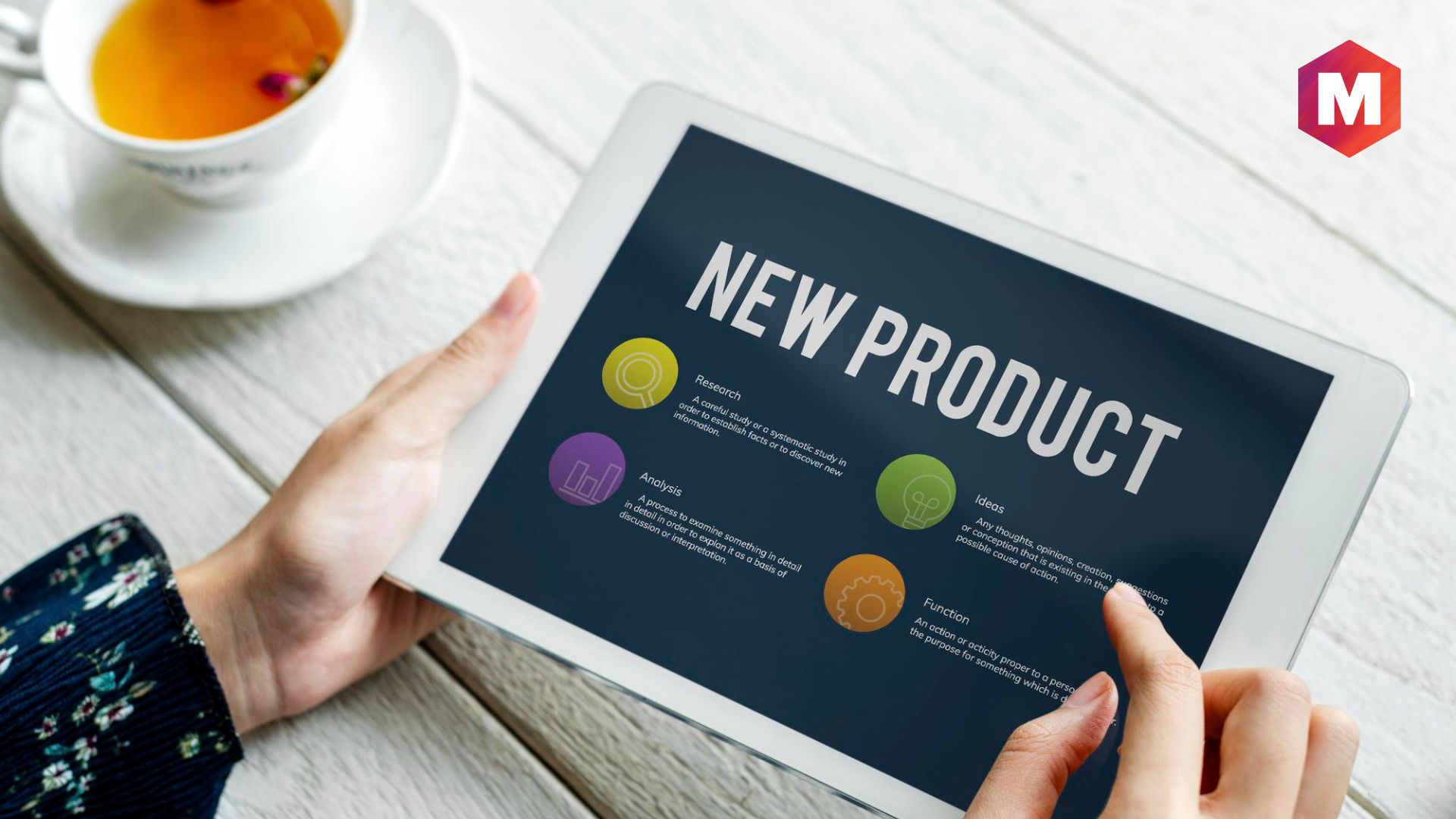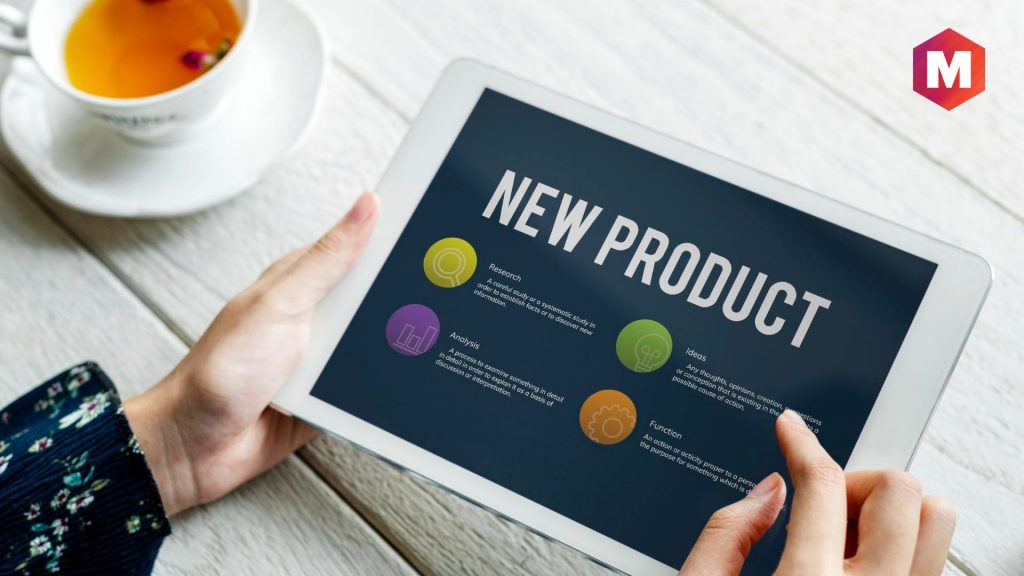 The term "New Product Development" describes the entire process of creating and launching a new product. This means generating a new product, improving a current one, or relaunching an old one to a new audience.
To remain competitive in the market, companies either develop new products or improve the existing ones. Building a product that's already been conceptualized and tested falls under regular product development while coming up with a completely new idea, generating, developing, and launching it is involved in new product development.
New Product Development Examples
JBL launched a new headset series called JBL Live, which promises to provide superior sound quality, extended battery life, and increased comfort.
Apple launched the initial iPhone in 2007 and has subsequently introduced various new models including iPhone XR, iPhone 11, iPhone 12, iPhone 13, and iPhone 14.
Coca-Cola introduced the Zero Sugar version of its popular drink to a different group of people.
McDonald's added a new burger option called McVeggies, which features a patty made entirely out of plants.
7 Stages of the New Product Development Process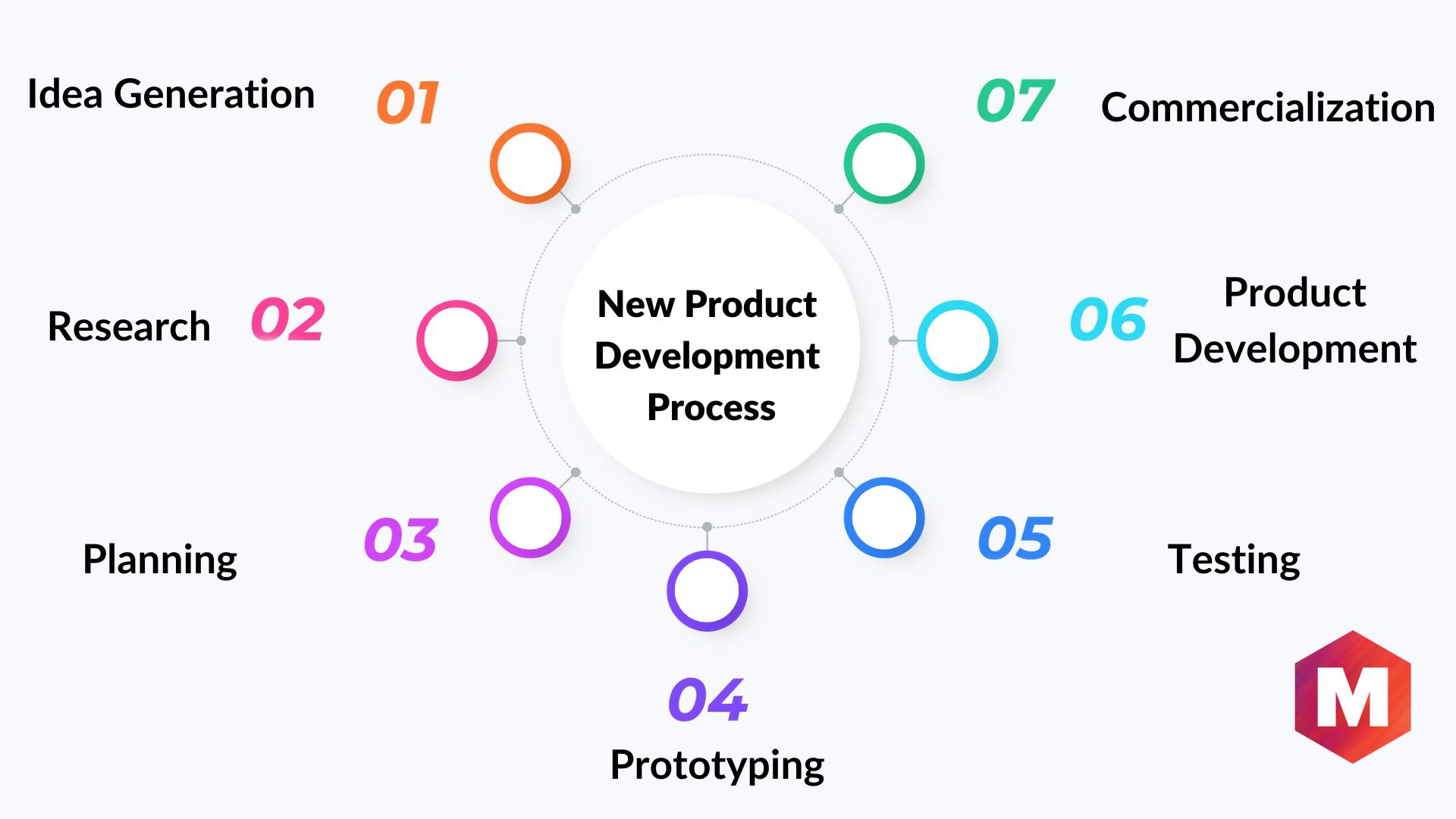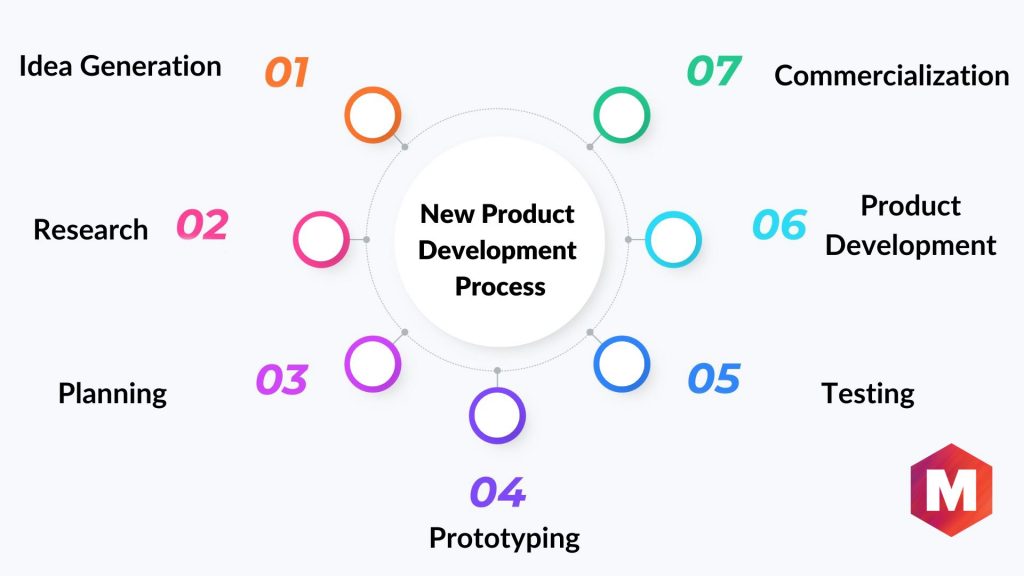 A new product development team needs to go through the following stages –
1) Idea Generation
To start developing a new product, you need to generate ideas. These ideas should aim to solve a current customer problem in a unique and innovative manner.
To develop solutions for customer needs, it's important to thoroughly understand your target market and the pain points you aim to address. Think of a good way to start brainstorming – "What if we tried this?" Research may be done to improve the efficacy of this approach. During the idea generation stage of product development, it's important to consider various factors to move toward concept development –
Remember to focus on delivering value to your customers by understanding their wants and needs. Conduct market research to uncover buyer intent and identify any gaps in the market you could address.
Existing products and competitors
It is advisable to check if a similar product already exists before starting to create a new one. If there are similar solutions provided by competitors to address the same problem, consider ways to make your product better. Alternatively, if there are no matching solutions available, consider creating a new product that caters to different but similar needs.
After you bring your idea to market, how will you determine its success? You can use key performance indicators like average order value, deal size, or even customer lifetime value to gauge the effectiveness of your efforts and justify pursuing similar ideas in the future.
Use the SCAMPER model for Idea Generation
Here is a suggestion to help you generate product ideas quickly – try utilizing the SCAMPER model –
Substitute – Is it possible to replace a particular component of a product with another one? Combine – Could you combine specific features?
Adapt – Is there any possibility of innovating the product
Modify – It it possible to change any feature?
Put to another use – Could you make the product usable in a different market or location? Eliminate – Would you be able to eliminate sales impediments and provide cost savings to customers?
Reverse/rearrange – Would you consider altering your product to perform a different function?
You can use the SCAMPER model to modify your products, create something new, or tailor them to a different audience or problem.
Using SWOT Analysis for Idea Generation
You can use a SWOT analysis to evaluate the strengths, weaknesses, opportunities, and threats involved in bringing a new product to the market. This analysis technique is popular among both large organizations and small businesses.
2. Research
At the research stage, you need to conduct market and competitor research to determine the feasibility of your product idea.
Market Research – Conduct market research to determine the prevailing attitude in your industry, identify any gaps that your product may fill, and assess whether there will be a market for it.
Competitor Research – Conducting a competitor business analysis helps in identifying any shortcomings in your competitor's products or services that you can integrate into your own product to better meet the needs of your target market.
At this stage, it's possible to gather feedback from customers for your ideas before finalizing the definition of your product. Surveys are a great way to get this feedback, as they allow for fast and easy collection of information from existing customers. During this stage, you may need to iterate as your research could suggest the necessity of refining your initial ideas and adjusting the scope of your research before proceeding to the next stage.
3. Planning
During the planning stage of a product development cycle, you refine your initial product idea and use your research to develop a finalized product definition. Additionally, you begin outlining the necessary steps to bring this idea to life.
To create your final product, start planning for the requirements you'll need. If creating a physical product, source necessary materials or find manufacturing partners to assist with production.
In addition to product development, planning includes devising a marketing strategy to promote your product successfully and determining appropriate pricing models that are both sensible for your product and acceptable for customers to pay.
To successfully bring your product to the market, it's important to identify the different teams that will be involved in the product development process. This refers to both the in-house marketing teams who are in charge of promoting your product, as well as any outside partners who may assist with its production.
4. Prototyping
During the prototyping phase, you create a sample product that represents what will be manufactured during mass production.
The prototype is known as a minimum viable product (MVP). It's a simple version of your tool that is similar to your final product. It will help you understand how it works and identify any areas that require improvement. During the prototyping process, it is acceptable to create multiple versions and iterate between that stage and testing until you have a finalized prototype. Here, you need to do the following tasks –
Feasibility – Please assess the amount of work required and the projected timeline, and evaluate whether you have the necessary resources to accomplish the objective.
Market risk – Identify any obstacles in the product development process prior to its creation. By removing these obstacles, you can guarantee that your product will be launched as scheduled.
Development strategy – To be accountable and keep your project on track, it's important to assign responsibilities for each task and set them within a timeline. You can plan effectively by utilizing the critical path method, which helps determine the most important tasks and ensure they are completed on time.
MVP – To clarify, you should develop a basic product idea that can be launched and functions as intended, without any extra features or fancy add-ons.
5. Testing
It is important to test the product before launching to ensure that it functions as expected and meets customer needs. Share prototypes with your target audience and gather actionable feedback during this stage to understand how the product works.
In other words, you need to test your product in scenarios that resemble real-life situations to determine what works and what doesn't. If necessary, you may have to make modifications to your prototype based on the findings of your testing, as explained before.
When you believe that your prototype is complete and capable of addressing your customers' needs, you will initiate the product development process.
6. Product Development
In this stage, you will develop the end product that will eventually be sold. You will utilize the knowledge you gained from testing your MVP to refine your prototype and initiate large-scale production.
The process for product development varies depending on the type of business you have. For example, if your company deals with software automation, it is important to finish coding and debugging before releasing the product to the market. However, if you are a manufacturing company, you should create the necessary product components and assemble them for selling.
7. Commercialization
In your new product development process, the last step is commercialization which involves introducing your products to the market. This is the final outcome of your brainstorming, research, and iteration process, where your target audience can finally utilize or purchase what you have created.
You will implement your marketing strategies to inform your target audience about your new product and carry out promotional activities to encourage them to make purchases. Some of the steps you need to go through at this final stage are-
Product iteration and development
After analyzing user adoption and behavior, what areas do you think require improvement? Additionally, do you believe there are particular features that can be added to meet the needs of a specific user group? Once you have conceptualized these changes, you can begin working on improving the current product.
You will need a platform to advertise and promote your new product and its availability as part of your marketing efforts.
Customer service and support
To adequately support a new product launch, it is necessary to have both a customer service team for potential and current customers, and a separate technical support team to handle any issues or questions.
It is important to establish a sales team that can track performance based on the key performance indicators identified in the earlier stages of the product development process. In addition, the sales team can support sales and transactions by utilizing marketing materials and messaging. They are the most effective way to promote and distribute your product to customers.
Tips for Improving NPD Process
To optimize the effectiveness of new product development projects, you should follow these tips –
1) Develop a long-term plan
Developing new products is a long-term process that requires patience. Simply aiming for quick wins won't be enough beyond the initial startup phase. To consistently develop new products, your company requires a distinct vision, a reliable strategy to achieve it, as well as adequate funding and organization to support and implement the strategy.
2) To optimize NPD, you should include both technical and customer perspectives
While tech companies are typically focused on technology, an effective venture board for approving investments in new product development should have a balance of technical and customer-oriented skills, including a Product Manager. When screening ideas for product development and marketing strategy, it is important to consider the customer perspective in order to make informed decisions.
3) Please provide adequate funding to support NPD.
Although it may seem simple, not many companies prioritize nurturing early stage new product development to maximize their product portfolio's potential return. Providing seed funding for new ideas that align with company budgets and strategies is crucial in transforming new product concepts into successful offerings in the market.
4) Create a product portfolio strategy
Establishing a product portfolio strategy can help prioritize investments in new product development and help focus on the right projects. Having a clear portfolio strategy helps you to identify which products have the highest potential and invest resources accordingly. It also helps you to anticipate market trends and competitive pressures, so that you can make informed decisions about which new products to develop.
5) Capture the Voice of the Customer
Having a direct connection with customers during the initial stages of developing a product is crucial, whether through Design Thinking or any other approach that focuses on meeting market needs. Establishing a clear process to convert customer feedback into a product with the most appealing features is crucial.
6) It's better to avoid committing to too many features than to overpromise and underdeliver
Companies often overpromise on features and fail to deliver on them. It's better to start with a minimum viable product that includes basic functionality, and then use test marketing to guide the product development process as early as possible. It is important to listen to customers to identify essential features. It is not recommended to promise more than you can deliver as it damages the brand's reputation. Instead, it is better to fulfill your commitments and gradually enhance the product over time.
Conclusion!
Developing new products is a crucial aspect of running a successful business. It involves innovative ideas, researching the market, and extensive planning. The benefits of creating innovative products go beyond generating higher sales and profits, as it can also help in attracting new customers and keeping your brand up-to-date with the constantly changing market conditions. Hence, investing in a new product development project can be an invaluable asset to any organization.
Here is a video by Marketing91 on New Product Development.
FAQs
What are the Characteristics of a successful NPD organization?
The new product development refers to the following characteristics –
New product ideas developed in response to client demands are the foundation of effective NPD.
The greatest new product ideas are in line with an organization's strategy for product development.
A fluid, lightweight procedure cultivates the concepts.
Work is completed by cross-functional agile teams in accordance with a defined new product development procedure.
The outcome is a brand-new product that thrills consumers and helps the company expand.
How long does it take to develop a new product and get it to market?
The amount of time required will be influenced by multiple factors, such as the level of difficulty of the product, the company's stage and resources, as well as the industry involved.
If you want to create a successful product, having a clear process in place can help you and your team work faster and more efficiently whether you're starting from scratch or making improvements. This process can increase your chances of success.
Who is involved in the new product development process?
Developing a new product is a collaborative effort that involves individuals from various departments within the company. During the idea generation phase, cross-functional teams work together to create the initial product concept.
Many industries rely on cross-functional teams to develop new products. These teams consist of members with different skills such as design engineering, coding, testing, product management, sales, and finance, among others. The team is led by a team leader or scrum master and stays together throughout the development cycle.
Liked this post? Check out these detailed articles on
Topic of Product Management
Alternatively, check out the Marketing91 Academy, which provides you access to 10+ marketing courses and 100s of Case studies.