The concept of product classification is nothing new – it's been around for decades. However, in recent years, the need for an organized system of product classification has become increasingly important. This is due to the vast array of products that are now available, which can make finding and selecting the right product a challenge.
This way of classifying products helps make this process easier by allowing businesses to organize their products into specific categories or groups. This makes it easier for customers to find and select the right product, as they can narrow down their search by category or group. It revolves around categorizing products based on factors such as consumer habits, purchasing behavior, and the purpose of the product.
For example, the company ABC can classify its products into various categories, including luxury goods, convenience goods, and specialty goods –
Luxury goods are products that are considered luxurious or high-end by customers and typically come with a higher price tag compared to other types of products.
Everyday items that customers purchase on impulse are called convenience products.
Specialty products are items that demand a higher degree of understanding and investigation before purchasing, such as intricate electronics or luxury jewelry.
What is Product Classification?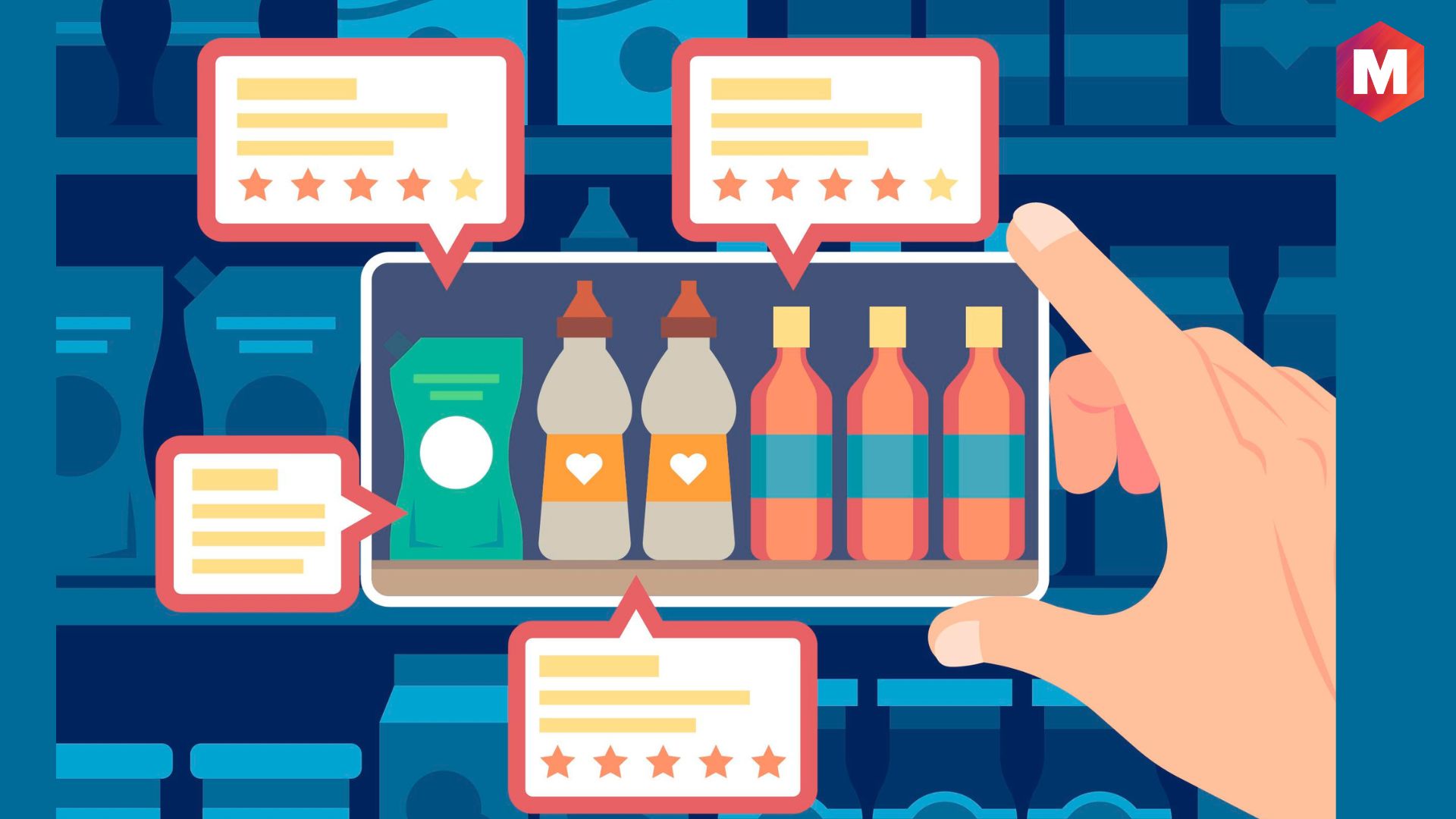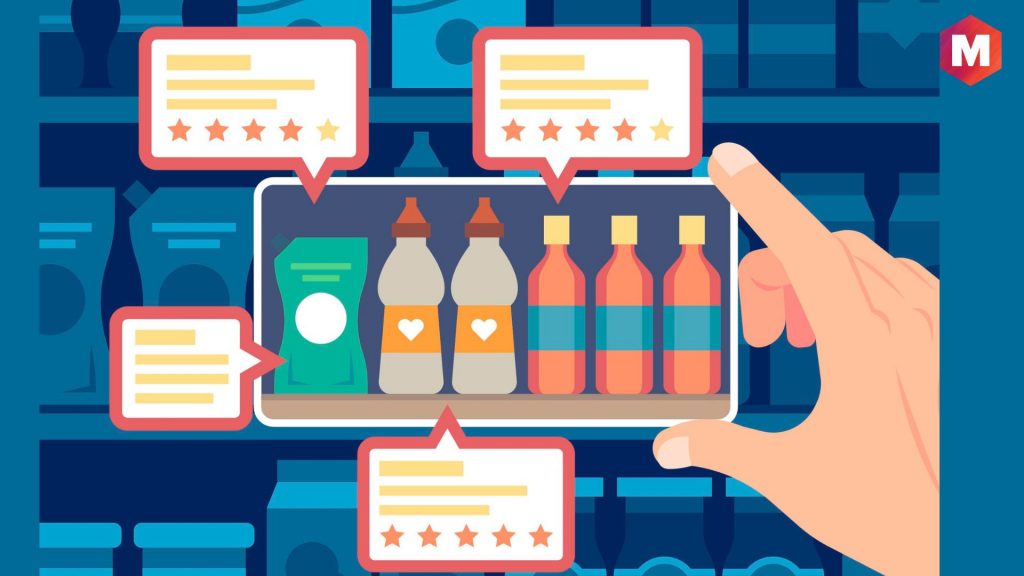 Product classification is defined as the process of classifying items based on their traits, functions, and applications. Businesses use it to classify their products or services into specific groups and effectively target the appropriate customer base.
It is a term used in marketing and business to group products according to consumers' purchasing behavior and motives. This categorization can impact how companies advertise their products and influence pricing and distribution strategies. This classification type enables companies to identify their customer base more precisely, establish pricing strategies, and select marketing campaigns. The purpose of this classification is to aid marketing and sales teams in designing effective consumer-focused strategies.
In the realm of product's classification, economic analysis plays an invaluable role in determining the feasibility and profitability of various product categories. Businesses often leverage different brand identities within their product range for reminding consumers of the unique value proposition each offers. Interestingly, most consumers tend to develop brand loyalty based on these classifications, reinforcing the impact of effective product categorization.
Key Takeaways!
Product Classification is the systematic categorization of products according to consumer purchasing behavior, utility, and characteristics.
It's instrumental in formulating marketing strategies, pricing decisions, and distribution channels.
Understanding product classifications helps businesses better gauge their target audience and tailor their marketing efforts effectively.
Product Classification Examples
1) Berkshire Hathaway Inc
Berkshire Hathaway Inc classifies its products into three main categories: life insurance, health insurance, and accident insurance. It is a type of unsought product, meaning that customers tend to buy these types of insurance only when they are in need.
2) Apple Inc
Apple Inc. classifies its products into four main product categories: consumer electronics, software, personal computers, and services. All of these categories are specialty products, meaning that customers need to do research before making a purchase.
3) Clothing Retail Store
A clothing retail store classifies its products into four main categories: casual wear, formal wear, party wear, and winter wear. These categories are convenience products, meaning that customers can quickly purchase the item without much thought.
4) FDA product classification codes
The US Food and Drug Administration (FDA) uses product codes to classify drugs, biologics, and medical devices based on their intended use, safety, and efficacy. This helps the FDA regulate these products and ensure their safe use.
What are the different Types of Product Classifications?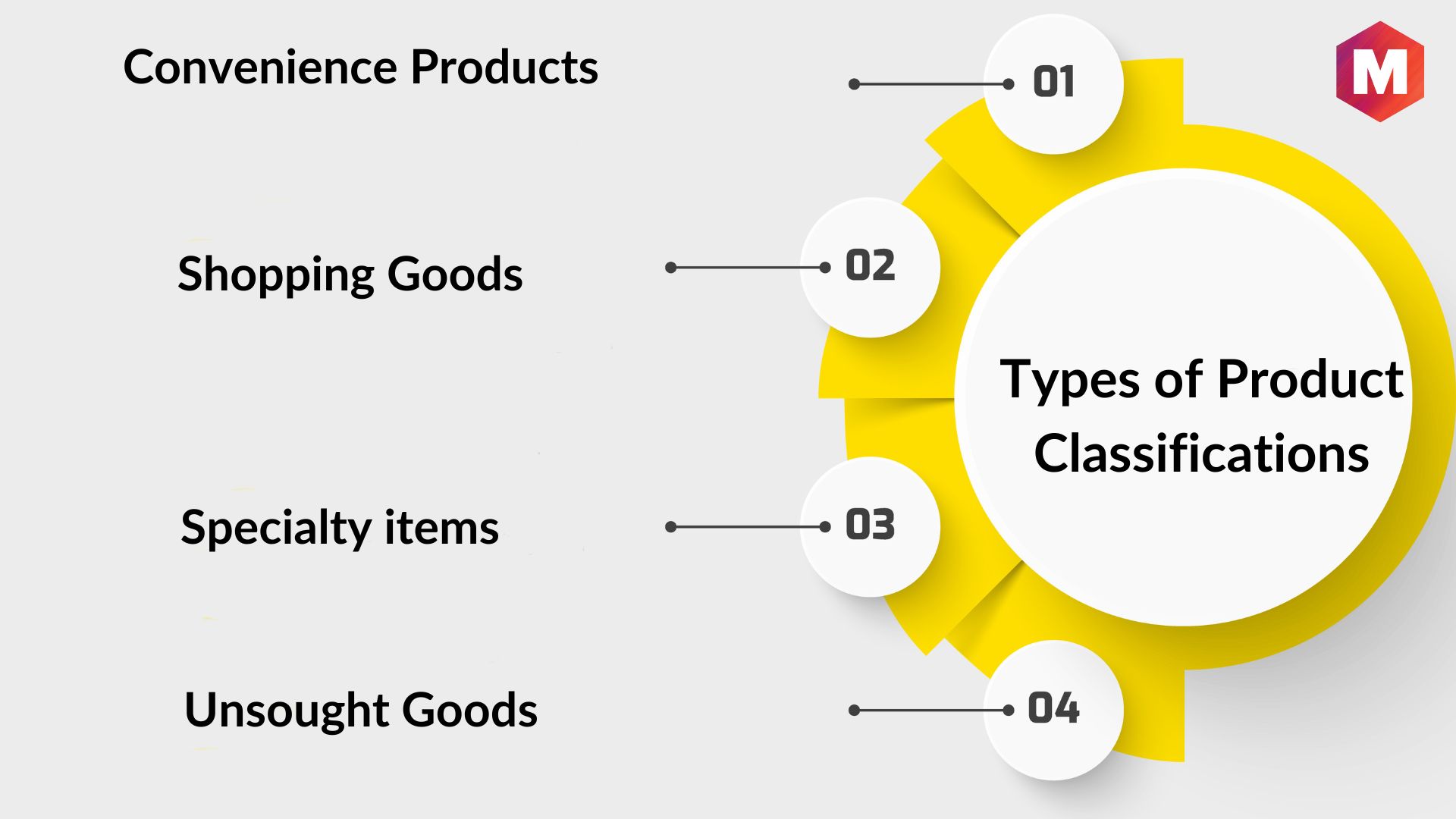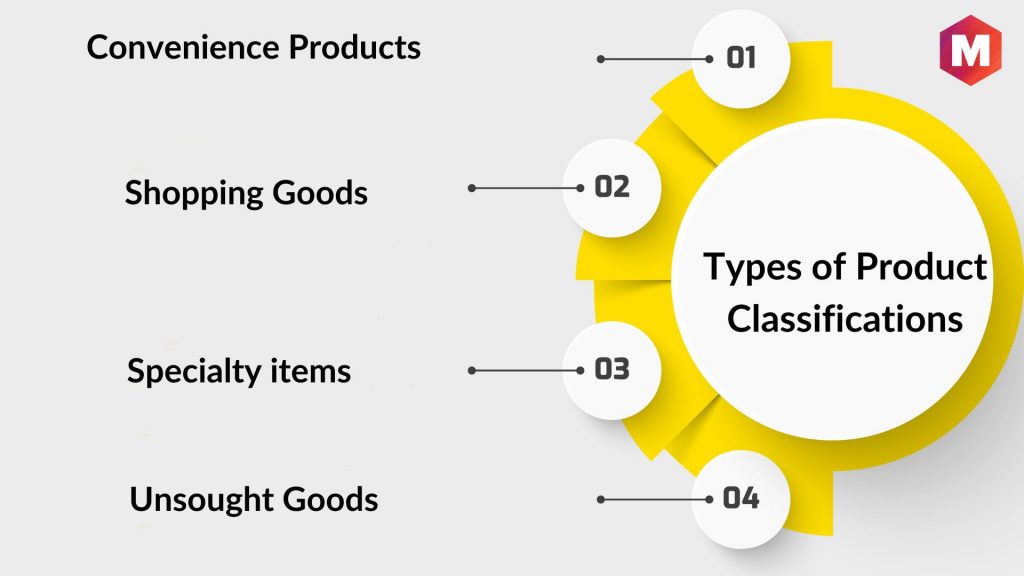 1. Convenience Products
Convenience products refer to frequently purchased items and services that customers buy without much consideration. Customers typically stick to their preferred brands when it comes to convenience goods unless they are swayed by advertising or product availability.
For example, items such as groceries, over-the-counter medications, and household products like cleaning supplies.
Marketing Convenience Products and Services
When promoting convenience goods, marketers might use tactics that disparage other brands more frequently. This is because customers could be persuaded to change their purchasing habits if they are swayed, for example, by a comparative advertisement.
If you want to promote a convenience product, you should also focus on both price and convenience. You need to make sure that the purchasing process is as seamless as possible, with minimal effort required from the customer.
2. Shopping Goods
Shoppers usually spend more time researching and comparing shopping goods before purchasing since they are not impulse buys, unlike convenience goods. Affordable items such as clothes and home decor can be purchased while shopping. Higher-end goods, such as cars and houses, can have a significant economic impact even if they are only purchased once.
Some examples of shopping goods can be furniture, smartphone, jewelry, etc.
Marketing of Shopping Goods
When it comes to marketing shopping goods, marketers have to focus more on the product's features and benefits. Consumers need to be convinced of the purchase, so they will often compare different brands and models to find the one that fits their needs.
When it comes to shopping goods, product quality, and pricing have a greater strategic importance than for convenience goods. Customers carefully consider their choices, so providing an attractive value is crucial for companies. This means that you can either sell a product that is of higher quality than your competitors' products at the same price or sell a product that has similar quality but at a lower price.
Promoting shopping goods requires emphasizing the unique features of a product to differentiate it from its competitors, unlike promoting convenience goods which focuses on creating brand awareness.
3. Specialty Goods
Specialty goods often include high-end features and a higher price tag. They are distinct products that marketers can promote to a specific group of consumers without facing competition. Customers anticipate a high-quality product when they buy specialty products since they do it often out of passion or pastime.
Examples of specialty goods include watches, luxury cars, high-end appliances, etc.
Marketing Specialty Goods
The difficulty for marketers when it comes to advertising specialty items is to concentrate on the product's distinctive qualities and emphasize them. Specialty product marketers often utilize focused marketing instead of mainstream media efforts to reach their target clientele.
You may not need to persuade customers that your product is superior to rivals when marketing specialist brands. Customers often crave these things since they are frequently uncommon purchases with strong brand recognition. Concentrate on product innovation and development to retain the strong demand for specialty items. As a result, consumers continue to support your brand.
4. Unsought Goods
Products that consumers aren't often eager to purchase are known as unsought goods. Although these items are useful, buying them is often not enjoyable. Out of a sensation of dread, danger, or need, people often purchase these types of products.
Some examples of unsought goods are insurance, medical services, safety products, etc.
Marketing of Unsought Goods
To successfully market unsought goods, it is important to raise awareness about the product and persuade consumers to buy it by demonstrating how it can prevent future difficulties.
The company might create a commercial that appeals to emotions by portraying how the customer's unexpected death could lead to financial difficulties for their family. Advertising is crucial to convince customers to purchase insurance and safeguard their families, as people rarely buy such products without being encouraged.
Why Classification of Consumer Products Is Important?
Product classifications serve various purposes for professionals. They impact decisions throughout a product's lifecycle, such as marketing, pricing, consumer demographics, and demand levels.
Marketers classify products for several other reasons such as –
1) Marketing
Marketing teams use different techniques based on the type of classification, which can impact the budget and focus of a campaign. If a company is marketing a specialty item, it may opt to allocate resources toward brand management rather than forming a focus group to test the product. It helps in optimizing the presence of your brand in front of other competing brands.
2) Customer Awareness
Understanding product classifications can provide insights into the motivations for why consumers purchase a product. This knowledge can assist your team in making better decisions for marketing, pricing, sales, and distribution.
3) Pricing
The classification of a product can impact its pricing by retailers and distributors. Generally, convenience items and mandatory purchases tend to be cheaper compared to specialty items or informed purchases. Consumers consider these products to be more valuable and necessary, which is why there is a higher demand for them. Regular items, such as food, are often more affordable and considered convenient or necessary. Companies that sell convenience and mandatory products need to assign lower prices to stay competitive with other brands, as consumers usually have less loyalty to these products.
4) Demand
The demand for a product can differ based on its category. Customers tend to buy products that are necessary and convenient more frequently than those that are specialized and require prior knowledge. This impacts the manufacturing process and advertising strategies of companies that sell specialty and informed purchase items. These companies may need to spend more time and money on marketing to convince consumers to buy their products, as they are not purchased as frequently. This helps in optimizing brand loyalty.
5) Competitive Awareness
Classifying your product can improve your business's competitiveness by ensuring that it meets industry standards. This, in turn, can help establish your brand more effectively within your niche. Finding out how your product is categorized may also assist you in evaluating the value of investing in more innovation, research, and development, as well as in finding ways to make it more distinctive.
6) Invention
A company may take product classifications into account when choosing what products to manufacture. This is because each type of product requires different marketing approaches, so a company may choose to focus on a specific type of marketing, which in turn limits the range of products it produces. The level of demand for a product impacts how professionals categorize it and determines a company's decision to introduce a new product.
Product Classification in Marketing
Imagine you own a brand and want to advertise your product, Learning about product classifications can assist you in selecting the most effective strategy for enticing customers and boosting sales.
To promote convenience products effectively, prioritize brand recognition and visibility in your marketing. You can achieve this by allocating more resources to advertising and creating a logo or slogan that is easily recognizable.
To promote your specialty items, it's important to highlight the superior quality of your products and your expert knowledge. Focus on crafting a distinctive message that emphasizes the advantages of choosing your products.
Hence, you can use classification to develop focused marketing strategies. This involves selecting the products to promote, identifying the target audience, and determining the appropriate marketing budget.
Devising a marketing strategy requires a clear understanding of the classification of the products. Understanding and behavior of consumers when they interact with your product can be improved by having this knowledge.
Having this knowledge enables you to develop successful marketing strategies that are focused on the customer. Furthermore, it helps to determine a practical spending plan for a marketing campaign.
What is a Product in Marketing?
A product is an item created specifically to be sold in the marketplace, serving the needs of customers. Marketing efforts revolve around the product, making it a crucial element of any marketing strategy.
Products are categorized into two types: tangible and intangible. Services are considered intangible products, whereas physical objects are considered goods. You can understand the role of the classification of a product in marketing better by going through the following definition of a product-
According to Kerin, Hartley, and Rudelius
"A product is a good, service or idea consisting of a bundle or tangible and intangible attributes that satisfy consumers' needs and is received and exchanged for money or something else of value."
Product Classification vs. Product Category
It is essential in this situation that you have a clear understanding of the difference between product classifications and product categories. Although both help organize items for advertising, product categories are often unique to a certain firm, industry, sector, niche, or specialization. Although both would help organize products for marketing.
How to use the Classification of a Product to benefit yourself?
You will be able to determine which items are more likely to sell simply and successfully with the assistance of the classification of your product, which in turn will enable you to come to strategic conclusions.
If you have an awareness of these categories and the distinctions that exist between them, you will be able to develop targeted marketing strategies that will enable you to attract the appropriate audience and increase your sales.
Now that you have identified your product's target audience, analyze their buying behavior to create a marketing campaign that meets and exceeds their expectations of your product.
Here is a video by Marketing91 on Product Classifications.
FAQs
Q1: What is the main difference between product classification and product category?
A: Whilst both are used to organize products for marketing, product categories are usually specific to a company or industry, whereas product classifications are broader and generally recognized across multiple sectors.
Q2: How can product classification improve my marketing strategy?
A: By understanding the classification of products, you can identify which products are more likely to sell and use this information to make strategic decisions, like targeting specific audiences and developing tailored marketing campaigns.
Q3: What are the 4 classifications of products?
A: The four types of classification of products are convenience goods, shopping goods, specialty products, and unsought goods.
Liked this post? Check out the complete series on Product Management