The product development process is the inclusion of all the steps used for taking a product from the concept development stage to making it available to the target audience or target market. It also refers to the process of renewing any existing product or launching an existing product to a new target market.
All in all, the entire process of generating ideas, identifying market needs, doing business analysis, conceptualizing the product, designing the product roadmap, introducing the product in the market, collecting feedback, etc is understood as product development. NPD (new product development) is an essential aspect of new product design. The procedures do not conclude until the product's life cycle is completed. You may continue to gather customer input and iterate on future versions by adding new features or instead enhancing the existing ones.
What is the Product Development Process?
A product development process is the process of developing a product that involves seven stages, starting from the idea generation stage and ending with its launch in the target market. An example of the product development process includes researching customer needs, creating a concept for the product, prototyping and testing it, designing and engineering the product, manufacturing it, releasing it to the market, and monitoring its performance.
It is the complete set of stages through which a firm or product manager visualizes, conceptualizes, launches then manages, and optimizes its product in the target markets. A product idea may come from the market, a lab/workspace, like the so fuzzy front end. Customer needs do inspire product ideas for product development.
The whole process starts with the idea generation and then goes through idea screening, market research, concept development phase, concept testing, initial feedback, test marketing, distribution strategy, detailed business plan, etc, and finally reaches the product launch or market launch stage where the finished product is offered to the target audience. After this, customer feedback or consumer feedback is taken to improve the product to optimize its shelf life.
A brand or company develops new product concepts and then researches, prototypes, prepares, designs, and tests them before introducing them into the market, separated into phases, stages, or steps. After understanding the market gap in demand and supply, a new product is conceptualized. The product development system is a set of procedures or phases that a corporation follows to develop new products that meet a requirement of the market.
While almost every firm produces new products and services, design and development methods vary greatly based on industry knowledge, product type, and if the items are incremental improvements or game-changing innovations. Apart from controlling the product life cycle, this is perhaps the most impactful management system that a corporation can engage in.
Steps of a Product Development Process

Product development team project management market share existing products first stage marketing team
1) Idea Generation
Idea generation is the first stage of the product development process that comprises brainstorming ideas for solving a current consumer concern uniquely and creatively.
Whenever looking for ideas to help you satisfy client requests, it's vital to have a thorough understanding of a particular market and clients' sticking points that you truly want to address.
Hence, the new product development process begins here and it can be as simple as saying 'what if we try this' that finally goes through six other stages to offer a robust and successful product.
2) Research
After you've generated a product concept, the following stage is to zone it out using research. There are many methods you may take to do this, which involve performing market research and learning about the current state of the business, and assessing not just whether your product will cover any gaps about whether there would be a demand for it or not.
Competitor analysis is also used to see whether customers believe there are features in your rivals' products or services that you can implement into your own to better meet the demands of your target market.
In this second stage, brands can get initial feedback from target audiences about what they think of their product ideas before coming up with a final product definition.
Getting feedback can be channelized through surveys that will let you easily and quickly collect key information from existing customers to understand the market need and optimize the successful launch of your final product.
3) Planning
The third phase follows planning, wherein you construct a final product idea based on the preliminary research and begin making a vision to create it a reality.
When you've decided on your ultimate product, you'll want to start thinking about what you need to make it. In this stage, the formation of the final product definition or product ideas gets shaped. While defining their finished product, brands need to start planning for what they will need for creating the product.
Planning also revolves around the marketing strategy that will be required to optimize the product presence in the market in the future once the product is ready.
Senior management keeps on thinking about this even from the initial idea formation phase, as ultimately optimized product reach will generate more leads, sales, and profits.
Deciding pricing models, finalizing teams that should participate in the product development process, making decisions about the right marketing strategy and teams, etc will be planned in this stage.
4) Prototyping
Prototyping is creating a sample product that is a replica of what will be produced during mass production.
This prototype, also known as a minimum viable product (MVP), is a simple version of your tool that will help you understand your final product, how it works, and identify areas that need to be improved.
It will still be comparable to your finished product.
5) Testing
One should verify the product before releasing it to ensure that it performs as expected and satisfies the needs of your consumers.
Consequently, you'll talk about the models with target customers and gain useful feedback about how the product works at this point.
Brands should test their products before launching the products by sharing prototypes with the target audiences and asking for actionable feedback on how the product-working takes place.
6) Product Development
This stage entails developing the final product, which will then be commercialized.
You'll utilize the information gathered from evaluating your MVP to polish your prototype before going into mass production.
You'll probably have a varied product development process depending on your business.
7) Commercialization
Commercialization is the ultimate stage of any new product development process when you put your items on the market.
This is when your ideation, research, and iteration come together, and your audience can finally use what you've made.
Common Flows/Frameworks of the Product Development
1) The Design Thinking
Different steps involved in this flow are-
Empathizing with users
Defining the problem
Brainstorming potential solutions
Building a prototype
Testing your solution
2) New Product Development (NPD) Framework
It includes the following six steps-
Ideate
Research
Plan
Prototype
Source
Cost
Choosing a Product Development Model
Some products are usually doomed from the beginning, according to popular belief. The notion that 80 percent to 95 percent of goods fail is perpetuated by many business magazines and gurus.
However, empirical evidence paints a more positive image or impact. According to data, depending on the industry, the rate of product failure seems closer to 40%.
An individual may avoid typical product hazards or unnecessary errors by following a well-defined development approach. For decades, various well-known models have guided both startups and huge and effective corporations. Here are a couple of tried-and-true techniques:
The Stage-Gate model: The Stage-Gate model seems to be an eight-step pathway for effectively analyzing, producing, and launching a product. It is said to be the most common method of development.
The IDEO process: It is a user-centric strategy in which product development is guided by real-world customer observation. The technique comes from the same-named design business.
The Booz, Allen, and Hamilton (BAH) model: This structure has seven steps. It walks development teams through developing a plan and focuses on risk mitigation.
Months or decades of trial – and -mistakes might go into your invention process. The amount of time you devote to this phase should be determined by the intricacy of your product.
Who is Involved in Product Development Team?
As product development refers to the creation of a new product or service, it involves several key players in the process. A typical development team covers the whole product development cycle means it includes –
Project manager
Market Strategists
Designers
Technicians
Programmers
The project manager is vital to the whole process and provides oversight for all other roles. Their job is to manage resources, create timelines, assign tasks, and ensure that the different parts of the process are completed on time.
Market strategists help to determine whether there is a market for the product and what market strategy will be used. Designers develop sketches or digital prototypes of the product and technicians assist with production processes. Programmers are responsible for developing software applications that may be necessary for the product's operation.
What to consider before starting the Product Development Process
Let's look at some of the criteria for product development before we get into how to make a product. Make sure you've thought about the following aspects before starting the product design process to save time and effort.
Is the product in high demand? – The seriousness and regularity of demand will decide the size of your potential market for a product. If the concept is founded on a concept, there might not be a market for it yet, and you'll have to evangelize the market to sell it.
Can it be produced? – While Photoshop allows us to make or adapt anything from a photo, engineering does not always allow us similar creative flexibility. Is it technically feasible to construct this product concept? Is there a manufacturing capability elsewhere on the planet?
How can the product reach its customers? – What is your customer's geographical location? Is there a solution to transport and convey the design brief to that target population, or will you have to be inventive and develop new distribution partnerships? This phase is made much easier by the access to e-platforms and logistics services, which allow companies to sell & deliver to practically any location on the planet.
What competition will it have? – Would this product be a clone of a current product, needing a greater value proposition than rivals and intensive client acquisition operations when it launches? Or will each product with minimal direct competition stand out from the crowd? Existing competitors are frequently favored since they indicate a market for a product.
Do you have the necessary financial resources? – Developing service is an investment that will pay off in the long run. Relying on its technological capabilities and competitive positioning may require financial assistance.
Would you be willing to wait until the first sale to make it? – Will you need extra money as the project progresses? Your financial resources dictate how ambitious you can be.
Benefits of Product Development Process
According to research from the Mckinsey Global Institute, just one out of every seven ideas becomes a successful product, with failure rates for newly released goods ranging from 25% to 45 percent.
If you follow an organized approach, you'll have a greater chance and more time to prevent any blunders that might hinder the successful implementation of your new product.
Here are a few most effective and significant benefits of employing a new production method of development.
Creating a culture of innovation: Fresh goods necessitate new concepts. Also, establishing an innovation culture in which every idea is heard and tested, then regardless of function or seniority, will assist your company in generating new ideas.
Driving the superior value proposition: by identifying and developing products that better match the needs of your consumers
Avoiding common mistakes: you may avoid many of the traps that lead to failure by spotting them up front.
Discovering new possibilities: by focusing and concentrating on your customers' requirements rather than your shareholders', you may unearth new chances and accelerate the growth and development of your company.
Minimizing feature creep: by using the given method to manage and should also respond to requests for new features efficiently.
Keeping pace with your consumers: The habits of target audiences keep on changing because of volatile economies and different associated reasons. With the help of a product development process, businesses will be able to keep pace with their target audiences to make their products relevant.
Improving your brand reputation: When target consumers and customers see a brand as an innovative company that offers new and exciting products understanding the customer needs and market trends. This helps such brands in optimizing their reputation.
Examples of Product Development Processes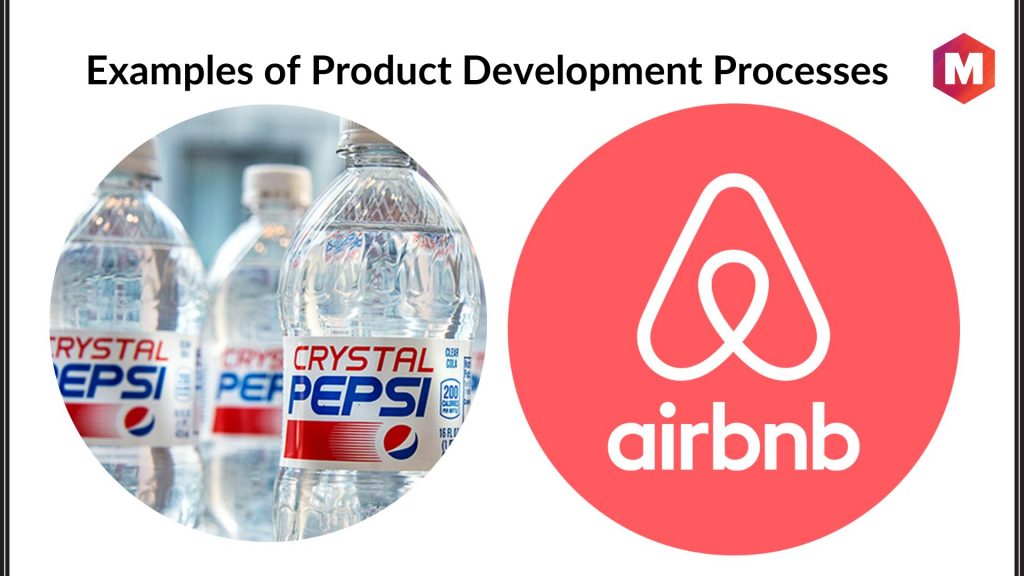 1) Crystal Pepsi Product Development Mistake
PepsiCo did not follow the product development process properly while launching Crystal Pepsi which was the new soda branded as healthier than their other soft drinks.
But PepsiCo failed to validate its product concept before launching it in the target market.
As they could gather enough initial feedback from their target audiences, or early adopters using a soft launch. This made the senior management of Pepsi blindsided during the full-scale release of Crystal Pepsi because of which the product became a failure.
2) Airbnb Product Development Success
The Airbnb team used the product development process effectively by testing their product idea for peer-to-peer rental housing online by sharing the details of their apartment and offering it for short-term rental.
When they received sign-up to stay in the founders' home from several users, they understood that their product will be viable in the market.
Conclusion!
In the end, it is clear what an effective product development process is, however, the most crucial steps may differ based on the nature of the product concept and where it came from.
The process of product development requires the work and input of many teams across a business such as design, development, sales, marketing, testing, finance, etc.
How effective do you consider the use of a product development process for launching a successful product in the market?
Liked this post? Check out the complete series on Project Management