Upselling refers to a sales strategy which includes encouraging, convincing and converting your buyers to purchase a high-end, upgraded and premium version of any product instead of a product they were initially intended to buy.
Getting new customers is much more expensive than making sales to existing ones. Many times companies make use of techniques such as the likes of upselling to hike the sales revenue.
For instance, the salesperson may show a luxury version of a car along with a basic model and highlight its benefits and features. The chances are that your customer might bite into the deal, and instead of making the original purchase switches to buying the upgraded version.
There is another concept of cross-selling that is also used for increasing the average sales value of a customer, but sometimes people get confused between Cross-Selling and Upselling.
That is why to understand what upselling is in a more accurate manner; you need to first look into the difference between Cross-Selling and Upselling –
Difference between Cross-Selling and Upselling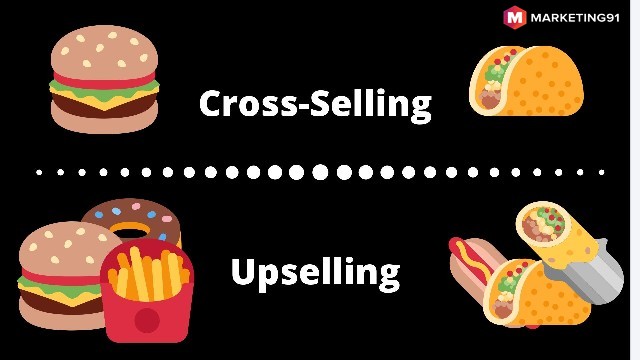 Cross-selling is the process where additional sales are made along with the original purchase. In this, the customer is introduced to related products, by-products, service, and accessories, which might be needed along with the main product.
The benefits of having the side products and their use, along with the main product, are highlighted. When a sale of this order is made, the process is known as cross-selling.
On the other hand, upselling shifts the focus entirely on the sale. From buying a low-end product, the customer is encouraged to buy a high-end product. The sales revenue is increased, and more money is made than before.
All in all, Upselling is a practice that ensures better conversions and sales.
The Importance of Upselling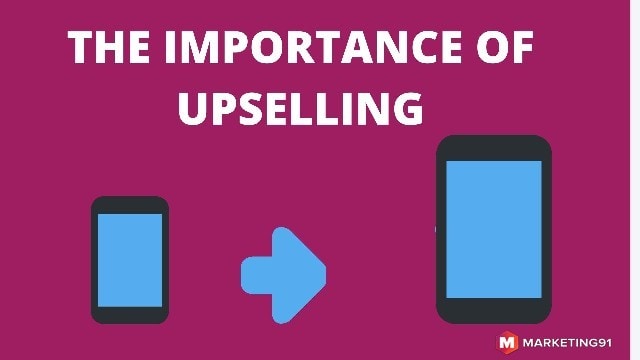 If stats are to be believed, selling to existing customers enjoy around 70% conversions while selling to new customers offers 5 to 20%.
There are various reasons for adopting an excellent upselling technique. It boosts the revenue, and at the same time, it helps build trust among your customers. Below, we have given some reasons as to why upselling is essential-
1) You can create more in-depth and better relationships with your customers
If done right, upselling is not just a trick to make your customers spend more. If you keep the well being of your customers in mind, you are bound to help them make choices that serve their interests.
Add ons and upgrades will only add more value to their purchase and give them higher satisfaction. These customer-assisting tactics can help you generate more revenue.
2) Existing customers take a liking to upselling
When you create more leads; you end up investing a lot of money. It is cheaper and easier to optimize sales when it comes to customers that have been with you for some time. If you try to sell your product to someone who has never heard of your brand, you are likely to spend more in lead creation.
Old customers love the effort and time that you put into upselling. Thus the process is wholesome for everyone.
3) Upselling helps create customer lifetime value (CLV)
CLV is the net contribution that has been made by your customers to the company over time. There are three categories that your customers may take- very profitable, profitable, and not profitable. High CLV means that you create more revenue for your business without investing extra.
This means you have more money to keep for acquiring more customers. Upselling is a very effective way to create profitable customers out of shoppers.
4) Customers return to you for further sales
Upselling is unique because it keeps adding value to customers. It makes them want to return to you for purchases further. Through upselling, you create an easy way for customers to come back to you if they require more of the product you want to sell.
If you offer excellent customer service, you will be creating some delighted customers.
How to do Upselling like a Pro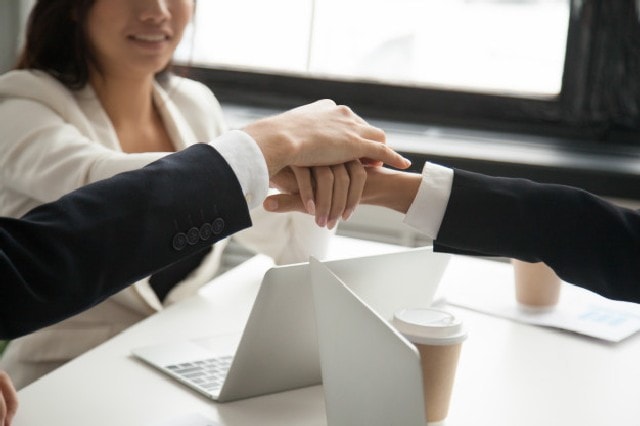 The process of upselling involves a few simple steps that will help you target your existing customers for opting for the premium version of a similar product. Let us have a look upon the steps right away-
1) Building the Loyalty And Trust Of Your Customers.
The goal of upselling is not to trick your customers into buying something expensive.
Customers always gain more value in exchange for their trust and investment. It is wrong to imagine that the company wants you to spend more in exchange for nothing when a product is upsold.
Instead, salespersons try to establish a feeling of trust and loyalty in their customers. They have to let the customers know that they are thinking about their best interests.
For this, you must know the product well.
You cannot sell anything unless you are familiar with its minutest details. You should be able to answer all the queries and investigations that a customer is making. Only then can you hope to build their trust.
You also need to make suggestions that best suit the customers' interest. You have to keep in mind the needs with which they entered the store. Serving your customers is your priority. It is their interest and well being that you need to keep in mind.
2) Understanding the Needs of Your Customers.
You need to make sure that you give a proper ear to the wants of your customer.
You cannot half-heartedly make a sale. You must understand why the customer has chosen to enter the store. It goes a long way in building the relationship that you have with your customers.
Customers will often talk to the service and inquire about features, benefits, and so on. It is the information that you can use while making any sales to your customers. They voluntarily let you know what they want.
One more way to gather information about your customers is by using customer history and date. Software and technology can now be used efficiently to look into the kind of purchases that your customer has made.
Also, it gives you an insight into the types of products that they look for in day to day life. This information can help you create highly personalised sales. You can cater to the specific needs of your customers, without having to worry about if you're saying the right things or not.
Research has also shown that customers are happy to share their personal preferences and likes in exchange for more value. It further deepens the bond you have with your customers.
3) Make the Apt Recommendation
It is crucial to make the correct recommendations during the process of upselling.
If you try to sell the products and services which your customers were never interested in, then there are high chances that they will not make any sale altogether. You have to understand the needs and wants of your customers.
It should be done by delving into their lifestyle, profession, and the things they like and dislike. It might seem unimportant, but these details help you make such recommendations that do not confuse or overwhelm the customers.
At the same time, you need to focus on upselling and not overselling a product.
It is generally held that the upselling product should not increase the price being paid by the customers by more than 25%.
You have to focus on getting more sales revenue while making the customers feel comfortable.
4) Identifying the Opportunities for Upselling
Upselling is a relationship-building process.
When selling your product, you have to focus on deepening the bond between your company and your customer. You have to give them the features and benefits of the product while making sure that you keep in touch with them after they have heard your side.
Here are a few things that you need to keep in mind when making trying to upsell-
Make sure that your questions are open-ended. Give your customers the time to speak and listen to them well.
Consider whether what you're trying to sell is already in the market. If so, how can you improve its pitch?
Try and find if there are any means to improve the existing product. If you are offering something satisfactory, try to upsell by offering something extraordinary.
Analyze the sales through which your company can earn the maximum, and your customer can spend comfortably.
Identify which higher product is best suited for the interests and likings of your customer.
After being aware of key steps of upselling, the next thing upon which you need to pay heed to is the best practices. In the next section, we will be covering some of the essential practices that can take your upselling strategy to the next level.
The Best Practices of Upselling
You can always depend on upselling when it comes to generating more revenue. Given below are some of the best practices of upselling-
Do not recommend any service or good, which is much more expensive than the one purchased initially.
Don't try to force your customers into buying a product unnecessarily. Accept their rejection of your offer at the moment and mention your upscale later very mildly.
Stay focused on the needs of your customers and how they are going to benefit from the product you are trying to upsell.
The best way to make an upscale is by offering a side by side comparison of two products.
You have to deliver as much information as you can to the customer. It is to ensure that they can understand the loss of not taking your upscale offer.
Offer benefits, features, and options like one week only discount to encourage your customer further to buy a product.
Key Techniques for Upselling every new-age Marketer Need to Incorporate
There are several situations which give rise to upselling opportunities. Companies have employed several ways to make sure that they achieve customer satisfaction and maximize their success. Some techniques include-
1) Making sure you promise, only what you can deliver
No matter what promise you have made, it could be writing an email of resolving an issue. Small or big, you need to make sure you keep all your obligations.
2) Make everyone feel involved
You need to make sure that all of your stakeholders are aware of the benefits which you have created for their sake. All your clients need to know the value of your product.
3) You can upsell once you find the solution to an issue
To make improvements to a situation; you can make use of upselling or cross-selling.
4) Nurturing Old Customers
It doesn't matter what kind of selling it is that you're doing. You have to maintain and nurture your relationship with old customers. This is important to build loyalty and trust.
5) Think of solutions to existent problems
Pinpoint to your customers the difficulties they have faced before. Explain how your product can solve the problem in the future.
6) Make use of sales analytics and automation
Make sure that you use appropriate software to interact with customers and keep track of relevant information.
Examples of Upselling
Upselling helps persuade your customers to buy an upgraded product or service. It ensures that your transaction is more profitable. Over time there have been some brands that have successfully used upselling in their agenda.
Let's have a look at them-
1. Elegant Themes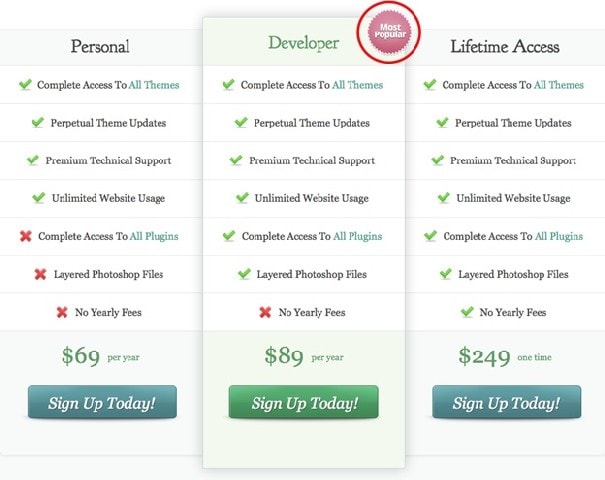 While going through the landing page of Elegant Themes, you can notice that they have offered a comparison list that also includes social proof. They are showcasing the mid-range package as one of the most popular options, so their audiences can shift from Personal to Developer version.
2. Dollar Shave Club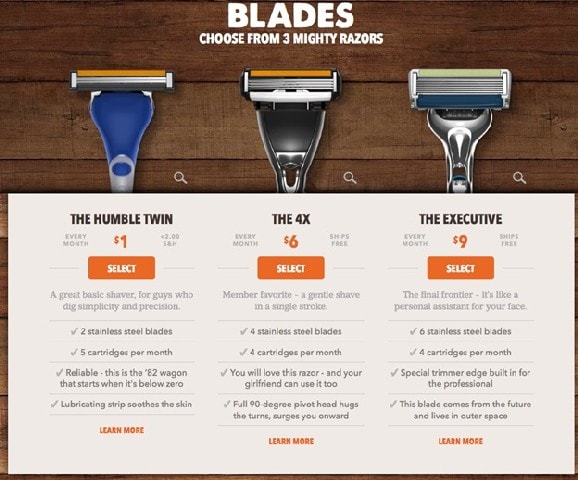 So the dollar shave club comes forth with the idea that you need to spend only one dollar. It, however, is only a brilliant marketing trick. Once people are lured in by the name, they are shown options that are pricier and much more valuable than the standard one-dollar option.
There are catchy captions for each of their items, such as "Member favorite" and "The final frontier."
3. Spotify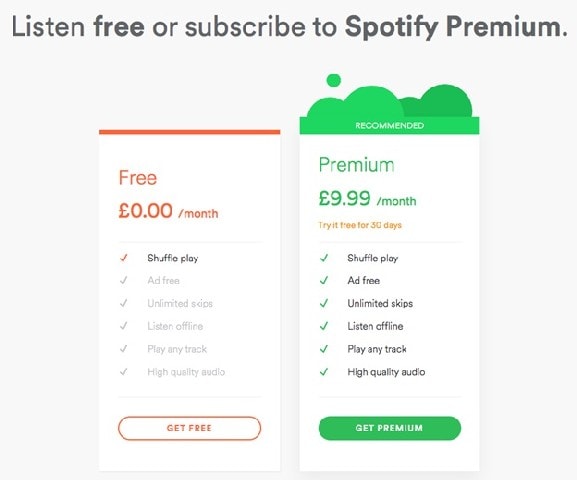 Spotify makes use of a beautiful trick when it comes to upselling. It compares two options effectively and allows its users a chance to choose between the two. The better options that you can get after subscribing for £9.9 are very attractive as compared to the free version.
Thus, Spotify manages to upsell many of its premium accounts.
4. Virgin Media

A great tactic that has been used by virgin media is offering low initial prices. After customers start considering options, however, the company provides better, slightly more expensive options. For instance, Virgin Media gives you broadband for around five pounds a month. Once you start reviewing this option, you are offered better deals, like 60 extra channels for an extra fiver.
If you're ready to spend this much, you might as well spend a little more. Thus the customers start favoring the upselling process.
5. Sky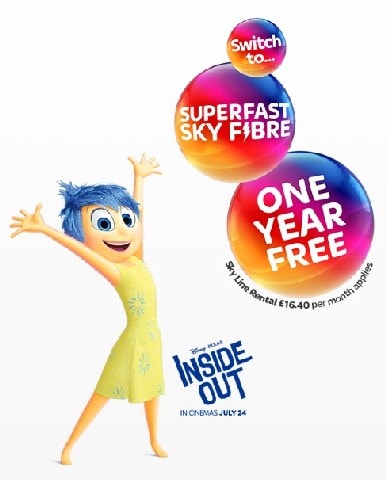 It is the biggest rival of the sky. Superfast Fibre Options by sky allows certain features that are not present anywhere else. For instance, the lowest point of the price is absolutely nothing! A free package! But then you come to realize that you can only get 25gb worth of downloads monthly. For an extra 10 euro, you can get unlimited usage.
Wrapping it up!
Successful upselling requires training and experience. Once it is mastered, a person can boost the sales of its company. You can become a great medium of additional income for your company if you get the hang of upselling.
For successful and profit-driven channelization of any business, it is essential to connect, convince and convert the number of prospects. Upselling is one of the safest and highly productive strategies for doing this.
Your premium version product must offer better value to the existing customers, as this will let your Upselling strategy be consistent and productive in the long run.
Do you also consider Upselling a powerful strategy for optimizing the sales of your premium products? Let us know in the comments below.