How many times have you received invitations to attend different kinds of charities or exhibitions? And when you go to these exhibitions or charities, you find yourself getting involved in them, even when you didn't want to? This behavior is not a normal customer behavior. Instead its a sales as well as marketing tactic to hook the prospect and then convert him slowly to a long term customer. This technique is known as the Foot in the door marketing technique.
Most of the times, it is almost impossible to make a sale without overpassing some barriers such as gate keeper, a security guard or a front desk receptionist, especially in the trading industry. This is where the foot in the door marketing technique comes in. This technique creates a small agreement or a bond between the seller and the prospect.
It involves asking something small the first time you make contact with your potential customer in order to engage him in your plans. Once the customer is engaged, then ask for something bigger, and continue to ask for bigger and bigger things until you reach your goal. Thus, you have your foot in the door and now you can enter the house and get the customers attention completely.
The fact that you have engaged with the customer for the first time does not guarantee that he will accept your second proposal. Or that he will increase his interest. Hence the success of Foot in the door marketing technique depends on the emotional approach that you take while approaching the customer. The reason to make a small demand the first time is that you do not offer the customer the chance of a refusal. As yours is more of a charity cause or an exhibition sale, the customer will more likely say yes if his involvement is minimum.
However, if you manage to present your goal in such a way that it creates a positive impact on your customer and it makes him feel like he is investing his resources in something worthwhile, then you have a higher chance to engage him towards your product, organization or goals.
If you look at charitable trusts like Green peace, this is the exact technique they use. Initially, they will ask a very small amount from you but will get all your details. Via reminders sent through sms, email or other such medium, they will keep making interactions with you so that you keep shelling out more money towards the cause. Ultimately, the organization has got what it had planned for.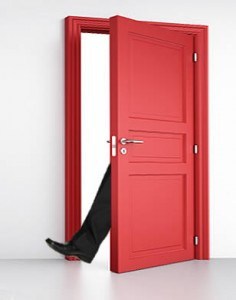 The foot in the door marketing was first studied by Jonathan Freedman and Scot Frase in 1966, and this technique was also named as "sequential request".
Some of the daily scenarios which you may encounter or might have already encountered are supermarket samples, charitable organizations, sales flyers, free lunch seminars and others. Amazingly, even parenting can be an example of the foot in the door technique. Think of how kids first ask for a small thing, and then a bigger one,  and finally, you end up accepting and giving things which you would not have given your kid if he would have asked it the first time itself.
As a customer, although foot in the door technique sounds insistent and powerful, there are several ways that you can simply avoid getting trapped with this technique. For example, first you need to think that each of your action is an individual choice and nobody is forcing you to do anything. If you don't feel that your involvement in the respective cause is something that is needed, or something you will pursue, then there is the diplomatic approach of simply refusing the offer by stating that it is a personal policy you are not interested in further discussing.
Nobody is going to judge you if you don't fall for this kind of technique, so the guilt feeling should completely disappear.  At the end of the day, all of us are aware that there is no such thing as a free lunch seminar and that most probably you are going to be asked for something.
So the next time you want to ask something big from the customer, first get your foot in the door, and then you can keep asking till he says yes.