Does a dispute always end up bad? Is there any way it can be solved? What are the tools we can use to resolve a fight? When two or more people do not agree on a particular thing, there are high chances of a dispute. But isn't it true that every problem has a solution? You can resolve most of your personal as well as professional issues wisely through a negotiation.
Honing your negotiation skills will help you master the delicate art of resolving conflicts in a manner that you get what you want. At the same time, you will also ensure that the other party/parties also do not feel compromised- So win-win situation for all.
Well, if negotiation is carried out properly by following all the required steps, then even an enormous disagreement can end on a good note. This post will unravel the mystery of what is a negotiation and how to reach win-win negotiations.
What is Negotiation?
Negotiation is a way of clearing doubts, discussing issues, and solving them in such a way that all the people involved are satisfied with the results. It is something which happens quite often in our daily lives.
It can be defined as
Negotiations are formal discussions between two or more people or groups who have different aims, inclinations, or intentions during which they all try to reach a mutually agreeable point.
Unknowingly we negotiate with a lot of people around us, whether it is buying, choosing, or deciding something. Personal matters, family problems, or even legal official matters, all are examples of negotiations.
If the concept of negotiation did not exist, then there would be brutal fights and disputes every time. It is essential to know that there can be some instances where you might have to sacrifice one thing to get another.
Outcomes of a Negotiation
There can be two outcomes of a negotiation-
1. A Win-Win Outcome
In this, both the parties achieve something, if not all, of what they opted for.
2. A Win-Lose Outcome
In this, one party wins while others accept to lose.
 Definition of Negotiation Process in an Organization
A negotiation offers an effective mechanism for the effective deployment of a consistent approach towards result-driven business negotiations. Different components that a business negotiation can incorporate-
Qualifying deals
Defining specific deal objectives (for self & counterparty)
Considering deal alternatives (for self & counterparty)
Using appropriate framing
Creating the proper negotiation climate
Trading
Closing
Steps towards a Successful Negotiation
1. Initial talks and preparation
This step involves setting the first meeting. The venue, time, and attendees are to be decided. Sometimes the time duration of the whole process is set in advance to save time.
2. Examining the case
It is essential to know what the case is all about. The concerned parties explain the happenings, proof, viewpoints, and ideas. So this stage includes the briefing and introduction of the case.
The representatives are given an equal chance to present their cases.
3. Clearing the doubts
The misunderstandings are cleared by having a full-fledged discussion. All the parties involved put forth their point.
The respective organizations or individuals can question, suggest, or talk about their views on the case. Doubts are cleared if needed. The whole case is noted down when both sides are giving their opinions.
4. Flexible agreement
The parties will have to compromise, but it should not be totally in favor of the opposite. Both of them will get equal shares based on mutual consent. There are no losers, and everyone wins something.
Make sure the case and evidence provided by you is strong enough that you get what you deserve. Try to get the most out of the case. The concerned parties have to be satisfied at the end of the negotiation.
5. Understand and agree
Once the case is understood by the parties and agreed upon fully, then an agreement can be reached upon. This step involves having clarity in the points and agreeing only after a proper discussion.
The agreement is crucial to avoid any further objections. Hence, this is done before the last step of negotiation, that is, the final result.
6. Coming to a conclusion
So, after all the procedures, there comes the final step marking the end of the negotiation. The conclusion involves the final decision on which all the parties agree upon and legally approve.
Compensation is further discussed to move towards the implementation part.
7. Execution of the decision
Only concluding the negotiation does not complete the process. Implementing that decision is equally important. Whatever decision is taken is executed smoothly and quickly.
The issue is resolved, and the parties get the products of negotiation. The give and take process is implemented. Equal shares are given based on the final result.
Failure to agree – Negotiation Failure
Not all negotiations end up nicely. Some may be so brutal that there is no mutual agreement. This can cause a failure in the process.
The parties can re-schedule the meetings. They may put forward an alternative idea for negotiating, or they may even change the style of communication.
The approach may be different this time, but indeed there is a waste of time and money.
Is it compulsory to follow procedures every time while negotiating?
There are cases when the parties do not want any legal complications.
They come to a mutual agreement either verbally or indirectly by settling on something. The ones who sacrifice may get compensation from the other party.
An informal negotiation may even involve giving the word or making promises. Mostly informal negotiations are not advisable as one party can cheat the other.
Legal procedures are followed to avoid fraud and confusion.
Skills Needed to carry out a Negotiation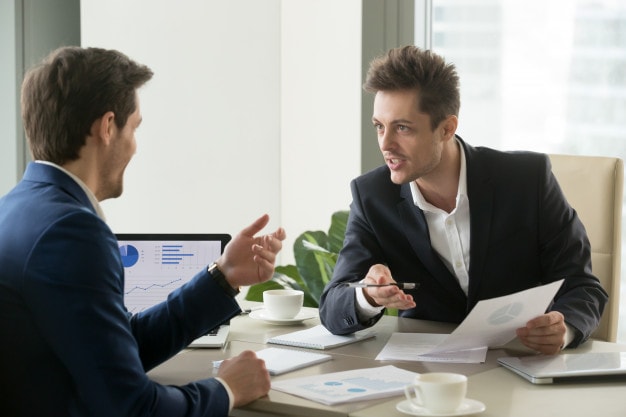 Verbal communication and body language play an essential role in negotiation. It would help if you convinced the opposite side to settle based on your preferences and demands.
2. Learn to listen
If you expect the opposite party to listen to you, you have to be efficient enough to listen to them. Listening properly and clearly will help you get an idea of the opposite party's plans.
You can accordingly note down and try to point out any mistakes.
3. Positive approach
The behavior and attitude of the representative or the party as a whole matter the most. There should be no threatening or harassment in the entire process. Build a good rapport and gain their trust.
4. Knowledge
Each party should have in-depth knowledge and information about the whole case. They should be aware of what is going on. They should be able to debate upon or clarify any allegations against their organization.
The past and present history, proceedings, and alternatives are to be known by the parties.
5. Quick thinking skills
Quick decision making and problem-solving is the key to a successful negotiation. Understand the aspects, process the information, and find out a solution to it. The solution should be such that no party is affected.
6. Emotionally strong
There are instances where you may get involved in the matter emotionally. The reasons for this can be varied. So you need to support yourself and control your feelings. Your emotions should not compromise the negotiation in any way possible.
7. Manipulative personality
The tool you can use to handle such matters is your voice and words. Use your words carefully and modulate your voice. Let them have clarity on your views.
Be firm on your opinions and have a high-pitched voice during discussions.
Suggestions and Tips on Negotiation
1. Make sure the deal is fair and legitimate
This point is crucial because the opposite party might try to fool you into signing an agreement that profits them. So focus and concentrate on all aspects.
2. Your wants and needs should not be undermined
The points put forward by your organization should be heard loud and clear. Negotiation should not proceed further by compromising your wants if you know that your angle is reasonable and favorable.
3. Study well on the topic before the negotiation procedures begin
Show that you are prepared fully. Bring sources and references to the content if needed. By being prepared, you will be able to put forward your perspective more convincingly.
4. Do not involve personal matters in professional issues
When negotiations are carried out, all that matters are the facts and evidence. Professional negotiations need to be carried out on professional grounds in a rational, reasonable, constructive, and favorable manner.
5. The opinion of the opposite party should be considered
Their views might be better than yours. Understanding others' perception and comprising the power of acceptance empower an individual in getting better negotiations that are always fruitful.
6. Mutual consent is essential
So if your idea is not accepted, ask for clarification. The decision is to be made only if all the involved people agree to it.
7. Plan your moves and make sure the outcomes give profit to your party too
While representing your organization, it is essential that your negotiation ultimately opens the doors of opportunities for you. Also, in the process, do not disrespect the opposite party.
8. Try to understand what the other party wants
Think from their perspective. Negotiation is done to solve problems and not create problems.
9. Flexible agreements always seem to work
The outcome should be not only an advantage to you but also the opposite party. So if you come up with a neutral solution, there are more chances of the dispute to end early.
How to Increase the chances of winning the Negotiation
The main goal of a negotiation is to come to a mutual agreement to finish the dispute. But what can we do from our side to increase our chances of winning?
Practice and experience in negotiating can help you a lot. If you have been in a position where you have negotiated with someone, it can help. You have an idea of some possible cross-questions and outcomes.
You should focus on the objectives. One party should not face issues even after the agreement. Know what you want and act accordingly.
It would be best if you bargained wisely. Twisting your words to manipulate the opposite company is an art. It is not illegal to have good convincing power.
Also, you should aim for their weakness. If a company does not agree upon your terms and wishes to gain full profit from the negotiation, you can tackle them back.
You should be interactive and supportive. Learn to gain the trust of the opposite party.
Long-term goals should be focused upon while participating in the negotiation. The agreement can be made based on future goals. Make sure the deal is long-lasting and accordingly implement your strategies.
You should ask for enough reasonable and thought-provoking questions. Ensure that all the points put forward by them are valid. Ask for a valid explanation if you have any doubts.
You should also seek alternative options if the situation demands something like that. It is seen that the parties do not get into a mutual agreement mostly. You need to make quick decisions and also understand the options present before you.
Final Thoughts!
When you are going for a negotiation, you should always determine how much of your overall objective you should disclose in the process.
It should also proceed further as per the type of person you are dealing with.
You should always make the other party feel that they have worked to get that outcome during the negotiation. It is important that the other party feels that they have earned that outcome, so after the process, they do not think that they could have performed better for more favorable outcomes.
All in all, your negotiation should never reopen another negotiation.
Finally, you should always be mindful of the responses that you get while making offers and counteroffers. Have good adaptability and assertiveness while making negotiations.
Now, we'd like to hear from you-
How would you define negotiation?
Do you want to share some instances of good negotiations from your life? Share with us in the comment section below.
Liked this post? Check out the complete series on Sales