Product design is the process of finding out market opportunities, understanding the problems, creating a product as a solution, and validating that solution with potential customers. It is developed on design thinking which is a human-centered approach to designing new things as per the needs, business requirements, and technological scope.
A good example of product design is how Amazon used it to design the Kindle e-reader. The team identified a problem that people had with carrying books around, and they developed an innovative solution of creating an electronic device where all your library can be stored in one place. They tested out different prototypes until they found the product design that worked best for their customers and users.
What is Product Design?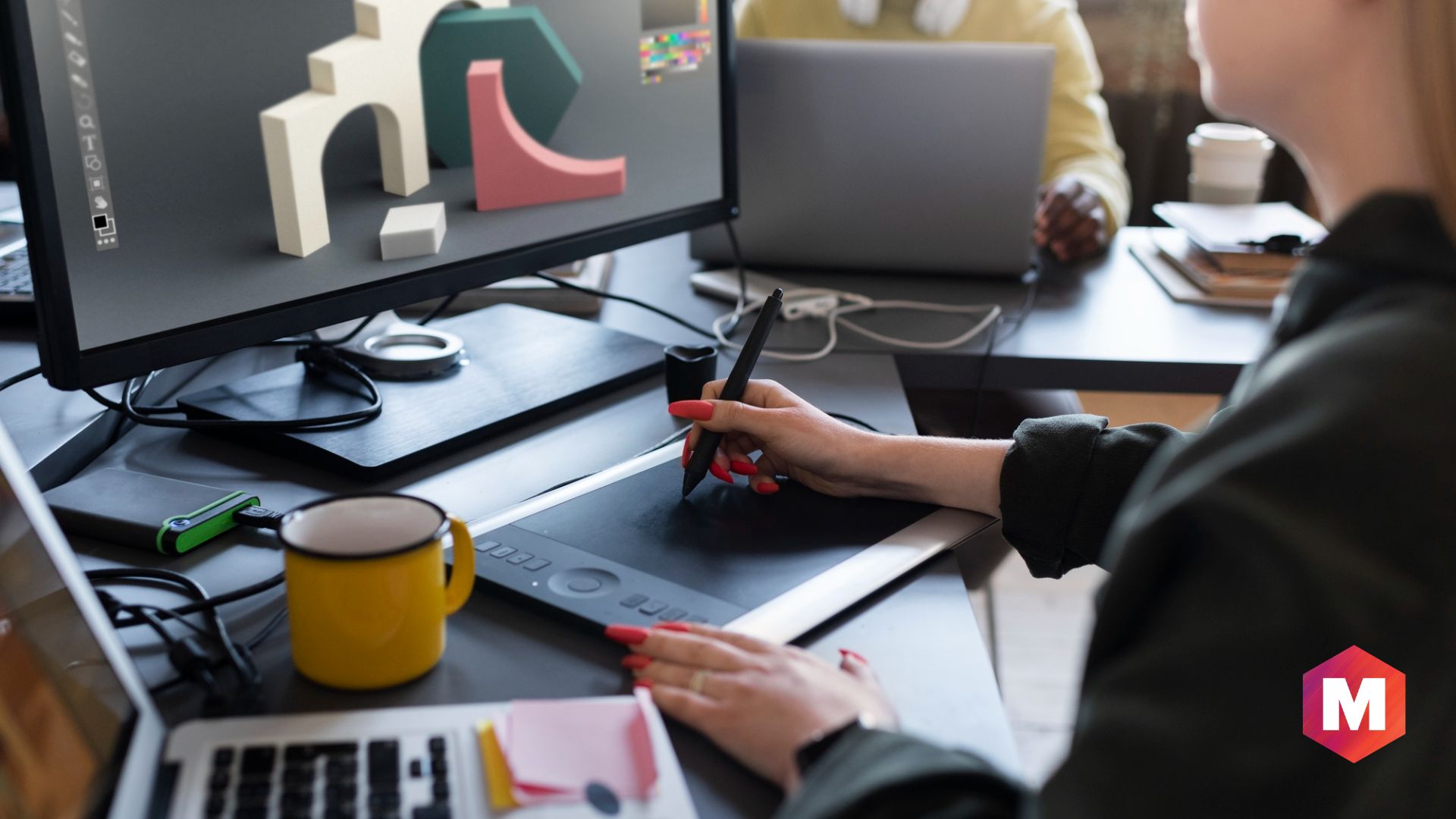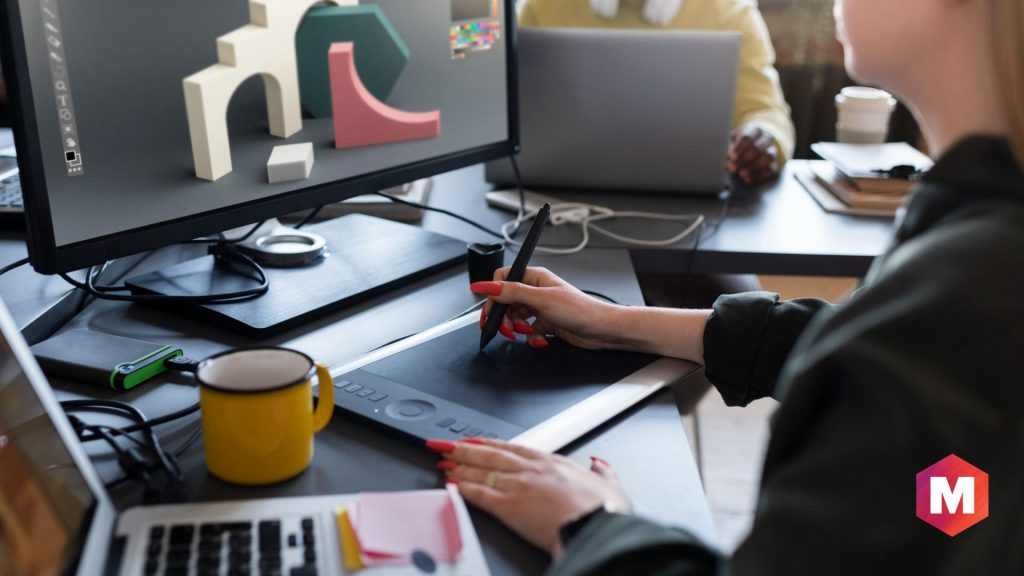 Product design is defined as the process that product designers use for blending user needs with business objectives to enable brands to come up with successful products. A product designer's role revolves around empathizing with users, understanding their problems, ideating a proper solution, building prototypes by using prototyping tools and then testing and validating the solution.
The process of product design involves envisioning, developing, and refining products that meet the needs of users or fill a particular gap in a specific market. To create a successful product, designers must have a good understanding of the end-user customer, for whom the product is intended.
Product design is the creation of a product for a company to sell it. You may also understand it as an efficient and effective generation and development of ideas by following a design process that ultimately leads to new products. A new product is designed only after several steps, including the development of the concepts, analysis, and specific modifications.
Key Takeaways!
Product design is the inclusion of several steps – identifying a market opportunity, defining the problem, developing a suitable solution, and validating it with real users.
Additionally, as a verb, product design is the process of creating a new product for a business to sell to its customers.
The process of designing a product is integral in the development of new products.
It involves generating and developing ideas through a design process to create efficient and effective results.
What Does a Product Designer Do?
By using empathy and knowledge of their potential customers' habits, behaviors, frustrations, needs, and desires, product designers attempt to solve real problems for real people. To ensure top-notch products or features, designers should comprehend business goals, grasp the fundamentals of sound design, and address these queries –
What problem are we addressing?
Who is affected by this concern?
What are our desired outcomes?
Product designers mix up the needs of the users and the business goals to produce efficient products that are beneficial for both businesses and users. Product designing involves critical thinking to solve problems. The skills and concepts of a product designer differ in different stages of the process. Product designers are supposed to take up the roles of problem solvers, visual designers, researchers, product managers, and analysts.
They need to make reliable and realistic representations using broad theoretical knowledge, channel effective project management, do user journey mapping, and create a layout that can tell everything about the product development and design process. A product designer is known by so many names-
User Interface (UI) Designer
Experience Designer (XD)
User Experience (UX) Designer
Information Architect (IA)
Experience Architect (XA)
Interaction Designer (IX), etc
History of Product Design
Since the Industrial Revolution, product design has emerged as a new field. Industrial design and product design are closely related disciplines.
According to the Industrial Designers Society of America:
Industrial design is the professional practice of designing products used by millions of people worldwide every day. Industrial designers not only focus on the appearance of a product but also on how it functions, is manufactured, and ultimately the value and experience it provides for users.
In the past, handmade products were the norm as there was no mass-production era of manufacturing. This resulted in less availability of products for sale and higher costs. With the advent of industrialization, businesses started producing products on a large scale at a lower cost.
Product design has developed as a distinct category or subset within industrial design over the years. Today, industrial design typically refers to physical products like furniture and household appliances, while product design has a broader scope and can include digital products like software applications.
Outline of the Work Process of a Product Designer
Research and Consultation: At first, you will have to work on the customer's specifications regarding the product. This will make you understand product criteria and help you to work on the concepts and prototypes. Product designers should also conduct a good amount of research in the product vision and development phase.
Brainstorm: After getting the ideas, you will have to make a draft and outline presentation of your ideas
Design: Once your idea is approved, start working on the product's method using Computer-Aided Design (CAD). Designers should also pay heed to software as well as other technical specifications essential for detailing everything in the design system.
Prototype Development: This involves the development of the final product through the use of 3D designs, Ux design, sketches, graphs, computer software, user journey map, etc.
Prototype Testing: This requires a hands-on approach depending upon the nature of your design. At this stage of designing, you will have to make budget constraints, use, and impacts of the product on health and the environment.
Five Phases of a Product Design Process
While designing a product, a product designer generally goes through the following phases –
Empathize with people – To design effectively, research, and gain a better understanding of your user stories and thought process.
Define the problem – It is important to draw on user needs and insights when drafting a point of view.
Ideate a solution – You should generate as many ideas as possible without limiting yourself. You should try to come up with a wide variety of creative solutions. Feel free to think outside the box and think of all possible ways to solve the problem.
Build a prototype – Create a prototype or a series of prototypes to verify your hypothesis. Prototyping helps designers to determine if they are heading in the right direction and can generate new ideas that they might not have thought of otherwise.
Test the solution – Please gather feedback from your users and ask for their thoughts or opinions.
Here, you need to understand that even after a product reaches maturity, the product design process continues because technology and user interactions keep progressing.
Steps of a Product Design Process
With a clear understanding of design thinking, we could move into the Design Process. The design process is the steps taken by a team in developing a product from start to end. The flow of the designing process includes:
1) Define Product Vision and Strategy
Before starting the development of the product, you need to understand the product and its needs thoroughly. It is not possible to make a product up without knowing the reason for its existence. This is defined by Product Vision and Strategy.
Many times we see projects with unclear goals, individuals associated with design just ambiguously gotten the motivation behind the project. Regularly this happens in light of the fact that there is no vision for the item. Tragically, this situation happens time and again. By and large, this has unfortunate results. All in all, vision without activity is a fantasy, and activity without vision can be a nightmare.
2) Product Research
Once the product vision is done, it is time to research the product. This will increase the chances of getting the project's success. It will also help you to understand more details about the product.
For optimizing the chances of success, brands should do insightful research before making reaching to some product decisions.
It will illuminate you in making a more informed product design, and the way it takes place from the get-go in the product design process, it will save you a ton of time and money resources. Furthermore, with strong research, offering your product ideas to partners will be significantly simpler.
3) User Analysis
After researching the product, analyze the data you collected. This will give the designers an in-depth understanding of the product.
In this step, the product team should sort out the information it has gathered. The goal of this stage is to draw experiences from the information gathered during the research stage. Designers capture, arrange and make decisions about what audiences need, want, or demand that can assist UX designers to comprehend the reason behind such desires.
4) Ideation
Ideation is when the team members suggest their brainstorming ideas that go with the goals of the product. This stage is important to create thoughts or ideas as well as affirm that the design assumptions are legitimate and doable. This involves the method of sketching, storyboarding, etc.
Sketching is extremely useful for imagining what a few parts of the design will seem to be in the final product while storyboarding is utilized to envision the general interactions with the product.
5) Designing
Once the ideation phase is completed, the team members must understand what they should make. Prototyping is an important part of the design process.
The prototype is an idea that enables you to test it before actually building up the full solution. The prototype starts small and deals with making a few core parts of the product. This later grows into the fully made product after a series of iterations and modifications required. Efficiency is unavoidable in prototyping.
One of the most important and efficient prototyping is rapid prototyping. There are mainly three stages in the process of the cycle of rapid prototyping.
Prototyping- It is creating a solution that can be evaluated and tested later.
Reviewing- They are giving the prototype to shareholders to gather their feedback and work on it.
Refining- After getting the feedback, make necessary changes and modifications to the products according to the specifications.
6) Testing and Validation
The team members test out the product and ensure that the design of the product came out the way they intended.
Testing in itself is workmanship, so if you do it terribly, you'll not get anything, but if you do it right, you would get mind-boggling, unforeseen bits of knowledge that could even change your product design procedure.
7) Post-Launch Activities
Developments made on a project do not end with the launching of the product. Modifications must be made as long as the product is in existence to improve the product.
As a matter of fact, the product design process is a continuous cycle that goes on for up to the time the product is being used.
Many post-launch activities are performed to optimize the product's presence in the target market as well as increase the product's shelf life.
What are the Types of Product Design Jobs Available?
Some of the jobs that are associated with the product design field are-
1) Graphic Designers or Visual designers
A graphic designer takes up the role of creating excellent graphics, logos, icons, and other visual animations for the product. One of the most artistic roles in product design is to create visual elements such as graphics, icons, logos, and other components. Graphic designers are responsible for a wide range of tasks that include selecting a color scheme or making small adjustments to individual pixels.
2) UX Designers
User Experience Designers develop products based on evidence, feedback from the users, research, etc. The UX Designers aim to increase the happiness and satisfaction of the users.
3) Product Designer
A product designer is designated to do most of the above-mentioned roles. Product designers help develop the visual picture of the product. There are professionals in a company to take up the responsibilities of UX Designers, researchers, and architects.
4) Motion and Animation Designer
Motion and Animation Designers bring life to the art by adding 'movement' or transition if it's needed for the product. These specialists work on the complicated part of the design that involves the movement of elements such as transitions and avatars controlled by the user. They are responsible for bringing the art to life, rather than creating it.
5) User Research
User Researchers mainly focus on the customers. It involves interviewing, running studies, collecting feedback, etc. A product design organization, when large enough, concentrates on comprehending its customers through various methods such as conducting interviews, usability studies, presenting prototypes for user feedback and creating personas based on demographics. Hence user researchers play a crucial role in product design.
6) Prototyper
Prototypes are the team members of the product that brings up and validate the team's ideas and users' ideas. Prototype handcraft the mockups in a company that makes physical products. The prototypers in a product team are responsible for bringing the team's ideas to life and creating tangible representations of the product's features and characteristics. For physical product companies, this involves crafting mockups by hand. The purpose of prototyping is to quickly validate the product with users.
7) Data Analyst
A data analyst suggests ideas to improve the product, like making modifications to the layout, graphics, and visual aesthetic. These designers primarily use scientific data, including user research and information architecture, to enhance a product's layout, features, and visual aesthetics. They also have design skills.
Product Design Artifacts
1) Journey Maps
It is the visual representation of the stages that a person underwent in the completion of a product design. It involves user interaction, thoughts, and emotions.
They can break down the intricate feelings a target audience might go through to assist with distinguishing problem areas and opportunities.
Journey maps are made by conducting workshops with various partners and users by using a number of directed tasks and questions.
2) Wireframes
They act for drafting the design for testing and serve as blueprints. It represents the overall framework of the product. It allows the clients and designers to go through the structure of the product.
You can understand them as low-fidelity models to rapidly draft answers for testing. They act as blueprints for higher design plans. Frequently drafted with paper and pencil, wireframes are incredible for ideation. Poorly conceived ideas can be immediately rejected in this.
3) Prototypes
They are mainly designated for testing. The aim is to test the solutions after a series of discussions and feedback. This will help the team in developing user-friendly solutions. It involves the proper defining of user segments and the effective use of methodologies to collect and use data that are unbiased.
These are the models or mockups created for the purpose of the tests. Their objective is to test the solution using a series of moderate sessions to collect user feedback. Selecting the correct user segment and using the appropriate methodology to collect impartial data is very important here.
Collecting data and problems in the form of discoverability, information architecture, usability, etc will help in generating an easier-to-use solution.
4) High-Fidelity Design
High-fidelity design is the last and final mockup of the design you made.
As it has been made after considering the user's feedback and the company's goal, the final design must resemble the final product after coding and implementation.
This design act as a blueprint and guide for your design team. In this process, communications regarding the layout, animation, color, typography, and all other major details must be discussed and implemented.
Types of Product Designing
1) System Design
The best example of system design is a grocery store. There is a large selection of goods and trades for the user to collect and prepare food.
The purpose of system design is to provide enough data and information about the product and implement the product design in a perfect way.
2) Process Design
When you buy things from the grocery store, you give money.
The process can be defined as the context when you wait for the cashier to scan your items and allows you to pay for their things.
3) Interface Design
In the grocery store, we can ask for someone's assistance. In short, it is the creation of user interface devices. Dividing the tasks will show up the complexities of each phase in the process. The design determines the usability, reliability, efficiency, and speed of the interface used.
The decisions made on interfaces vary in each company. Every decision is made to smooth up the process. If the decisions made are not intended to solve the user's problem efficiently, the user may reach another system to resolve it.
Product Design Examples
Some contemporary product design examples that were once just ideas that have now become a reality are – a smartphone with a battery that lasts a long time, a laptop that is thin and easy to carry, or an electric car with an amazing design.
A few other examples of interesting product designs include a car that can drive itself, a kitchen device that can interact with you, and a robot that can assist with household chores.
They all started with a creative idea and the adept amalgamation of materials, technology, and engineering to make it a reality.
How to Become a Product Designer
To become a product designer, one must have an excellent eye for detail and creativity. They should also be knowledgeable about usability testing, industrial design principles, and the full range of software used to create 3D models.
Additionally, they should hold a professional portfolio showing their skills in product design to potential employers. With the right combination of knowledge and talent, anyone can become a successful product designer.
The job of a product designer requires great skills, and it is ever-evolving as technologies and user needs change. To stay on top of their game, they need to be constantly updated with the latest trends in design and technology. By doing this, they can create products that not only satisfy user needs but also stand out from competitors.
What is a Product Designer's Role?
Describing the job role of a Product Designer is difficult because the design process of product development is constantly changing, and the responsibilities of individuals within the process keep evolving. This makes the job elusive and hard to define.
Individuals in the field need to have proper hands-on training with a reputable design program. Visual Designers focus on the appearance of a product, while UX or UI Designers work on wireframes and user flows. The Product Designer is someone who can take a concept from beginning to end.
Product Design Education
Entry-level industrial design jobs require Product Designers (aka Industrial Designers) to possess a bachelor's degree in product design, engineering, and industrial design as per the Bureau of Labor Statistics. Industrial design programs typically cover drawing, computer-aided design (CAD), drafting, and 3D modeling. They also offer courses on business, industrial materials and processes, and manufacturing techniques.
Necessary Skills to Get into Product Designing
To succeed in a career in Product Design, you must have the following skills –
Analytical Skills – Industrial designers apply their logic and reasoning skills to study consumers to identify the demand for new products.
Artistic Ability – To create prototypes, industrial designers first sketch their design ideas. Designers need to be able to illustrate their designs through their sketches.
Commercial and Entrepreneurial Expertise – Product designers have a necessary understanding of production and manufacturing processes to bring products to market.
Communication Skills – Having strong communication skills is necessary for this position.
Computer Skills – Computer-aided design software is used by industrial designers to develop designs and make prototypes.
Creativity – Designers in the industrial field need to come up with creative and original designs while also finding ways to incorporate current technologies into their new products.
General & Specialized IT Skills – The message contains output language code EN and mentions computer-aided design (CAD) and other software programs.
Interpersonal Skills – Industrial designers need to establish collaborative relationships with clients as well as colleagues who have expertise in related fields.
Mechanical Skills – For the products that they design, industrial designers need to have an understanding of product engineering.
Presentation Skills – Having excellent presentation skills is essential for this role because it involves giving clients detailed presentations during the product development process.
Problem-Solving Skills – Industrial designers are responsible for assessing the need, size, and cost of a product, predicting production concerns, creating different options, analyzing choices, and applying the best solutions.
Teamwork Mentality – As a Product Designer, you will work with different colleagues and clients, so it's important that you feel at ease working in a team.
Time Management Skills – Designers need not only to meet strict deadlines but also to be proactive and self-sufficient in their work.
Visual & Spatial Awareness – To be successful in this career path, it's crucial to have a sharp sense of visual and spatial awareness in addition to creative and artistic abilities.
Conclusion!
Product design is a field that requires knowledge, skill, and creativity. It does not happen overnight, but when done well can bring about revolutionary products that solve many problems and make life much easier.
Product design can be a complex process that involves time, effort, and resources. However, it can also be incredibly satisfying to create something that solves a problem or improves someone's life. Despite the challenges, pursuing product design is worth it if you are passionate and up for the challenge.
Here is a video by Marketing91 on Product Design.
FAQs
1) What Types of Tools Do Product Designers Use?
Some of the tools that products designers need to do –
Journey mapping apps
Graphic design apps
Wireframing apps
Product roadmap apps (e.g., ProductPlan)
CAD (computer-aided design) software
Prototyping tools
Project management apps (e.g., Trello)
Research and data analytics tools (e.g., spreadsheets, sophisticated A/B testing apps)
2) What is the difference between UX Design and UI Design?
User Experience (UX) design involves designing products that are optimized for effective and enjoyable use, particularly by focusing on human-centered design. On the other hand, User Interface (UI) design deals with the visual design, presentation, and interactivity of a product, complementing UX design.
3) What is Lean Product Design?
Lean Product Design goes beyond traditional software development approaches such as Lean and Agile by incorporating rapid iterations during the pre-coding product development phase to bring innovative products to market even faster.
4) What are product designer salaries in 2023?
According to Glassdoor, In the United States, the average annual salary for a Product Designer is $91,625. On top of that base pay, the average additional cash compensation for a Product Designer ranges from $4,034 to $7,529 and averages $5,378.
Liked this post? Check out the complete series on Product Management