To be effective in product management, you must comprehensively grasp the customer's requirements and guarantee that the product fulfills them. Good communication skills and strategic thinking are also essential for product managers to meet the customer's expectations.
Product managers play a crucial role in advocating for customers within a company and ensuring that the organization takes into account the needs and opinions of the market to build the best possible product.
What is product management?
Product management is the process of overseeing all aspects of a product's lifecycle, including development, marketing, and pricing, with a focus on prioritizing the needs of the customer and the product. For example –
Based on market research and customer feedback, a product manager may choose to make changes to a product such as adding new features or adjusting the pricing.
In most companies, not all strategic and tactical tasks are handled by product managers or owners. These tasks are divided among different teams or departments. However, the majority of product professionals dedicate most of their time to focusing on the following tasks –
Researching – It is being done to gain expertise on the market of the company, user personas, and competitors.
Developing Strategy – They should use the industry knowledge they've acquired to create a comprehensive strategic plan for their product, which includes outlining goals and objectives, providing a general overview of the product, and possibly creating a tentative timeline.
Communicating Plans – The task is to create a strategic plan using a product roadmap and share it with important stakeholders, such as executives, investors, and development teams. It is important to maintain open communication with cross-functional teams during and after the development process.
Coordinating Development – Once you have the approval to proceed with your product's strategic plan, work with the appropriate teams like product marketing and development to start implementing the plan.
Acting on Feedback and Data Analysis – Finally, after building, testing, and introducing the product to the marketplace, learning via data analysis and soliciting direct feedback from users, what works, what doesn't, and what to add. Working with the relevant teams to incorporate this feedback into future product iterations.
Product Management Example
Let's understand what is product management with an example of a company ABC that needs a product manager for managing one of its products –
Prioritizing features – Business ABC needs to prioritize which component of its product to focus on. To ensure that the right features are prioritized and launched, they created a Product Manager role.
Collecting customer feedback – The current product does not fulfill the needs of customers. The Product Manager position involves incorporating customer requirements into the process of developing and planning products.
Managing cross-functional teams – The product has various departments which include design, engineering, marketing, and sales. To guarantee success, a Product Manager oversees the coordination between these departments.
Testing & launching products – It is the responsibility of the Product Manager to test and launch the product promptly to ensure it is market-ready.
Analyzing results – The Product Manager's role after the launch involves analyzing the results to find ways to improve the product. This analysis helps with future product development and enhances the customer experience.
Why Is Product Management Important?
It plays a key role in identifying three primary areas of planning, developing, launching, and managing any specific product such as –
Product discovery
Product Planning
Product managers are essential in introducing new products and experiences to users. They work at the intersection between UX teams, engineering teams, and business leaders to create a shared product vision. They act as the glue that binds these groups together.
Product managers have three main responsibilities: defining success criteria, outlining product strategy, and demonstrating how it will benefit both customers and the company's objectives. If there were no input from a product owner, product team members would find it challenging to manage the diverse stakeholders' interests present in both large and small organizations.
What is agile product management?
Agile product management involves leading a product through several iterations in agile software development. This approach is considered more flexible than traditional methods, due to the fluidity of agile programs.
Agile product management involves keeping the resources constant while allowing the scope of a project to be flexible. This means that the team spends less time beforehand defining the product and is receptive to making changes during the process.
Agile product management involves a step-by-step approach where each iteration is influenced by customer data and team evaluations to determine the next stage. Its focus is on leading the development team through cycles while keeping the product vision intact and incorporating customer feedback throughout the process.
The History of Product Management
During the time of the Great Depression, a marketer, who was 27 years old at the time, introduced the concept of a "brand man." This individual would be responsible for managing a particular product, rather than a general business role. This marks the birth of product management.
The growth of product organizations across industries and geographies has been attributed to the continued success of this function since the 1930s. Let's go through the year-by-year details of product management history –
1931 — Marketing manager Neil H. McElroy wrote a 300-page memo emphasizing the importance of "brand men" who specialize in managing specific products while working at Proctor & Gamble.
Late 1930s — At Stanford University, McElroy advises Bill Hewlett and David Packard, two young visionaries whom he has an impact on.
1943-1993 — Hewlett-Packard achieved 20% year-over-year growth for 50 years by adopting the "brand man" philosophy in their new company.
Late 1940s — Hewlett-Packard adopted the JIT manufacturing principles that were originally developed by Toyota.
1953 — The Kanban method was developed by Toyota.
1970s — In the U.S., tech companies are beginning to create more streamlined processes that contrast with the heavy methods used in manufacturing industries.
1980s — Technology and software companies are increasingly implementing agile processes and taking on the role of brand management.
2001 — The intention behind creating the Agile Manifesto was to eliminate departmental barriers and outdated processes, thus enabling a product management role that operates as a unified whole.
What Does A Product Manager Do?
Product managers have different day-to-day responsibilities depending on the type of business they work for. Nevertheless, all product management roles involve essential tasks that are crucial to advancing a product's development lifecycle.
1) Research
The main concern of a PM is the end-user of their product. As a result, a significant portion of a product manager's time is devoted to carrying out and assessing both market research and user research. Depending on the size of the company, this can be done either independently or in collaboration with specialized research teams.
As a PM, it is important to assess the requirements of customers and how well the product matches the market. You should make sure that these key factors are considered during the company's discussions on prioritization. Collecting feedback from customers is crucial for the success of any new product.
2) Defines Roadmap, Product Requirements, And Success
Product Managers (PMs) define the organization's product roadmap after conducting research. It's a crucial product planning tool that documents the workflow for the release of each feature or product, specifying when and how it will be released.
Product Managers (PMs) have the responsibility of predicting when delivery will occur. The user should make sure that the engineering team and UX designers they work with maintain a list of ideas, prioritize them correctly, and understand all the requirements and necessary steps to achieve the product's vision.
3) Tests And Launches
After the development process, product managers take charge of testing the new feature. To test a feature, they employ experiments and iterations, and they may split larger initiatives into smaller phases, such as a "beta" launch. The PMs track the progress of each phase and work together with the engineering team to resolve any problems that may arise during testing.
4) Analyzes And Presents Results
The product manager is in charge of informing business leadership about the successes or inadequacies of a new feature once it is launched and accessible to real users or customers. To make sure that the product meets the expectations set during research, they use various analytics tools and reports.
Types Of Product Management Roles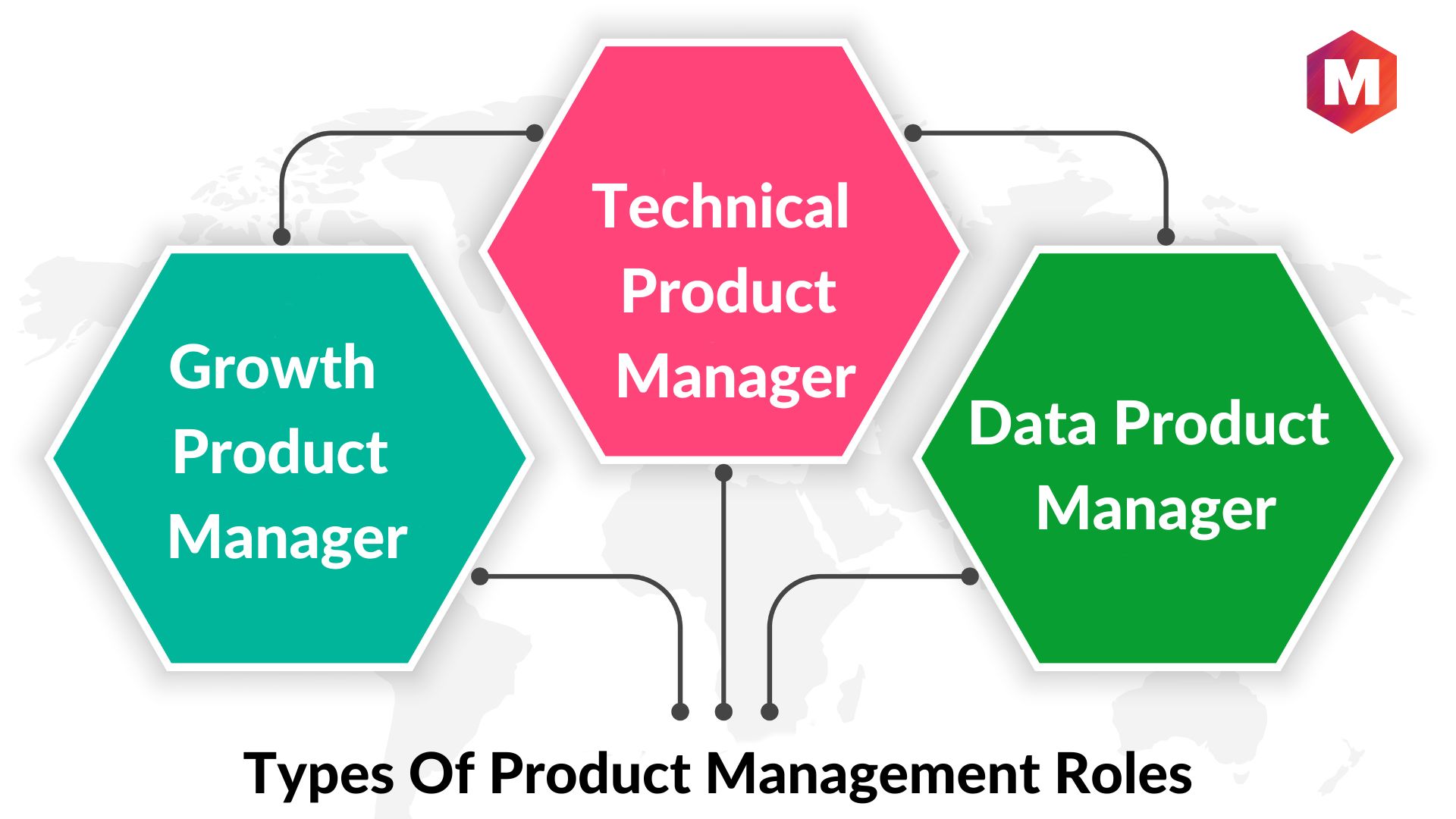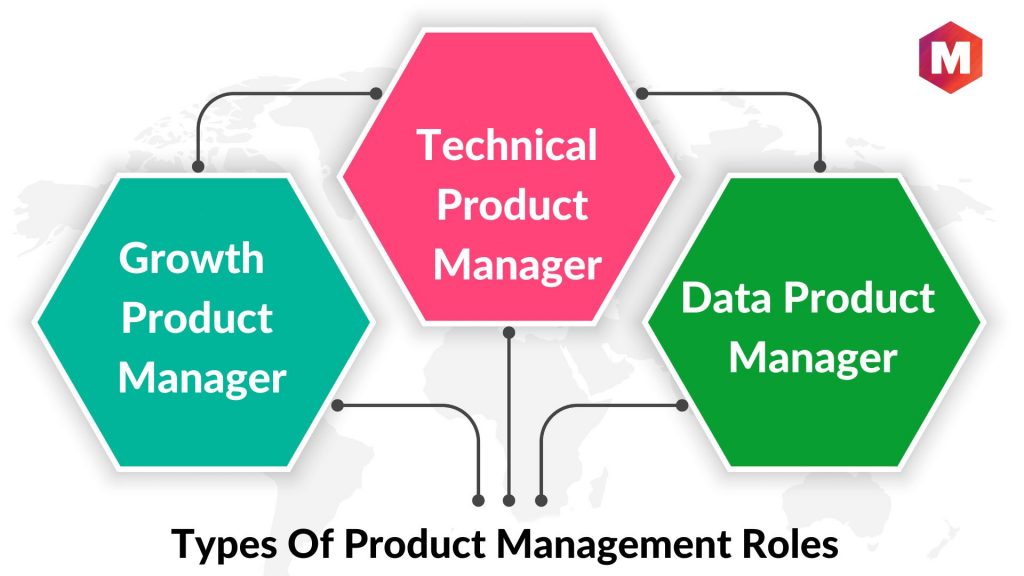 You may come across various specialized product management positions, such as –
1) Growth Product Manager
The main responsibility of a growth product manager is to achieve a specific metric that measures the growth of the company. They collaborate with product marketing and traditional marketing teams to ensure that their strategies are increasing the reach of their product.
2) Technical Product Manager
Technical product management roles usually require a background in engineering or development. This is because these types of PMs collaborate closely with engineering teams to enhance a product's core functionality or a company's digital infrastructure, such as their tech stack or security. The focus of these PMs is on the internal quality of a product rather than its external appearance.
3) Data Product Manager
A data product management role might be a suitable match for someone fond of working with numbers or who excelled in mathematics during their academic years. Data product managers collaborate with business analytics teams and data scientists to develop use cases. These cases help organizations measure the success of their new product and feature releases.
Their responsibility includes making sure that customer interactions are accurately recorded throughout the product interface. The information assists other project managers or relevant parties in comprehending how the product is being utilized by users.
What is the Product Management Process?
When you become a product manager, you are supposed to manage all the key stakeholders from the product teams and professionals involved in the product development process to agile product managers, product management teams, and technical product managers. Hence the whole product management process would involve the following steps –
1) Defining the problem
To start, the first step is to find a significant issue that customers experience. This is followed by individuals or firms attempting to perform a task and encountering obstacles. The solutions may be expensive, take a long time to implement, require a lot of resources, may not be efficient, or may result in negative experiences.
2) Quantifying the opportunity
Product managers prioritize solving the problems and pain points that align with the business goals, even though not all problems may be worth solving.
Product management needs to answer certain questions associated with the total addressable market, the severity of the customer issues, etc to build a business case for investing in a new product or solution. This will help justify the investment.
3) Researching potential solutions
Product management can investigate how to solve customer problems and pain points by casting a wide net of possible solutions with their target in mind. It is advisable not to dismiss any potential solutions too hastily.
If the organization possesses proprietary technology, intellectual property, or specific expertise that can offer a competitive edge, the potential solutions are likely to utilize them in some way.
4) Building an MVP
Now that we have confirmed that a solution is appealing and feasible, we must involve the product development team. The first step is to determine the essential features, and then the team can create a functional product for real users to test.
The Minimum Viable Product will focus only on the essential features that meet the market's requirements, without including many additional features for now. It's not necessary to spend resources on extra features for a product that hasn't been tested yet. The bells and whistles can be added later in the product lifecycle.
5) Creating a feedback loop
Customer feedback is important for a product throughout its lifecycle, but it is especially crucial during the MVP launch.
The product management team can gather valuable insights about customer opinions, requirements, and dislikes based on their feedback on the actual product experience rather than speculative ideas discussed in conversations.
6) Setting the strategy
Once the MVP is positively received, it is important to develop a product strategy.
To improve the product and align with the overall company strategy, the team should establish goals and objectives focused on launching it in the market and expanding its reach.
7) Driving execution
Once you have a solid product concept, a feedback system that can handle growth, and a strong strategy, it's time to start putting your ideas into action. This involves figuring out which development tasks are the most important and planning the product roadmap accordingly.
To efficiently achieve important goals for a product, product management can use different prioritization frameworks to determine which development activities should be given priority, enabling them to prepare for upcoming work.
How To Start a Product Management Career
A career in product management can suit people from various backgrounds and skill sets. The product management job doesn't have a set path, so it can be a great option for those who are interested in technology but aren't sure how their previous tech experience can be applied.
To get into a project management role, consider using these important product management skills and tips –
1) Develop User Empathy
To be a good PM, it's crucial to have empathy for your users. Take note of what you like and dislike about the products you use regularly.
As a product manager, it's important to identify what issues you face while using the product and think of ways to enhance the customer experience.
2) Be A Problem Solver
At their essence, great product managers are individuals who solve problems for both their organization and users.
Make sure to provide examples of how you have successfully resolved challenging issues in your previous roles and experiences. It is important to explain why these problems were significant to address and how your solutions aided your organization in achieving its business objectives.
3) Become Hyper Organized
As a PM, it is essential to be highly organized to manage the varying demands of each day. Developing a habit of prioritization early on can help accomplish tasks efficiently.
It is important to have a clear understanding of your priorities and stick to them, especially during a product launch. This can greatly impact the success of the launch.
Conclusion!
Understanding the necessary components and processes of product management is crucial for the success of any organization.
By staying current with trends and developments, product managers can make sure that their products are competitive and appealing to customers, leading to their success in the marketplace.
FAQs –
What are the 4 P's of product management?
Product, price, place, and promotion are the 4 Ps of product management.
What are the product management tools?
Some of the common tools for product management teams are –
Industry analysis tools
Roadmapping and flowcharting software
User survey and analysis tools
Project management tools
Collaboration and team messaging tools
How to develop a product management strategy?
To develop a strategy, you need to manage different stages of product management such as –
Idea Management
Validation
Prototyping
Roadmapping
Prioritization
Development
Delivery
Marketing
Launch
Analytics and experiments
Customer feedback, etc
Liked this post? Check out the complete series on Product Management