Definition: Marketing Information System is a process of regularly and systematically collecting, analyzing, interpreting, storing, and distributing market information from both internal and external sources. Some of the common examples of Marketing Information Systems are customer relationship management (CRM), market research, competitive intelligence, internal sales tracking, and external databases.
It is a powerful tool for businesses of all sizes. It provides access to the company's data and helps analyze the various trends in marketing activities, such as sales performance, customer segmentation, competition tracking, and more. With an MIS in place, businesses can make informed decisions about their strategies with confidence.
By monitoring the performance of their marketing campaigns and analyzing customer data, businesses can create effective strategies that will help them maximize profits. MIS also helps in forecasting future sales and demand, which can be used to make smarter decisions about product development and pricing.
What is a Marketing Information System?
A Marketing Information System is a system that collects, stores, analyzes, and distributes data to help organizations gain insights into their various target markets. It helps companies better understand customer needs and preferences so they can make smarter marketing decisions. The MIS is made up of several components including Marketing Research, Marketing Data, Marketing Intelligence Systems, and Marketing Information Processes.
Marketing Research is a process that involves gathering information about the target market, such as customer demographics and trends. Marketing Data are the data sets collected from Marketing Research that provide insights into the target market. Marketing Information Systems are systems used to analyze Marketing Data and gain insights into current and future marketing opportunities. Lastly, Marketing Information Processes are the steps taken to analyze Marketing Data and create actionable insights.
All in all, the Marketing Information System process is an essential tool for businesses of all sizes. It allows businesses to collect and analyze data about their customers so they can make more informed marketing decisions. With the right Marketing Intelligence System in place, companies can gain a better understanding of their target markets and make smarter business decisions.
What is the Importance of a Marketing Information System?
The importance of a Marketing Information System cannot be overstated. It is a critical tool for businesses to gain insights into their target markets, understand customer needs, and make more informed marketing decisions. The MIS helps companies to identify opportunities, design strategies, and track performance. Some of the reasons behind its importance are-
1. For ensuring well-synchronized communication across all departments
A well-planned MIS can help organizations ensure that all departments are on the same page, from sales to marketing to finance. It allows them to easily share and access information across departments to make better decisions.
2. For gaining insight into customer buying behavior and preferences
By analyzing customer data collected through surveys, focus groups, or other means, companies can gain valuable insights into their target markets. This can help them better understand customer needs, preferences, and buying habits to develop more effective marketing strategies.
3. For measuring the success of promotional activities
The MIS can also be used to measure the success of promotional activities such as advertising campaigns or special offers. By tracking response rates and other metrics, companies can get an idea of what works and what doesn't, allowing them to adjust their strategies accordingly.
4. For developing effective marketing plans:
The MIS can also be used to develop more effective marketing plans by providing insights into customer trends and needs, as well as facilitating better communication between departments. This can help organizations make better decisions about where to focus their efforts to achieve maximum results.
4 Marketing Information System Components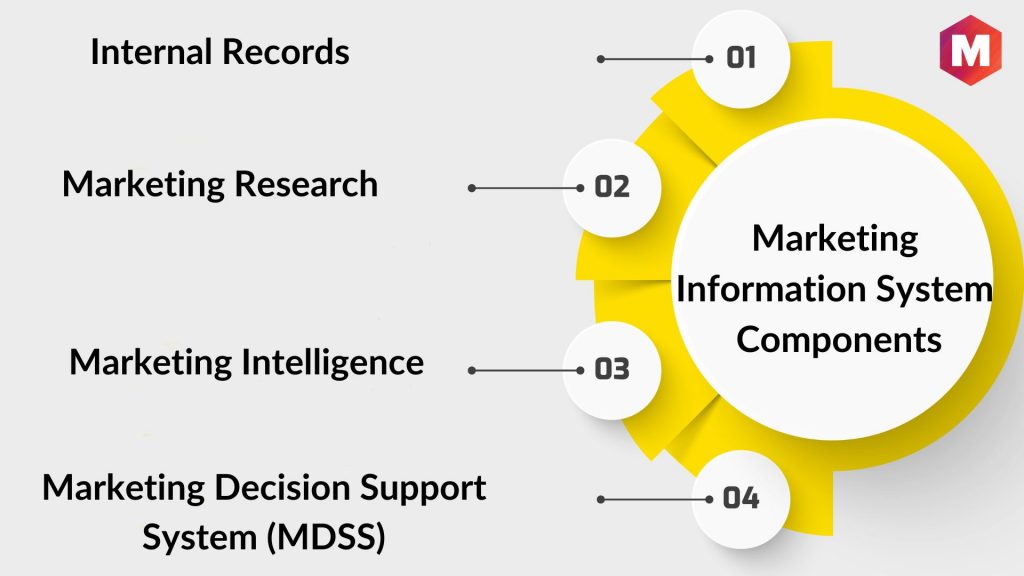 A Marketing Information System (MIS) has four components: internal records, marketing intelligence activities, marketing research, and decision support systems. Let's deep dive into these and understand how they work in marketing intelligence systems-
1. Internal records
Internal records encompass the data collected by a company about its customers, products, and other operations. This includes analyzing sales figures and customer trends to gain insight into what marketing strategies are most effective. Some of the key information that can be part of internal records are-
Product Inventory
List of employees
Market segmentation information
Debits and credits
Past data and reports, etc
All such information helps the Marketing Information System to make decisions regarding the future of marketing. When you leverage a Management Information System, you can gain unparalleled insight into your division's performance and marketing capabilities. This data integration process offers you better visibility to ensure that your team is working effectively towards achieving its goals. Gaining an internal grasp of what works best for your company will give you the know-how needed to enhance marketing processes and draw in more consumers.
2. Marketing research
A marketing research system is an important part of a Marketing Information System. It involves gathering data from external sources for decision-making. This includes everything from primary and secondary research to surveys, focus groups, interviews, and more.
Having access to such information can help you gain insights into the current marketing environment, customer needs and preferences, competitive analysis, and much more. Marketing research is a powerful tool that can give you the edge you need to succeed in your industry.
When it comes to market research, project-oriented inquiries can be used to answer certain market queries. To do so, a variety of statistical techniques are employed which call for the usage of both internal and external data sources.
3. Marketing intelligence
When used effectively, Marketing Intelligence can help you keep track of what's going on in the marketing environment. It involves collecting and analyzing all the data related to the marketing environment, such as competitor activities, customer behavior, and emerging trends.
Gaining Marketing Intelligence allows you to anticipate what your customers may want or need in the future. By keeping an eye on certain external factors, you can come up with product innovations that can help keep your business ahead of the competition.
Marketing intelligence also helps you to better understand the underlying dynamics of your target markets. This can be especially useful when it comes to making decisions about where and how to advertise, which products to focus on, and other key strategies.
4. Marketing decision support system (MDSS)
An MDSS is a computerized system that helps you make marketing decisions. It is powered by Marketing Information Systems and leverages the data collected from internal and external sources.
It provides an integrated approach to decision-making and can be used in both strategic planning and tactical execution. A Marketing Decision Support System allows you to process, organize and analyze the data to make informed marketing decisions.
An MDSS can help you identify new opportunities, develop insights into customer behavior, optimize the use of resources, and study the effectiveness of campaigns. It enables you to quickly react to market changes and take advantage of them before it's too late. A marketing data support system is also a great tool for testing new marketing strategies and measuring the impact of your efforts.
Types of Data in a Marketing Information System
Marketing information systems manage diverse data types from various sources. Let's have a look at those types –
1. Acquired databases
Companies can acquire data from other sources, such as market research firms, to gain insights into their target markets. By inputting purchased data into their marketing information system, businesses can make more informed decisions.
2. Internal company data
This includes customer information, such as purchase histories and preferences. Internal company data can also include sales performance, pricing strategies, and promotional activities.
3. Marketing Intelligence
This refers to the information collected by marketers daily from their competitors' products and services. It helps them identify opportunities in the market and better position their products for success.
4. Marketing research
This type of data is collected through surveys, interviews, focus groups, and so on. It helps marketers better understand the needs and preferences of their target customers so they can create more effective marketing campaigns.
A Marketing Information System is a great tool for gaining insights into customer behavior and optimizing your marketing strategies. By integrating all of the data sources mentioned above, businesses can make more informed decisions and achieve better results.
Steps Involved in a Marketing Information System Process
The process of a marketing information system involves a series of steps used to analyze data and communicate findings, ultimately affecting decision-making. These steps include –
Identify marketing metrics to use.
Collect data from inside and outside sources.
Create graphs to display trends.
Share trend details with relevant departments.
Analyze the data to make informed decisions on the right course of action.
Benefits of using a Marketing Information System
1. Streamlined research process
Marketing information systems (MIS) help simplify the research process. With an MIS in place, marketers can access data quickly and efficiently to evaluate customer needs and preferences for their products or services. This helps streamline the research process so that marketers can focus more on strategy creation based on data analysis.
By using advanced marketing and information management software, you can easily gather data from surveys, external websites, and other sources, then store it all in one convenient place for future reference.
2. Better decision-making
MIS can also help improve decision-making for marketers. By having access to real-time data and analytics, marketers can make informed decisions about their campaigns and strategies. This data helps give better insights into customer needs and preferences — allowing marketers to adjust plans as needed to meet their goals.
Utilizing the insights gathered from an MIS, you can gain a greater understanding of your customers, sales activity, and competitors, thereby making more prudent decisions in all aspects of your business.
3. Uncomplicated accessibility
MIS also makes it easier for marketers to access data quickly and easily. With the right MIS in place, you can get an up-to-date snapshot of customer preferences and trends. This will help speed up your decision-making process so that you can respond quickly to changes in the market.
An MIS encompasses a variety of software programs and web applications that help to store, access, and broadcast data across an organization. With these tools, any employee with the correct credentials can easily peruse queries or requests for information.
4. Effective comparison of sources
MIS provides marketers with the ability to compare data from multiple sources. This can help you identify trends and insights that you may have otherwise missed. You can also use these insights to create better campaigns and strategies for your business.
With an MIS, you can effortlessly compare a variety of sources and guarantee that your product's market has the fullest picture available. The data collected from many different places – either manually inputted or taken automatically with certain programs – is easy to access through this type of system. With one unified platform containing all your information, it's easier than ever before to make sure everything about your product stays up-to-date!
5. Reliable and predictable data results
A Marketing Information System also helps ensure consistent data results. MIS automates the data collection process, which reduces errors and inconsistencies in the results. This makes it easier for marketers to trust their data, allowing them to make more informed decisions about their plans and strategies.
Leveraging an MIS to compile, store and analyze data can ensure that your marketing team is receiving consistent results. This is because the same method of collection and examination can be used for each type of information you gather, making it easier to compare regular outcomes.
6. Optimized plans and evaluations
Having an MIS in place can also help marketers develop better plans and evaluations of their strategies. With access to up-to-date customer preferences, you can more accurately evaluate the success of your campaigns and make changes accordingly.
Harnessing the power of an MIS (Management Information System) can help you identify, assess and adjust your campaigns to ensure customer satisfaction and maximize success. By doing so, you will gain valuable insights into what works best for both your product offering and target market.
7. Stay informed with lightning-fast market insights
Finally, MIS can help marketers respond quickly to changes in the market. With an MIS in place, you can generate quick reports with up-to-date information that will help inform your decisions. This helps marketers stay ahead of the competition and make sure their business stays competitive and successful.
By leveraging the appropriate methods to extract and evaluate data with your Management Information System, you can easily generate timely reports on your sector to adjust strategies swiftly and maximize success.
Tips for using a Marketing Information System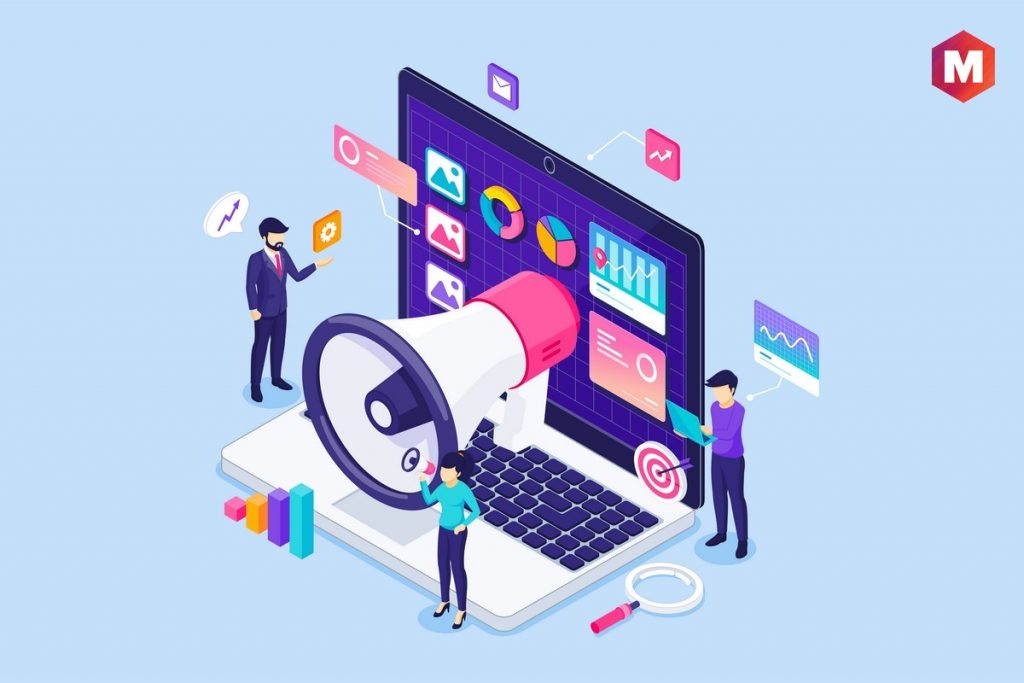 1. Establish your objectives, goals, and metrics
Marketing Information Systems (MIS) are powerful tools when used correctly. Before you can begin to use your Marketing Information System efficiently, consider the objectives and goals of your company, as well as what metrics will be the most important indicators of success. Once these have been established, you'll be able to track different campaigns more effectively and make appropriate decisions.
2. Collaborate with team members
Marketing is a collaborative effort and an MIS should come in handy for this task. Use the system to share data between teams, brainstorm ideas together and help foster communication between colleagues. The ability to collaborate on any project or initiative using a marketing intelligence system increases productivity significantly.
3. Bring the data to life by visualizing it
Marketing Information Systems can provide valuable insights into how campaigns are performing and can help predict future trends. By presenting the data in a visual form, it can be easier to understand and act upon. Graphs, charts, and diagrams are all useful for this purpose and should be used when possible.
4. Strategically gather your data
Marketing Information System is only as good as the data they contain. Collecting data is an important task and it should be done strategically. Analyze the data regularly and figure out which metrics are most important for your company's success. Once you've identified those, focus on gathering more of that type of data rather than collecting any random figure.
Examples of Marketing Information Systems
MIS is used by many organizations to support their marketing strategy and associated operations. Marketing managers can use it to track sales data, analyze market data and develop strategies for reaching their target market in a business environment.
A retail store may use a marketing information system to monitor the performance of its marketing campaigns and adjust them accordingly. An online store can also use a marketing information system to collect customer feedback and conduct marketing research. Additionally, a marketing intelligence system can be used to generate internal reports and analyze internal company data. All of these examples are ways organizations can use Marketing Information Systems to support their marketing operations.
Conclusion!
A Marketing Information System is a powerful tool in the hands of marketing managers to optimize the accuracy and effectiveness of their marketing efforts. As a marketing data support system, it helps to provide companies with essential data and information that can be used to make informed decisions, develop successful marketing strategies, and increase sales.
By leveraging the power of the Marketing Information System, companies can gain valuable insights into their business environment, gain access to market data, and conduct marketing research. Moreover, Marketing Information System can also generate internal reports and help companies make sense of their internal company data.
Liked this post? Check out the complete series on Marketing