A marketing plan is a pivotal document or guideline for any business or organization to remain competitive and thrive. It lays out the strategies, tactics, and goals that need to be implemented for the company to reach its desired objectives. With an effective and successful marketing plan in place, you can boost your chances of success! Through meticulous planning, you can maximize both your budget and the influence of your marketing campaigns.
A comprehensive marketing plan will assist you in recognizing and executing result-driven marketing activities for targeting your customer base, meeting your marketing goals and objectives, and boosting sales. It will also enable you to evaluate your success rate and objectively determine how successful each promotional activity has been.
What is a marketing plan?
A marketing plan is an organized approach that businesses take to identify, develop, and track their business objectives over a set period of time. With a detailed strategy in hand, businesses can implement and track their marketing plans to attain desired outcomes. A strategic roadmap is an effective way to achieve this goal.
An organized marketing plan is crucial for businesses to reach their desired target market and generate leads. This operational document outlines a clear advertising strategy with various outreach and PR campaigns, as well as how the company will measure its success in achieving these goals. Through a strategic collaboration of multiple teams within the organization and marketing department, they can all work together towards one unified business goal.
To gain a better understanding of what goes into constructing a marketing plan, the following examples may be beneficial –
Marketing Plan Examples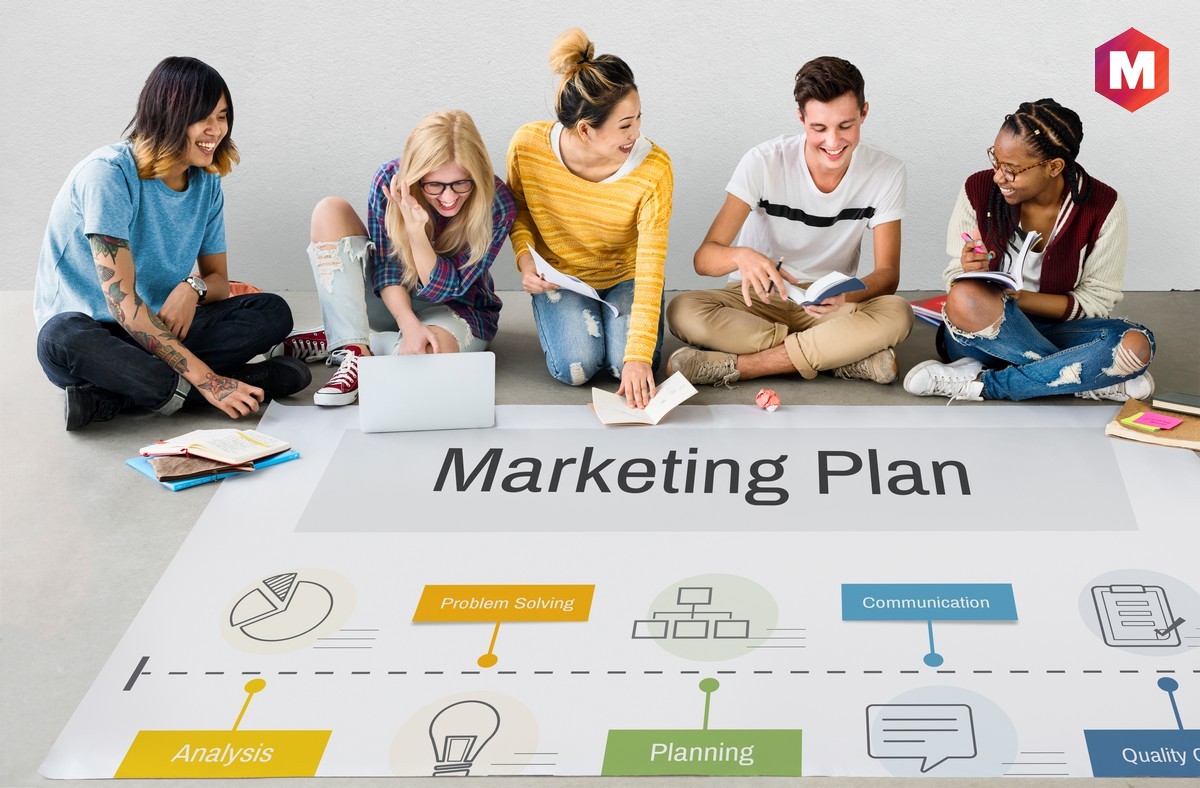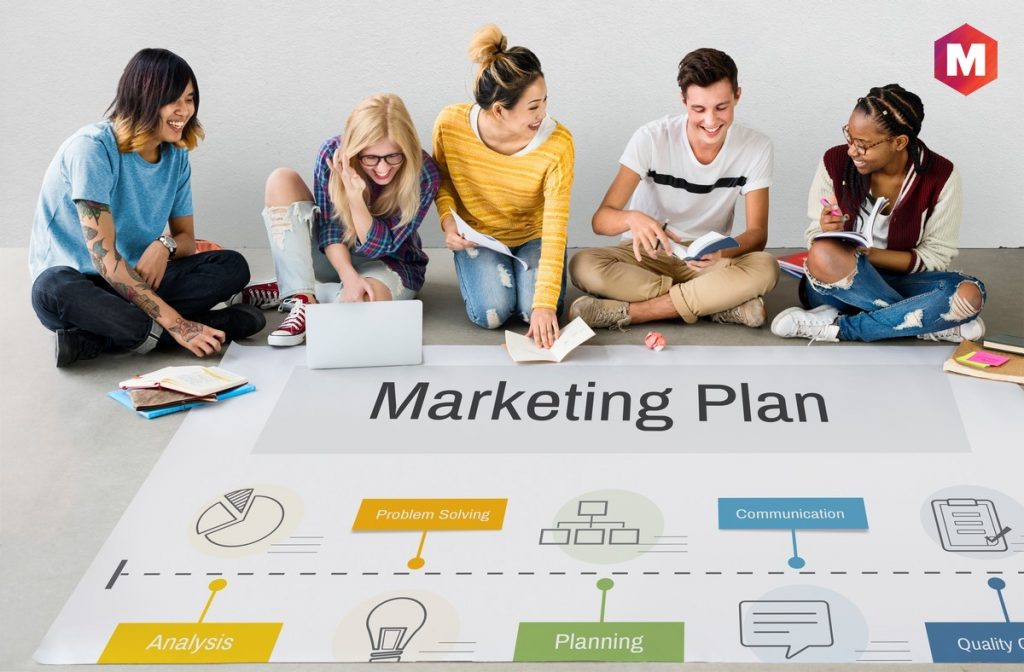 1) Marketing plan for launching a new product
If you're aspiring to introduce a revolutionary product, your marketing plan should include-
An efficient pricing strategy
Identification and segmentation of your target market
Comprehensive competitive analysis with allocated budgeting for necessary resources utilized in the communications strategy, etc
2) Marketing plan for increasing brand awareness
If your mission is to boost brand awareness and recognition, you should consider drafting a plan that encompasses-
Examining existing brand awareness
Determining target audiences and positioning strategies
Allocating funds, and creating an actionable timeline for campaigns
Moreover, crafting persuasive messaging techniques plus content strategy as well as assessing effectiveness are also essential considerations. Furthermore don't forget to explore influencer marketing opportunities too!
3) Marketing plan for expanding into a new market
If you are eager to penetrate a new market, your strategy could incorporate an array of elements such as-
Delving into the target market and performing thorough research
Pinpointing potential source markets for products or services that maximize value propositions
Formulating a localized approach to cater products or services according to specific customer needs and preferences
Setting pricing strategies relative to competition in addition to packaging plans that optimize the user experience journey
Furthermore, outlining sales tactics designed towards engaging prospective customers while also monitoring performance metrics is paramount
Types of Marketing Plans
To guarantee your marketing strategies are successful and effective, it's crucial to devise a well-detailed plan that is tailored to the goals you seek. When deciding on the ideal marketing plan for you, please consider these various options:
1) New Product Launch Marketing Plan
This guide will lay out the strategies and tactics you'll use to successfully promote a new product. Crafting an effective marketing strategy for your new product requires understanding who your target audience is, setting achievable goals and objectives, establishing a budget that works best for you, and coming up with unique marketing campaigns.
2) Content Marketing Plan
With this plan, you can showcase various methods, marketing tools and initiatives that leverage content to promote your business or product. For example, you can focus on creating top-notch content that resonates with your target audience, optimizing existing pieces of content for search engine optimization (SEO) purposes, and creating a content calendar to stay organized.
3) Social Media Marketing Plan
A detailed game plan for your social media channels, tactics, and campaigns is essential for success. Specifically targeting the paid marketing subtype allows you to concentrate on strategies like native advertising, PPC, or promoting your content with paid social media advertisements. Utilizing this type of focused approach can be invaluable in driving growth through targeted results-oriented planning.
4) Growth Marketing Plan
By leveraging experimentation and data, growth marketing plans can achieve amazing results. For example, with the aid of crucial metrics to measure progress, you can modify your campaigns to attain maximum return on investment. Such a strategy is designed for constructing an audience over the long term by running numerous campaigns all at once and crunching the figures along the way.
5) Time-Based (Quarterly or Annual Marketing Plans)
Crafting marketing plans based on the time of year, canny business analysis, and effective strategies are key to successful quarterly or annual campaigns. This strategy is crafted to ensure optimal success and efficiency in budgeting, resource allocation, campaign creation, and progress tracking.
How to Write a Marketing Plan?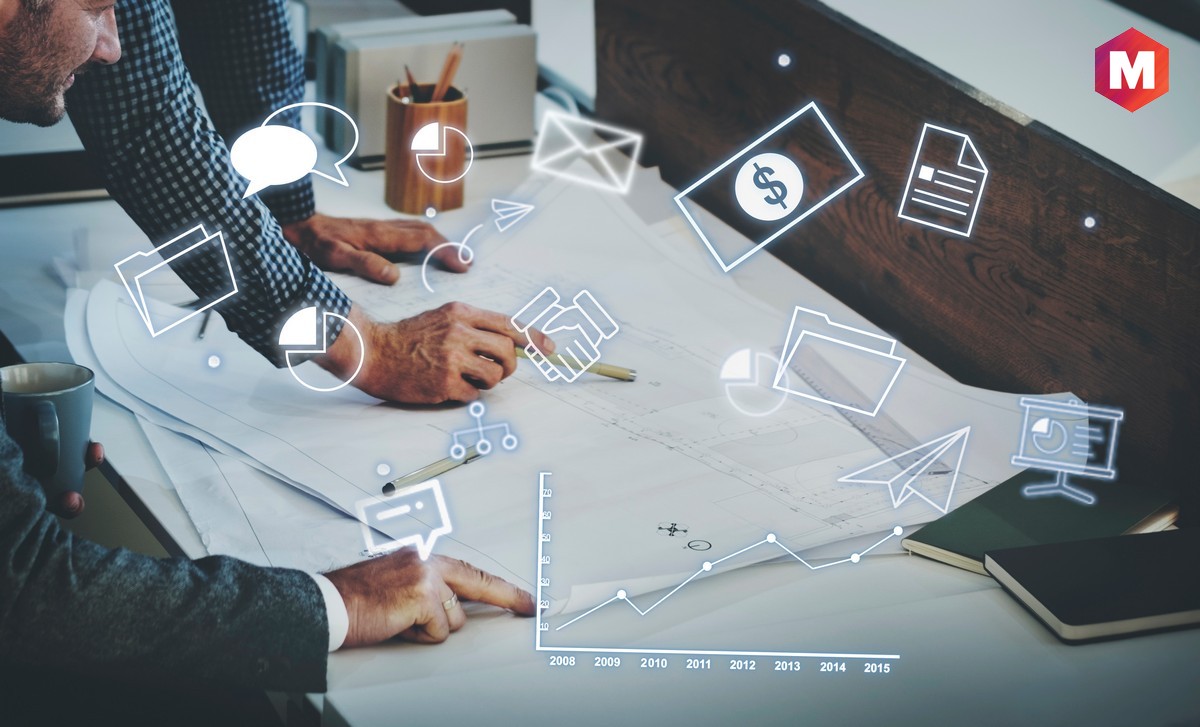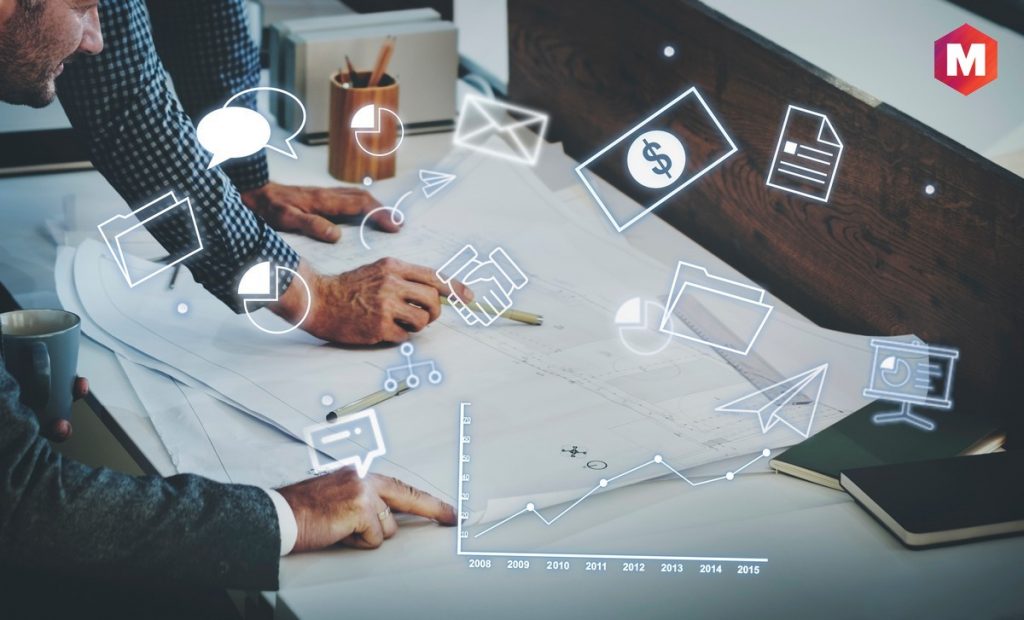 If you'd like to craft a comprehensive and impactful marketing plan, use the following steps as your guide –
1) Define Mission and Value Proposition
Define your brand's own mission statement and how your product or service stands for it. Subsequently, craft a succinct value proposition that summarizes the core benefits of what you offer. By doing so, you'll be able to stay focused on the task ahead while guaranteeing all marketing tactics are consistent with your overall objectives.
2) Know your competition
Businesses need to conduct competitor research to gain insights into their rivals and how they are dominating the market. By using market share and understanding where their opponents' weaknesses lie, companies can strategize on ways of effectively competing with existing products and services while making sure that theirs is differentially positioned but not excessively priced. Competitor research allows savvy businesses to stay ahead of the competition by staying abreast of industry trends and developments.
3) Run a SWOT analysis
A SWOT analysis provides an overview of a company's capabilities and potential growth opportunities, by assessing its Strengths, Weaknesses, Opportunities as well as any external Threats. By understanding these four factors better, organizations can gain valuable insights into their current state that will help them make informed decisions for the future. Additionally, it can help devise goals and objectives that align with the company's mission.
4) Identify Your Target Market & Develop buyer personas
To be successful, companies must understand their target customers. That's why creating buyer personas is so important; it allows businesses to define who they're reaching out to by providing a comprehensive bio that outlines the qualities and traits of the ideal customer. This qualitative data help explain why someone would purchase what you offer – allowing you to market more efficiently without wasting resources targeting an uninterested larger audience.
Buyer personas are incredibly useful for understanding a company's customer base. To create an accurate buyer persona, one should ask the following questions:
Who are the potential or current customers of this business?
What needs do they have and what can our organization do to fulfill them?
Where and how often do they shop?
What demographic factors (age, location) influence their decision-making process?
And finally, which social media platforms does the target audience use most frequently, allowing us to optimize our marketing efforts to effectively reach out and engage with them?
5) Set budget parameters
To maximize their ROI, businesses must carefully analyze and distribute funds for specific strategies. Budgets set the parameters of how much money marketers put into each plan, ultimately determining which channels are incorporated into an effective strategy. Businesses need to allocate a portion of their budget toward integrating both traditional and digital marketing strategies, including print advertisements, and TV spots as well as SEO optimization, social media promotion, and content creation.
6) Establish KPIs and goals
Developing relevant Key Performance Indicators (KPIs) and objectives before launching any marketing campaign is essential to ensure that campaigns meet the company's desired expectations. By collecting data on KPIs throughout a campaign, organizations can detect when changes need to be made in order to reach their targeted goals and maintain successful results.
7) Determine the buying cycle patterns
Understanding buying patterns is key for marketers, as they provide invaluable insight into the customer's journey through the sales funnel. Recognizing these purchase trends can help to refine your overall marketing strategy and improve conversion rates.
8) Identify the unique selling proposition (USP)
In order to comprehend the preferences of our ideal customer, we must take advantage of market research. Moreover, it is imperative that we precisely explain how our company satisfies a need not met by other competitors. To back up this claim and illustrate what makes us unique from others in terms of value proposition and competitive advantages, let's list out the expertise held by staff at our organization.
9) Determine marketing channels and best practices
The analysis above helps us identify the most effective marketing channels and best practices for marketing mix that deliver expected results. Understanding our customers' needs allows us to create strategies tailored to them, such as social media marketing. We must analyze each channel carefully in order to determine how we can leverage it for maximum effect.
10) Create an outline
Crafting the perfect marketing plan is key to any organization's success. To ensure you have all that you need, consider including these elements:
Comprehensive business info
Analysis of competitors and your own strengths/weaknesses
Target buyer demographics
Buying cycle patterns unique to your business or product offering
A USP to set yourself apart from rivals
An established brand identity
Website considerations such as SEO optimization and KPIs
Strategies for implementation of tactics across various marketing channels
11) Strategy and Execution
Your marketing plan will strategically assess the rationale for your decisions, as well as focus on developing a timeline and ideal placement of planned campaigns. Additionally, it is essential to include metrics that can track success rates in order to ensure positive outcomes from all your marketing materials and tactics.
For instance, should you invest in radio or social media advertisements? If radio ads are selected, when would be an appropriate time frame to air them? These crucial factors must be considered before any final plans are implemented.
12) Track measurements through KPIs & Adjust Your Plan
As we determine the success of our marketing strategies, it's important for us to remain agile and pivot when necessary. If digital ads are more successful than anticipated, then budget modifications should be made to fund higher-performing platforms or initiate new campaigns. The key challenge here is finding a balance between allocating enough time to measure results while still being able to make quick adjustments whenever needed.
Sample Marketing Plan
Now let's construct a comprehensive plan together, one step at a time
1) Establish Marketing Objectives:
"Our entire marketing plan now is designed to facilitate a 10% rise in sales within the upcoming six months."
2) Analyze Competitors & Your Own Strengths/Weaknesses
We are proud to stand out among our competitors ABC Corp and XYZ Inc with our dedicated customer service and unique product offerings. That said, we understand that being limited in terms of budget for marketing, lack of market research capabilities, as well as the size of our team can be seen as weaknesses.
3) Identify Target Buyers & create buyer personas
To maximize our campaign's reach, we must define and hone in on a precise audience. Our goal should be to focus on small to mid-sized companies in the region as well as individual contractors by using customer segments and creating buyer personas with particular attributes and tastes.
To achieve this, consider utilizing these categories: age, gender, profession/background, interests/values/goals, and pain points they may have experienced previously—all while taking into account their social media platforms of choice along with what streaming services they favor most!
4) Determine Buying Cycles
As our customers usually acquire items every three months, when devising marketing strategies we must consider this cycle.
5) Create A Unique Selling Proposition (USP)
With complete assurance, we guarantee satisfaction with all of our products – this is what sets us apart!
6) Develop An Identity
To craft an up-to-date, daring look for our branding, we will combine vibrant hues and assertive fonts.
7) Build Your Website & Ensure SEO Optimization
For optimal visibility, our website should be intuitive to navigate and optimized for search engine performance. Additionally, we ought to feature a dedicated FAQ section with product information as well as contact details available directly from the page.
8) Identify Marketing Channels
We'll employ a mixture of SEO, email marketing, social media campaigns, and PPC advertising to reach our desired audience.
9) Determine KPIs
To ensure our success, we will closely monitor a variety of metrics, including website visits, click-through rates, conversion rates, and cost per lead.
10) Develop Marketing Strategies & tactics
To achieve optimal marketing success, we must take a multifaceted approach that includes inventive campaigns, attention-grabbing marketing and content strategy, and well-targeted ads on all platforms. Additionally, it is pivotal to monitor customer interaction and tailor our material for maximum reachability.
11) Strategy and Execution
With a marketing plan that features timelines, budget divisions, and performance objectives in place, we can guarantee our marketing initiatives are effective, and precise and will result in success.
12) Track measurements through KPIs & Adjust Your Plan
To ensure our success, we should track website visits, CTRs (click-through rates), conversion rates, and cost per lead carefully. If any of these KPIs are not meeting their targets or objectives, then urgent corrections to the plan and budget are necessary.
Adopting an effective approach and constructing a plan can help your business accomplish its aspirations while connecting with potential customers, in meaningful ways.
What Is a Marketing Plan Template?
Developing a marketing plan can seem overwhelming, but with the help of a template, it's easy! The ready-made document offers all the essential pieces and necessary language for your company. Simply fill in the blank sections with relevant information about your business to create an effective and tailored marketing plan – it's that simple! To create your own marketing plan, you may find a free marketing plan template at different online portals.
What Is an Executive Summary in a Marketing Plan?
The executive summary of the marketing plan should present a concise and comprehensive synopsis of all that is included in the document. This segment will encompass data from market research, objectives for the company, goals for marketing endeavors, an overview of relevant trends within this sector, descriptions of products/services being marketed to customers as well as insight on who exactly these items are intended for while also accounting any financial considerations needed to move forward with this strategy.
How Much Does a Marketing Plan Cost?
The cost of a well-crafted marketing plan can vary widely, depending on the size and complexity of the business as well as how extensive the strategy is. A comprehensive plan could set you back anywhere from $10K to $40K.
Marketing Plan vs. Business Plan
A business plan is a comprehensive guide that outlines how the company will be operated, with detailed information about its goals and objectives. It highlights mission statements, core values, financials, and strategies to ensure success in both short-term operations as well as long-term growth. This roadmap serves as an invaluable tool for navigating your venture on the way to achieving all of your intended goals!
A well-crafted business plan should include, at a minimum, an executive summary of the company's objectives and services; a marketing plan with strategies to increase visibility; marketing budget; financial projections for tracking progress and meeting goals; as well as a budget to ensure resources are allocated adequately.
While on the other hand, an effective marketing plan is an essential part of the business plan. It encompasses everything from increasing brand recognition, targeting specific audiences and customers, collaborating with key stakeholders or influencers, creating dedicated marketing strategy, leveraging digital resources, and producing content campaigns- all while adhering to predetermined timelines with consistent checkpoints for optimal performance.
Marketing Strategy vs. Marketing Plan
A marketing strategy is an essential part of any business, outlining the specific pathways and tactics that are used to fulfill a particular marketing mission. A marketing strategy outlines which campaigns, content pieces, channels, as well as tracking and software tools, will be implemented to reach the desired result. As an example, while higher-level plans or teams might be in charge of social media marketing, you can still utilize a more personal approach by creating your individualized marketing strategy on LinkedIn.
An effective marketing plan is constructed to achieve tangible business goals. It should consist of one or more well-defined marketing strategies that guide your marketing team's focus, in their efforts to promote and optimize key objectives, forming a comprehensive framework for each initiative within the larger scope of operations and objectives.
If your organization is launching a new product, the marketing team must create effective strategies to introduce it to its target market and increase signups. This marketing plan presentation needs to be designed carefully for customers to have an incentive that will encourage them to invest their time and money into this groundbreaking release.
Conclusion!
Ultimately, the fundamental of a solid marketing plan identifies with the following points –
Crafting a marketing plan is essential for any business, outlining the strategic steps necessary to reach its desired objectives and goals.
It serves as the blueprint for how companies will communicate, engage and interact with customers.
Careful thought should be given to the target customer, budget needs, how closely current market trends align with your goals, and the competitive landscape.
To make sure that marketing plans are effective, it is essential to frequently review and revise them.
Liked this post? Check out the complete series on Marketing