For any company to be successful, it needs to generate a good deal of revenue and not matter which industry the business is in or what model it follows, it needs to be able to sell its good or services.
The marketing department of a company plays a crucial role in helping the company achieve its objectives. From deciding the target group, to pricing, product development, packaging, pricing, promotion and sales, it encompasses an array of activities that drive a company's growth and play a pivotal role in helping the company move forward.
Having understood the broad duties of the marketing department, let us move on to see a few points to be kept in mind while defining the marketing goals and how these will help a company.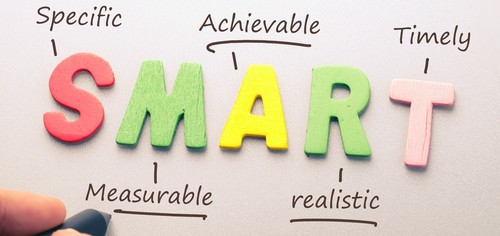 1) Set SMART goal   
SMART is an acronym for Specific, Measurable, Achievable, Realistic and Time-bound. Keeping all the above in the right measure is important for any marketing plan to work. Marketing managers sometimes find themselves making plans and envisioning futures that do not fit into the SMART framework. Setting goals that are vague, not measurable in terms of performance, that are not realistic and that do not have any time frame for implementation spell doom for a company as these kinds of plans are usually like a balloon. They can burst at the slightest prick of a pin.
2) Integrate it with business plans 
While marketing is definitely an important department, it also most surely is not the only one. Other departments like HR, Finance and Supply chain are instrumental too in envisioning a future for the company. It's necessary for marketing goals to be in sync with the other plans. For example, a marketing plan needs to keep in mind the budget that can be allocated to it by the finance department. It can't simply go ahead and quote figures.
3) Keep sales closely under observation
While sales and marketing are studies and taught together, there is a separation when it comes to implementation. Marketing and sales objectives need to go hand in hand and this is non-negotiable to define successful marketing goals. It happens many a time that the extravagant marketing goals are next to impossible to do justice to by the sales team. In such scenarios, a majority of the spend on the marketing activities goes into the bin as there is no conversion in terms of sales.
4) Clearly define the Key Performance Indicators
Defining the Key Performance indicators is important to understand how the effectiveness of the marketing plans/campaigns will be measured. Without this in place a company will just be spending into a dark hole not knowing how to measure its success and how well to attribute a profit or a loss to the marketing plans.
5) Set regular benchmarks and check posts
It's important to set regular check posts and assess the progress of the marketing plan. Evaluation at regular intervals will help the company identify the areas of strength and the areas where a better understanding is needed and a reshuffle of strategy has to be done. If managers sit down together at the very end to study the effectiveness of a plan it will be too late. Regular course correction is very important.
The above are a few important points that are the basics to be kept in mind while defining marketing goals for an organization. These will definitely go a long way in helping a company in achieving its goals. There are various other suggestions that are given by various authors. I would recommend extra reading and covering as many perspectives as possible to get a better understanding of this.