In the competitive world of sales, one cannot underestimate the importance of an effective sales organizational structure. It is the backbone that supports the operations, helping each salesperson to understand their role and function within the team.
A real-world example of sales organization structure can be a company like Microsoft – with a vast array of products and a global market, which utilizes a geographical sales organizational structure. This means they have separate sales teams for different regions worldwide, each acquainted with the local market trends and customer preferences, thereby ensuring a tailor-made approach for every region.
What is the Sales Organizational Structure?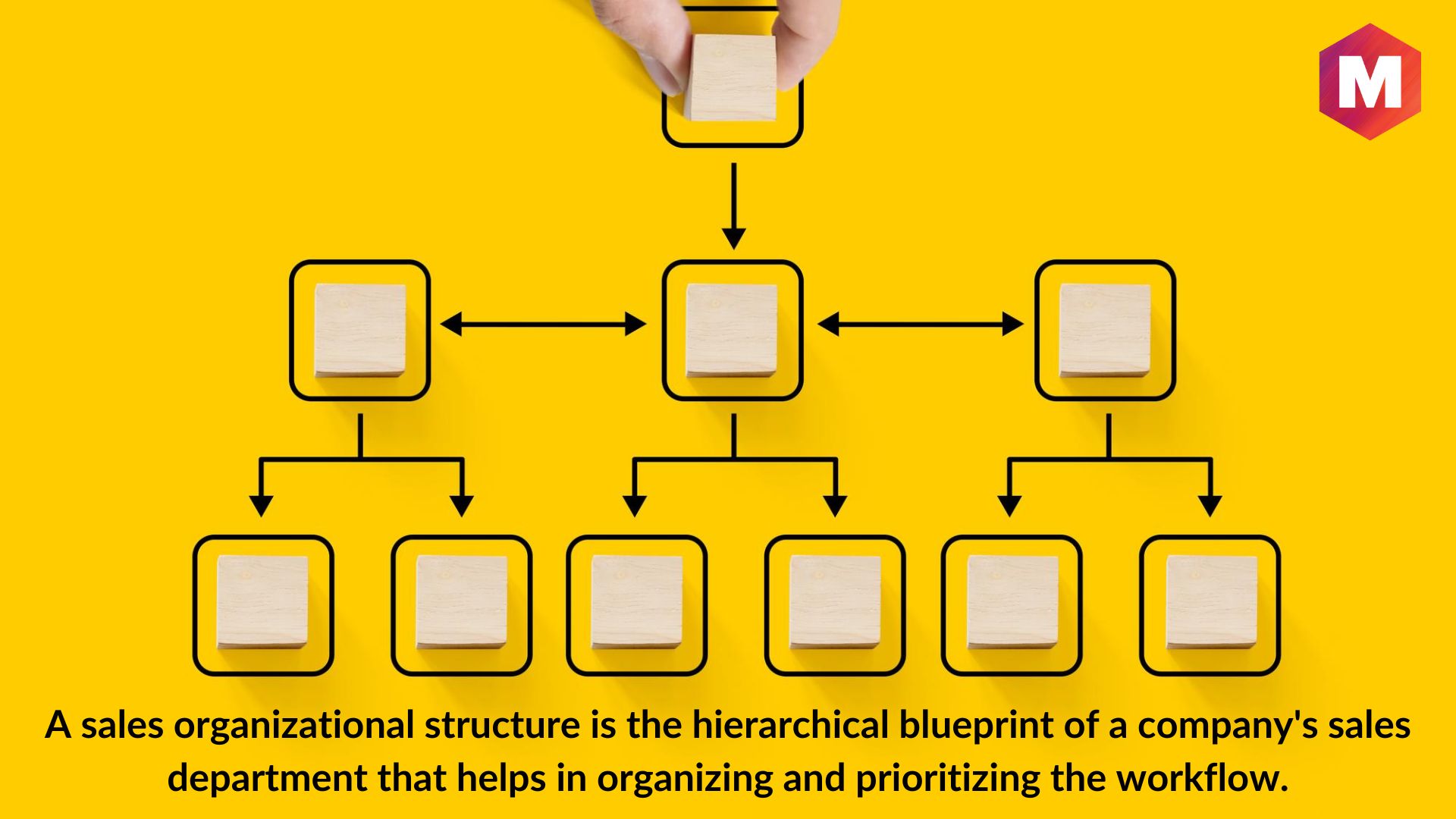 A sales organizational structure is the hierarchical blueprint of a company's sales department that helps in organizing and prioritizing the workflow. It outlines the roles, responsibilities, and relationships among the sales team members, providing a clear roadmap for operational efficiency and team collaboration.
The sales organizational structure could be based on the strategies and objectives of the company, such as customer segmentation, product categories, or geographical locations.
The architecture of a sales organization is pivotal in setting salespeople up for triumph. Matching the right salesperson with the perfect customer segment, considering their distinct skills and background, is essential. This strategic approach allows for precise targeting and harnessing strengths while avoiding potential mismatches that could dampen sales performance.
What is the role of a Sales Department?
The sales department plays a crucial role in generating revenue, and it's often considered the backbone of an organization. Its function is not only to sell the company's products or services but also to maintain healthy relationships with customers, analyze market trends, and devise strategies to boost sales performance.
Key functions of a Sales Department in sales organization structures are:
Lead generation and prospecting
Sales presentations and demonstrations
Negotiations and closing of deals
Maintaining customer relationships
Market analysis and sales forecasting
Formulating sales strategies and targets
Training and development of the sales team
Performance tracking and evaluation, etc
Types of Sales Organizations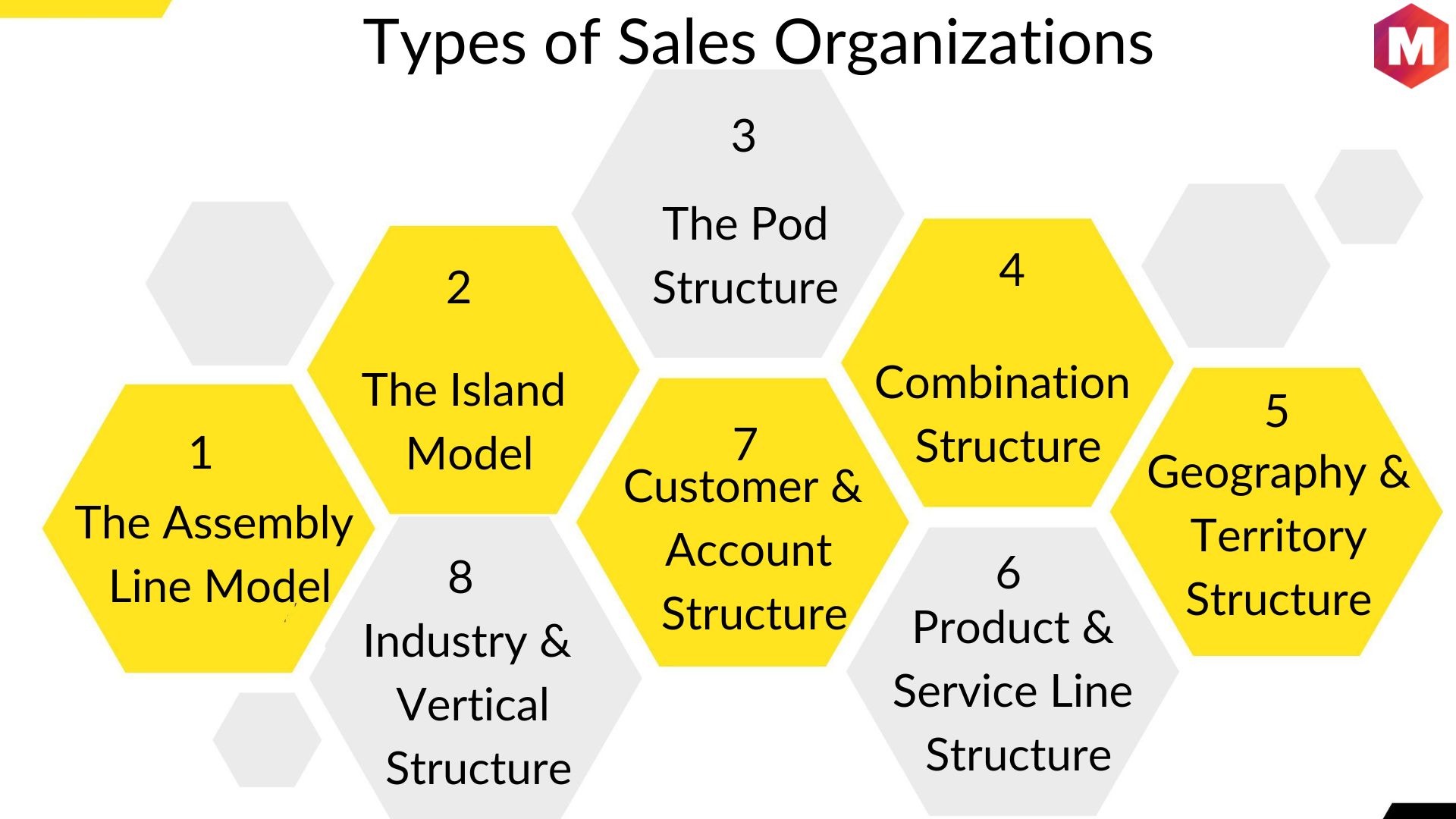 1) The Assembly Line Model
The assembly line structure follows an Industrial Revolution-inspired model where each salesperson performs a specific role in the sales process. It is a highly specialized approach that streamlines the selling process. It is also referred to as the hunter-farmer model, and in this sales teams are structured according to the job titles of each team member.
Pros:
Specialization leads to efficiency and speed
Clear role delineation reduces confusion
Cons:
Lack of holistic sales experience
Potential for communication lapses between stages
2) The Island Model
In the Island model, a designated representative oversees the management of prospects from the lead generation stage to customer conversion. In this model, salespeople are independent operators responsible for the entire sales process. They handle prospecting, closing deals, and maintaining client relationships.
Pros:
Encourages initiative and personal growth
Allows for flexible strategies per client
Cons:
Risk of inconsistent sales approach
Limited sharing of best practices
3) The Pod Structure
The Pod is a unique blend of the island and assembly model, comprising specialized representatives who guide prospects through different stages of the sales cycle. This is a team-based model, where an account executive, sales development rep and customer success rep work together on accounts.
Pros:
Enhances team collaboration and customer experience
Shares accountability, reducing individual pressure
Cons:
Potential for internal conflicts
Requires effective team coordination
4) Combination Structure
This model combines different types of structures to fit a company's needs. It may include elements of geographical, product line, and customer segmentation structures. Numerous companies organize their sales teams solely around verticals or business niches. Other businesses structure their sales teams based on the size of their customer base or the range of their product and service offerings.
Pros:
Highly customizable and adaptable
Can leverage strengths from various structures
Cons:
Can be complex to implement and manage
Risk of becoming too diffuse and unwieldy
5) Geography & Territory Structure
Sales teams in this model are divided based on geographical territories. Each salesperson is responsible for all customers within their assigned area. This structure works best when clients need to be physically present for sales activities. It is also beneficial for businesses with a wide range of offerings, making it easier to assign smaller territories.
Pros:
Allows for localized strategies
Encourages deep understanding of regional markets
Cons:
Potential for territorial disputes
Risk of uneven workload distribution
6) Product & Service Line Structure
In this structure, sales teams are organized around specific product lines or services, allowing them to develop deep product knowledge. Each salesperson or team is responsible for managing all customer interactions related to that product. It works best when there are distinct, easily differentiated products and services being offered.
Pros:
Promotes product expertise
Enables tailored sales approaches per product/service
Cons:
Risk of siloed knowledge and practices
Limited customer perspective beyond specific products/services
7) Customer & Account Structure
This model segments sales teams based on customer types, typically dividing between new business and account management. It works best when customer accounts require long-term management and ongoing relationships. It also allows for tailored strategies to be applied per customer segment.
Pros:
Facilitates focused customer strategies
Allows for specialization in acquiring or retaining customers
Cons:
Potential for disconnect between new business and account teams
May limit comprehensive customer understanding
8) Industry & Vertical Structure
Salespeople in this structure specialize in a specific industry or vertical, gaining in-depth knowledge of the market and competitors. It works best when the organization has a broad range of customers in different industries.
Pros:
Allows for industry-specific selling strategies
Promotes a deep understanding of industry trends and needs
Cons:
Limited flexibility to switch industries
Risk of over-reliance on industry performance
How to Create a Sales Organization Structure in 5 Easy Steps
1) Conducting Research
The first step in creating a sales organizational structure is conducting research. This should include understanding customer needs, researching the competitive landscape, and gathering data on current selling strategies. Market analysis will help to determine where the business can best compete and provide value.
2) Setting Goals
Once the research is complete, it's time to set goals for the sales team. These should include both short and long-term objectives, such as increasing market share or expanding into new regions. It's important to consider customer needs when setting goals.
3) Decide Structure as per Product & Service Lines
The next step is to decide which structure works best for the organization's services and products. This will depend on factors such as customer types, distribution channels, company culture, and team size. It could be a simple or complex structure or even a combination of both.
4) Establish Roles & Responsibilities
Once the structure has been decided, it's time to create roles and responsibilities. It's important to assign clear duties to each team member so that everyone knows how they fit in to help the organization achieve its goals.
5) Measure & Monitor Performance
The final step is setting up a system for measuring and monitoring performance. This will help the organization track progress toward its goals and make necessary adjustments along the way. It also helps ensure that team members are held accountable for their roles and responsibilities. A few metrics you need to monitor are Customer lifetime value (CLV), Total revenue, Net promoter score (NPS), Customer growth, etc.
By following these steps, organizations can create an effective sales organizational structure that is tailored to their specific needs. With a well-thought-out plan in place, businesses can achieve success and reach their goals.
How to Choose the Right Sales Team Structure
For choosing the right sales organizational structures, organizations need to consider a few key points. Some of these include:
Company size and complexity
Geographic scope
Type of customer
Product or service portfolio
Distribution channels
Available resources
Let's go deep and understand each one by one:
1) Company Size and Complexity
Organizations need to decide if they need a simple or complex structure. A small company with fewer products and customers may be better suited for a simpler structure. On the other hand, larger companies with more products and customers might require a more detailed sales organization structure.
2) Geographic Scope
Organizations should consider the geographic locations of their customers and potential markets. If they have customers or potential markets in multiple countries, then they may need to create a more complex structure to accommodate different regions and time zones.
3) Type of Customer
Organizations should also consider the type of customer they are targeting. Are they looking for consumers or businesses? This can help them determine how to organize the sales team and who should be responsible for which customer.
4) Product or Service Portfolio
Organizations should also consider their product portfolio or services. Do they need a separate team for each product line? Or are teams responsible for cross-selling all products and services? This will help them decide if a simple structure is best for their organization.
5) Distribution Channels
Organizations should also consider the type of distribution channels they are using. Are they using online, retail, or direct sales? This will help them decide if teams need to be organized by channel or by product line.
6) Available Resources
Lastly, organizations should consider the resources available to them. Do they have the budget and personnel to create a complex organizational structure? Or do they only have the resources for a simpler structure? This will help them determine which type of sales organizational structure is best for their company.
By taking into account all of these factors, organizations can create an effective sales organization that meets their needs and helps them achieve their goals. With a well-designed organizational structure, companies can create an efficient and effective sales process that leads to increased customer satisfaction and higher revenues.
Example of a Sales Organization Structure Chart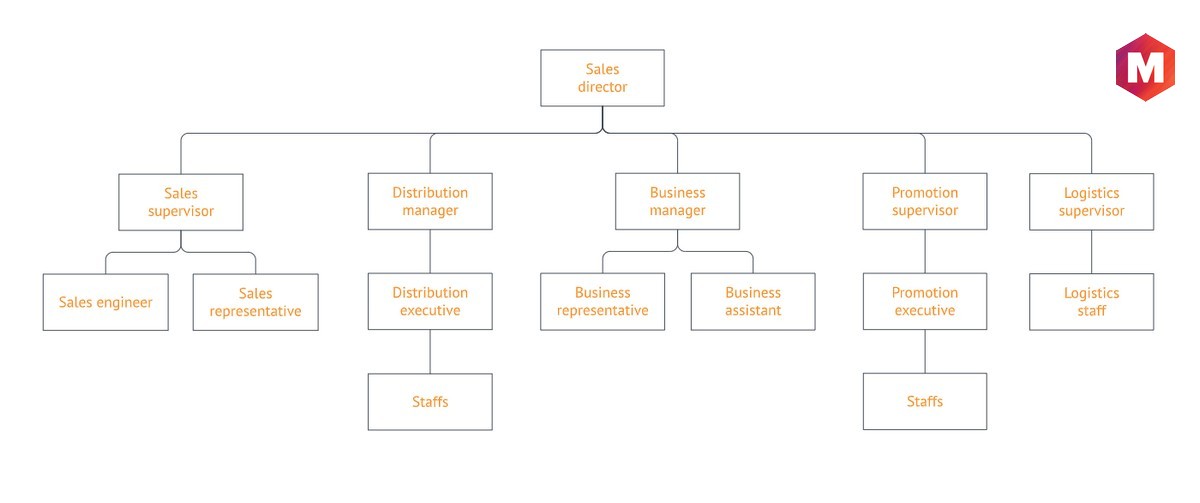 The Sales Organization Chart provided above offers a visual representation of a company's sales structure. This chart can give a clear view of the hierarchy of roles within the organization, demonstrating the reporting relationships and flow of responsibilities. It begins with the Sales Director at the top, responsible for overseeing the entire sales operation.
Below them, there are varying roles such as Sales Managers, Team Leaders, and Sales Representatives, each with their respective duties and areas of jurisdiction. This chart may vary from organization to organization based on their specific needs, resources, and sales strategy. Ultimately, a well-defined sales organizational chart facilitates communication, coordination, and collaboration, leading to enhanced productivity and efficiency within the sales team.
Tips to Build Strong Sales Team Structures
1. Define Clear Roles: It's crucial to determine and establish distinct roles within your sales structure. These roles could include Sales Directors, Sales Managers, Team Leaders, Sales Representatives, etc. Each role should have delineated responsibilities and targets to achieve a harmonious working environment and to avoid potential conflicts or overlaps in duty.
2. Create a Simple yet Efficient Hierarchy: Strive for a hierarchy that is simple enough to avoid unnecessary layers of management but efficient enough to ensure smooth communication and workflow. This balance can be achieved by limiting the number of sales reps reporting to a single manager or team leader, ensuring that each representative receives adequate supervision and guidance.
3. Promote Open Communication: An effective sales organizational structure should encourage and facilitate open communication. Sales reps should feel comfortable raising their concerns or suggestions to their superiors. Also, ideas should be able to flow freely within the organization, fostering innovation and improvement.
4. Provide Training and Development Opportunities: To ensure the growth and retention of your sales reps, it's essential to provide ample training and development opportunities. This could include product training, sales strategy workshops, or soft skills development programs. Investing in your sales reps' growth can lead to increased productivity and job satisfaction.
5. Incentivize Performance: Motivating your sales reps is key to driving performance. This can be achieved by implementing a robust incentive program that rewards both the attainment of targets and the demonstration of key behaviors that align with the organization's culture and values. The incentives can range from monetary rewards, recognition, career advancement opportunities, or increased autonomy.
Here is a video by Marketing91 on the Structure of a Sales Organization.
FAQs
What is the best structure for a sales organization?
The best sales organizational structure for a sales organization is one that promotes clear communication, provides ample training opportunities, and incentivizes performance. It should be simple yet efficient, preventing unnecessary layers of management. However, if you want to use the most straightforward sales organization structure then the Island would be the best sales team structure for you.
What is a sales enablement team and how to organize them?
A sales enablement team is a group within an organization that provides the sales team with resources to effectively sell. They should be organized in a way that allows them to collaborate closely with the sales team and other relevant departments.
What do sales enablement teams do?
Sales enablement teams support the sales team by providing necessary resources such as training, tools, content, and information to improve sales execution and drive revenue.
Why is sales structure important in an organization?
The sales structure is important as it determines the flow of communication, decision-making process, and management of the sales team, impacting the overall sales performance and productivity.
What is the B2B sales team structure?
The B2B sales team structure typically consists of sales reps, account managers, sales managers, and a VP of sales. It may also include a sales enablement team to support the sales process. Sales manager, business development reps, etc. are involved in ensuring sales success.
Liked this post? Check out the complete series on Sales