As a salesperson, you have to be a go-getter – be it your numbers, or job. The cover letter that you give to your employer should demonstrate your experience, skills as well as your passion for working in the field. To be considered for the top sales job, you have to have an extremely professional and well-crafted cover letter.
Apart from your resume, the cover letter is something that your prospective employer will see and evaluate you. Your cover letter must be of the most professional manner so that half of your work is done before you appear for the interview.
A sales Cover letter is your representative who will introduce you to your prospective employer without you being there. Hence you have to ensure that the resume and cover letter – both are professional.
Cover letter tips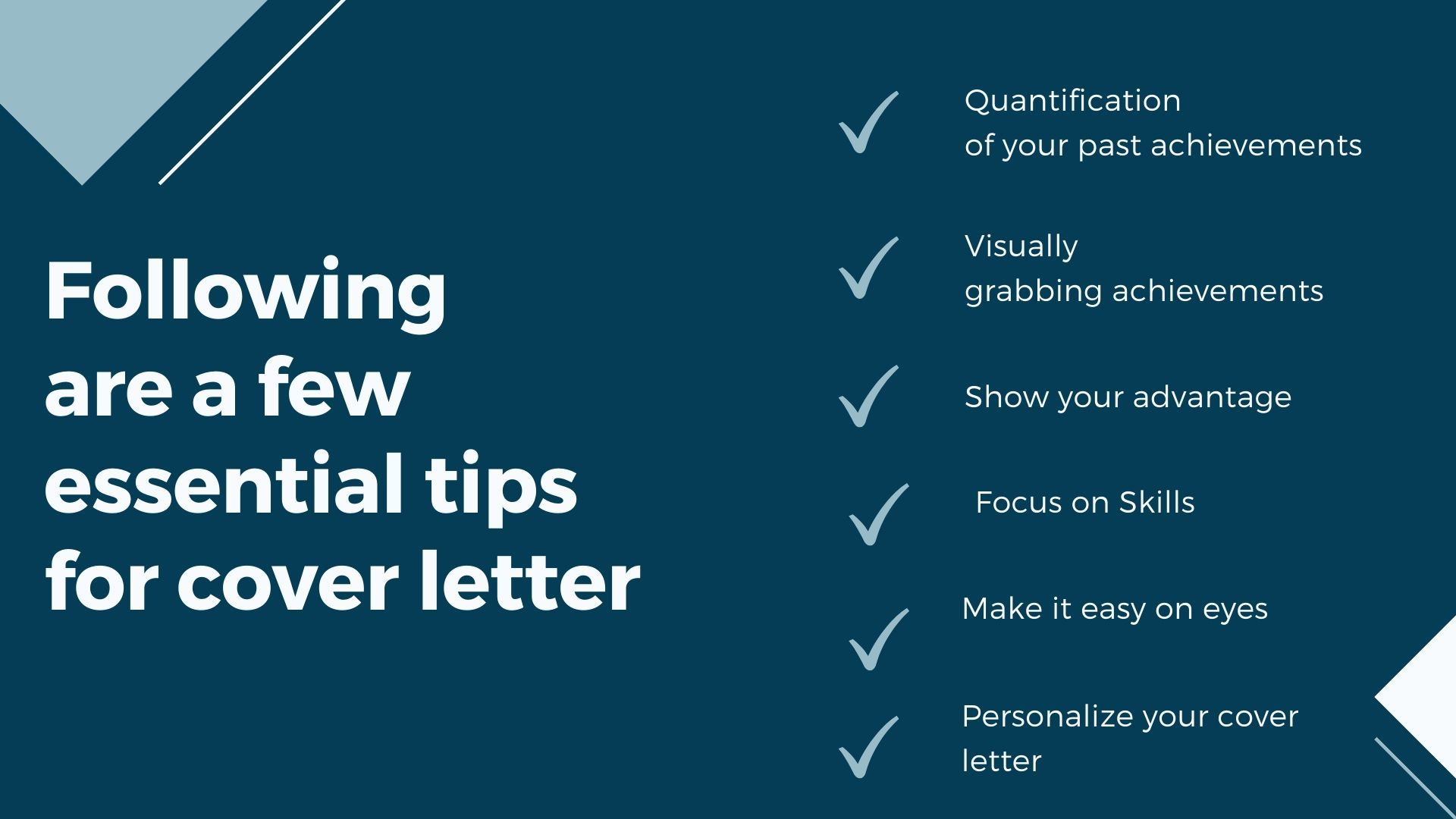 1. Quantification of your past achievements
You should take time to ensure that your cover letter consists of all the quantifiable achievements in the past. For instance, you can mention the targets that you have achieved in the past jobs, the responses that you have achieved for making email blast, customer conversion ratio, growth year-on-year, number of new customers added, and other quantifiable achievements.
If you show numbers in the covers after it adds value in the eyes of the employer. Numbers build trust and tell that you are a no-nonsense person. Numbers also help the employer measure you by their scale.
2. Visually grabbing achievements
The best way to ensure that the quantifiable achievements catch the eye of the employer is to have these accomplishments made bold. Essential points are denoted with bullets. Using a bold font and bullet points will help those points to stand out.
But understand the difference between what is essential, why is this important, and what is not important. For example, a sentence "generated a growth of 33% in the year 2019-20" Should not be written with every word in bold. Instead, only the number part should be made bold.
3. Show your advantage
The usual question in every interview is how would you make a difference in our organization. Include the answer to that in your resume. This will increase your chances of candidacy.
You can discuss the activities that you did by going the extra mile for your previous organizations.
4. Focus on Skills
Discuss the credentials and skills that are important. Include the skills that the employer is looking for. If there are additional skills that the employer is looking for, then you can always start learning and include them as skills' Pursuing now' and add the details of the course.
Saying result-driven does not make a difference, but giving an example of how you handled a particular situation where you have shown the skills of being result-driven is expected during the interview.
5. Make it easy on eyes
Avoid the use of long objectives and incoherent words. Make paragraphs and avoid lengthy sentences. Make bullet points and tables if necessary. Avoid including complicated charts or graphs. The cover letter should be easy, legible, clear and easy to read. The recommended font size of 12 or 14 is to be used and a standard Times New Roman font.
A border is usually not recommended in a resume or in the cover letter since many employers use ATS or Application Tracking System. This is a software that initially scans every application and forwards only relevant ones that match the job description. Hence for your resume to pass the bots, it should be ATS compliant.
6. Personalize your cover letter
You would not use the same sales pitch for different customers, so why would you use the same resume for different employers. Although the job may be the same, the job description that the employer has posted usually differs from each other.
Make sure to include those unique skills or expectations which are included in the job description. Your resume should be crafted to target your employer rather than having the same generic resume for everyone.
Sample Sales Cover Letter
Name
Address 1, Street 2
City, Zip Code
Date
To,
Hiring Manager's Name,
Company address,
City
Dear Mr./Ms./Mrs. Manager's name,
I am delighted to apply for the position of Senior Sales representative in your reputed company. After going through the job description, I'm sure that I will fit right in for this role since all my previous job experiences and skills match your requirements.
I am a hardcore sales professional with expertise in Business Development, Customer Retention, and Competitor conversion. I have a keen sense of business and knowledge for this job. I have relevant experience in Sales in (Company name) from (month/year to month/year). I currently manage a team of 5 members, and our core objective is to get incremental business from existing customers by upselling.
I have demonstrated a strong relation with all my customers in these roles. I have worked previously as an associate manager with ABC Inc. I have given an incremental business of $10,000 every year and was the highest performer in the west region. I have also received an award for getting the newest customers for the previous financial year.
My references will be happy to discuss my strong selling skills and positive attitude along with a strong work-moral ethic. Thank you for your time, and I look forward to discussing my application further in a face-to-face interview.
Thanks and Regards,
(Your Name)
Liked this post? Check out the complete series on Sales