Sales Coordinators are the support for the Sales team in their duties in not only Sales but also in admin duties. Sales coordinators play an important role in coordinating between the sales and marketing team and also in other admin duties. Although their primary work is to assist senior sales managers with their functions, their functions can also extend beyond the sales team at times.
The need for Sales Coordinator
Sales jobs involve a lot of traveling and field visit. While the primary function of junior Sales reps are based mostly on the field and involves client visits, senior sales managers have a mixed profile. They have to visit top clients and be present for negotiation in bulk deals and they also have to manage team and report to the superiors about the progress.
They are involved in preparing and distributing targets, close sales deals, manage a team, disburse the sales incentives by cross-checking with numbers and vis-à-vis target, maintain records and other functions. Thus their role is a mix of field and admin jobs and when it comes to choosing, they always choose to work in the field with customers rather than perform admin duties. Here, the role of Sales coordinators comes into the picture. They support the Senior managers with admin duties.
Job Profile of Sales Coordinators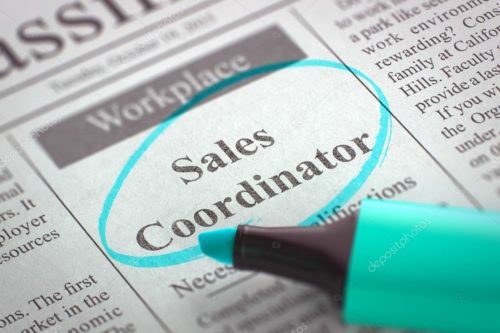 Assist in office duties, maintain the records, attend phone calls, walk-in customers.
Ensure the office is correctly regulated by making available all required things, arranging meetings of different teams and coordinating with other teams to avoid conflict in schedules
Coordinating the sales team by managing schedules, filing documents and communicating relevant information to the management.
Percolate information, announcements, new policies etc from higher management to the teams
Ensuring the adequacy of sales-related equipment or material by acting as a mediator with the Marketing team and Sales team
Ensure the achievement of all sales teams is filed properly before the closing.
Making sure that salaries and incentives are disbursed on time.
Responding to complaints from customers and give after-sales support when requested
Store and sort financial and non-financial sales data and other relevant information in electronic form and produce as and when required
Ensure collection details are updated by every team in order for review by higher management
Collect and compile data in order to present to the senior management as and when required.
Handle the processing of all orders with accuracy and timeliness
Inform clients of unforeseen delays or problems
Monitor the team's progress, identify shortcomings and propose improvements to senior management
Assist with the preparation and organizing of promotional workshops, events or courses
Assist the Sales team in preparation of Quotations, tenders, and other necessary documents
Ensure adherence to laws and policies of the company by all employees
Supervise the office and obtain the necessary approvals for the smooth functioning of the sales teams.
Manage the expenses of the office and related functions
Work as a team with the sales team to ensure overshooting of targets before the deadlines
Assist senior managers in preparation of reports and timely submission of formats if any.
Assist in any other sales or marketing related function
Skills required for Sales Coordinator
Since multi-tasking is required by sales coordinators, in terms of background an educated person with little experience in functions of sales is preferred. College graduation is required. Proficiency in English is of importance since many times, the customer first interacts with Sales Coordinators. Good body language along with basic mannerisms and politeness is preferred in them. Multilingual skills are an asset.
They should also know have basic computer knowledge along with commonly used computer software's such as Microsoft applications is required. They should be good with numbers and may be required to do basic calculations which may or may not be computer assisted.
Although the experience and education required to be a sales coordinator vary depending on the industry, in some cases, a high school diploma or a graduate degree with previous experience in Sales or related fields would be preferred by employers. Other employers may require a bachelor's degree plus previous experience in that industry. For some industries, two to five years of sales or office administration experience are required.
A radiant personality with good character is also considered. The sales coordinator should be able to gel well with the teams and be the first point of contact for employees as well as customers for sales related queries. If the company is using any software's, the management of the same is the responsibility of Sales Coordinators.
Advantages of having a sales coordinator :
1) Focus
Senior sales manager and the sales team can focus on attending sales calls and generating sales rather than looking in admin functions. The admin functions can be left with Sales coordinators
2) Timely work
Sales coordinators ensure timely work is done and reports and formats are filled and sent across and submitted. Any customer queries can be attended and solved by them since there will be a dedicated person for the same. Sales incentives are a crucial part of the Sales job and ensuring proper disbursement of the same after calculating the numbers against achievement and targets, and if need be, confirming it against Sales unit's numbers is a tedious job and getting all of it done on time is the function of Sales Coordinators.
3) Regular Follow-ups
Sales managers, in workload, overlook few things which are followed up by them. They get the job done in absence of Sales Managers.
4) Support system
Sales coordinators are a support system for the Sales team. In case of the senior manager being absent or the position being vacant, all of the admin duties are taken care by Sales coordinators along with other functions.
5) Support Rewards and Recognitions
In few organizations, Sales coordinators are also involved in RnR's of the company since they are associated with sales functions and know the team and team members in detail. They can also shed light on the work done by an individual employee, if need be, and assist with RnR functions.
Liked this post? Check out the complete series on Sales