The art of closing a sale is a skill that separates the good from the great in the world of sales. Understanding how to close a sale effectively can make the difference between success and second place, and is, therefore, a key skill for any sales professional to master.
To illustrate, let's consider a few examples. Imagine a real estate agent who skillfully guides a hesitant buyer to visualize life in their potential new home or a car salesperson who convinces a customer that a particular vehicle perfectly aligns with their lifestyle and needs.
What is the Meaning of Closing a Sale?
Closing a sale is the process of persuading someone to make a purchase decision. It involves using language, tactics, and techniques that will help you convince prospects to convert into paying customers. Here are some key strategies to successfully close the sales process:
Creating Urgency
Listening Actively
Overcoming Objections
Offering Tailored Solutions
Building Trust and Rapport
Harnessing the Power of Storytelling
Utilizing Upselling and Cross-Selling Techniques
Deploying the 'Assumptive Close' Technique
Performing Effective Follow-ups
Demonstrating Value Over Features, etc.
How to Close a Sale in 9 Steps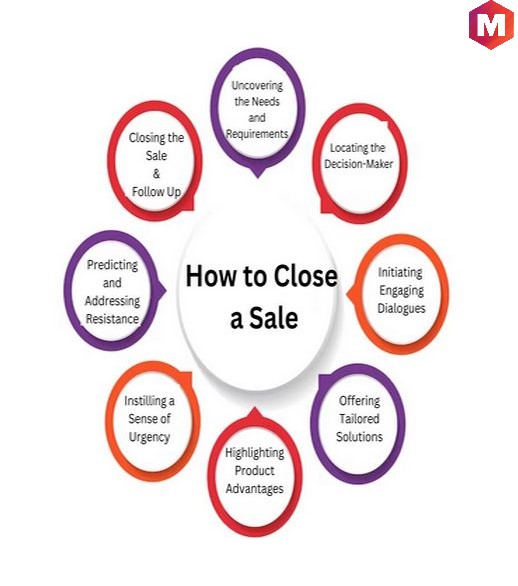 1) Uncovering the Needs and Requirements of Your Customers
Recognizing your customer's needs is essential in closing a sale. It is the first step of the sales cycle. It's about understanding what the customer is looking for, their pain points, and how your product or service can provide a solution. Some of the ways you can do this are-
Asking Open-Ended Questions
Listening More Than Speaking
Utilizing Social Proof
Offering Free Trials or Demonstrations
Providing Exceptional Customer Service, etc.
2) Locating the Decision-Maker
Identifying who has the power to make purchasing decisions is paramount. This person can influence the outcome of your sales pitch significantly. Some tips to keep in mind when attempting to find the decision-maker who can optimize the process of closing deals are –
Researching Prospects Before Connecting with Them
Asking Relevant Questions During Your Initial Contact
Showcasing Your Expertise by Offering Solutions and Demonstrating Value, etc.
3) Initiating Engaging Dialogues
Opening up a conversation is the first step in building a relationship with your potential customer. Use open-ended questions to encourage them to share more about their needs and expectations. Other techniques to foster a dialogue that can help in closing sales are –
Developing Rapport and Establishing Commonalities
Personalizing Your Sales Pitch to Each Prospect
Leveraging Video Content, etc.
4) Offering Tailored Solutions
Customers have different needs and requirements; what works for one may not work for another. It is essential to offer tailored solutions to your prospects. This involves understanding their needs and offering a product or service that meets those specifications. Here are some sales strategies that sales teams should keep in mind when tailoring a solution for a customer –
Establishing Objectives & Setting Goals
Clarifying Needs and Expectations
Analyzing the Competition, etc.
5) Highlighting Product Advantages
Ensure to explain the benefits of your product or service, not just the features. Show the customer how your product can solve their problems and improve their current situation. Additionally, you should focus on how your product or service can be of value to them. To do this, highlight the advantages and explain why they should choose your offering over others in the market. You can do this in the following ways:
Highlighting Unique Selling Points
Showing Your Product's Benefits vs. the Competition
Discovering and Explaining What Is Missing in Other Solutions, etc.
6) Instilling a Sense of Urgency
Creating a sense of urgency can often encourage a quicker decision. This could involve limited-time offers or highlighting the costs of not acting promptly. This is a powerful tool that can be used to nudge customers into taking action. Here are some tips for instilling a sense of urgency in your sales closing strategies:
Offering Limited Time Discounts
Highlighting Potential Losses
Mentioning the Benefit of Acting Fast, etc.
7) Predicting and Addressing Resistance
Anticipate objections your customer may have and plan how to address them. This preparation shows your thorough understanding of the customer's potential concerns and your product. It also helps to increase trust and credibility. Here are some tips for predicting and addressing resistance:
Asking Questions
Creating Alternatives
Understanding the Customer's Objections, etc.
8) Closing the Sale
Closing the sale is all about getting your customer to take the desired action. It is important that the customer feels comfortable and confident when making this decision. Here are some tips for closing a sales deal:
Explaining Next Steps
Listening Carefully for Objections
Inviting Questions and Concerns, etc.
9) Following Up
It is important to follow up with your customers after a sale. This could be done through customer surveys or simply sending emails to show your appreciation. Following up with customers also allows you to identify areas of improvement for future sales. Here are some tips for following up:
Sending Thank You Notes
Scheduling Follow Up Calls
Creating Surveys to Gather Feedback, etc.
20 Sales Closing Techniques for 2023
1) Assumptive Closes
The assumptive close is one of the most popular sales closing techniques, and for good reason. This technique involves assuming that the prospect has already made a decision to buy your product or service, so you begin your close by assuming they've made up their mind. It is important to be respectful yet confident with this technique. Some of the key points to keep in mind when using the assumptive close are:
Confidently express that you believe your prospect is going to buy
Make sure you have gone through all of the details and answered any questions they may have
Create a sense of urgency (ex. "My offer will expire on Friday")
Actively listen and engage with the prospect
Encourage them to make a decision
2) Now or Never Close
The now-or-never sales closing technique is another popular sales closing technique. This approach works because it forces the prospect to make a decision quickly since this offer won't last forever. When using this approach, be sure to:
Make a pitch that emphasizes why they should choose your product/service
Create a sense of urgency by telling them you can only offer this once
Explain how they will benefit from the offer immediately
Reinforce that the offer is limited
3) Take Away Closes
The takeaway close is a great sales closing technique to use when you're dealing with an indecisive prospect. This approach works by removing the offer from the table if they don't make a decision soon. To do this, be sure to:
Explain why your product or service is the ideal solution for their problem
Give them an ultimatum (e.g. "This is the best offer I can make and it will only be available for a limited time")
Highlight the reasons why they should act now
Describe what could happen if they don't take action immediately
4) The Something for Nothing Close
The Something for Nothing close targets the love for value and extra perks. This technique revolves around offering your prospect something extra that they were not initially expecting.
Promise a bonus or feature
Emphasize how they're getting more value
Stress on the limited availability of the bonus
Reiterate their need for your product or service
5) Summary Closes
Summary closes involve repeating all the value propositions agreed upon during the sales process. This technique helps you emphasize your product's key benefits, keeping them fresh in your prospect's mind.
Recap all the value propositions and benefits
Ensure agreement on each point
Reiterate how your product addresses their pain points
Summarize your offer in a compelling way
6) Sharp Angle Close
Sharp Angle closes are perfect for prospects who make a last-minute request or demand. You agree to their request, but only if they agree to close the sale immediately.
Agree to the prospect's request or demand
Make their agreement conditional on an immediate sales deal
Stress the mutual benefits
Encourage prospects to sign on the dotted line right away
7) Question Closes
Question closes involve asking your prospect a question which leads them to close the deal. This strategy actively involves the prospect in the closing process.
Ask questions that encourage prospects to imagine using your product
Frame the questions in a way that implies the sale is a done deal
Use positive language and reinforce the benefits of your product
Encourage prospects to verbalize their thoughts and feelings about the product
8) Offering Competitor Close
Offering Competitors close involves using the competition to your advantage. This close is all about showing your prospect how your product or service is superior to your competitors.
Highlight your competitive advantage
Use credible sources to support your claims
Show empathy toward the prospect's dilemma
Encourage prospects to compare and understand the value.
9) Soft Close
Soft closes are gentle, non-aggressive sales closing techniques. The approach is more about nudging the prospect in the right direction than pushing for a decision.
Create a comfortable atmosphere for the prospect
Use suggestive language rather than direct
Focus on the benefits and solutions, not just the product
Encourage prospects to explore options, with a focus on your offering
10) Hard Close
Hard closes are direct, assertive approaches to seal the deal. They require a high level of confidence and a clear understanding of the prospect's pain points.
Be direct and assertive in your pitch
Proactively address the prospect's concerns
Push for a decision but in a respectful manner
Ensure the prospect understands the benefits of closing now
11) The Alternative Close
The Alternative Close presents the prospect with multiple options, each leading to a sale. This technique gives the prospect a sense of control while moving them down the sales pipeline.
Present multiple options, all leading to your product
Highlight the benefits of each option
Nudge the prospect towards the best fit for their needs
Encourage prospects to consider their alternatives
12) The Test Drive Close
The Test Drive Close allows the prospect to 'try before they buy'. It helps eliminate hesitations and build confidence in your product.
Offer the prospect a trial or demo of your product or service
Show them firsthand how it solves their problem
Make it easy for them to experience the benefits of your product
Encourage prospects to take the 'test drive'
13) The Ownership Close
The Ownership Close involves the prospect in a future scenario where they own the product. This psychological sales technique can be very effective in closing sales deals.
Encourage prospects to visualize using your product in their daily lives
Use 'when' instead of 'if' to reinforce ownership
Highlight the benefits they'll enjoy once they sign on the dotted line
Foster a sense of anticipation for owning your product
14) Unique Offer Close
The Unique Offer Close hinges on offering the prospect something that sets your product or service apart from the rest. This technique is about selling an experience, not just the product.
Highlight the unique aspects of your product or service
Show why these aspects are beneficial and relevant to the prospect
Explain how not choosing your product would mean missing out on these unique benefits
Encourage prospects to seize the unique opportunity your product presents
15) Opportunity Cost Close
The Opportunity Cost Close is about demonstrating to the prospect what they stand to lose if they don't move forward with the deal. This technique involves making the prospect see the value in closing now.
Illustrate the advantages they are missing out on by not choosing your product
Present a comparative analysis of their current situation versus the potential future with your product
Address the prospect's pain points that will continue if they don't act
Encourage prospects to consider the cost of missed opportunities
16) Objection Close
The Objection Close involves addressing and overcoming the prospect's objections. This technique requires sales managers to anticipate, understand, and resolve the prospect's concerns to close the deal.
Identify the objections your prospect may have
Address those objections proactively in your sales strategy
Demonstrate how your product can solve these issues
Encourage prospects to view objections as hurdles that can be overcome
17) The Video Close
The Video Close uses visual content to showcase the benefits of the product or service. This technique effectively demonstrates how a product works and what it can do for the prospect.
Use video to demonstrate your product in action
Show how the product resolves the prospect's pain points
Highlight the benefits the prospect will gain from using your product
Encourage prospects to visualize themselves using your product
18) The Columbo Close
The Columbo Close mimics the famous detective's strategy – ending the conversation with a question that makes the prospect rethink their position. This technique leverages curiosity and intrigue to close the deal.
Ask thought-provoking questions that address a prospect's need
Highlight the benefits your product offers about the question
Use the question to circle back to the advantages of your product
Encourage prospects to reassess their needs and the solutions your product provides
19) The Puppy Dog Close
The Puppy Dog Close sales tactic encourages a prospect to sign on the dotted line by creating an emotional connection. Sales reps should use this technique to leverage sympathy and empathy to convince prospects to close more sales.
Create a personal connection with the prospect during your sales pitch
Showcase how your product or service can help them in a meaningful way
Emphasize that your product will benefit the prospect on a personal level
Encourage prospects to sign on the dotted line and become part of your team
20) The Option Close
The Option Close gives prospects a variety of options to choose from. This technique leverages the power of choice to close the deal.
Offer prospects several packages that meet their needs and budget
Give them time to review each package and ask questions about its features
Highlight the advantages of each option before asking them which one they want to go with
Allow prospects to choose the package they feel is best for them
Conclusion!
During your sales conversations, the goal should be to achieve a win-win deal. It's all about asking for the sale with the right sales tactics. To increase the chances of sealing more deals, it is important to be creative and try out different methods. A few key points to remember here are:
Always aim to establish a genuine connection with your prospects to build trust and encourage open dialogue.
Remember that persistence pays off – don't be afraid to ask for a sale, especially when you believe your product can truly meet the customer's needs.
Experiment with various sales tactics and be adaptable – what works with one prospect might not work with another.
FAQs
Q. What to do after closing a sale?
After closing a sale, your work isn't over just yet. It's crucial to maintain the relationship with your new customers and ensure they're satisfied with their purchase. Here are some key steps to take:
Send a thank you message and ensure they know how to use the product or service
Schedule follow-up calls or emails to address any concerns or questions
Encourage them to provide feedback or reviews
Invite them to join your mailing list for updates and promotions
Offer discounts or loyalty rewards for repeat customers.
Q. What are some closing questions to turn a "No" into a "Yes"?
Turning a "No" into a "Yes" requires tact, understanding, and the right set of questions. Here are some queries you can pose to prospective customers:
Can you clarify what specific aspects of the product/service didn't meet your expectations?
If there was one thing you could change about the product/service, what would it be?
What factors are preventing you from making the decision right now?
How does our product/service compare to others you are considering?
Could we revisit the conversation if we addressed your concerns or modified our offer?
Would a demonstration or trial period influence your decision?
Q. What sales closing mistakes should you avoid?
When it comes to closing a sale, there are common pitfalls you should strive to avoid. Not only can these mistakes cost you the deal, but they can also negatively impact your reputation:
Avoid making assumptions about the customer's needs without proper investigation.
Don't rush to close without ensuring a win-win deal.
Refrain from being too aggressive or pushy — it's essential to ask for the sale but not at the expense of the customer's comfort.
Don't neglect the usage of various sales tactics — adaptability is key in sales conversations.
Avoid becoming complacent after closing more deals — always strive for improvement in your sales tactics.
Q. How to move more prospects through your sales funnel?
Moving more prospects through your sales funnel involves a strategic approach, a well-defined sales process, and a keen understanding of your potential customers' needs. Some key tactics include:
Personalizing your interactions with every prospect
Nurturing relationships through effective follow-ups
Offering incentives for early commitments
Leveraging customer testimonials to build trust
Using clear call to action to close deals with qualified prospects
Liked this post? Check out the complete series on Sales