Sales goals are the objectives that should be achieved to complete sales targets or as a part of sales targets.
Numbers are a part of sales goals on which most of the managers focus upon. Not only managers but also companies focus on numbers as their primary sales goals. Focusing on numbers is one thing and having a plan to achieve those numbers is an entirely different thing. You need to have a solid plan with tangible steps that your team can take to make the numbers.
While forming sales goals, you should consider the vision and mission of the company. Your sales goals must be in synchronization with the concept of the company, so that turns out to be profitable as well as a high achievement goal.
Achieving sales goals is not easy for a start-up company. You need to find a market/product fit which will help you to make your acquisition strategy and improve your sales funnel so that the prospects turn into leads and leads eventually convert into a customer.
This is why setting proper sales goals is essential. You can set unrealistically high sales goals neither can you set under achieving goals. You need to pick something which works well with you, your team as well as your company. Clear communication of what can be done and what needs to do should be present in both ways – upward as well as downward communication.
Types of Sales Goals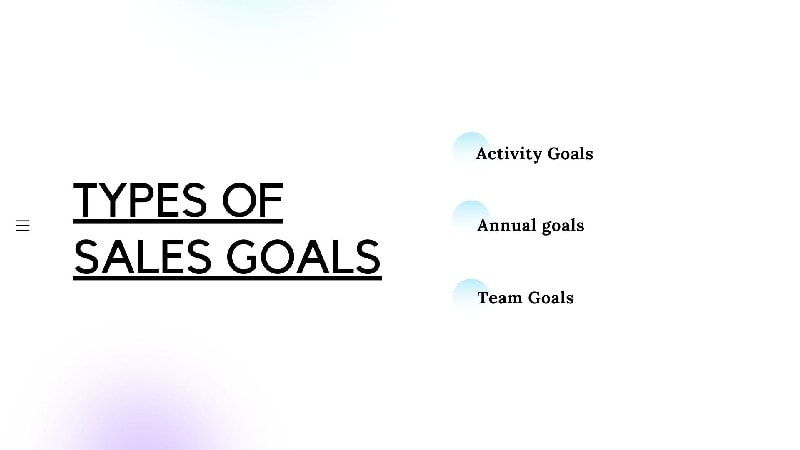 1. Activity Goals
Activity goals are also known as sales activity goals in which the activity of every employee is measured. Activity goals are owned and controlled entirely by the employee responsible.
It is up to the individual employee to hit these numbers, which can eventually help him in achieving the target numbers. Meeting activity daily, weekly, and monthly will help to achieve respective goals.
2. Annual goals
Annual goals are the driving factor for all your sales goals. Achieving these numbers is crucial for everyone in the organization. However, it is the concern of the management rather than employees on the front line. An example of annual goals would be increasing in the business by new accounts by 20%
3. Team Goals
Team goals are usually measured on quarter to quarter or monthly and require every team member to contribute a certain percentage so that the entire team is successful in achieving their numbers as a whole.
The primary purpose behind team goals is to increase team bonding and unity between the groups. When everyone shares a common goal and work together to achieve it, it builds a motivated sales culture in the organization.
5 Steps to Set Sales Goals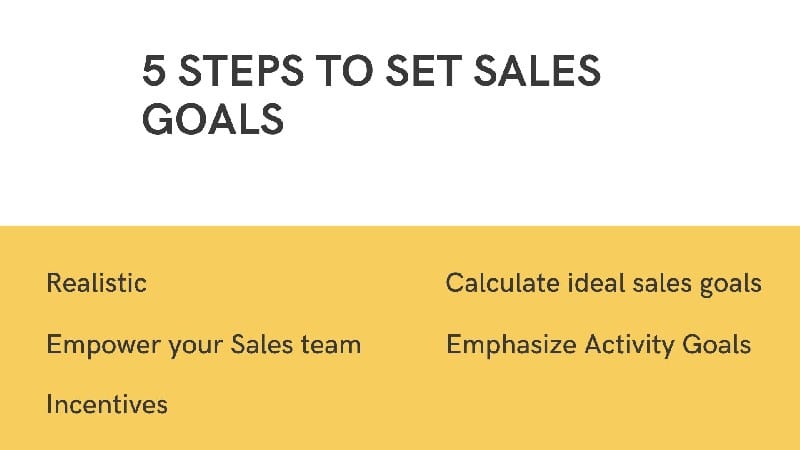 1. Realistic
There is a reason why most of the salespersons miss their numbers. The problem is not with the people, but the problem is with their goals. You should answer the question is my annual revenue goes realistic before you start thinking about the commission, incentives, and bonuses.
You should take a look at the business plan and ask yourself the question. Although most of the factors will depend on the pricing and the industry that you are working in and for how long are you working. It will also depend on the market condition, prospects in the lead list and how many new clients are approaching every day.
Although there are so many variables that will determine your achievement of sales numbers, you should always consider understanding and thinking if the numbers are realistic and achievable. Following are three necessary steps which you can further to determine if your numbers are realistic or not:
1.1 Determine the goals of your company
Begin with what you know about the company. Even if you are in the business for just a year and you may not have enough data you can still use the insights and do a bit of research to give you a pretty good idea about how things should progress in the next one year.
Understand the total number of customers that are in the business and take a look at the new customer acquisition in the past year. Look at the amount of money that is brought on the table by new customers and what is the growth rate of these new customers.
1.2 Market potential
Understand the market potential before committing sales numbers. Discover if there is a need in the market for your product and if not, then think if you can create the demand.
Aggressive goals in an unexplored market will not help you to achieve the numbers neither does it help the company to realize its goals. You need to understand the competitive position as well before setting the selling numbers.
If you have no competitor but full demand in the market, then you can set aggressive sales goals, but if the reverse is the case, then you might have to wait and think upon.
1.3 Evaluate the team
Understand what you can do with the resources that you have available right now. If the team cannot hit the sales targets, then no matter the amount of effort, the numbers will never be achieved.
Before committing numbers to the organization, understand if your sales team can complete the numbers. You have to trust them, and they will trust you in return. Two-way communication matters a lot during the target setting.
2. Empower your Sales team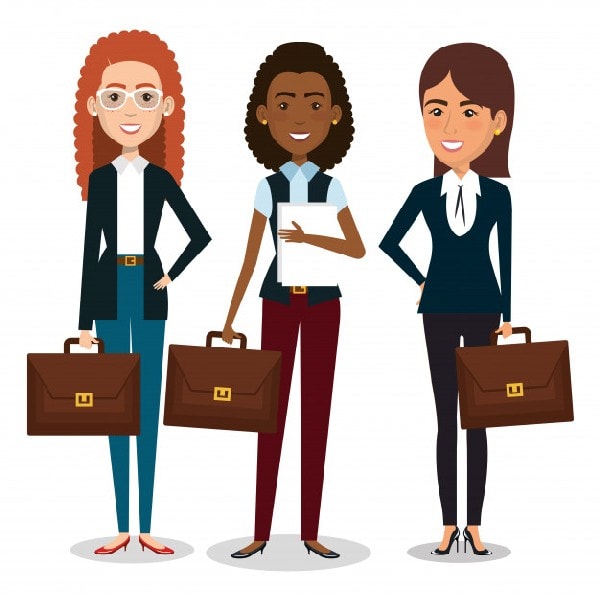 Sales can turn out to be a war sometimes, and your team must have the best tools and weapons to combat in the war. This also means that your company provides the resources and training that should be unique, and they should be able to understand and self-evaluate to see if their strategy is working or not.
For the long-term success of the team and the company, you may have to go beyond the immediate sale goals. You have to take time to dig into their activities to see what is working and what is not. Following are few of the typical traits on which you can evaluate your salesperson:
Connection Ratio: what is the percentage of calls that materialize into an initial conversation for a sales pitch. The more calls that you can convert into conversations, the lesser calls you will need to make in your day.
Initial meeting conversation: understand the percentage of the initial meetings that have an immediate follow-up. The higher is its number, the lesser prospects you will need to meet to achieve your numbers.
Length of the sales cycle: work on the time that is required to close the deals. The time is measured right from initiating the first conversation until the final payment is received. The lesser time your sales cycle takes, the more sales you will have and the faster you will achieve your numbers.
Closing Ratio: The closing ratio is the number of calls that are eventually converted into a sale. The higher is the closing rate, the better it is to reach your numbers.
Apart from these common traits, you can also have some industry-specific features that you can track to understand the productivity of your salesperson and to check if the sales goals are allocated correctly or not.
The important thing is the timely detection of the mismatch of sales goals. This is done so that you have enough time to rework upon and make necessary adjustments or changes so that the salesperson can achieve his sales goals because a hiccup in his number will have detrimental effects right up to the organizational level.
3. Incentives
Creating a culture of friendly competition is when you create a win-win situation for yourself, your sales team and the organization. You may be under the impression that a good company culture coupled with decent pay is good enough reason that salespeople will join your organization, but they need something more than that.
They need the motivation to achieve their sales goals and go beyond it. If they're making some extra component on the compensation scale over and above their payroll, then it would be great to keep them motivated and continue to pursue those numbers. Incentivizing the sales goals is the best way to ensure that salespeople achieve it.
Make it as it is a friendly competition for the employees and couple it with compensation so that everyone understands that the winner is going to be rewarded. This will also ensure that every salesperson is internally motivated to achieve numbers.
3.1 Have a proper structure
There is no such thing as a perfect commission structure for your company. You have to work on compensation structure just like every other aspect of your organization. Following are two ways in which you can design your commission structure:
3.2 Work with your new Salespeople:
Design the commission structure by working with the salespeople as you grow together and understand about each other and the organization. Although you might lose a few good people, in the end, you will have the real members and real people on which you can trust and work.
3.3 Fake it till you make it:
come up with an incentive structure and achievable sales goals that are based on what is feasible and in sync with company objectives rather than mere wishful thinking.
3.4 Reward stretch goals
Stretch goal is the additional goal which the salesperson can take to achieve better incentives. For example, reaching a hundred percent of the target would be mandatory in most of the companies, but going beyond a hundred percent can be considered something of a stretch goal. It is crucial to consider previous achievements while considering a stretch goal.
For example, a person may have achieved 50% of his targets in the previous quarter, and he might have made 150% in this quarter vis-a-vis last quarter. Still, you have to take into consideration the fact that there was a deficit in the last quarter and compared to that; this quarter will seem better.
On the other hand, a person who has achieved a hundred percent in the last quarter and 130% in the next quarter can be considered to be performing much better.
You also have to think if you have the necessary resources to go ahead with stretch goals. Awarding incentives is one part of stretch goals, but having enough products or services which you are selling should also matter.
Otherwise, salespeople will get the orders, but if you don't have the product in stock or if you have miss manage the inventory then you will not be able to supply the product, and it will backfire on the company.
3.5 Incorporate retention bonuses
Sales teams think for long-term as well as short-term. You do not want to create a culture of quick turnovers so that customers don't chase new alternatives. Instead, make sure that you incentivize it properly so that you are working on correct customers.
Making sure that the customers stick around is also an essential part of the business. Rewarding your clients on their anniversaries and birthdays or whenever they upgrade to a higher plan or do a repeat purchase are few tips you can use to increase their retention.
When your past clients become your repeat customers, you have to make sure that you are providing them with something which you have not offered them before. This will ensure that they not only become your repeat customers but stay your repeat customers.
4. Calculate ideal sales goals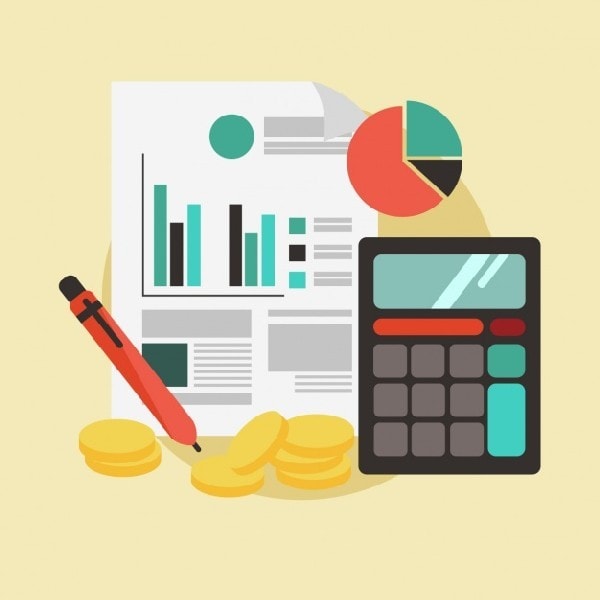 Calculation of an ideal sales goal is critical for success to achieve your numbers. You have to calculate the total sales target that you have and for the organization and then you can work your way down to get the target for every sales employee
Take the number of annual revenue goals of the organization. Calculate the monthly goal for the company and then calculate the departmental monthly goal and finally divide it amongst every sales employee.
When it comes to dividing the numbers amongst your employees, then you just can't give any random number to every teammate; neither can you provide the total sales target number separated by the total number of employees. You have to understand the geographical area and sales potential of every salesperson and give the numbers accordingly.
After all, this being done, you cannot expect the sales goals to be correct on the first try. There are many times when you have to repeat the sales goals, rework upon them, change them and align them with your company and balance it with your employee. Work on it again and make sure that it is compatible with everyone involved. Ideal sales goals are the numbers which are ideal to be achieved, but you can expect a little deviation from them because no one is perfect.
5. Emphasize Activity Goals
One of the most challenging tasks of the sales activity is that you cannot force the lead to convert into a customer. You cannot control the results, but you can always dictate your actions. This is why many teams are getting good results by focusing on what they can do instead of trying to control what they cannot do. These are called activity goals in which you focus on the repeatable actions that you can take and repeat those actions which have landed you successful in the past. Giving your team this mentality will help you and the team to achieve their numbers.
Identify the average target and check the actions taken in the last month. Check the closing rate and compare it with the number of activities. For example, if you had made 50 emails or sales calls in the last month and closed three deals then you're closing rate is 6%.
Then calculate how many activities are required to be done daily to hit the revised target. For example, if the revised goal is six deals per month, then your team will have to make 100 activities per month which would percolate down to respective per day activities.
Instead of focusing on the number of deals, advise your team to focus on the number of activities. Work on the conversion rate and hire more people if necessary, at the front-end. Check the best leads and prospects and rather than running behind the new customers try to work and leverage upon the candidates who are already your customers for buying an additional product or upselling or upgrading products.
Example of Sales Goals
Following are a few examples of Sales goals:
Bad goal: $50,000 of sale this quarter
Good goal: $167,000 of selling per month
Great goal: $41,750 of sale per week
Bad Goal: Close 30 Sales deals this month
Good Goal: Do 50 sales call, and 10 demo's to close 30 sales deals this month
Great Goal: 13 Sales calls and 3 demos per week
Breaking down the sales numbers to achievable and more realistic number instills the salespeople with confidence.
Liked this post? Check out the complete series on Sales