As well as the McLibel Trial, McDonald's has also experienced a number of more conventional marketing problems in recent years. Most of these problems have been new products that have failed to inspire consumers. McLean Deluxe (an attempt to cater for the health-conscious customer) and McSoup are two obvious examples, but it was with the Arch Deluxe burger that McDonald's experienced its most embarrassing flop. The Arch Deluxe was a Brand Failure for McDonald's.
What was the McDonald's Arch Deluxe?
Marketed as the 'Burger with the Grown-up Taste', the idea was to have a beef patty burger which wasn't associated with children. Indeed, the advertising campaign for the Arch Deluxe rammed the message home with various images of kids shunning the 'sophisticated' product.
How was the McDonald's Arch Deluxe burger made?
The arch deluxe had a quarter pound of beef, it had a split-top potato flour sesame seed bun which was topped with a circular piece of peppered bacon. It also has lead lettuce, tomato, onions, ketchup, American cheese and mustard and mayonnaise sauce. Numerous consumers of the burger state that the burger was delicious.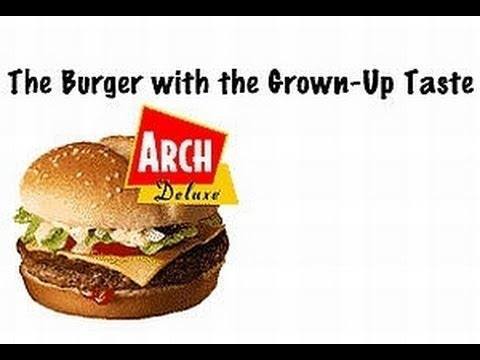 Why did the McDonald's Arch Deluxe fail?
McDonald's Arch deluxe burger failed because nobody goes to McDonald's for sophistication, they go for convenience. The Arch deluxe burger was sophisticated to make and required new sauces, buns and fresh lettuce. As a result, the franchise partners did not have enough return on investment to justify the arch deluxe. Part of this convenience is knowing exactly what to expect. McDonald's restaurants may serve up gazpacho in Spain and lamb burgers in India, but on the whole they are the same the world over. Most people who walk into a McDonald's restaurant know what they are going to order before they reach the counter. They don't want to be bombarded with a million and one variations on what is essentially the same product – a hamburger.
The other problem with the Arch Deluxe was the fact that it was sold on taste. Everybody knows that McDonald's is never going to be awarded a Michelin star, yet everybody still comes back. In an article headlined 'McDonald's Missing the Mark,' which appeared in Brand Week on 12
November 2001, Dave Miller attacked the 'compete on taste' strategy apparent in the promotion of the Arch Deluxe:
We don't come to the Golden Arches on the merits of taste and tantali-zation and culinary delight. We prize your brand on friendliness, cleanliness, consistency and convenience. They are value propositions that you've abdicated in recent years and – luckily – competitors have neglected to capture. Exactly how many failed menu concepts does it take before all of those development dollars are instead ploughed into the value proposition?
However, the problems encountered with the Arch Deluxe are symptomatic of an even bigger problem. As with other brands of such an enormous scale, McDonald's has been accused of losing touch with its customers and being too far behind the market.
Indeed, this is a problem acknowledged by the company's CEO, Jack Greenberg, who arrived in 1998. 'We have been taking much too long to develop an idea and get it to the market, then too long to decide whether we want to do it or not,' he told The Financial Times in that same year (in an article entitled 'A mission to buff up the golden arches').
As you would expect with a brand that has built its name through uniformity, McDonald's is heavily centralized. Most branding and marketing decisions need to go through the company's headquarters in Oak Brook, Illinois. The recipe for the Arch Deluxe itself came from the Oak Brook kitchen. This contrasts with McDonald's major product successes such as the Big Mac, the Hot Apple Pie, the Egg McMuffin and the Filet o' Fish, which were all invented in operators' kitchens out in the field (whereas other flops such as the McLean burger and McPizza were also conjured up at the Oak Brook headquarters). Another interesting aspect of the Arch Deluxe failure is that the product was well researched. After conducting masses of market research, it emerged that people would love to eat a burger designed specifically for adults. Unfortunately, these people seemed to be in short supply when the product was finally launched. Ronald McDonald definitely must be unhappy.
What did Arch deluxe cost McDonald's?
As per a new york times report, the burger cost McDonald's a whopping $200m in 1996 to make and advertise.
Lessons from Arch Deluxe
Go for what you know. Part of McDonald's brand identity is simplicity. Another part is its child-friendly approach. A 'sophisticated' burger designed to exclude children was therefore destined to misfire.
Avoid customer confusion. 'McDonald's is not cognitive, it is reflexive,' says Dave Miller in the November 2001 Brand Week article. 'We treasure not having to think about it. It just "is".' By extending its range with products such as the Arch Deluxe, Bratwursts, McTacos and McMussels, McDonald's was creating a need to think.
Be sceptical of research. Market research has its place when carefully conducted, but it should never be taken as gospel truth.
Liked this post? Check out the complete series on Branding