Goal setting is the process of deciding what you want to achieve and devising a plan for reaching it by breaking the goal down into actionable steps. It involves identifying a desired outcome, making a plan to achieve it, and taking the necessary steps to get there.
An example of goal setting is if you have a goal to get in shape by summer. You would establish a plan that involves joining the gym, creating an exercise schedule, tracking progress, and finding support. By breaking down the big goal into smaller actionable steps you can make progress towards your ultimate goal.
The most effective way of setting goals is to establish SMART goals – Specific, Measurable, Achievable, Realistic, and Timely. This will help you stay focused on achieving your goal in an efficient and effective manner.
Once you establish your goal, create a timeline with measurable milestones that will help guide your progress.
Break the larger goal into smaller achievable steps with realistic timelines to ensure success and stay motivated.
Reassess your goals as needed to make sure they still align with where you want to be in the future.
Finally, be consistent and have patience. You won't achieve your goal overnight, but if you stay dedicated and consistent with the steps you have outlined, you can reach success.
What Is Goal Setting?
Goal setting is the process of deciding on your desired outcome and outlining a plan to achieve it. It involves identifying what you want to accomplish, making a plan for how to get there, and taking the necessary steps to reach your goal.
Personal goal setting is the process of identifying a desirable outcome, making a plan to achieve it, and taking the necessary steps to get there. It can help you stay focused on your desired goal and ensure that you are consistently making progress toward it. In professional and team goals, goal setting involves establishing a plan to achieve team objectives and building on individual strengths.
Why Is Goal Setting Important?
Goal setting is important because it provides you with a target to work towards. It also helps keep you motivated and focused on the outcome. Additionally, goal setting can help you build self-confidence as you reach each milestone along the way. In professional settings, goal setting can help teams stay organized and achieve success by utilizing each individual's strengths to contribute to overall success.
Some of the reasons behind the importance of goal setting are-
1. Helps you stay focused on achieving your desired outcome
Goal setting helps you stay focused on the ultimate outcome, enabling you to organize your thoughts and prioritize tasks.
2. Provides motivation
Having goals in place can help provide a sense of purpose and motivation to complete tasks or reach certain milestones.
3. Allows for better decision-making
Goal setting allows you to look at the big picture, which can help you make more informed decisions.
4. Helps you measure progress
When you have an established goal in place, it's easier to measure and track your progress and success.
5. Can help build self-confidence
Achieving goals can help boost confidence, as each milestone that is reached helps prove the capability of meeting future goals.
What is the Goal Setting Theory of Motivation?
Goal-setting theory is a cognitive theory created by Edwin Locke in the 1960s that explains how people motivate themselves to reach their goals.
This theory states that clear and challenging goals, combined with feedback, can lead to higher performance than if no goal was set at all. Furthermore, according to this theory, specific and difficult goals lead to better performance than easier ones.
The goal-setting theory of motivation can be used to help individuals, teams, and organizations reach their desired outcomes. It is based on the idea that goals provide a sense of direction and motivate people to work hard to achieve them.
It suggests that if you set specific and challenging goals, you are more likely to achieve better results than if you set vague or easy goals. To achieve your goals successfully, it is important to have feedback and commitment. By setting goals, individuals are able to focus their energy on these objectives and strive to reach them.
Five Principles of Successful Goal Achievement Process
Five principles of successful goal achievement in a goal setting theory are suggested by Locke and Latham. Let's go through those principles now –
Commitment: Committing to a goal is essential. If you don't have the drive or dedication to really focus on your goal, it will be much harder to achieve.
Clarity: Set clear goals that are achievable and measurable so you can track your progress.
Challenge: Make sure your goals are challenging yet attainable. Too easy of a goal won't give you a sense of accomplishment, while too hard of a goal can be discouraging.
Complexity: Break down larger goals into smaller and more manageable tasks to make them easier to achieve.
Feedback: Get feedback from others so that you can adjust your plan as needed and stay on track.
What are the Common Types of Goals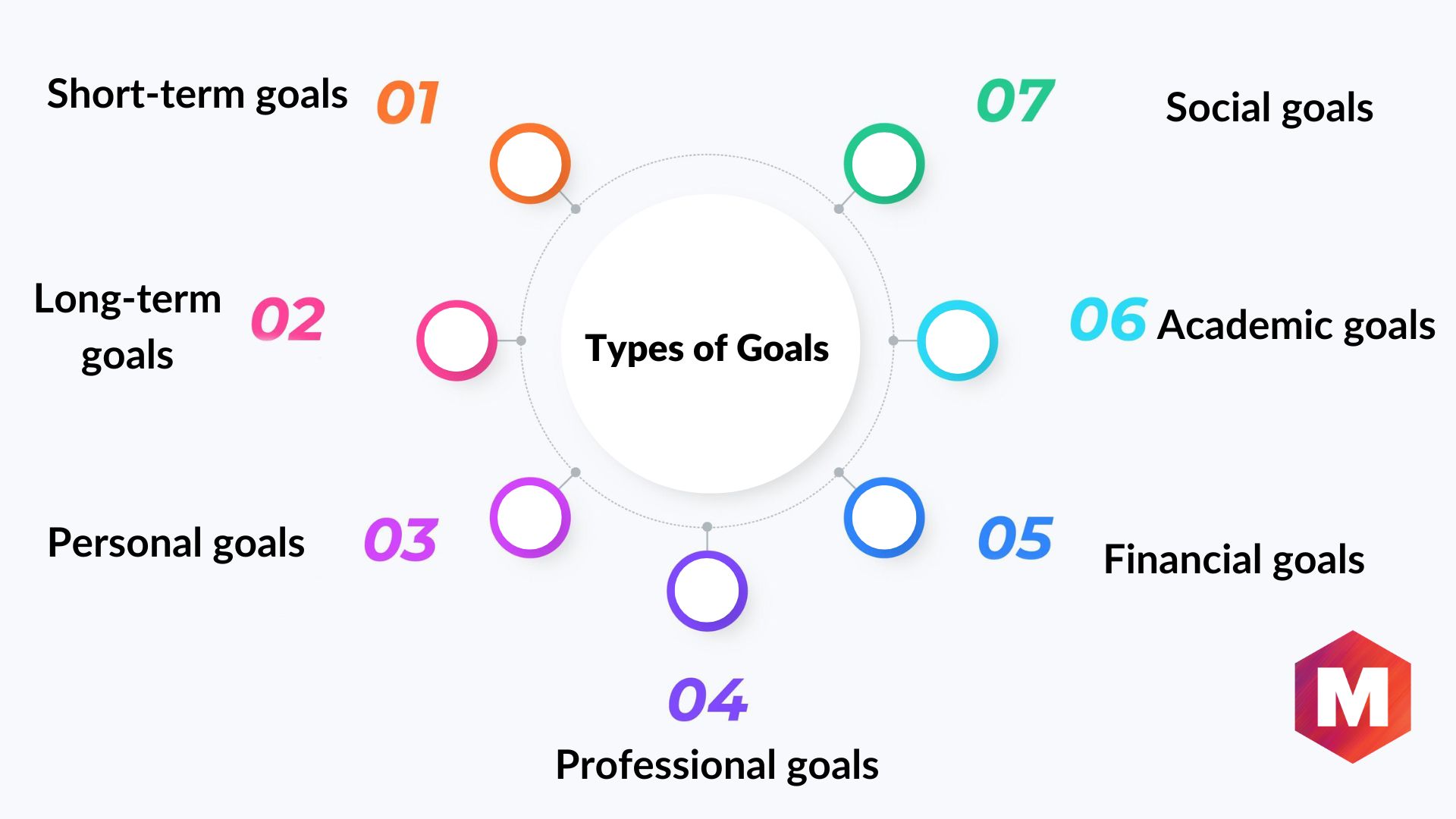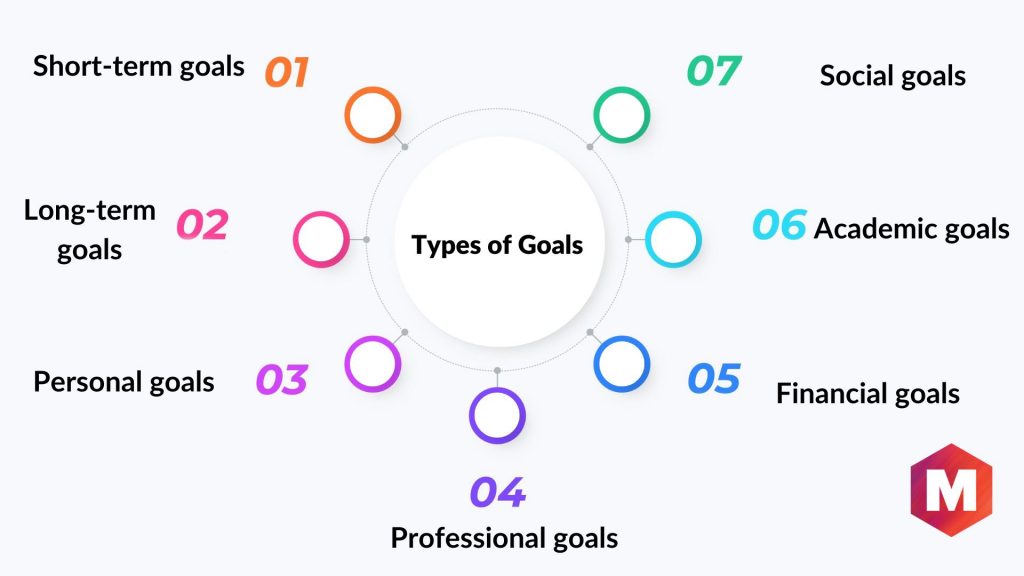 You can set different types of goals for yourself. Some of the most common types include:
Short-term goals: These are goals that can be achieved in a relatively short amount of time, typically within a few months or less. They can be your outcome goals, performance goals, etc.
Long-term goals: These can take years or even decades to reach. But these are often the most rewarding and meaningful since you have to put in more effort to achieve them.
Personal goals: Personal goals are about improving yourself as an individual. These can include things like learning a new language, developing better communication skills, and finding ways to become more organized.
Professional goals: Professional goals focus on advancing your career or improving your skills related to your job. Examples include pursuing a promotion in the workplace, obtaining certifications or additional training, or switching careers altogether.
Financial goals: Financial goals are about managing your money and saving for the future. This could include creating a budget, paying off debt, investing in stocks, or building an emergency fund.
Academic goals: Academic goals are focused on achieving success in school and reaching educational milestones. This could involve earning good grades in classes, finishing homework assignments on time, accomplishing research projects, and so on.
Social goals: Social goals are about developing and strengthening relationships with other people. Examples include different socially achievable goals like networking, making new friends, joining clubs or volunteer organizations, and attending social events.
How Goal Setting Works
Goal setting is an important part of achieving success in all aspects of life. It's a method that allows you to set realistic goals for yourself and create a plan for how to reach them. By setting goals, you can stay motivated, improve your performance and find satisfaction in reaching the end goal.
The first step in goal setting is determining what it is that you want to achieve. Whether it's improving your academic achievement, job performance or personal life, think about what would make you proud and fulfilled in the future.
Once you have identified your own desires, break them down into smaller milestones that will help get you there. These milestones should be specific and measurable to keep yourself on track with goal progress. The next step is to establish a timeline for completing the goals.
By setting realistic goals, you can have an idea of when they should be completed and adjust your strategy accordingly. It's also important to consider any obstacles that you may face in reaching your goals; by being aware of potential issues, you can plan ahead on how to address them.
Steps of Personal Goal Setting Process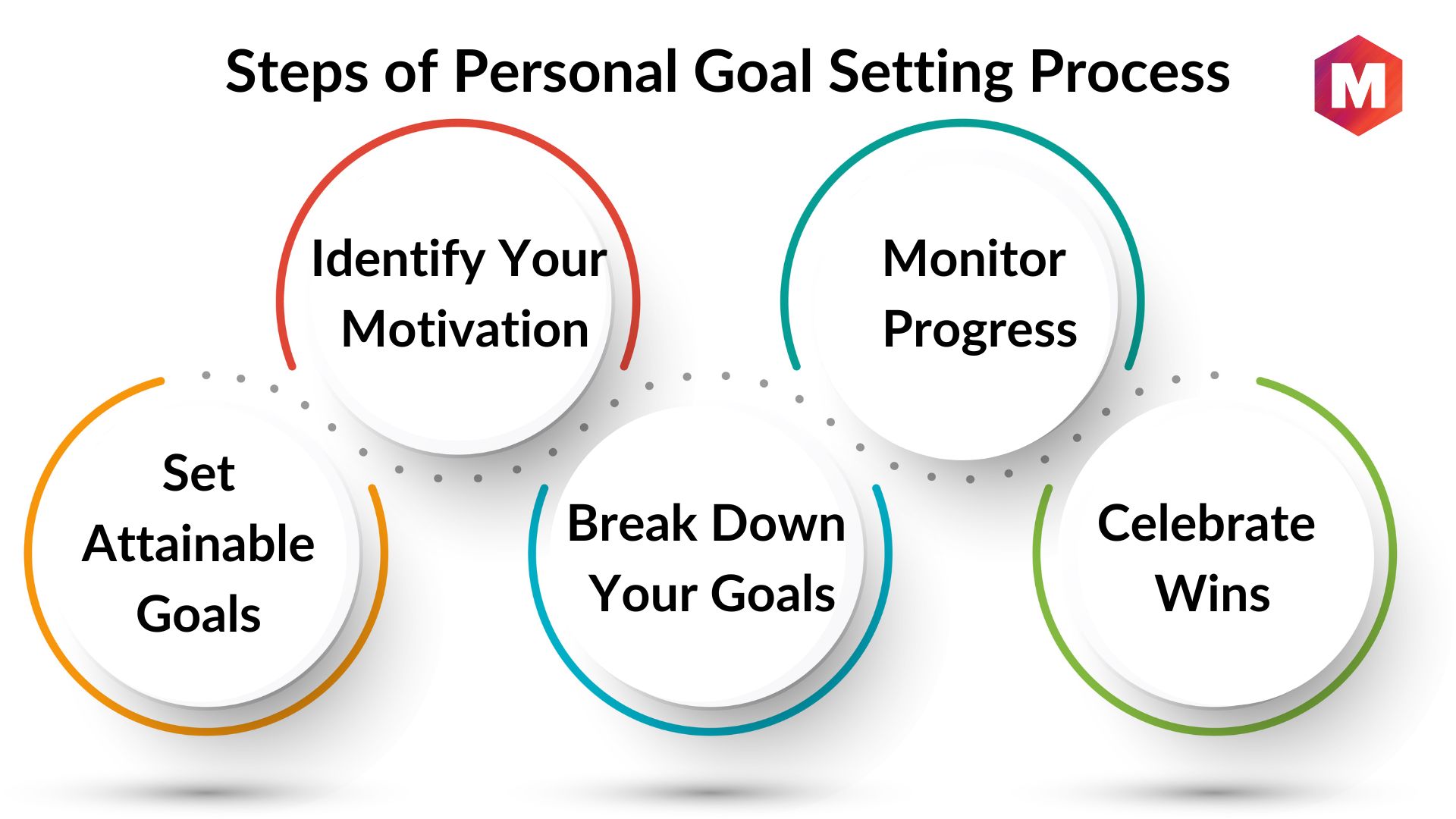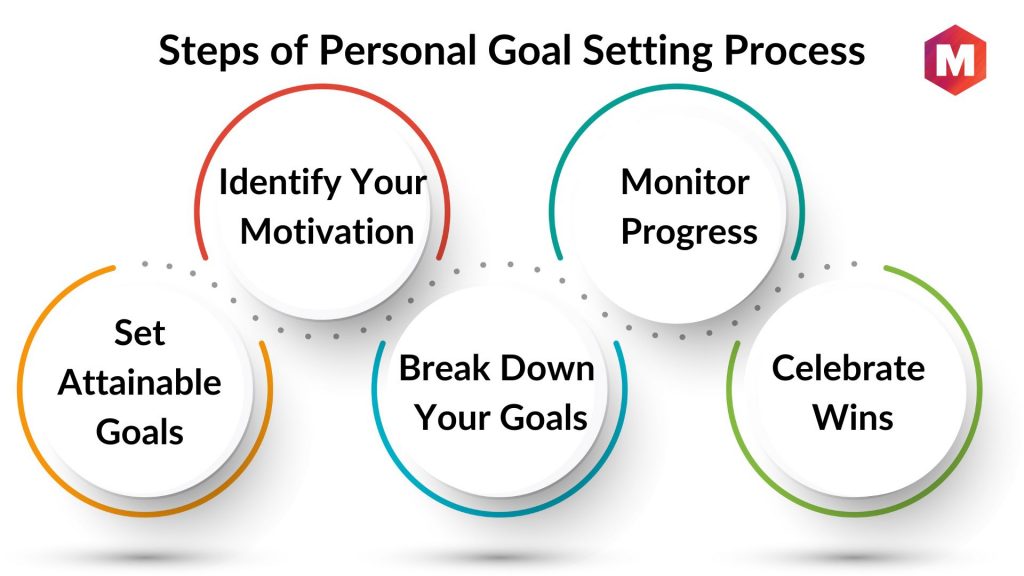 Set Attainable Goals: When it comes to goal setting, the first and most important step is making sure your goals are attainable. It's important to create realistic goals that you have a good chance of reaching. When thinking about what kinds of goals to set for yourself, think about things that are within your reach. Make sure the steps involved in reaching your goal are clear and doable.
Identify Your Motivation: The next key step is understanding why you want to achieve these goals in the first place. What drives you? Knowing where you find motivation will help keep you focused on achieving your goals and staying on track. Think about how accomplishing this goal will make you feel and take note of it.
Break Down Your Goals: Breaking down your goals into smaller, more manageable chunks makes them easier to accomplish. Make sure to break up the steps required to reach each goal into small achievable tasks that can help you stay focused and give you a sense of accomplishment as you make progress toward reaching your ultimate goal.
Monitor Progress: As you work on accomplishing your goals, keep track of how far along you are in reaching them. This will help you stay motivated and gives you an indication of where adjustments may be needed if things aren't going according to plan. Monitor your progress regularly so that any changes can be made quickly before too much time has passed.
Celebrate Wins: Once a goal is achieved, make sure to take a moment to reflect on the journey and what you've accomplished. Celebrating milestones along the way can help keep motivation high and provides much-needed encouragement when progress is slow.
Examples of Personal Goal Setting
Making time for yourself: Set aside a few hours each week to focus on something that you enjoy doing, like reading or painting.
Career Development: Create a plan to increase your knowledge by attending seminars and workshops or taking online courses.
Financial Planning: Make a budget to track your spending and figure out how much money you can save each month.
Health Goals: Find a fitness program that works for you and set realistic goals to stay healthy and active like when you set goals to lose weight and improve your future self.
Family Time: Make time each week to spend with family members or friends, even if it's just having a virtual chat over the phone or video call. Creating an achievable goal is one of the most important steps in reaching success.
Steps of Professional Goal Setting Process
Define Your Goal: Outline the specific career goals that you want to achieve and make sure it's time-bound, measurable, and achievable.
Break Down the Goal: Break your goal down into smaller, more manageable tasks that can be achieved within a certain timeframe.
Assess Resources: Examine the resources available to you, such as time and money, and decide which ones are necessary for the task.
Identify Potential Obstacles: Recognize any potential roadblocks that may arise and develop a plan of action for dealing with them.
Monitor Progress: Track your progress regularly so that adjustments can be made quickly if needed before too much time is wasted.
Evaluate Results: At the end of the process, assess whether or not you achieved your goal and reflect on any lessons learned.
The main objective of professional goal setting is to increase task motivation, organizational commitment, and task performance in order to improve organizational performance.
Examples of Professional Goal Setting
Sales Goals: Set specific goals for sales such as number of leads, closing rate, and number of new customers. Leadership Goals: Create a plan to develop and nurture team members by providing mentorship, feedback, and professional development opportunities.
Career Goals: Establish short-term and long-term objectives that are in line with your career aspirations or professional life goals.
Time Management Goals: Develop strategies to prioritize tasks, manage your time effectively, and delegate where possible.
Financial Goals: Set realistic short-term and long-term financial objectives that will help you save money or grow your business.
Tips to Best Achieve Goals You Have Set
Goal setting is one of the most important skills to develop in life. It doesn't matter if you're trying to improve your academic performance, advance in your career, or achieve something more personal; setting goals and taking steps towards them are essential for success. Some of the practices that will help you achieve your goals are-
1) Setting SMART goals
S.M.A.R.T stands for Specific, Measurable, Attainable, Relevant, and Time-Bound. It is important to break down your goal into smaller achievable targets as it makes the goal feel less overwhelming and more attainable, giving you a greater sense of accomplishment when each milestone is reached.
2) Give yourself a direct motivational explanation
Writing out the reasons behind why you want to reach your goal can help give direction and focus when working towards it. When there is an emotional connection to the reasons for wanting to achieve something, it gives you another layer of purpose and motivation.
3) Make a plan
Once you have your SMART goal and the reasons why you want to achieve it, work out how you're going to get there. Making a plan gives structure and direction which can help minimize procrastination or distractions.
4) Minimise possible distractions
Whether it is social media, television, or something else that gets in the way of you achieving your goal, it's important to minimize distractions and focus on making progress.
5) Set reminder alarms
Setting reminders can help keep you on track with achieving goals. Whether it's a daily or weekly reminder to check in with yourself regarding your goals, this practice can be quite useful to stay focused and motivated throughout the journey.
By following these steps, you will be able to set and achieve your goals in a more efficient way. Don't forget, along the way, it's important to celebrate successes big or small. The process of goal setting is not only rewarding but also serves as an opportunity for self-reflection; it helps us identify our strengths and weaknesses, allowing us to become better versions of ourselves. So go ahead, set your goals, and take the steps to make them happen!
Key Points to Remember!
Goal setting is a powerful tool that can be used to help you reach your desired outcomes. To make the most of it, follow these points-
Define your SMART goal.
Connect emotionally to why you want to achieve it.
Make a plan for how you're going to get there.
Minimize distractions and focus on making progress.
Set reminders to keep yourself on track.
Liked this post? Check out the complete series on Marketing