5 C's of Marketing (Company, Customers, Competitors, Collaborators, and Climate) are useful in analyzing five key areas of a successful and well-defined marketing plan. Each element contributes important insights that can help create winning marketing strategies,
These 5 C's help in analyzing strengths and weaknesses along with opportunities and threats for a marketing plan and strategy to channel an effective SWOT analysis. A business operates by adeptly using these 5 Cs to have a competitive edge and optimize marketing efforts.
What are the 5 C's of Marketing?
The 5 C's of marketing is a thorough strategy that assesses the current state of your own business or brand. This approach can help determine what areas are strong and which require more attention, allowing you to make informed decisions about how best to move forward to gain success.
All in all, for having a good strategy for your brand's marketing strategy, there are five basic terms that one needs to always keep in consideration-
Company
Customers
Competitors
Collaborators
Climate
Other than SWOT analysis (strengths, weaknesses, opportunities, and threats), the 5 C analysis helps professionals make the right business decisions, and make good marketing strategies. A marketing strategy will exist only when a company combines all the goals and objectives into one plan.
When in the market, one must understand the customer, the environment, and its capabilities. The company must be able to forecast all its industry trends in the marketplace and supply chain. At this point, the 5C analysis comes to work.
It can scan the 5 C's of marketing that further analyzes the micro and the macro-environmental factors. Let us deep down into these 5 C's of marketing and understand how they cater to different market segments and optimize the performance and conversions of marketing decisions-
5 C's of Marketing Analysis
1. Company
It involves analyzing the product line, culture, goals, and the company's image in the market. One can also consider the company's technology and experience.
This marketing analysis aims to see if the company is in the best position in the market or not and whether it can meet customer needs.
To analyze the company, one can list down these points about the company –
List of major product lines and types
The product variation from that of the competitors
The competitive advantages the company has
The brand's uniqueness
The good and the bad points about your business as compared to the competition in the market
The customers' review of the brand or the business
The long-term goals of the company (5-year goals)
It is important to be honest with these answers because they will tell you where your company is standing in the market and how much you need to work on your brand to reach a good level.
2. Customer
Customers are the soul of the business you are running. It is very important to identify the customers and understand their needs and try to satisfy your customers.
To stay in the market competition, you need to analyze the customer and what made them purchase your brand. If you can understand your customers, what they need, and how much your product meets their needs, your brand will become much more effective, and you will enjoy delivering your products.
If you are planning to target multiple marketing segments of the market, try considering these points-
The ideal customer analysis for your product
Setting up the target audience
The group that is currently purchasing your products
Segregation of good, poor, and no-review products
Company reviews or the reaction of your customers to your website and your products
The effective promotion campaigns
Points that attract customers to your product are the price, quality, uniqueness, benefit, etc.)
The goal of these points is to delve into the types of customers interested in your brand, their behavior, and what motivates them to buy your product.
3. Competitors
Competitors' analysis is important to sustain in the market. Businesses should always know who they are competing against. You need to find out if the competitors are a threat to your company or are they, active competitors, as this will offer you a competitive advantage.
You should check the number of competitors in the market. Research them and then work on your branding decisions and construct your marketing plan.
Here are a few points you need to consider while analyzing the competition
The direct competitors
Segregation of established and emerging competitors
The strengths and weaknesses of your competitors
Strategies made by the competitors
The targeted audience of the competitors
The social media presence
New or emerging technologies that competitors use
if you know your competitors' marketplace, the strengths and weaknesses will give you a good advantage to stay in the market and plan your strategies accordingly.
4. Collaborators
Collaborators are people or businesses that can help the company in achieving its objectives and goals.
Suppliers or distributors are an example of collaborators in a business model. Every collaborator always remembers to note the primary contact person, their email address, phone number, and other important information crucial for successful marketing.
Consider these points before collaborating with any other business –
The person who runs the daily operations of the company
A partner who will help in running the company
Creating or supplying the product
Shipping provider
Ecommerce platform
Marketing or advertising
Distribution of the products
Running social media accounts.
After you are done considering the points, you will realize that you need more people to run the business than the people you initially started with. Listing the collaborators will help you keep track of who is sharing what responsibility.
5. Climate
When assessing the environment, the factors that are considered are external factors. The economic well as political and regulatory environments are a part of the 5th C of marketing  – climate.
The trends followed by society, also called social or cultural trends, also come under 'climate.' It is also important to analyze the technological environment.
Consider these points while you are assessing the external factors or the climate for your company –
Keep yourself updated about the proposed laws or regulations. It may affect your business, so you need to be ready to address all the new laws.
Keep a check on all the new social trends that are coming into the market.
Economic trends that might affect the business or the brand
New emerging technologies might change the way customers act. Therefore, it is important to evolve with technology.
The opinions that are becoming popular or unpopular and changing according to it.
With these points, you are not trying to predict the future; rather, you are trying to keep a general thought about what and how the market will be headed.
How to conduct 5 C's analysis with McDonald's as an Example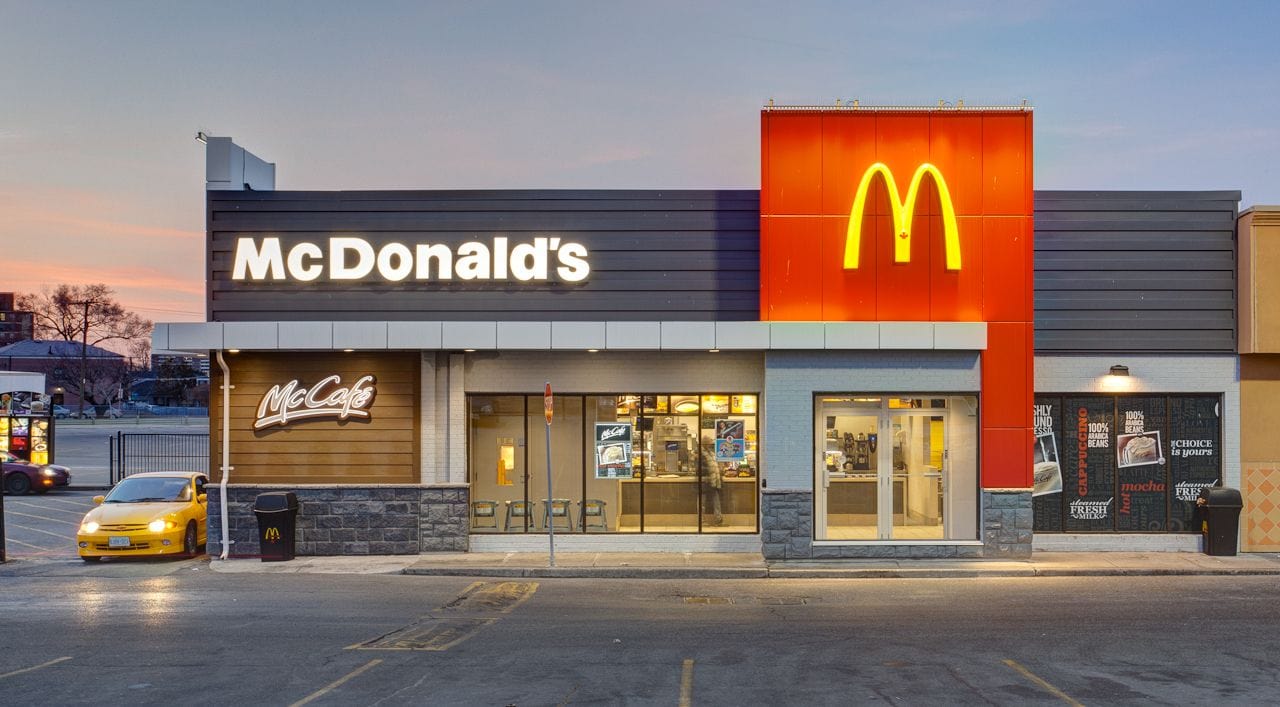 Here are the 5 C's of marketing analysis of the biggest food joint company – McDonald's:
1. McDonald's Company
McDonald's corporation is available in 119 countries around the globe. Thirty-three thousand locations serve around 68 million customers every day! When it comes to McDonald's as a brand and the fast-food industry, its sales are high.
McDonald's is rated the number 6 brand by Interbrand. There are a few negative effects of the brand on people, and, i.e., the issues of obesity, animal cruelty, social platforms commentary, and the targeted audience involving innocent and manipulative youth. But the brand aims to maximize the profit with every passing year.
2. McDonald's Customers
McDonald's target audience is based on demographic variables, i.e., age and lifestyle. The heaviest targeted audiences are children and teenagers.
3. McDonald's Competitors
The food joint has a lot of competitors in the market. But McDonald's has never changed the taste of its food product; therefore, it has been carrying its uniqueness for a long time, and no other brand has, till now, been able to match that level.
4. McDonald Collaborators
In McDonald's, the three-legged stool philosophy involves the supplier partners as the third leg. The suppliers owned by the company are beef, meat, and milk which are to be used in its products. Other suppliers are also included, like the grocery stores that supply fresh vegetables.
5. McDonald's Climate
Many new laws and regulations come into force rated to the food industry. Social trends change, and so do McDonald's changes its trends.
For example: whenever there is a new movie, or there is something that is trending, the brand targets children by introducing toys for children related to the trend.
Here is a video by Marketing91 on the 5Cs of Marketing.
Tips for an effective 5 C's analysis
Be authentic
Honesty is the best policy when it comes to examining your company and competitor's strengths and weaknesses with a 5 C analysis. Taking an honest approach can ensure optimal results as well as help you formulate strategies for any necessary improvements going forward.
Focus your attention to maximize productivity
With the marketing process taking considerable time, it's essential to focus your attention on the most relevant aspects to maximize results. Thankfully, a 5 C's analysis can help you identify which elements are critical for success and should take priority.
Be creative
Honesty and pertinence are essential for marketing success, however, creativity must also be taken into consideration. Performing a 5C analysis will open avenues to devise fresh marketing approaches that would have otherwise gone unseen. This is an invaluable tool when aiming to think outside the box!
Use Customer feedback and public data
In marketing, customer feedback is invaluable and can be used as a powerful tool. Integrating this into your 5C analysis will provide valuable insight into both your company and the competition. Public data can also be used to assess marketing performance, giving a broader perspective on progress.
Establish multiple aspirations for yourself to reach for greater achievements
When crafting the corporate aims for your analysis, think about both long-term and short-term goals that you can refer to in hindsight. By establishing one-, three- and five-year objectives, you will be able to create a comprehensive plan with more precision.
Conclusion!
On a concluding note, we hope you would have understood the role of the 5 C's of marketing in channelizing marketing campaigns for different business models for targeting and converting potential customers.
A business operates by paying heed to these 5 c's and optimizing marketing decisions to connect and convert different target audience segments more effectively.
How crucial do you find the 5 C's of marketing in gauging customers' needs and optimizing the growth rate?
Do you think the 5 C's of marketing analysis of a company is effective in offering a good guideline for an optimized marketing strategy?
Liked this post? Check out the complete series on Marketing