What is Market Intelligence?
Market Intelligence is a type of data-driven analysis that helps businesses gain better insight into their markets, customers, and competitors. Market intelligence encompasses the information or data obtained by an organization from its operating or potential market. The information is used for studying various market segments, analyzing market penetration, identifying potential opportunities, and evaluating current market metrics. All of this helps in optimizing marketing strategy and creating a profitable business.
For example, when I started my e-commerce business, I used market intelligence to gain a better understanding of the industry, my customers' needs, and the competitive landscape. From this data, I was able to make well-informed decisions about the direction of my business, how to reach my target audience, and which strategies would work best. I used market intelligence to my advantage, and as a result, I was able to grow my business and reach my goals. Later, I used to gather market intelligence data over time to understand the behavior of my existing customers and evaluate the effectiveness of my marketing strategies.
Market Intelligence vs Business Intelligence
People often get confused between market intelligence and business intelligence. While both are data-driven approaches, market intelligence focuses more on external factors, such as the market landscape and customer needs. Business intelligence system, however, focuses on internal factors associated with sources like sales, finance, and operations such as analyzing key performance indicators, headcounts, billing rates, etc.
So if you're looking to gain a better understanding of your market and customers, then market intelligence is the way to go. With it, businesses can make more strategic decisions to stay ahead of the competition and drive growth. However, the combination of both market and business intelligence can prove extremely effective in helping you reach your goals.
Parts of Market Intelligence
The three parts of market intelligence are – competitor intelligence, product intelligence, and market understanding.
Competitor Intelligence – This is a process of gathering market intelligence about your competitors. It helps you understand their strategies, strengths, weaknesses, and movements in the market. For example, a business can use competitor intelligence to identify what pricing their competitors are using, how they're marketing themselves, and so on.
Product Intelligence – This is focused on collecting market intelligence to understand customer preferences and needs. It involves researching new products, pricing, and analyzing customer feedback. This is important as it helps you tailor your products to customer needs and stand out from the competition. For example, a business can use product intelligence to ask customers what features they're looking for in products and then work on delivering that.
Market Understanding – This is all about understanding the market and macro environment. In this, you collect market intelligence about trends, market size, changes in customer behavior, socioeconomic conditions, etc. Such a market intelligence process helps businesses develop strategies to adjust to changing conditions and make decisions that are in line with the overall market. For example, a business can use market understanding to identify new opportunities and emerging markets that it can tap into.
Types of Market Intelligence include methods of collection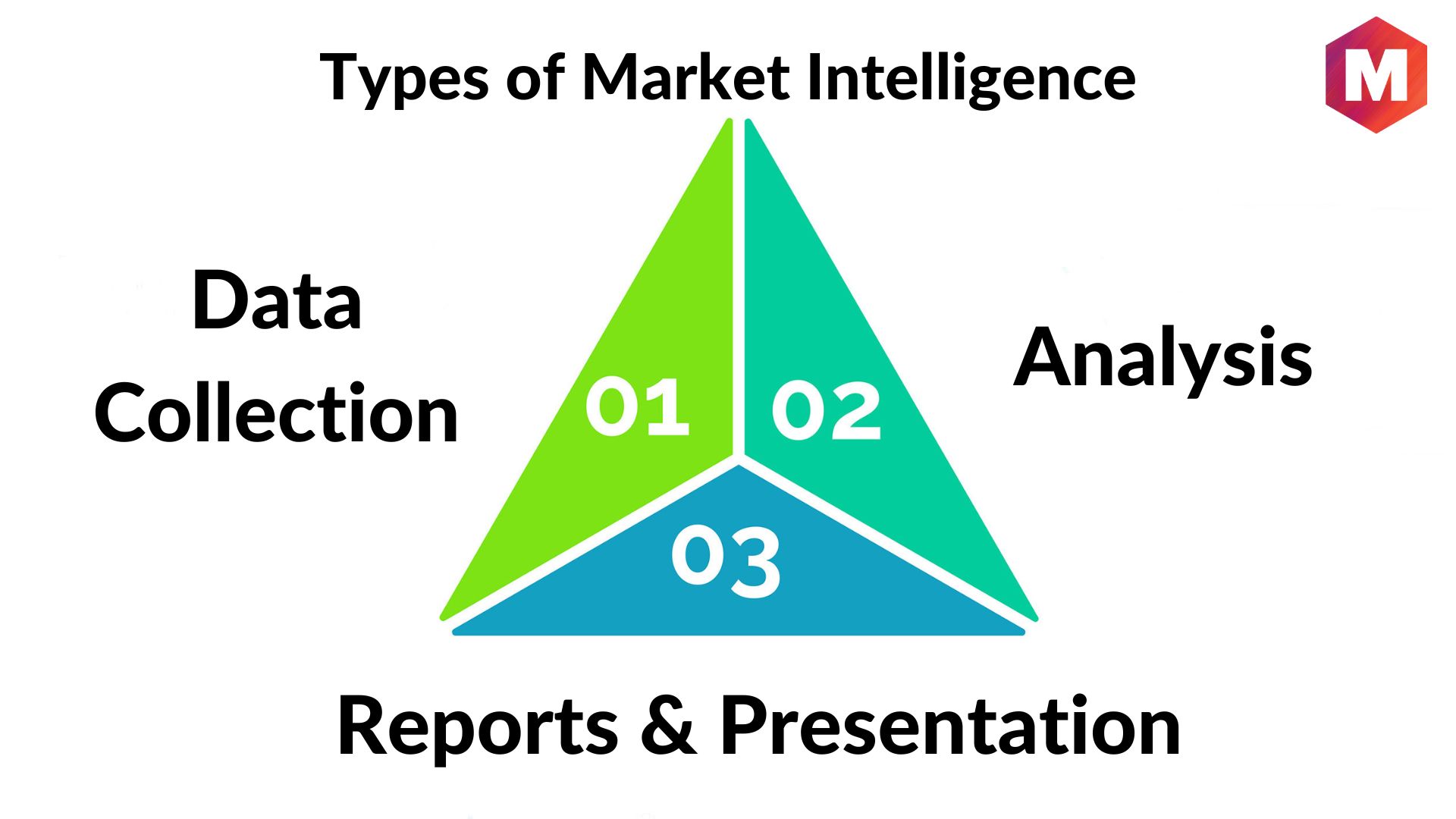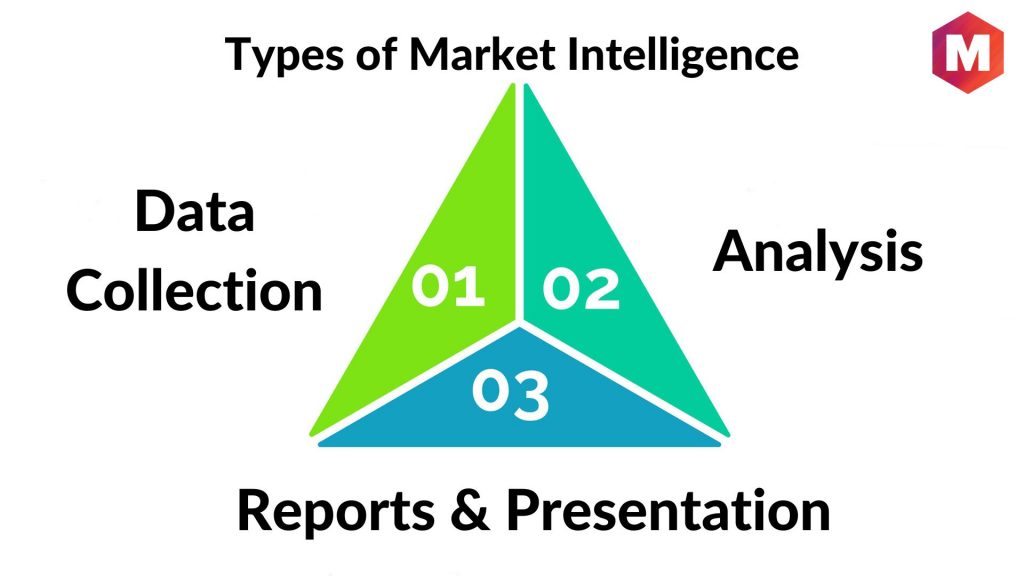 Different types of market intelligence methods include data collection, analysis, Reports, and Presentation. They all play key roles in understanding the market and crafting strategies to stay ahead of the competition.
1) Data Collection
The data collection methods used in a market intelligence system include surveys, interviews, focus groups, and observation. These help in obtaining information from the target market by asking questions or studying behavior. Let's have a detailed look at the key data collection methods –
Surveys are a great way to get feedback from customers and understand what they think about the product. They can be used to understand customer needs, preferences, and opinions. Some of the types of surveys are –
Online surveys – Online surveys are usually conducted via email or web forms. They can be used to gather information from a wide range of people in a short amount of time.
Phone surveys – Phone surveys are conducted over the phone and are used to get detailed information from people without having to meet them face to face.
In-person surveys – In-person surveys are conducted by going out into the field and interviewing people. They provide an opportunity to get more in-depth information from customers.
Mail surveys – Mail surveys are sent out via postal mail and can be used to reach people who do not have access to the Internet or phones.
Polls are short surveys that can be used to get quick feedback from customers. They only include one question. Because they are quick to answer, they typically have a very high response rate.
A questionnaire is a set of questions in print or online that can be used to collect data from a large group of people. It is a research tool that can be used for qualitative and quantitative research.
Forms are used to collect data from customers. They can be used to capture customer contact information, such as name and email address, or to collect more detailed information for market research.
A focus group is a small group of people that are brought together in person to discuss a product or service. It can provide insights into customer preferences, needs, and opinions that can be used for market intelligence.
A personal interview is a one-on-one conversation with a customer. It can be used to gather detailed information about their preferences, needs, and opinions. It can be used to gain valuable market intelligence that can be used to inform business decisions.
Observation involves gathering data by simply watching customers interact with a product or service. This can be done in person, or through the use of cameras or other technology. It is a valuable tool for understanding customer behavior in different types of environments.
Field trials involve testing a product or service in real-world settings. This can provide valuable insights into how customers interact with a product or service, as well as any potential challenges or opportunities for improvement. Market intelligence gained through field trials can be used to inform product and service development decisions.
2) Analysis
The analysis involves taking the data and information that has been collected and turning it into insights. This can involve using statistical methods to interpret customer survey results or using qualitative techniques to analyze focus group feedback. It is important to use the right analysis techniques in order to gain meaningful insights from customer data.
In the market, many software options for market intelligence enable data collection and advanced analysis using various analytical methods. A company can enhance its competitiveness, increase revenues, and achieve customer retention by analyzing and monitoring trends, as well as by measuring customer satisfaction scores and Net Promoter Scores.
The use of advanced analytical techniques like Trend analysis, Conjoint analysis, Gap analysis, Maxdiff analysis, Text, and Sentiment analysis can help companies gain a better understanding of the market with precision. This can help them make strategic business decisions.
3) Reports and Presentation
Once the data has been collected and analyzed, it is important to present the results in a meaningful way. Reports are an effective way to communicate the findings to key stakeholders. Reports should present the data clearly and concisely while highlighting any key insights or trends.
Presentations are another important way to communicate the results of market intelligence initiatives. Presentations should be engaging and concise while laying out key points clearly. The use of visuals, such as charts and graphs, can help make the data more accessible to a wider audience.
Examples of Market Intelligence
Example 1 – A restaurant in NY is looking to understand customer preferences for specific items on the menu. The restaurant may use market intelligence techniques such as surveys, focus groups, and sentiment analysis to determine what customers like and don't like regarding menu items.
Example 2 – A software company is looking to understand customer usage and loyalty. They may use market intelligence techniques such as web analytics, customer feedback surveys, and text analysis to gain insights into customer behavior.
Example 3 – An online retailer is looking to understand customer satisfaction. They may use market intelligence techniques such as Net Promoter Score (NPS) and customer satisfaction surveys to gain a better understanding of customer sentiment.
Advantages of Market Intelligence
Some of the key advantages of market intelligence are improved decision making, better customer insights, early detection of trends and customer needs, increased sales and profitability, as well a holistic market view. Let's have a detailed look at each of these advantages:
Improved Decision Making – Market intelligence helps companies make informed decisions by providing them with the data and insights they need to get a better understanding of the market.
Better Customer Insights – Market intelligence can help organizations gain a deeper understanding of their target audience, enabling them to better tailor their offerings to meet customer needs.
Early Detection of Trends and Customer Needs – Market intelligence helps organizations spot trends early, allowing them to adjust their strategies accordingly.
Increased Sales and Profitability – By understanding the customer base better, organizations can develop more effective marketing campaigns that generate more sales and increase profitability.
Holistic Market View – Market intelligence can provide companies with a comprehensive or holistic view of the market, helping them identify opportunities and potential threats.
Importance of Market Intelligence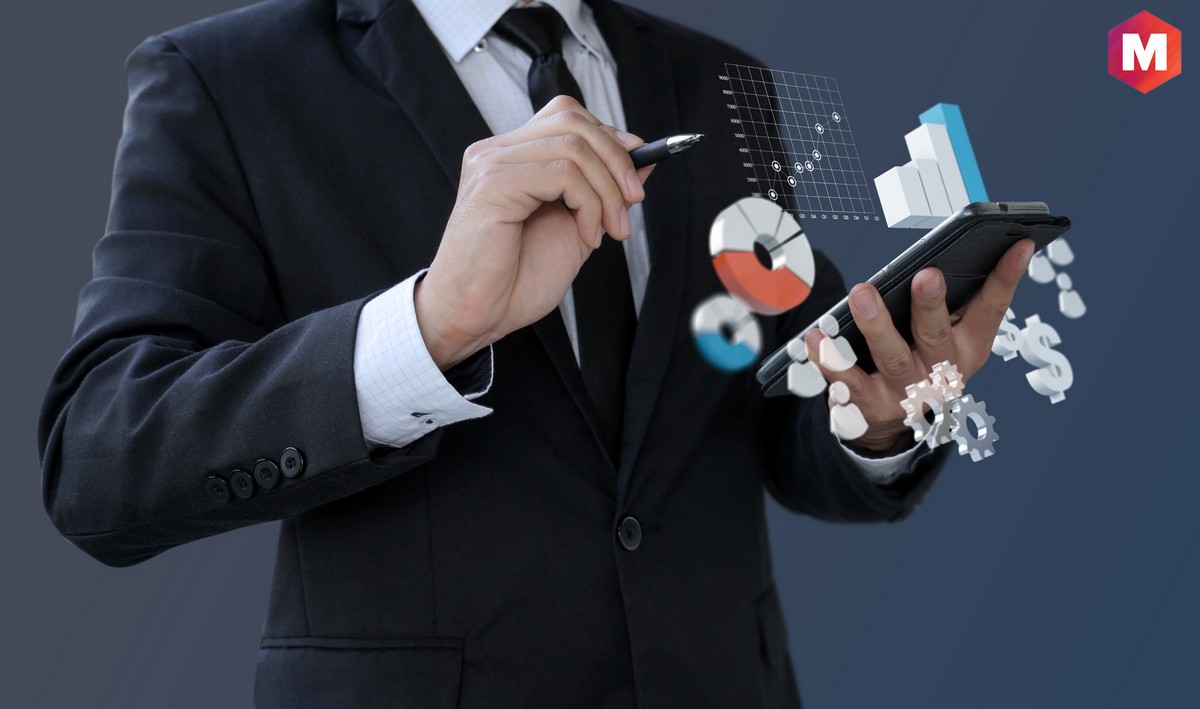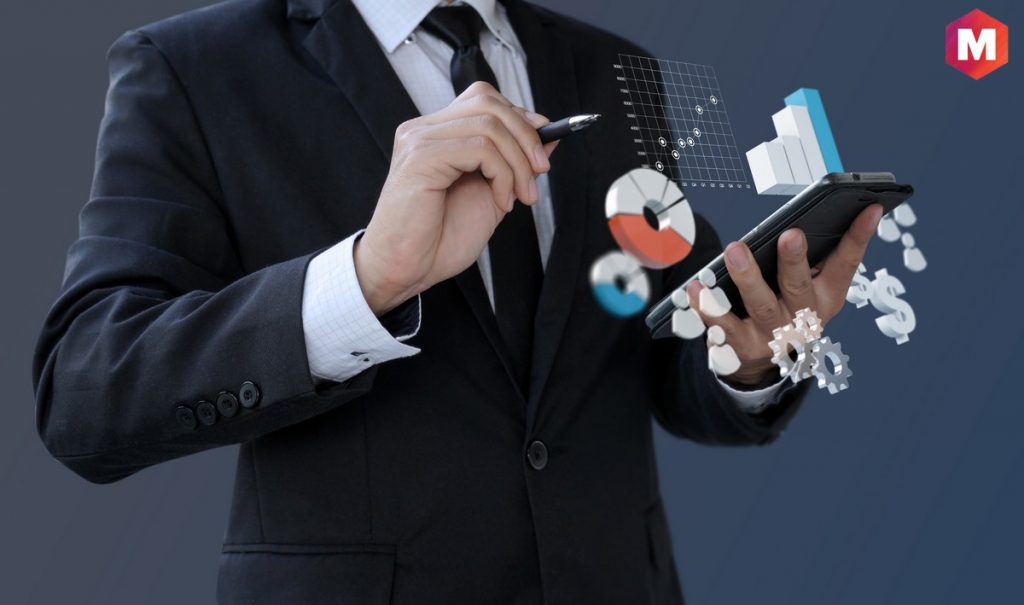 Some of the reasons behind the importance of market intelligence include the need to stay ahead of the competition and gain a competitive edge, as well as the ability to identify opportunities in the marketplace. Market intelligence also helps organizations develop better strategies and products that can meet customer needs more effectively. Here are some other reasons why having market intelligence is important for any business –
To understand your market position – Market intelligence can help businesses understand where they stand in the marketplace and what opportunities they have to strengthen their position. It will help you gather data about target customers and associated market segments.
To do competitor analysis – Market intelligence can provide organizations with insight into their competitors, allowing them to better understand their strengths and weaknesses. By collecting data about competitors' websites, businesses can find actionable insights to make the most of the market opportunities.
To identify new markets – Market intelligence can help organizations identify new markets and geographies to target, allowing them to expand their reach. Most companies use it to find the latest product trends in the target market and become more customer-centric.
To know your target audience – By understanding their target audience better, organizations can develop more effective marketing campaigns that help them reach a wider range of customers.
To predict future trends – Market intelligence can help organizations predict future trends and developments, allowing them to stay ahead of the curve.
To evaluate your products – Market intelligence can help organizations evaluate their products, giving them a better understanding of what customers want and how they can improve their offerings.
Here is a video by Marketing91 on Marketing Intelligence.
Challenges of Market Intelligence
Businesses can benefit greatly from market intelligence, but there are challenges associated with it. Some common challenges include: –
1. Data Overload: Dealing with the large and continuously increasing amount of data available nowadays can be difficult due to its varying usefulness and relevance. Distinguishing valuable information from irrelevant requires significant resources and expertise.
2. Quality of Data: Market intelligence is only as good as the data it receives. Poor quality data can lead to incorrect analysis and decision making.
3. Data Privacy: Businesses need to be cautious about their data collection activities and processes due to the rising stringency of data privacy laws.
4. Interpretation and Analysis: Market intelligence is often conducted by humans, and as such, can be subject to individual biases and errors in judgment.
5. Rapid Market Changes: The market is constantly changing and evolving, making it difficult to keep up with the latest trends. These changes can make market intelligence difficult.
6. Cost and Resource Intensive: Market intelligence is often resource and cost-intensive, requiring businesses to dedicate significant resources and financial investments.
7. Data Integration: Integrating data from different sources can be difficult due to its varied formats and lack of compatibility.
8. Technology Adaptation: Businesses must remain up to date with the latest trends and technology to effectively collect and analyze market intelligence.
How to implement Market Intelligence for your organization?
To implement market intelligence into an organization, you need to follow a few key steps. Some of these steps are –
1. Define Your Goals: It is important to have a clear understanding of your objectives for using market intelligence. You can gain various insights, including competitor analysis, market trends, customer behavior, and potential growth opportunities. Creating clear objectives can assist you in developing your strategy for obtaining market intelligence.
2. Identify Key Intelligence Questions (KIQs): Your market intelligence efforts should address these key questions, which must be consistent with your organization's strategic objectives. These questions may cover a wide range of topics—from comprehending your customers' requirements to detecting potential risks.
3. Data Gathering: After information, the next step is to collect it from various sources such as industry reports, market research, social media, customer feedback, and competitor analysis. It is recommended to use both primary (first-hand) and secondary (existing) data sources.
4. Use Market Intelligence Tools: Utilize market intelligence software and tools to analyze the collected data. By using these tools, you can visualize the data, detect patterns, and make precise predictions. You have a variety of options to choose from when it comes to selecting tools such as CRM software and advanced analytics platforms that use artificial intelligence and machine learning.
5. Analyze and Interpret Data: Data analysis is the process of finding valuable insights from your data, which can include statistical analysis, identifying trends, analyzing competitors, and more. Ideally, this step should help you answer the Key Insightful Questions (KIQs) you established at the beginning.
6. Disseminate Information: I suggest that you inform the relevant stakeholders in your company, including the executive board, marketing, sales, and product development teams, about the knowledge you have acquired. Make sure to convey the information in a clear and easily understandable way.
7. Take Action: Base your business decisions on the market research insights you've gathered. This may entail adjusting your product offerings or refining your marketing approach.
8. Review and Refine: To ensure that your organization's needs are met, it's important to continuously review and refine your market data and market intelligence strategy, as it is not a one-time process but an ongoing one.
Conclusion!
Market intelligence is an invaluable tool for businesses looking to get ahead in their respective industry. By gathering and analyzing data, they can optimize their competitive analysis and convert potential customers more effectively.
Through the use of market intelligence, businesses can optimize their marketing intelligence and gain a better understanding of digital marketing efforts. This will allow them to make more informed decisions, and ultimately create more successful marketing campaigns that will help them gain a competitive advantage.
Liked this post? Check out the complete series on Marketing