What is Advertising Media?
Advertising media is the medium through which an advertisement is delivered to the public. It carries messages, stories or points regarding the product that is being advertised. It is a highly informative way to reach the masses and ask them to buy the product or avail of the service.
Advertising Media plays a significant role in binding the direct communication relationship between the seller and the buyer.
With the help of right types of advertising, there is not a single speck of doubt about the fact that you will be able to make your brand known to people in the best way.
Advertising is a parallel universe. It is the most powerful medium through which anything in our mind, thoughts, and dreams, can be conceptualized and presented in the world, and most importantly to the target audiences and beyond.
If the right way of advertising is chosen, anything can get marketed easily.
Advertising has become an easy yet difficult job to catch viewers' attention for a more extended period in today's world, where everyone is exposed to technology and the internet. Therefore, knowing what to deliver, and how to deliver, who to deliver is a significant concern for advertisers.
That is one of the main reasons why people want to spend so much money on advertising their brand in the best way. But how people manage to promote their brands, you might ask. This is where the fantastic advertising media comes to help.
Well, with the help of the fantastic advertising media, people can easily let others know about the brands, products, and services that they have in the best way. This is really great for sure.
Hence, we are going to talk about it a little bit so that people can have an understanding of the concept right here.
Advertising media is something that would refer to the different channels of media which are used for advertising the brands or products in the best way. The media channels help in broadcasting the advertisement about a specific subject.
The advertising media can be used to showcase the content that is promotional and that is communicated in the best way with the help of many methods. These methods include speech, text, videos, images, and so much more.
There are many different mediums which are used for that such as outdoors, radio, online, TV, and so much more.
In simple words, it can be said that advertising media consists of the channels with the help of which certain companies would be able to promote and advertise the products and services that they have so that customers can see it and be interested in the brand without any trouble or hassle for sure.
How to choose the Right Advertising Channel or Media?
One must always keep these points in mind while choosing the medium of advertising to earn maximum profit:
Target Audience.
Nature of the product or service
Return on investment.
Exposure
Accessibility
Future benefits.
Competitor's strategy, etc
After knowing about the key things you need to pay heed to while choosing the type of advertising media, let us now have a look upon different types of advertising mediums available for you to widen your reach and optimize your sales and profits-
Different Types of Advertising Methods in Media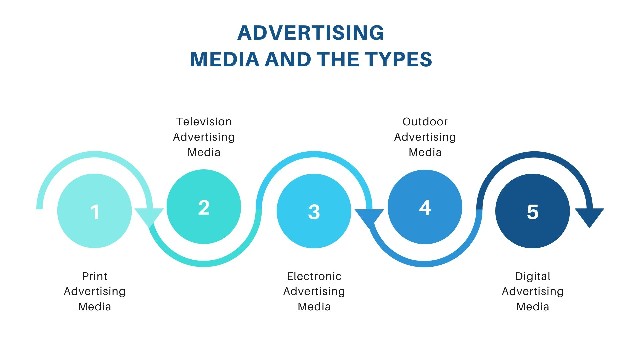 When it comes to advertising the brand in the best way, there are some things that people need to keep in mind for sure.
Choosing the right option for advertising medium might be one of the most important things for the people. Hence, we are going to have a discussion about it in the best way. Choose the one that you like the most from the list and it will be great for sure.
1. Print Media
Newspapers, magazines, periodicals, pamphlets, etc. that we read in our daily life are called as print media. We often come across various advertisements while reading a newspaper, for example, sales advertisements or rent advertisements. The people get attracted by such publications and land up buying the product or service. Print media is the best for only the people who can read.
With this one, we have another one of the traditional methods of advertising medium that most people tend to use. That is one of the main reasons why it is still considered to be one of the most essential and useful media options for advertising. This is worth a try for sure. There is not a single speck of doubt that it is going to work for the people.
2. Television Media
Television media is the best and most popular way of advertising the product and service to reach a mass group of people. The people who cannot read or write are also exposed to television. For once someone may not buy a newspaper, but without any fail, they are going to watch TV. If the right story is chosen for advertising, the product or service will end up attracting every class or age group of people.
If you want to reach more and more people at the same time, the TV might be the best option that you have for sure. The video ads are displayed on the television and there is no doubt that these ads are going to get the attention of the public in no time.
3) Electronic Media
The bulletins, emails, etc. are known as electronic media. It is the most professional and historical way of advertising something. Electronic Media is limited to people as it reaches only to a selected class of people.
The most basic level of electronic advertising medium includes video recordings, multimedia presentations, audio recordings, CD-ROM, multi-media presentations, online content, etc.
Digital Media is the most recent addition in electronic media, and it is the most powerful one in today's time, that is why we will discuss it separately.
4) Events and Experiences/ Outdoor Media
One another great way of attracting the attention of the public is through conducting various activities and experiences. Many times it can be seen that multiple companies and their products sponsor the events are either given away as free samples or showcased as an experience. It is the best way to build the trust of the product in the minds of the customers. For example, events like Bacardi party sessions are sponsored by themselves, and the party contains the beverages from Bacardi.
It is also known as outdoor advertising. This is another fantastic type of advertising media which includes placards, posters, neon signs, electronic displays and so much more. Not just that but skywriting and tram advertising are also included in the list for sure. There is not a single speck of doubt that this is going to work.
5) Radio Media
This is yet another popular and fantastic advertising option that people can try.
The advertisements for the companies would easily be broadcasted from the different stations related to the Radio stations. FM radio channels are quite prominent these days.
So, it is going to work for the companies without any hassle.
6) Digital Media
In today's time, Digital Media or Mobile Media is the most popular type of advertising media. It helps brands optimize their reach on the web. By using digital channels of advertisements, you can reach to the smartphones, laptops, and tablets of your target audiences.
Digital Advertising Media helps businesses in meeting their audiences on different social media networks, search engines, and various applications with personalized ad campaigns based upon their inclinations and behavioral preferences.
By using digital ads, you can know about the searches of your audiences on the web, their likes, dislikes and other details, that will help you in gauging if that user is the right audience for you or not. You can also check the performance of digital advertising through different analytics tools.
It is going to be quite useful for businesses in increasing lead generations, conversions, sales, and profits. Emails are also one prime part of digital advertising media. Using the direct mail advertising media to send circular letters, calendars, folders, and so much more seems to work.
Different types of online ads that you can run in Digital Advertising Media are-
Google Search Ads
PPC Ads
AdWords Ads
Facebook Ads
Bing Ads
Twitter Ads
Tumblr Ads
Google Display Ads
Banner Ads
Retargeting Ads
Flash Ads
Mobile Ads
In-Game Ads
Reddit Ads
AdMob Ads
Gmail Ads
Email Ads
Video Ads
YouTube Ads
Instagram Ads
Pinterest Ads
Vine Ads
Importance of Advertising Media
We can say this without a single speck of doubt that advertising media has a huge role to play in the field of marketing and business for all the companies.
We have an abundance of different companies that are offering the best products that they have and their services to the people who need it.
But then it is not possible for every single potential customer to know about the brands and the companies, right?
Well, this is where the advertising front comes forth to be the best help for sure. With the help of such fantastic advertising media channels, there is no doubt that companies would be able to make the sales.
The advertising budget, company policies, customer demographics, and targets are some of the crucial factors that decide the media option that companies tend to choose most of the time.
Wrap Up!
When it comes to advertising, we can say that it is one of the essential tools that people can use to get their brands promoted.
There are many r types of advertising media. However, we only mentioned the common ones. Choose one of the advertising media or all of them to have the best promotion for your company.
By choosing the right kind of advertising media, you will be able to run the most effective ad campaigns to widen your brands' reach and meet your target audiences, so you can connect, convince and convert them about your products or services.
What types of advertising media would you prefer for optimizing your business? Share the kinds of ads that your audiences love to react to in the comments below.
Want us to help you in choosing the right type of advertising media for your business? Then feel free to share your business details with the M91 team in the comments below.
Liked this post? Check out the complete series on Advertising