Attitude refers to the inherent qualities of mind, thinking, feeling, opinion, and character of an individual that might define the personality of that individual.
In the words of Edwin Louis Cole, founder of the Christian Men's Network (an American religious organization)-
Attitude determines the altitude of life.
Definition
It means a manner of feeling, acting, or thinking one's disposition or opinion and is an act of feeling and acting toward a person or in a situation.
It depicts a human's personality, which falls under two categories: the good one and the bad one. It is a small thing that creates a big difference in any situation. Men's and women's attitudes can bring a significant change by positive thinking, one of the determining factors.
Grammatically, an attitude noun is understood as a settled way of thinking or feeling of something.
Another definition that Oxford Languages suggest is truculent or uncooperative behavior, but this definition is informal and not advised to incorporate.
Importance
While talking about the significance of having the right attitude towards life, Lou Holtz, a former American football player, coach, and analyst says-
Ability is what you're capable of doing. Motivation determines what you do. Attitude determines how well you do it.
Attitude can make you depict as a winner or a runner at the same time because it shows your thinking capability and behavior, and according to most people, the best one is a combination of energetic and positive mindset for others.
It includes the viewpoint, mindset, and belief of a person, an essential element in life to face challenges.
Even if you talk about excellence in your life, then you need to understand that excellence is not a skill, it is also a form of attitude. It is our attitude towards the beginning of a difficult task that affects our chances of being successful or not.
Structure of Human Attitude
Attitude shows your mindset, viewpoint, and belief; only you can face any challenge by the type of attitude you carry with you. The structure can be classified into three forms-
1. Cognitive
This component depicts the knowledge you gain and the confidence you show from which you can present anyone with accurate information regarding the subject.
2. Behavioral
This component especially takes care of you in a situation where it specifies the way you react and is the primary thing you should consider in any circumstance or situation.
3. Emotional
This component makes you confident and works out with the emotional stimuli like when you overreact at simple things.
Types of Attitude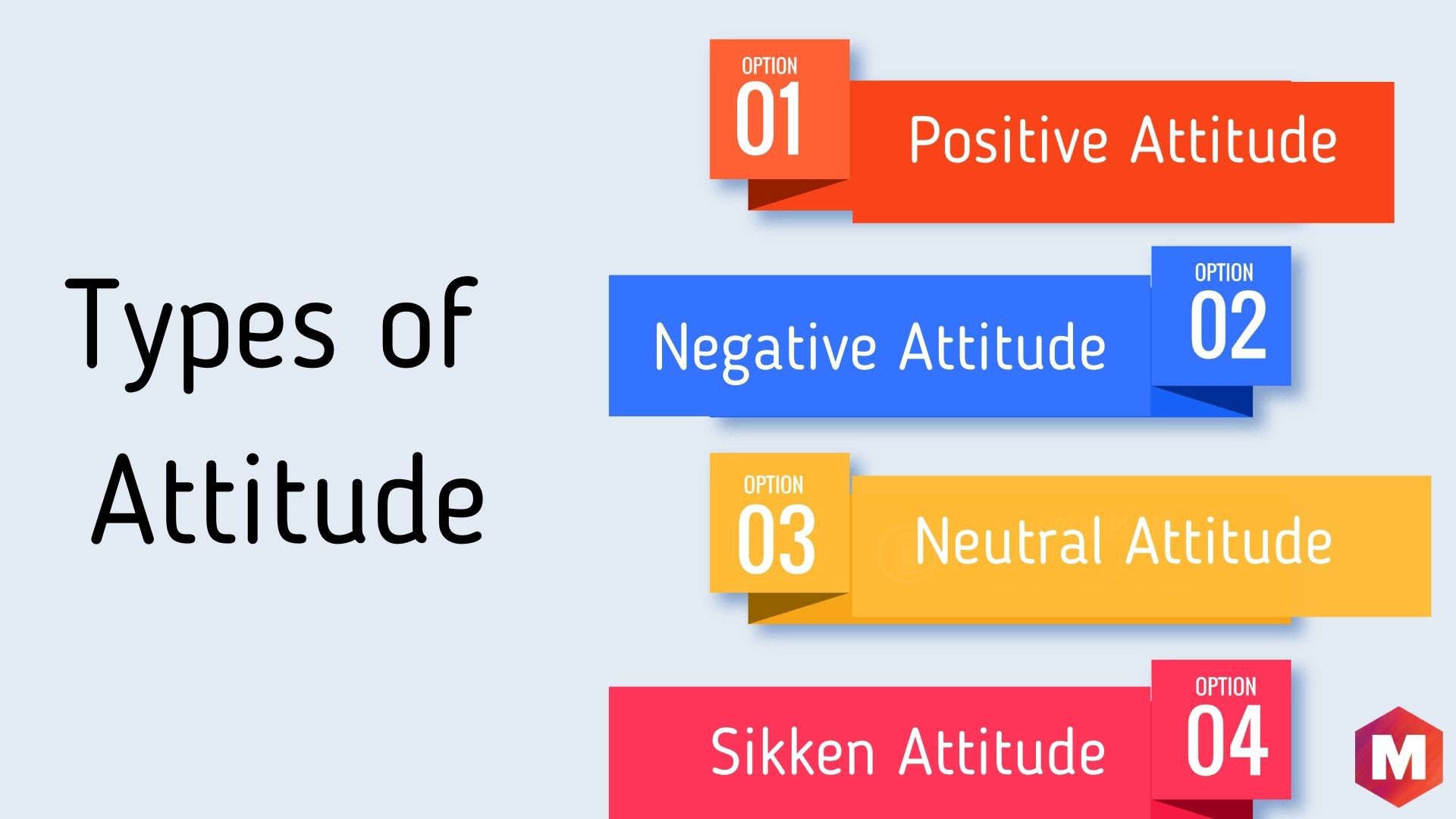 1. Positive Attitude
This organizes a person's behavior as it keeps your work moving and progressing, which means keeping a positive mindset gives many benefits in any condition. The best way to have a positive mindset is to avoid naysayers and start believing in yourself with a list of attitudes such as confidence, happiness, sincerity, and determination to follow.
A positive mindset makes a person think about the good point in critical conditions and circumstances for clear-cut solutions. An example of a person with a positive attitude may make you understand this point; a good person with a positive mindset will search for goodness in another person no matter how bad his behavior remains.
Still, they summarise them as a good person with good attitudes and behavior; this is why this person is known to be a positive-minded person.
2. Negative Attitude
This attitude is necessary to avoid for everyone. It only gives you a result of being a failure and starts to compare themselves with others.
It badly affects a person with a negative mindset, which includes anger, doubt, and frustration, like these, all will not help you build your career. Anger is a type of negative attitude which is a root cause of self-destruction that leads to destruction because anger does not allow our brain to think positively for better solutions; rather, it makes the situation complex.
Same way, frustration makes you an irritant person, which stops you from taking positive steps in your life by making bad decisions.
3. Neutral Attitude
In such sorts of attitudes, there is no hope, and no doubt it is all neutral; people become lazy and often unemotional and do not care much for anything; they just go with the flow.
This attitude needs mental therapy. A lazy life is not beneficial at all; it does not make a person feel any change in themselves, which is very bad and needs to be fixed as soon as it can.
4. Sikken Attitude
This is the worst attitude that can destroy every image of positive thinking; it is very destructive because it is deep-rooted in one's personality, so it becomes difficult to handle. Sikken attitude is described as the most dangerous one because it includes negativity more than positivity in a person's mindset; that is why a person needs to change the mindset from silken to positive for their personality.
Functions of Attitude
Knowledge of the actual meaning of life
Expressing one's identity
Offering the ability to be adaptive
Being ego-defensive protects self-esteem.
Here is a video by Marketing91 on Attitude.
How Attitude Governs our State of Mind
The importance of attitude means that it is the basic need for every person regarding everything in one's life.
It determines the reaction we depict in a situation and depicts our ability to grow and the capability of learning or overcome any challenge. That is why a good and positive attitude is necessary, as it helps you recognize the opportunities. It shapes your personality, success, and your happiness in life.
Our attitude toward life situations is the only thing that makes another person influence our actions with the right attitude to get a good and positive result. To improve, you can follow some technique for a better mindset as follows:
Try to avoid criticism because negative criticism has the effect of making justification according to wrong actions; instead, try to make other people realize their mistake at the same time to make them correct their faults.
 Always be with a positive mindset that can guide you when making right or wrong decisions in a critical and customized situation.
Be honest and sincere towards your work, and it depicts a quality of good attitude, which is important in a person's life.
Conclusion
For improving your attitude towards different life instances, you need to take responsibility and evaluate your present attitude. You should also develop the desire to change your mindset by changing your thoughts and developing good habits.
You can also be in the coterie of other positive people to channelize the right attitude toward your way of leading your life.
Attitudes play a crucial role in living a successful, meaningful, constructive, and blissful life.
Liked this post? Check out the complete series on Marketing