Bottom Up Marketing is the process of developing a marketing strategy within an organization by finding a workable tactic and then building on the tactic to create a powerful strategy.
Conceptually developed by Ries and Trout (1989) in a popular book by the same name, bottom-up marketing is advocated by the authors as an alternative to traditional top-down marketing which involves deciding what the firm wants to do (i.e. strategy) and then figuring out how to do it (i.e. tactics) (see top-down marketing).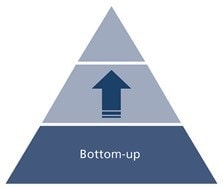 In support of the approach, the authors provide examples of organizations such as Federal Express, Microsoft, and Little Caesars whose success is explained, according to the author's research, by a bottom-up marketing approach. An example of a tactic used by Domino's Pizza in the creation of its strategy is 'home delivery in 30 minutes, guaranteed.' In further conceptualizing the approach, the authors consider tactics to be 'competitive mental angles' and strategies as 'coherent marketing directions.'

A lot of businesses today focus on marketing themselves from the top down, especially when it comes to advertising. They so much concentrate on the top executives who sit in swinging chairs behind big desks wearing expensive suits all day.
Today, the consumer market is tired and fed up with the top down kind of advertising. The target consumer of today expects advertising that will help them relate to the product or service being promoted. They want to relate to ideas, concepts, and persons featured in an advertisement. The top down marketing system does not help achieve this. Consumers do not identify with the big man behind the big chair. It is for this reason that business today are shifting focus and that too they are doing it a rapid pace.
Here is something you should know as a marketer, the top down kind of marketing is designed to make the big man feel good.  In as much as his marketing team knows that the techniques and ideas being adopted for an ad are not good, they still go ahead with them just for the sake of impressing the big guy. After all, the big man runs the company, likes the advert and wants to be a part of it. And even though the idea isn't the best as advertising is concerned; the marketing team goes ahead and features the big guy in the advert just to stroke his ego.
Honestly, it all doesn't make sense at all, unless you are looking for perfectly wrong sense (what's that?)
Effective marketing should be all inclusive. It should focus on the people, the target market and what the business achieves in the long run. It has to ensure that a company meets its bottom-line. In this regard, bottom up marketing is what you should be thinking of; this is the approach you should be taking in marketing your products.
You need to use people that your target market can identify with. People who build your brand, people who toil hard to ensure that your bottom line is achieved at the end of each financial year. These are people who guarantee that products are made available and that they meet the market's expectations. For effective marketing, you should show these people in your marketing ads.
You might be asking why? Well, it's pretty simple. Like it's stated above, the audience you target needs to see adverts that they can relate with. Therefore, using the group of people mentioned in the parish before this do not work in top management positions, the same way a larger percentage of your target audience doesn't (You should know that in any firm or company, less than 10% of the employees are in management positions).
Following the top-down marketing is not something that will put your business anywhere close to achieving its bottom line. It is sheer ignorance and a wastage of resources. Unless, you have some other hook that can catch the public's attention, focus on using the people in the frontline.
In all this, we are not saying that top down marketing is wrong. But in as much as it is still a move that can be taken, bottom up marketing proves to be more efficient in most cases, particular where recurrent, fast moving products are concerned.
Bottom up marketing ultimately makes more sense, is more reliable and won't just be a waste of money. Because after all, 90% of advertising is usually aimed at the general public where very few people work in top level management or executive positions.
As you embark on adopting a strategy for your marketing campaigns, ensure that you do that keeping in mind the needs and expectations of consumers.
If you liked this article, we bet that you will love the Marketing91 Academy, which provides you free access to 10+ marketing courses and 100s of Case studies.