If you have read the service marketing mix, then you would know that physical evidence is one of the additional 3 Ps (extended marketing mix) of the service marketing mix (7 Ps of marketing). This is because it is specifically used for services. The problem with services is differentiation. How do you differentiate a premium restaurant from a regular restaurant? To create such differentiation physical evidence is used.
What is Physical Evidence?
Physical evidence comprises elements incorporated into a service to make it tangible and somewhat measurable. As part of the marketing mix, it refers to the place and atmosphere where customers buy or use the product. It also helps in the positioning of the brand and in targeting the right kind of customers.
For example, the physical evidence of a restaurant may be its décor, menu design, ambiance, etc. You can find many examples of Physical evidence in use in the hospitality industry. Airlines offer premium travel as well as economy classes. Similarly, restaurants are known to be 3-star, 4-star, 5-star. All such differentiation, and the target customer that accompanies such differentiation, is because of the use of physical evidence in marketing.
Types of Physical Evidence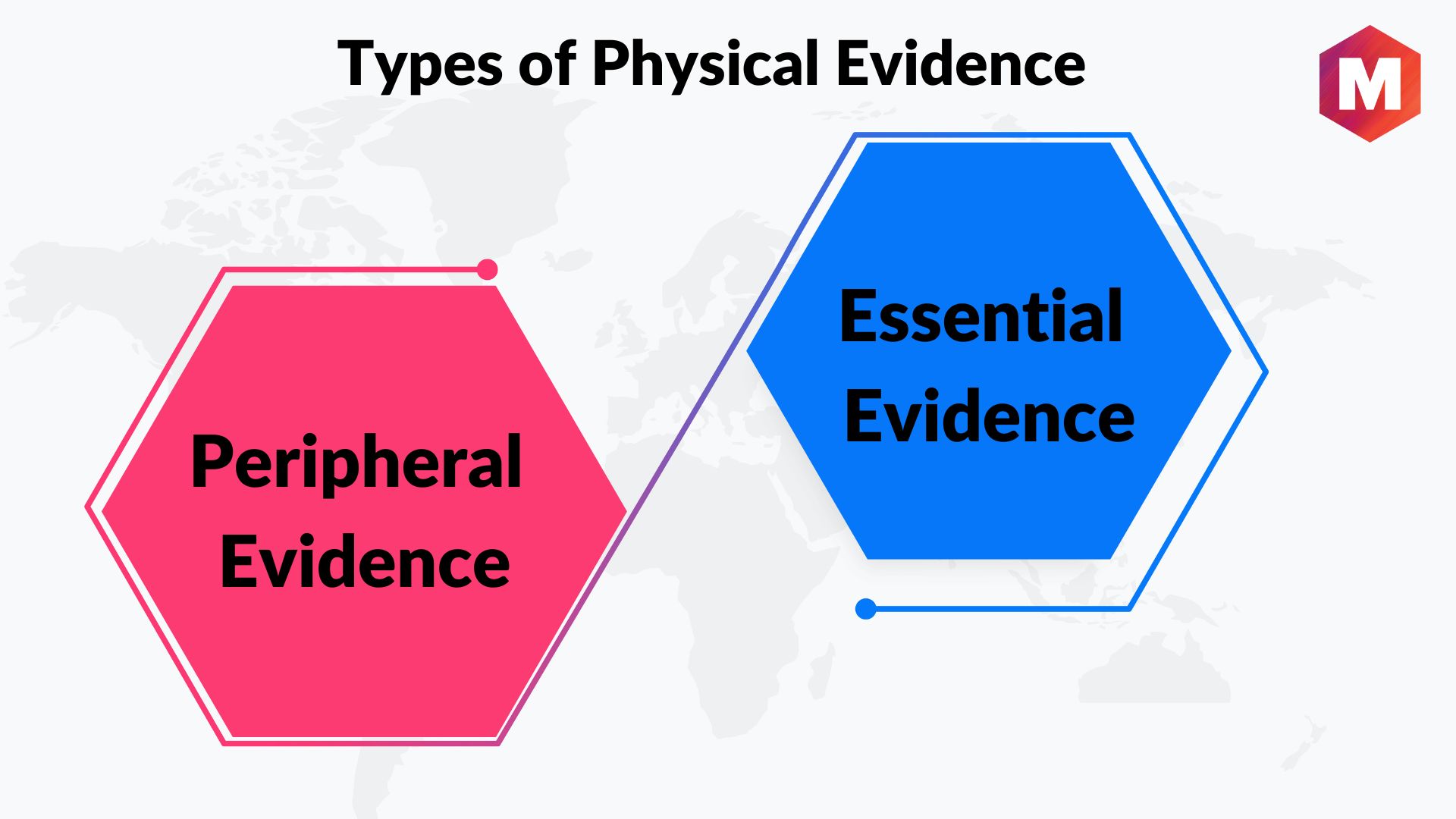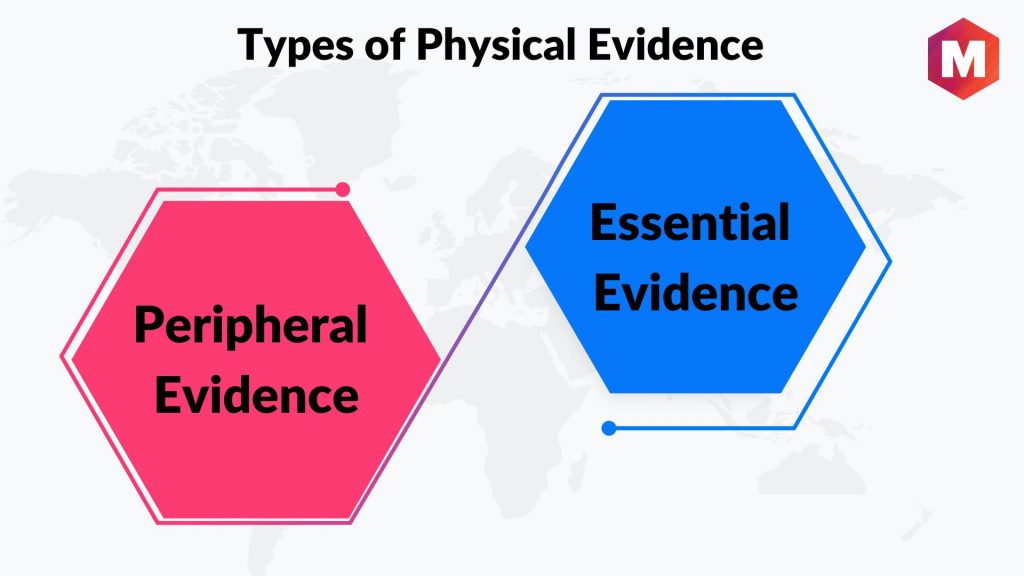 There are two types of physical evidence that add value to the intangible aspect of a service or product – peripheral evidence and essential evidence. Let's explore the role of these –
Peripheral Evidence
This refers to any physical element that is an accessory or a complement to the service or product, such as the layout of a store, the design of the packaging, and other customer service amenities.
For example, the ambiance of a restaurant can create an unforgettable dining experience for customers. It may also refer to things like napkins used in the restaurant, or uniforms worn by staff members. All of these elements are considered to be peripheral evidence as they add value to the customer experience.
Essential Evidence
These are the physical elements that form part of the core service or product offering. It refers to the components, elements, or products that are necessary for customers to use or experience the service.
For example, if you're selling a product, such as clothes, then the physical fabric of the clothing is considered essential evidence. The same goes for services like spas —the massage tables, oils used in treatments, or the ingredients used to make the products all essential evidence.
Both peripheral and essential evidence can have a positive impact on customer satisfaction since they often help create an overall positive experience. They also help in building trust and credibility for the brand, which ultimately leads to customer loyalty and optimizes your marketing strategy.
So if you're looking to create a great customer experience, take the time to evaluate both types of evidence and ensure that they are up to your customers' standards.
Components of Physical Evidence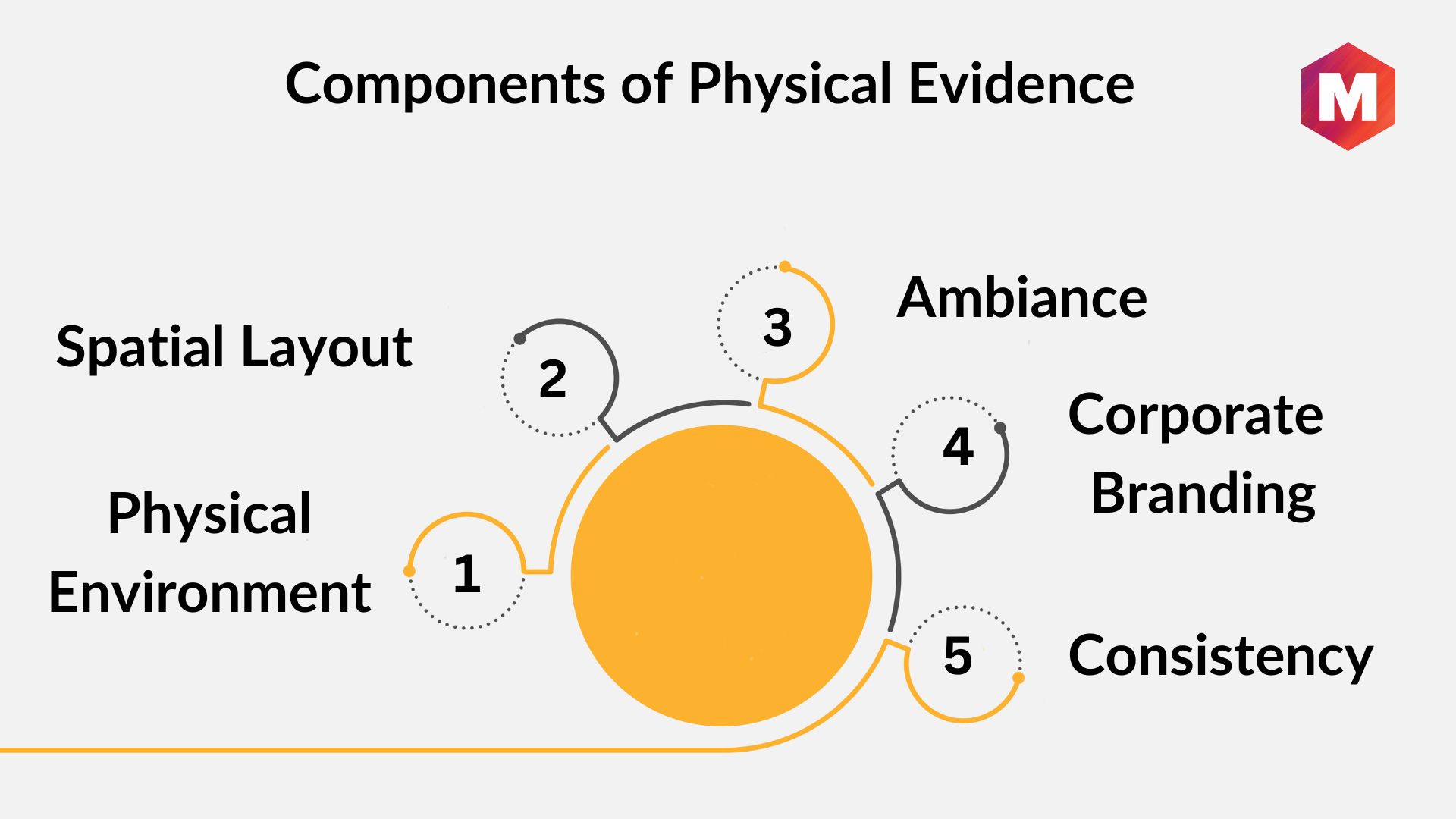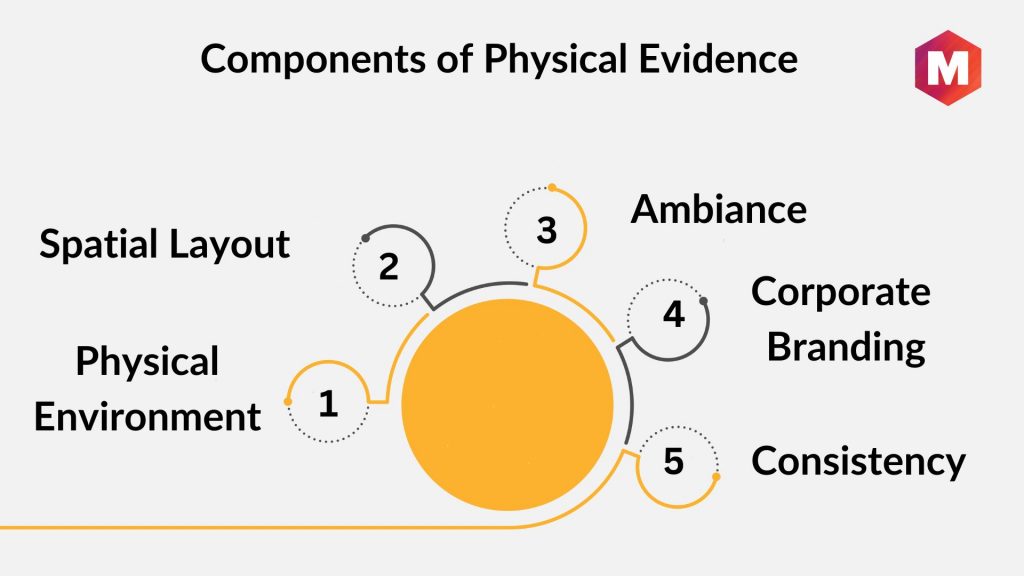 When creating the marketing mix, it's important to consider the components of physical evidence and their use in widening reach and generating conversions in the target market. Here we are going to discuss the five main components of the physical evidence in detail –
Physical Environment
This refers to the atmosphere or environment where customers buy and use a product. It includes the physical structure of the place, such as colors, lighting, furniture, interior design, layout, etc. The physical environment comprises factors such as the overall atmosphere, arrangement, and other relevant elements related to the surroundings. The physical environment refers to the place and immediate surroundings where the customer uses or experiences the service or product. It is a crucial aspect of physical evidence as it can influence the atmosphere and overall impression of the service or product's worth.
Spatial Layout
The spatial layout of a service setting or place refers to the arrangement of physical elements like furniture and equipment that work in conjunction with the physical environment. It affects the overall ambiance and customer experience while using the product or service. For example, a restaurant's spatial layout could consist of tables and chairs in different arrangements, depending on the desired atmosphere.
Ambiance
Ambiance refers to the overall atmosphere of a place or service setting. It is created by lighting, music, and other sensory elements that create an emotional experience for customers. Ambiance can influence customers' feelings towards a product or service and thus affect their decision making process. Setting the mood of the physical environment is heavily influenced by this key factor. Ambiance refers to the way you create a specific mood or atmosphere that influences your customers' experience.
Corporate Branding
Corporate branding and decoration refer to the visual elements used in a service setting or place to identify it with its company. This includes decorations, logos, color schemes, and other visual cues that create a connection between the customer and the product or service. The perception of customers can be positively or negatively influenced by corporate branding and decoration; it is an important factor in creating a lasting impression.
Consistency
Consistency is a fundamental element in delivering a successful service experience. Consistency means that all areas of the product or service should be consistent with each other, from the customer's point of view. Marketers focus on providing uniform services across different locations, offering consistent pricing and quality control measures, and having consistency in employees' behavior. Ensuring that physical evidence is consistent is crucial for providing customers with a clear understanding of what they can expect when using your product.
Elements of Physical Evidence
You can use different physical elements to create the environment that your customers desire. They also play a key role as marketing elements. Physical evidence components are composed of these elements and they can be utilized to manipulate and regulate customers' senses. Some of the common physical evidence element examples are – personal selling customer interact
Layout and Design
Location
Interior and Exterior Design
Decorations, Furniture, and other Props
Lighting
Signage
Music
Scents
Business card cardstock
Colors
Air quality, etc
These elements work together to create an atmosphere that appeals to customers' senses and encourages them to take action. For example, if you own a restaurant, you might use a combination of inviting decorations, pleasant music, and delicious food scents to create an atmosphere that encourages customers to stay.
How to manage Physical Evidence in Marketing Mix
Physical evidence has become an increasingly important consideration for marketers. It can be managed in several ways, including the design of service quality, retail location moves customers to interact with them more effectively and optimize the purchase process. When it comes to service quality, marketers must focus on both the tangible aspects of the product or service (such as packaging and presentation) and the intangible aspects of customer service (such as politeness and helpfulness) to optimize marketing efforts.
Incorporating physical evidence is not free of charge and has an inherent cost involved. Thus, if you want to establish a premium restaurant, then you need to invest in plush furniture, promote premium areas, get the right people, and so on and so forth. The pricing for a premium restaurant will be higher also. Thus, physical evidence in marketing is dynamic in nature, and a change in physical evidence factors will bring a change to all other P's in the marketing mix.
Thus, if you want to succeed in your business endeavor, you need to plan all the Ps of the marketing mix. And if you are in the services sector, then physical evidence, as well as people, are two of the most important P's of the marketing mix.
Liked this post? Check out the complete series on Marketing