Ethical marketing is a type of marketing practice that promotes a brand, product, or service by following marketing ethics and fulfilling social responsibility.
In an ethical marketing approach, companies are expected to provide honest and accurate information about their business practices and the products or services they offer. This includes not making false or misleading claims in their marketing communications.
Furthermore, ethical marketing focuses on building trust with customers by being transparent and honest in all interactions. Companies should be clear about their policies, including pricing and terms of use. This encourages customers to feel confident in their purchase decisions, knowing they won't be taken advantage of or misled.
It is the process that emphasizes trustworthy, transparent, social, and culturally sensitive marketing policies. It exhibits strong integrity and justice to the customers.
What is Ethical Marketing?
Definition – Ethical marketing is defined as a type of marketing that focuses more on ethics and principles of marketing efforts than a promotional strategy. It channelizes marketing campaigns by paying heed to what is right and wrong for the target audiences or society.
Every aspect of marketing ethics promotes fairness, honesty, responsibility, and trust in a company's marketing policies. Through ethical marketing, a company adds value to the consumers and it is based on environmental and social causes.
It creates long-lasting brand-customer relationships on shared goals and values. Ethical Marketing has no hard and fast guidelines. In general, the rules should assist brands or companies in evaluating the latest marketing strategies.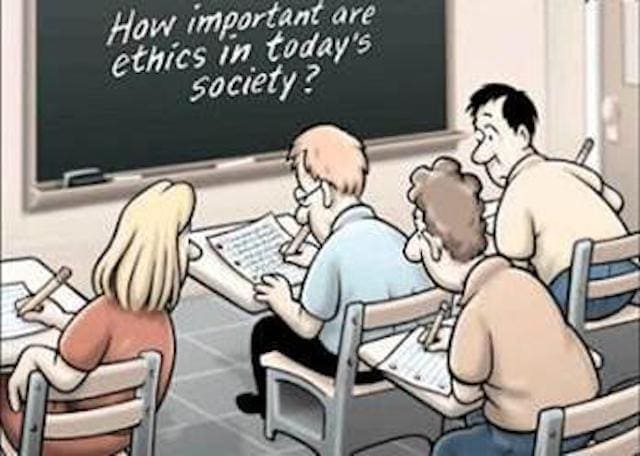 Ethical Marketing vs Unethical Marketing
While ethical marketing campaigns are based upon marketing ethics, there are different ways in which a company can involve in an unethical way of marketing by making false claims or having misleading policies, or not paying attention to what is right or wrong for the target audiences or society.
Ethical marketing helps brands in optimizing their reputation and increasing customer base while on the other hand, unethical marketing leads to loss of clients, a bad reputation, and lawsuits. Different types of common unethical marketing practices are surrogate advertising, puffery, exaggeration, unverified claims, false brand comparisons, stereotyping of women, and children in advertising, etc.
What are the Principles of Ethical Marketing?
1. Advertize but do not sensationalize
Marketers need to understand the difference between advertising and sensationalizing marketing of a product or service. Sensationalized marketing practices bedazzle target audiences with out-of-proportion or half-truths. Ethical marketers should advertise to pull in customers by promoting the positive aspects of products or services to add value to their lives.
2. Follow government consumer protection laws
When businesses use ethical marketing, they are supposed to follow the government consumer protection laws as per the country they are functioning in. Laws associated with consumer protection vary with countries and businesses should follow that.
3. Do not use misleading ads
Brands that incorporate ethical practices should never use misleading advertising as it might distort the truth and can ultimately harm the financial interests of consumers.
In addition to these, some of the other notable principles of ethical marketing are-
Ethical Marketing Practices
Some of the best business practices that ensure the maintenance of ethical standards in business channelization, marketing materials, and customer services are –
Every marketing communication must share the same level of truth
Marketing professionals must stick to the top standard of social and personal ethics
The advertising has to be precisely distinct from the entertainment and news content
Marketing professionals must be clear about the person whom they are paying for the endorsement of their products
The customers must be treated with fairness
Remember the safety and privacy of the customers
Marketing professionals should always comply with standards, rules, and regulations made by the government and organizations
Ethics must be discussed honestly and openly while discussing the marketing strategies
Incorporating all such elements of ethical behavior patterns ensure competitive advantage and business success in any target market.
Why Businesses should use Ethical Marketing
The businesses that embrace ethical marketing should not use it as a gimmick but they should accept it as the core part of their values and missions. The effectiveness of ethical marketing highly depends on long-term efforts to continue campaigning, education, and activism.
Ethical marketing helps customers to make conscious and better choices of the products that they buy. Businesses have to adopt ethical and fair trade for survival and sustainable growth. Businesses must cultivate brand loyalty and value with ideal customers. It is beneficial to develop and implement philanthropic ethical principles in business strategies.
Most of the approaches of advertising made by the customers consist of skepticism. Even the least aware customer knows well that every claim made by the advertiser is untrue.
65% of people believe that the advertising claims are sometimes honest. 13% of people can not believe that advertising is genuine.
So, it is clear that customers are cynical about the advertisement they watch. Here ethical marketing can come to the rescue. It can be effective in restoring trust that can be lost between the advertiser and customers.
Do's of Ethical Marketing
Different do's of ethical marketing campaigns are-
1. Transparency
While marketing products and services to consumers, marketing must be completely transparent. It includes vital information about security, and safety along with effective use of those products or services.
2. Adherence to sustainability and human rights
Ethical marketing has become the biggest priority for consumers as of now. Every person wants to remain assured that the purchased products are sustainable and created ethically.
3. Security of customer privacy and data
Customers have become more bothered about entrusting personal data with organizations. It is necessary to emphasize a brand's commitment to customer privacy.
4. Meaningful response to the customers
Consumers have security concerns regarding products and services. It should be the highest priority of the company to check security. Protecting customer rights is vital. A quick investigation of any complaint is necessary.
5. Amplify benefits and lessen risks
The best ethical marketing practices must provide benefits to the maximum number of people with less harm and cost. The goal has to be a long-lasting positive impact on the products and services.
Don'ts of Ethical Marketing
Different don'ts of ethical marketing campaigns that businesses should avoid while following marketing ethics are-
Avoiding over-exaggeration of product or service
Never make misleading comparisons
Do not make claims that are not verified
Do not promote cliche promotion
Never manipulate customers
False Claims- Regarding the popularity and the quality of the product
Surrogate Advertising – Reminding customers about the goods by referencing them indirectly
Puffed way of advertising something – Do not puff the subjective claims about goods without any confirmation
Providing something without scientific evidence
Stereotyping Ladies – Ladies should not get portrayed as domestic servants or sex objects
Children in advertising – Not to exploit the innocence of children
Who can use Ethical Marketing practices?
Almost all companies can opt for ethical marketing practices. Businesses from small ones to big international MNCs can pick the process, and be honest, open, fair, and socially responsible while advertising to consumers.
The ethical marketing practices can be quite an economical and productive form of advertisement. Unethical marketing never guarantees higher revenue or lesser advertising costs.
Few companies work according to high personal principles. For such companies, ethical advertising is necessary and most natural. It acts as a corporate character of several companies. Corporate responsibility is the major selling part to the customers, who want more than the quality and price of the products or services.
The companies that have been known for providing fair treatment to employees, and environmental stewardship reflect these attributes in ethical marketing.
How to Develop an Ethical Marketing Strategy?
Ethical marketing refers to offering tools for evaluating the strategies for marketing. It starts with a precise analysis of the organization, its consumers, and the market where it runs.
The subject of ethics is abstract and therefore, a company has to decide which kind of features of advertising can be performed in ethical ways. Marketing specialists have to develop an agreement about how the company can deliver marketing campaigns. The company has to focus on the points of making trustworthy claims or criticizing competitors falsely etc. A balance has to be there between the reality of the advertisement and its ability to persuade consumers.
Ethical marketing may highlight the improvement of the public reputation of a company. It can build a strong connection with consumers. For example, in the cosmetic industry, companies that showcase the essence of ethical marketing must commit to workers, eliminate animal testing, optimize the usage of organic products, avoid objectifying women or promoting color biases, etc.
4 steps that brands should follow while developing ethical marketing strategies are-
Offering safe and suitable products
Defining the company's marketing and business ethics
Be aware of what the value of your product is
Know the social trends and values
Career Options in Ethical Marketing
Some of the careers to choose in ethical marketing are:
Ethicist – Ethicists study the philosophical and practical aspects of ethical choices. Many companies employ Ethical officers. Ethicist salary range is –
Entry-level – $50,000-$80,000
After 10 years – $90,000-$115,000
Copywriter – Ethical copywriters focus on writing honest claims and are fair to their consumers. The copywriter salary range is-
Entry level – $40,000-$60,000
After 10 years – $60,000-$90,000
Marketing manager – The marketing managers make decisions on how a company can adopt ethical marketing practices. The salary range of an ethical marketing manager is-
Entry-level – $50,000-$90,000
After 10 years – $100,000-$150,000
Examples of Ethical Marketing
1. Dr. Bronner's
Dr. Bronner's is a company selling organic soap in the US. The company's hallmark includes strong ethics. Dr. Bronner has adopted "Cosmic principles." Some of the principles of peacemaking strategies of Dr. Bronner's are:
Treating employees like a family
Being fair to the suppliers
Treating the planet like home
Income equality
Organic agriculture
Animal advocacy
2. TOMS
TOMS is a famous shoe company; it has adopted the "One for One " strategy of ethical marketing. The founder Blake Mycoskie donated many shoes to children in dire need. Donating shoes to children is very inspiring. TOMS is focusing all the efforts by giving shoes as well as "impact grants" to his partners in the creation of a change in 3 areas:
To support mental health
Enhancing equal access to all the opportunities
Constructing a safe place for living
3. Conscious Coffees
Conscious Coffees was established in 1966 by Melissa Glenn and Mark. Since its establishment, the company has been working actively in improving its production pipelines. It has been benefiting farmers, growers as well as suppliers in South America.
Conscious Coffees, from its name, we can understand, the company has been sticking to the mission and philosophy of ethical production. The company donates coffee regularly to the native Community Cycle program.
By taking technical advice, Conscious Coffee supports farmers and growers in learning the latest techniques to maximize the production of coffee.
4. Patagonia
Patagonia company was established in 1985 and is a socially responsible company for clothes. Patagonia has commitments to opposing fast fashion wear.
The company has adopted the famous campaign "Don't Buy This Jacket" advertisement. The ethical marketing strategy of Patagonia has different facets:
Eco consciousness
Recycling and buying used clothes
Social activism
5. Warby Parker
Warby Parker, a glass manufacturer company, was established out of frustration. Too much price of prescription glasses led the Warby Parker company to come out. A monopoly existed at that time in the arena of the eyewear industry.
The company Warby Parker is committed to providing eyewear like glass at affordable prices. The innovative idea of ethical marketing opted by this company was:
"Buy-A-Pair, Give-A-Pair" program. The program says that every person has the right to see.
The brand also embraced the concept of donating pairs of specs for those people who require purchase. Even Parker established training faculties for offering eye exams as well as selling eyeglasses at affordable prices. In this pandemic situation, the program of Parker shifted to provide personal protective equipment to healthcare communities and workers in need.
Conclusion!
On a concluding note, it is clear that ethical marketing is effective in optimizing brand reputation and increasing employee as well as customer retention. It lets employees be motivated in making a difference or being useful to social causes. Plus customers also trust a brand that follows marketing and business ethics in its campaigns and channelization.
An ethical company promotes responsible marketing and offers a sense of purpose to workers and value addition to society. Business should audit their current marketing strategy and check how it could be tweaked in line with the principles of ethical marketing.
Hence, designing a marketing strategy with ethics in mind will help your brand enjoy a sustainable reputation and optimized market presence.
Liked this post? Check out the complete series on Marketing