In a corporate sales pipeline, the volume of customers is very high and hence the pipeline involves a lot of companies or customers who have to be targeted. In a channel sales pipeline however, the funnel consists of selected individuals, strong channel dealers who are capable of selling good quantity within their own designated region.
So how do you create a channel sales pipeline to ensure that the right network is in place for distribution and sales of your products?
1) Approach top distributors –
The top distributors in your segment might need to be sourced out at first. These distributors can do equivalent business as 30-50 small dealers. So initially, the first people you approach, should be the top distributors of a segment to build a strong base of your channel sales pipeline. These top distributors might have their own commitments with different brands, hence they will take a longer time to come into your fold and to start distribution on a large scale.
2) Approach competition dealers –
Competition dealers would be doing business since a long time, so they are a good source of existing business which can be converted to your brand through a little coaxing by the dealer himself. There are many trade directories and online directories which list out dealers who are selling products of a given segment. These dealers can become they next step of initiating a good channel sales pipeline. These dealers are likely to close faster as well.
3) Approach modern retailers and power retailers –
Retailers are the ones who buy from distributor, or dealers in some cases. However, even retail is of two types.
The local retailers which are catered through distributor.
And the power retailers and modern retailers which have to be supplied by the company.
These modern retailers are categorised according to the number of outlets they have. A retailer having 30-50 outlets is known as power retail whereas a retailer having above 50 outlets can also be called as modern retailer. After channel distributors, the modern and power retailers are the next strongest dealers to be in your channel sales pipeline. They are responsible for huge turnover and profit for any company.
4) Use online channel –
One of the most emerging and competitive channel ever, is the online format. It is so dynamic that there are channel dealers who trade only online and who have people sitting the whole day on computers to plan pricing and implement offers. Even new companies have started selling online first so that they immediately get some revenue and turnover on board. With really great offers and schemes, you can stand apart from the competitive online crowd.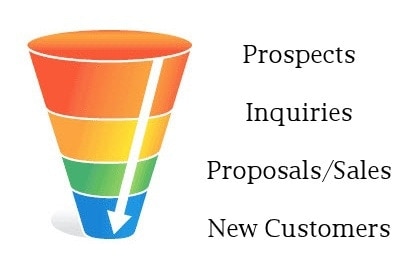 5) Prospect for new channel partners –
You need to be on the lookout for any upcoming dealer in your sector by browsing through trade directories, newspaper ads and other such media channels where you might come to know about new channel sales dealer. Remember, that your sales pipeline needs to have new inputs at the top so that the funnelled output gives you maximum results. In channel sales, new dealers are few and far but they should always be known to you so that you can tie up with them when required.
6) Motivate channel to reach end customers –
The best network is one which gets maximum results. To get maximum results from your channel network, you need to ensure that the channel dealers are reaching the end customers. In short, the channel dealers need to have their own sales pipeline so that they reach the end customers swiftly and close the same. Without proper planning of secondary movement, channel sales will not succeed beyond a certain measure.
7) Take care of existing channel dealers –
The best is saved for the last. Channel sales is such an industry, where you deal with the same people for a long period of time. So, you will obtain the best result from your channel sales pipeline, when you have the existing dealers happy and content with the company. For this, you need to give support to the dealer and ensure that the dealers and end customers are happy as well. This is the single, most important step which can ensure a powerful channel network for your company.
Overall, creating a channel sales pipeline requires that you meet the right people at all times. Along with this, the marketing mix of your company matters a lot in creating the right distribution network. Only if your marketing mix is strong, your channel partner will invest money.
Liked this post? Check out these detailed articles on
Topic of Sales
Alternatively, check out the Marketing91 Academy, which provides you access to 10+ marketing courses and 100s of Case studies.