A Sales Executive plays a pivotal role in the success of a company. They are the main point of contact for customers, ensuring that their needs are met and cultivating lasting relationships. A Sales Executive Job Description includes a wide array of tasks, all centered on achieving the company's revenue goals such as:
Developing sales strategies and expanding existing customer accounts
Driving sales growth through the effective use of marketing programs, product knowledge, and sales strategies
Negotiating deals with customers to maximize profit margins for the company
Building trust and rapport with prospective clients while ensuring a positive brand voice is maintained
Responding to customer inquiries in a timely manner
Analyzing customer feedback and using it to drive creative solutions
Having industry knowledge and analyzing market trends and data to identify opportunities for growth, etc
This role requires a variety of skills, including excellent communication, understanding of customer needs, and an ability to negotiate effectively. Sales Executives need to be proactive, and diligent and have a knack for understanding market trends. Their input often shapes the company's sales strategy, making this role a crucial one in any organization.
What is a Sales Executive Job Description?
A Sales Executive Job Description is a comprehensive document that outlines the duties and responsibilities of individuals in the sales executive positions. It includes information on how to identify potential sales leads, build relationships with customers, manage customer inquiries, analyze customer feedback, negotiate deals with clients, and more.
The description should also include the desired skills such as excellent communication, understanding of customer needs, and an ability to negotiate effectively. The job description should also outline the expected qualifications and required experience for someone in this role, as well as any additional skills that may be beneficial to the company.
Elements of a Sales Executive Job Description
A well-designed sales executive job description includes different elements like job responsibilities, qualifications, preferred skill sets, experience, etc. Let's go through each element and understand what it should include.
1) Sales Executive Job Responsibilities & Duties
Some of the key sales executive responsibilities you should know are-
1.1 Sell products and services: A sales executive is primarily responsible for selling a company's products and services. This involves understanding the product or service, identifying potential customers, and convincing them of the benefits and value of what is being sold.
1.2 Conduct sales meetings: Regular sales meetings are crucial for a sales executive. Whether it's with potential clients, existing customers, or internal team members, these meetings help them understand customer needs, discuss sales strategies, and align on sales targets.
1.3 Achieve sales targets and quotas: Sales executives are given targets or quotas that they're expected to meet within a certain timeframe. Achieving these targets not only contributes to the company's revenue but also demonstrates its effectiveness and performance.
1.4 Build and maintain client relationships: Building strong relationships with clients is vital for a sales executive. This involves regular communication, understanding their needs, and providing excellent customer service. Maintaining these relationships can lead to repeat business and referrals.
1.5 Do market research and analyze sales data: To stay competitive, a sales executive needs to constantly monitor market trends and analyze sales data. This will help them spot sales opportunities, understand customer behavior, and tailor their sales approach accordingly.
1.6 Collaborate with other teams: Sales executives often work hand-in-hand with marketing, product, and customer service teams. This collaboration ensures a unified approach to achieving the company's goals.
1.7 Manage sales cycle: From the initial point of contact to closing the sale and beyond, managing the sales cycle is a fundamental part of a sales executive's job. It involves prospecting, presenting, negotiating, and closing deals, as well as post-sales follow-up.
2) Education and Qualifications of a Sales Executive
A bachelor's degree in business, sales, or a related field is typically required for a sales executive position.
Entry-level positions available without post-secondary qualification
Most sales executives have a tertiary qualification
Typical qualification: Bachelor's degree in sales and marketing
Some may hold a master's degree
In markets that necessitate high technical knowledge, such as the legal, medical, and pharmaceutical fields, sales executives may benefit from having a specialized degree. While not mandatory, this qualification can facilitate career progression to senior and managerial positions.
In addition, many companies require their sales executives to have prior experience in the field and/or certifications that demonstrate their knowledge of industry trends and best practices.
3) Work Experience
Sales executives should have zero to two years of sales experience in a customer-facing role, such as customer service or retail. This experience can help them better understand the needs of customers and develop effective sales approaches. A few key points to remember are-
Sales executive positions available at all levels
Recruitment ranges from entry-level to senior positions based on company needs and sales team experience profile
If you lack direct sales experience, include customer service or retail experience in your resume
Skills from customer service or retail can be transferable to sales
Highlighting this background showcases relevant skills to potential employers
Key Skills of a Sales Executive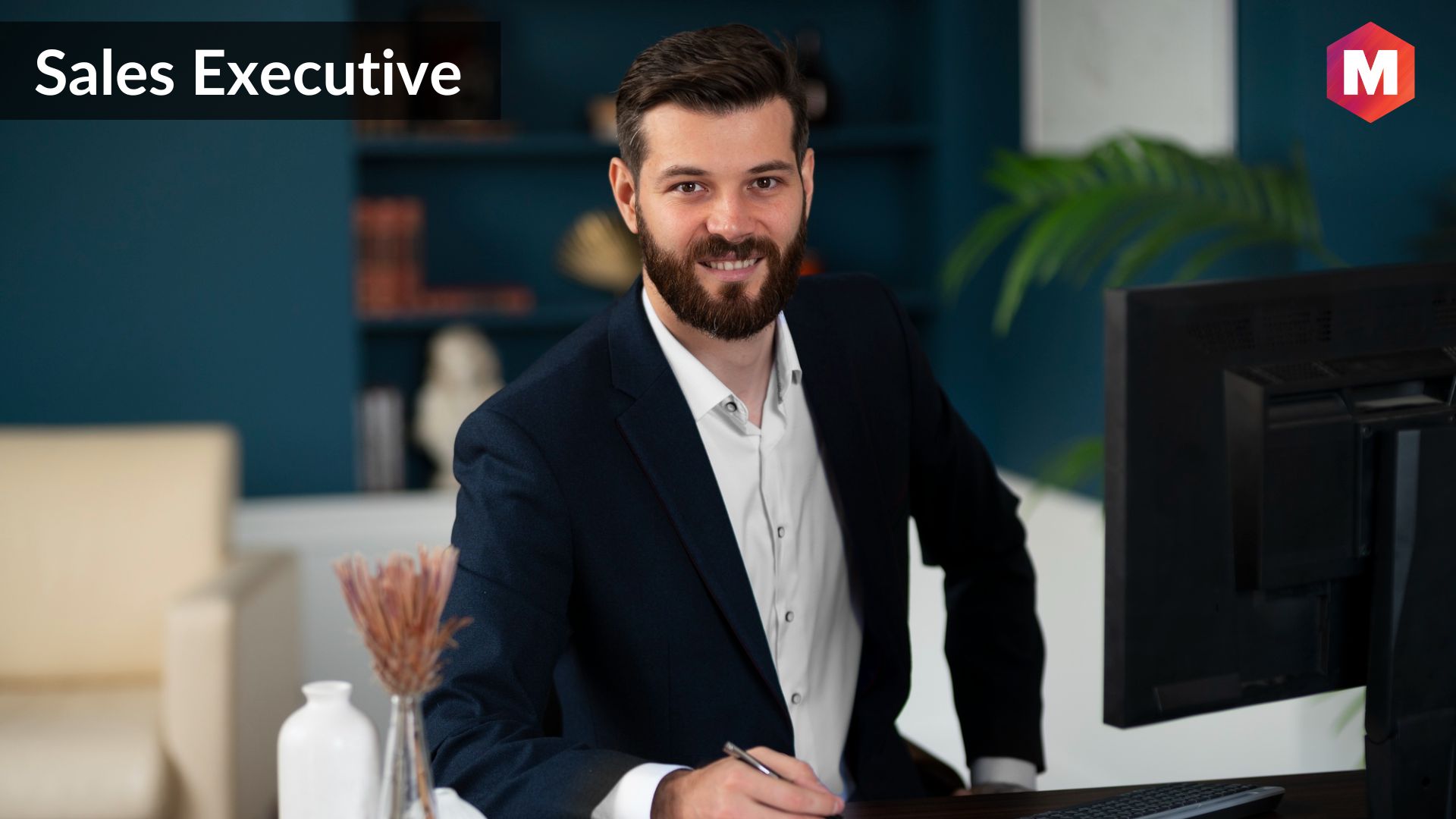 In a role as dynamic as a sales executive, certain traits stand out and contribute significantly to success such as –
1. Motivation: An inner drive to achieve sales targets and exceed expectations is vital. A motivated sales executive will not only achieve their personal targets but also inspire their colleagues to do the same.
2. Interpersonal Skills: These are essential for building strong relationships with clients. The ability to understand and respond to a client's needs and emotions can greatly increase sales success.
3. Professionalism: Maintaining a professional demeanor in all interactions is critical. This not only reflects well on the individual but also on the organization they represent.
4. Attention to Detail: This trait ensures that no potential sales opportunity is missed and that every customer interaction is tailored to their specific needs and preferences.
5. Organizational Skills: Being organized helps manage prospects, customers, and sales processes efficiently.
6. Confidence: This trait inspires trust in customers, leading to more sales and deeper client relationships.
7. Problem-solving skills: The ability to quickly resolve issues and conflicts can lead to customer satisfaction and increased sales.
8. Creativity: In a competitive market, creative sales strategies and approaches can differentiate a sales executive from their competition.
9. Record-keeping and Reporting Skills: These are crucial for keeping track of sales, potential leads, and customer interactions. Accurate records help in strategizing and forecasting sales.
10. Mathematical and Numerical Skills: Essential to calculate costs, discounts, and profits effectively.
11. Time Management: Managing one's time effectively can lead to increased productivity and more sales.
12. Negotiation Skills: These are key to closing deals and securing profitable contracts for the organization to meet sales goals.
Remember, these traits are not exhaustive, and the best sales executives often display a combination of these and other skills. They continue to learn and grow, adapting to changes in the sales environment and customer behavior.
Professional and Technical Knowledge of Sales Executives
A Sales Executive needs to have an in-depth understanding of various sales strategies to identify and exploit business opportunities. They need to liaise with other sales executives to enhance the efficacy of the sales process. Following are some of the key technical knowledge areas:
Strategic sales planning
Understanding of CRM systems
Market trend analysis
Knowledge of sales presentation tools and techniques
Contract negotiation strategies
Sales Executive Job Description Template for 2023
We are seeking a dedicated Sales Executive to join our dynamic team. Your duties will encompass lead generation, conducting sales calls, consistently updating our CRM database, and achieving sales targets.
Building lasting relationships with clients and driving sales growth are also key aspects of this role. Strong sales skills and a customer-oriented approach are essential for success in this position. Finally, a highly skilled sales executive should have the ability to establish a connection with customers and successfully seal deals.
Sales Executive Responsibilities
Identify and generate new business opportunities through networking, research, and cold calling.
Maintain and develop relationships with existing customers via meetings, telephone calls, and emails.
Review your sales performance, aiming to meet or exceed targets.
Gain a clear understanding of customers' needs and requirements.
Provide customers with quotations, negotiate the terms of an agreement, and close sales.
Gather market and customer information and share it with internal teams.
Attend team meetings and share best practices with colleagues.
Sales Executive Requirements
Proven experience as a Sales Executive or relevant role.
Proficiency in English.
Excellent knowledge of MS Office.
Hands-on experience with CRM software is a plus.
Fast learner and passion for sales.
Self-motivated with a results-driven approach.
Aptitude in delivering attractive presentations.
A high school diploma/GEDBS/BA in business administration, sales, or a relevant field is preferred.
Please note that this job description is not designed to cover all activities, duties, or responsibilities that are required for this job. Duties, responsibilities, and activities may change or new ones may be assigned at any time with or without notice.
FAQs
What does a Sales Executive do?
A Sales Executive is primarily responsible for driving company sales by identifying new business prospects, establishing and maintaining relationships with clients, and closing sales deals.
What are the duties and responsibilities of a Sales Executive?
Sales Executives are responsible for identifying and pursuing new sales prospects, communicating with existing customers, achieving sales targets, understanding customers' needs, and providing them with suitable products or services.
What makes a good Sales Executive?
A successful Sales Executive demonstrates excellent communication skills, a passion for sales, a customer-oriented mindset, and the ability to deliver engaging presentations. They are also self-motivated, results-driven, and adept at maintaining professional relationships.
Who does a Sales Executive work with?
A sales executive works with a sales manager, sales associates, etc. Hence, they work closely with a range of individuals including customers, sales team members, and internal teams to gather market and customer information, share insights, and ensure a unified strategy and execution.
Liked this post? Check out the complete series on Sales