KPI is an abbreviation of Key Performance Indicator. Thus, Sales KPIs are the indicators of sales performance. These indicators are specific, measurable and time-bound. Every organization will have a defined set of KPIs for individuals. These KPIs are quantifiable and are used in the performance evaluation of a salesperson.
10 Types of Sales KPI
KPIs change from industry to industry, however, following are few KPIs that can be commonly used:
1) Target Vs Achievement :
This is the basic role of any salesperson, to commit and achieve the commitments. Targets are pre-decided and are provided at the beginning of the year. The achievement is measured at the end of the year and lessen the gap between the two, better would be the score of KPI. Regular monitoring of sales helps in bridging the gap and achieves the target.
2) New Customer :
Every salesperson will have a set of customers to get sales from. While the business from regular customers helps achieve the targets. Business from new customers gets the growth and secures future business. Getting new customers also increases the penetration of the company and increases the market share.  Hence keeping this as a criterion is a good choice.
3) Competitor conversion :
When a long-time competition user converts, that could be considered an achievement, because it means a direct market share of a competitor is acquired. Having this as a KPI measures Sales person effectiveness, aggressiveness and selling ability.
4) Sales call average :
Every salesperson is supposed to make a certain number of sales calls every month. The idea behind having a target for a Sales call is frequent and continuous visits help in converting the customers and bringing business to the company. It also increases relationship with the client and the salesperson can keep a close watch on competitor activities while safeguarding own business.
5) Closing ratio :
In the case of capital equipment, the sales deals go on for months. In such cases, it is important that the open leads are closed positively. This ensures sales conversion properly. In other cases, where the deals are lost, the salesperson can dedicate that focus on some other customer. Thus, the closing ratio determines the proper focus be given to customers.
6) Product-wise achievement :
At times, it so happens that overall target is achieved, but product wise target is missed. While best selling products have always performed well, may even over achieve their target, other products may not. Since they are compensated by overachievement of other products, the overall sale looks green. To avoid this, product wise achievement is taken as a KPI.
7) Customer Satisfaction :
Marketplaces have become competitive and to survive in the market you need not only excellent products but also a superior customer service. Providing an excellent customer service is key to customer satisfaction. Customer satisfaction can be made quantitative by collecting feedbacks. It can also be gauged by the increase in sales numbers and market share growth.
8) Cost vs profitability :
In sales, every person is a revenue generator and an expense center. The more the difference in both, the better it is, meaning lesser expense and greater revenue generation. Getting cost per head as low as possible would be the aim of the company. There will always be few unavoidable costs, but in such cases revenue generation can be increased to bring the ratio of cost vs profitability.
9) Business Ethics :
The sale is a field where a lot of mischiefs happen and since the organization cannot go to meet every single customer, it is up to the honesty of Salesperson to maintain the ethics of the profession. Not leaking sensitive organizational data to competitors, having a policy of fair competition, selling authorized products in an authorized way are few ways business ethics can be maintained.
10) Values and behaviors :
The nature of salesperson, team bonding and gelling with the team, behavior, and approach towards the organization, overall professional appearance, helping nature, innovation etc. are few parameters from which values and behaviors of the salesperson can be measured.
How to form Sales KPI for your business?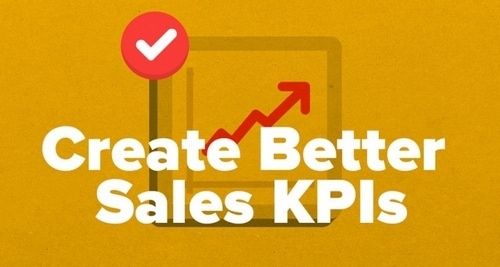 1) Macroscopic vision :
For defining Sales KPI, the proper definition of goals is essential. What is the revenue to be generated per month, targets, customer base, growth potential, competitor activities etc. should be analyzed which will give a holistic view of the business required to set KPIs. Proper separation of long-term goals and short-term goals is important for defining proper KPIs.
2) Specific Goals :
 The macroscopic vision is now modified to microscopic vision and tasks are broken down to short achievable goals. Care should be taken that those goals should be in sync with the Vision and mission of the company.
3) Prioritize  :
Then these steps should be prioritized according to the funds available, business opportunity present, minimum business to be generated per month for breakeven etc. Prioritization helps in assigning importance to the necessary action first.
4) Delegation :
After the goals are prioritized, they are assigned to respective teams. For example, if the priority is customer satisfaction, the task has to be assigned to the Customer Service team. If the priority is to sell the existing stock, it should be assigned to Marketing for a plan and Sales team for its implementation.
5) Implementing steps :
Once you have the short-term goals, action steps for each of them should be pinned down. The implementation of steps should take into consideration the potential of a sales team and market scenario. What marketing plan will be necessary to get 10 new customers in first three months, what will be the minimum price at which products can be sold, how to convert competitor users etc. are the type of questions that need to be answered.
6) Monitoring :
Monitoring KPIs regularly lets to understand the flow and proper execution of the steps taken. Monitoring also reveals which KPI is failing and the necessary steps can be taken to remove or modify the KPI in accordance with market needs.
Advantages of Sales KPIs :
Having a pre-defined set of KPI's help sales team to work with a specific plan to achieve the objective. They can strategize at the beginning of the year and keep on working until the targets are achieved.
KPIs also help the organization with fair treatment for every employee. Top management cannot interact with every employee and only direct supervisor knows the employee. To avoid unfair treatment to employees, pre-defined KPIs help to understand the achievement on every employee's behalf.
KPIs of every employee is like a small trickle of water. All such trickles come together to form a large ocean which is the vision of the company. Properly defined objectives, broken down to specific and time-bound short-term and long-term goals help companies to achieve their vision.
Since KPIs are defined at the beginning, the organization has time to prepare for all kinds of challenges that the teams may face during its execution.
Disadvantages of Sales KPI :
Every employee may not be in sync with the company's vision. It is not the goal of every employee, on a personal level, to execute every strategy formed by the organization. In such cases, if there is no sync between the employee and the company, it is a loss to both of them. While the KPI should fulfill professional objectives, they may not necessarily fulfill personal objectives.
In case of unrealistic Sales KPIs, un-achievement would lead to underrating to the employee or even termination in some cases. Care should be taken not to overestimate the market potential so that KPIs are set on a realistic level. Also, it goes without saying that ultimately the organization would suffer.
Liked this post? Check out the complete series on Sales