Ethnographic research is a method of studying people from their points of view and in their real-life environment or social setting. By studying how people interact within their environment, valuable insights can be obtained and applied to a variety of fields, including anthropology, sociology, marketing, and product development.
Ethnography is a method used to study a group's behavior, opinions, and decisions. It looks for the deeper meaning and purpose behind them. This practice can be applied in examining cultures, subcultures, organizations & institutions.
For example, a restaurant business marketer might want to analyze the culture of a certain city or region to understand what types of foods or services customers in that area are likely to demand. They could use ethnographic research methods to conduct interviews, observe local customers and analyze local news and media.
What is Ethnographic Research?
Ethnographic research is a qualitative approach to investigating human behavior in natural settings through participation and close observation. It was first used in anthropology, however, it has since been incorporated by various social sciences. The method involves researchers observing and interacting with participants in their natural environment.
Ethnographic methods are essential when it comes to the usability, design, and service delivery of an organization. It provides invaluable insights that help inform decisions about product or service developments. By utilizing ethnographic studies, designers can gain a deeper comprehension of the issue they are tackling, as well as the public it applies to, the processes involved, objectives, and its context.
Now, going through the following examples will help you understand what is ethnographic research more comprehensively-
Ethnographic Research Examples
You can easily find many examples of ethnographic research in marketing, UX, design problem, etc, as businesses use it for collecting data and have a deep understanding and detailed account of target audiences. Let's go through some examples –
1) A Coffeehouse Using Ethnographic Research
A coffeehouse conducted an ethnographic research study to gain insight into customer behavior. Team members visited multiple locations across the US, observing customer interactions and gathering feedback from customers and employees.
Results from the research offered valuable information about how customers interacted with the store and what was most important to them in regard to their overall experience.
The research findings revealed customer opinions, sentiments, & actions when interacting with the store. It also provided useful information regarding customer preferences and habits.
By understanding the priorities and preferences of their customers, store owners could use this information to create an optimal customer service experience. This will help them to enhance the quality of their services as well as foster loyalty from their customers.
2) E-Commerce Store Ethnographic Research UX
An e-commerce business can reap the many benefits of a user experience research platform, which offers various tools such as Hotjar recordings. This platform can help the company to record visitor navigation and obtain valuable insights into their customers' behavior.
The platform facilitates real-time user session observation by creating video recordings of the website or web app activity. It can be used to analyze recordings to identify user issues, understand user paths, and uncover design flaws. Some of the features that such a platform offers are-
Heatmaps to identify user clicks, taps, and scrolls
Funnels to track user navigation through a website or app
Cohort Analysis to understand how users interact with your product over time
User session recordings to observe user behavior in real-time
Conversion funnels to identify areas of improvement
Feedback polls to collect user feedback
A/B testing to test different user experiences
Segmentation to understand user behavior across different segments
Retention analysis to measure
Aim of Ethnographic Research
Ethnography, as a research methodology, is all about understanding how people behave in a particular setting. It looks at the perspectives, activities, and experiences of users to get a grip on their behavior.
Exploring user behavior through research helps us to get an insight into how they perceive the world and how they interact with the things around them.
As a qualitative research method, ethnographic research involves strategies like direct observation, diary studies, video analysis, photographing, and analyzing artifacts that are used by an individual during the day.
In traditional ethnographic research, observations can be conducted in a variety of settings such as at home, the workplace, or another location. The observation time period can vary from just a few hours to several months.
What are Ethnographic Research Methods?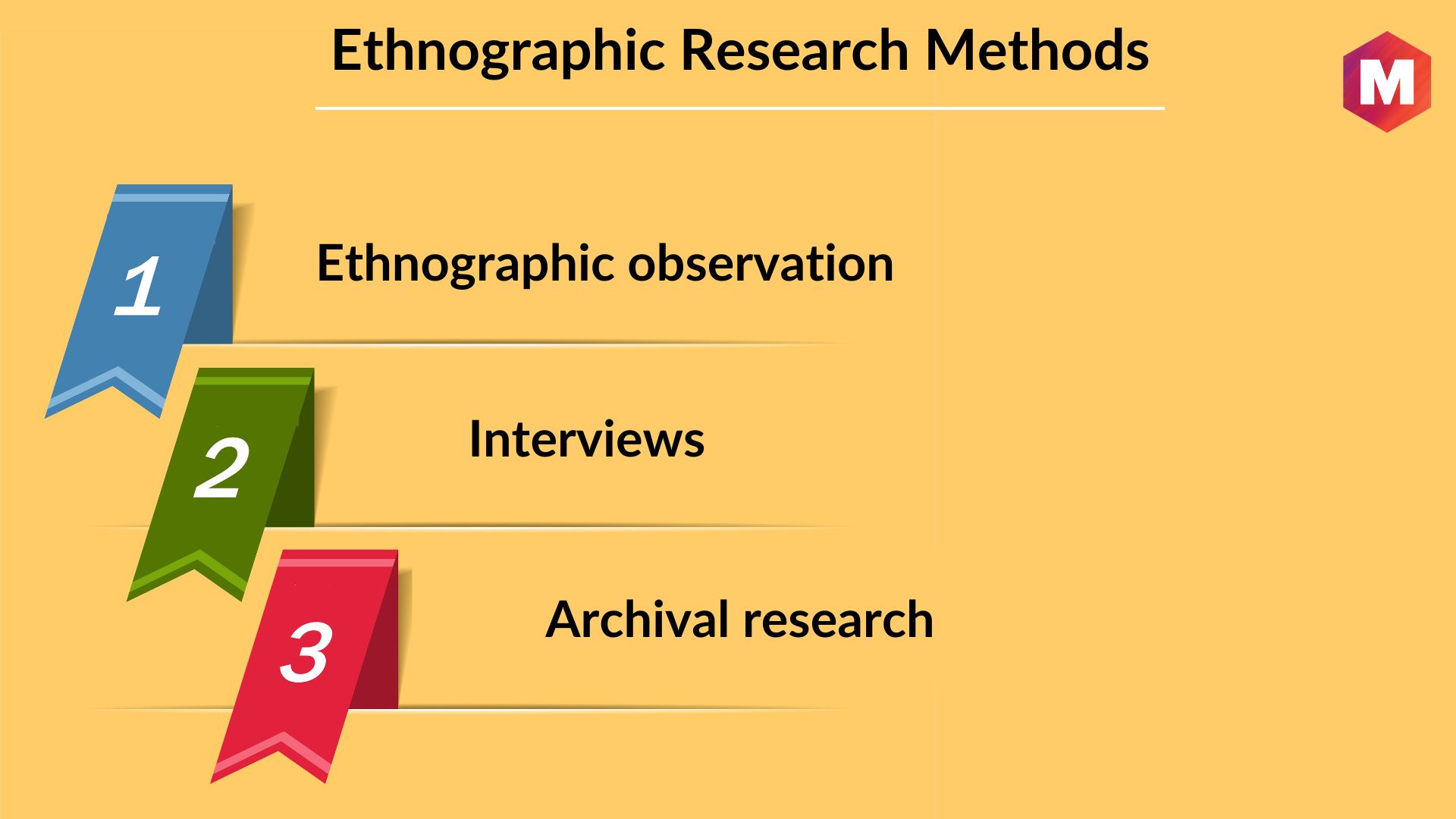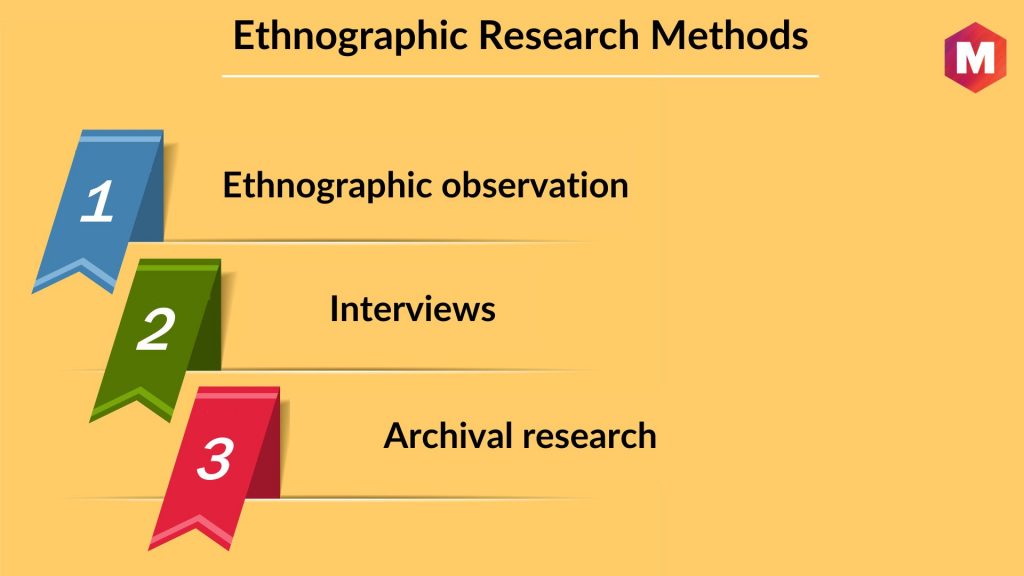 In ethnographic research, ethnographic methods are utilized to obtain information. These techniques allow investigators to comprehend the environments they're studying more thoroughly and get a clearer idea of how participants view them.
Ethnographers typically employ a combination of three primary research methods — participant observation, interviews, and archival research — to collect the necessary data for their studies. Generally speaking, they will use all or some combination of these interactive methods.
1) Ethnographic observation
Ethnographic observation is a research technique that can be divided into two categories – active & passive participant observation. Both approaches involve an observer gathering data on the behavior, attitudes, and values of people in different cultural settings. The active approach involves becoming a member of the study group, actively participating in their daily activities, and gaining direct knowledge from them to understand the group's perspective. The latter method is limited to observation & note-taking from a distance without participating in their activities.
2) Interviews
To gain an in-depth understanding of people's behavior and beliefs, researchers often employ ethnographic fieldwork. This method involves observing participants in their own environment and engaging with them through questions or interviews. Ethnography is a research technique that allows for greater insight into the studied group's behavior. Interviews in ethnographic fieldwork allow researchers to ask questions directly related to participants' experiences, enabling them to gain insights that may not be available elsewhere.
3) Archival research
Archival research involves collecting & studying existing documents to gain a better understanding of a specific group of people or place. It is an effective technique that can provide invaluable information for making informed decisions. Archival research involves delving into archives to gain a better understanding of the participants and their context. This kind of research can help prepare a researcher for their fieldwork, so they can go in with more knowledge about their project and its participants.
How to Conduct Ethnographic Research
Some of the steps of doing ethnographic research are-
Find the goals of your ethnographic research study – Determining the research questions for an ethnography study is the first step and will help define the goals of the research and shape its outcome.
Choose the right ethnographic research method – You can opt for the one qualitative method of your choice to plan your ethnographic research. Plus, combining all three- active participant observation, interviews, and archival research is also an effective way to collect data for an ethnographic study.
Reach out to your study subjects – Reach out to the individuals you would like to be part of your research study and explain the details of your investigation. Make sure they give their informed consent before making any progress.
Initiate your data collection – Start your research by conducting fieldwork, and for this, you may visit the study area and observe, ask questions, take notes, and gain deeper insights.
Do data analysis – Once you are done with fieldwork, the next step is to analyze data from the observations. Ethnographic data coding can be tedious and time-consuming, but Delve qualitative analysis software can help make it easier.
Perform listing of all the insights – After analyzing your qualitative data, the next step should be to compile all the insights you found from your research. This should include answers to the research questions you had initially set out to answer.
Write & present your findings – The final step in ethnographic research is writing a report, known as ethnography, which includes a full description of the study's subjects, findings, and methodology.
Advantages of Ethnography research
Observing UX or user experience with technology in real-world settings allows for more realistic insights.
Finding out some of the unusual issues that you may have missed with other studies that are not based on in-situ observation or interaction like usability tests.
Companies can test new products with potential customers to gauge demand prior to launching.
Disadvantages of Ethnography research
It generally takes longer to generate and analyze user insights due to increased data availability.
Short studies may not be effective as users are likely to act differently when they know they are being observed.
Ethnographic studies tend to be more expensive than usability tests.
When to use ethnography?
Ethnography is a great tool to use during the initial stages of UX design, as it allows designers to gain a better understanding of the problem at hand.
Hence, it should be the first step taken when creating a product that is intended to serve its users. By gathering information on those users and their needs, ethnographic studies can then be used to inform one's design choices in order to create a successful user-oriented product.
Ethnography is a method utilized to assess the design of a product and generate insights about its associated aspects such as its target audience, purpose, functions, and context. It helps understand important details in the early stages of development.
Ethnographic research is key to addressing intricate design problems. It can be used to uncover the complexities of design issues and their contexts, which is especially important when dealing with applications that have serious implications if they fail.
Conclusion!
On a concluding note, you must have understood that ethnographic methods of doing research are effective ways to obtain knowledge of user behavior and preferences. This enables you to improve and target your existing design, in addition to creating new and innovative ways of reaching users.
Customers prefer taking guesses at what they need & businesses can use that information to their advantage. The key is to collect the right amount of data &; know what customers want out of their products. This way, they'll be able to stay ahead of the competition.
Here is a video by Marketing91 on Ethnographic research.
Liked this post? Check out these detailed articles on
Topic of Market Research
Alternatively, check out the Marketing91 Academy, which provides you access to 10+ marketing courses and 100s of Case studies.