Conjoint analysis might sound a bit intimidating, but it's just a fancy term for a method that helps us understand how people make decisions. Ever wondered how customers choose between different products or services? Or what features do they value the most? That's where conjoint analysis comes into play.
For example, a company ABC that manufactures laptops may want to find out which features (e.g. processor speed, RAM, size) are the most crucial for their purchasers when it comes to their decision making.
It can get invaluable insight into customers' preferences with surveys that feature various combinations of product attributes. Respondents are then asked to rate these, allowing the organization to pinpoint which attributes exert the greatest impact on people's decisions.
What is Conjoint Analysis?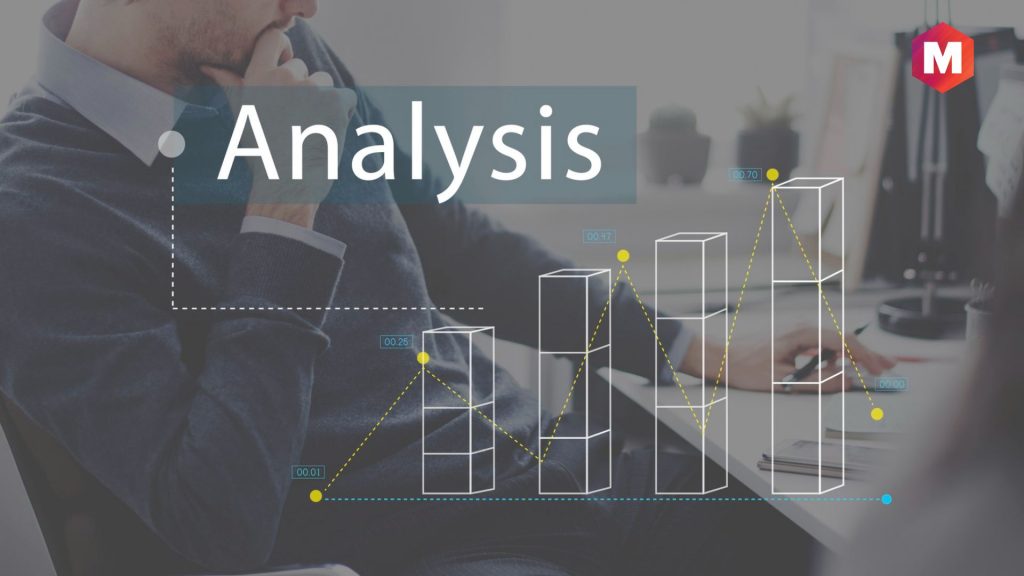 Conjoint analysis is a survey-based statistical market research technique that helps determine what attributes people value in products and services. It uses surveys to measure how much the features, functions, and benefits of a product or service affect their overall perception. Marketers can use it to find out which attributes of a product or service are most influential in driving purchase decisions or impacting respondent choices.
The former global director of product management for Oracle's Advanced Customer Services, Brett Jarvis, wrote in an article (Conjoint Analysis 101) for Pragmatic Institute –
"Conjoint analysis is a set of market research techniques that measures the value the market places on each feature of your product and predicts the value of any combination of features. Conjoint analysis is, at its essence, all about features and trade-offs."
Conjoint analysis examples can be found in many industries ranging from consumer goods, electrical appliances, and insurance plans to luxury items and air travel. Market researchers extensively use it in marketing, advertising, and product management to identify what consumers are likely to purchase and their preferences towards certain products, as well as to do product and pricing research.
All in all, you can use conjoint analysis methods when –
You are choosing features for a product
You are assessing the product's price sensitivity
You are forecasting market shares or predicting the adoption of new products or services for your survey respondents
Key Takeaways!
Conjoint analysis is an effective model for extracting consumer preferences in the purchasing process, which then is quantitatively measured through statistical analysis – yielding survey data that no other method can.
Conjoint studies are data-driven marketing research tool that reveals to market researchers the key factors that consumers consider when evaluating a product or service.
When introducing a new product or service, executing a conjoint analysis methodology is highly recommended to gather insights that can help you optimize it for success.
Conjoint Analysis Examples
1) Branding & Package Design
Through conjoint analysis models, a researcher can effectively test out the design and packaging of a product. This method is reminiscent of how consumers have previously interacted with various brands and products in their daily lives.
Package design undergoes a lot of changes due to the aesthetics and how it affects interactions between colors, text, and other visuals. CBC or choice-based conjoint can be a powerful technology in demonstrating how a product or branding interacts with customers and markets. It helps you optimize and customize your offers to maximize market response.
2) Healthcare
Another conjoint analysis example is the research on how people feel about different health options has increased over the past few years. This is due to the development of new tools that can be used in conjunction with conjoint analysis, specifically discrete-choice experiments and other multi-attribute stated preference methods.
In this study, the task force met regularly to identify the important steps in a conjoint analysis, to discuss good research practices for conjoint analysis, and to develop and refine the key criteria for identifying good research practices. It is used to know Patients' Preferences and offer Personalized Care.
Why is it Important for Researchers?
Conjoint analysis employs a survey approach to measure customer preferences for different product attributes. By collecting data from respondents, it measures the utility of each attribute and how these preferences vary across different segments and over time.
The conjoint analysis experiment is a popular survey method to find out customer preferences. It involves creating surveys, distributing them to participants, and analyzing their responses to determine their purchasing decisions and reactions to different products or features.
Using a conjoint analysis survey can help you gain insight into consumer behavior by analyzing data. This allows you to assess the worth of different factors such as price, features, and location. With this information, you can make informed decisions that may benefit your business.
It uses real customer data to create consumer profiles and conducts a regression analysis to generate an accurate report, rather than relying on hypotheses. Accessing accurate and reliable data can give your business a competitive advantage by allowing you to develop products or services that meet your customers' needs and expectations.
Types of Conjoint Analysis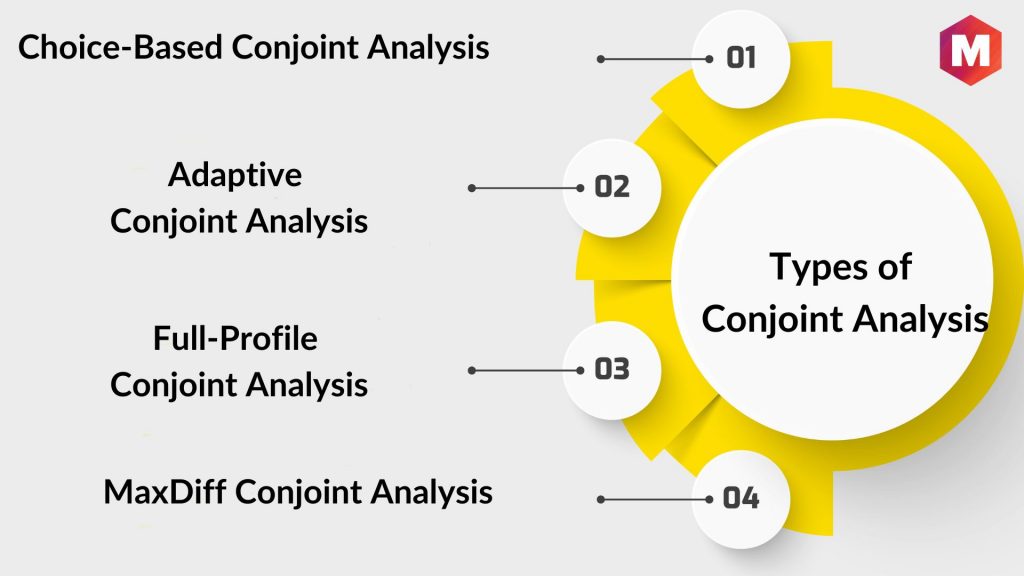 Choice-Based Conjoint Analysis – CBC is one of the most common types of conjoint analysis, which helps identify how respondents value combinations of features.
Adaptive Conjoint Analysis – In the ACA survey, each respondent gets to answer a bunch of questions and we use those responses to customize their experience. Because it's often used in studies to reduce effort and produce accurate insights,
Full-Profile Conjoint Analysis – This type of conjoint survey presents the respondents with a series of full product descriptions and asks them to indicate which one they'd be most inclined to buy.
MaxDiff Conjoint Analysis – When you conduct conjoint analysis, you are given multiple options to rank them on a scale of best to worst or most likely to buy and least likely to buy.
History of conjoint analysis
Conjoint analysis is a process that has been used commercially since the 1970s. It begins with an assessment of objective data, such as demographics and purchase history.
In 1964, two mathematicians, Duncan Luce, and John Tukey published a rather difficult article. Their article was on Simultaneous Conjoint Measurement: A new type of fundamental measurement that was difficult to
The theory of conjoint measurement was first developed by Luce and Tukey in the late 1950s but the first consumer-based approach was created by Green and Rao in 1971.
Paul Green's 1974 article on the design of choice experiments is still relevant today. In the 1980s and 90's, conjoint analysis grew in popularity (Wittink & Cattin 1989 then Wittink, Vriens, and Burhenne 1994 cited in Green and finally Kreiger & Wind 2001).
Conjoint surveys can be enjoyed on a range of platforms. The platforms range in price and feature set, allowing marketers to choose the survey that suits their needs.
Conjoint analysis is a marketing tool that is widely used in the market. It provides insights into what product features and benefits consumers are interested in, and how different trade-offs between them will impact purchase behavior.
What are the Steps of Conjoint Analysis?
The processes of conjoint analysis work through the following steps:
#Step 1: Break your products into different attributes and levels
For a conjoint study of your product or service to be run, you place it into its parts, called attributes and levels. One way to experiment is to break the data into different attributes and evaluate them. For example, a car manufacturing company can break down the components of a car into attributes of interest for our experiment such as brand, price, engine type, etc.
#Step 2: Survey respondents choose their preferred concept in each choice task
In this step, we should have the conjoint experiment design and invite respondents to complete the survey. The assignment for respondents is to choose their most preferred option among sets of person profiles based on their responses. Your conjoint analysis experiment should be asking respondents to choose products from available options instead of asking them about preferences for attributes and levels.
#Step 3: Use a survey that builds and uses models to predict the preferences of your target audience
Discovering insights from the data you collect is the final step in our analysis process. To understand the preferences of your customers better, the conjoint software includes a statistical model that considers the available product options and importantly which alternatives the respondents chose. Your business needs to be able to provide customers with the products they want, which means developing a strategy that accounts for both customer needs and their reactions to ensure success.
What is Conjoint Analysis Used For?
Some of the applications of conjoint analysis are –
1) Pricing
The process of determinant analysis helps a company understand how its customers would value different options so they can develop a pricing strategy based on their findings.
An automation tool company might decide to implement a freemium model to scale its business. In this model, they offer their product without any charge to people who are not willing to pay. If a company uses conjoint analysis to determine that some of their users value one feature, they might choose to charge for the feature until it becomes less important.
2) Sales & Marketing
When successful companies understand which features consumers value most, they can better target those features with their advertising copy and promotions. Companies should use conjoint analysis when they find that their customers are not as uniform in terms of what they want or value. They can also use it to figure out the most important features to customers and how much they value them. That way, their marketing material can be smarter and more targeted.
For example, a TV manufacturer may use choice-based conjoint analysis to find out if customers value screen size, sound, and picture quality more or if they are looking for better prices. Accordingly, the manufacturer can optimize its sales and marketing strategies.
3) Research & Development
The insights from the conjoint analysis can help companies predict whether new features will be a success and how much market demand there is for new content. These insights can also help determine which products or services to increase or decrease significantly.
One example is a smartphone manufacturer that conducted a conjoint analysis and discovered the most desired feature of its customers is the screen size. With these details, it's safe to say that using the product development budget and resources to develop larger screens is the most logical decision.
How to Use Conjoint Analysis for Business?
By conducting conjoint analysis, you can understand which features your customers value the most. This will help you make thoughtful decisions about pricing, product development, and sales and marketing activities.
You can use the data gathered from conjoint analysis to better understand customer preferences and develop strategies that are most likely to reach them.
For any company, it is crucial to have a clear understanding of how customers make decisions when buying their products or services. Conjoint analysis provides an effective way to gather this information with minimal effort. By using the right software and techniques, you can gain the insights needed to make the best decisions for your business.
The conjoint analysis software allows businesses to evaluate numerous attributes simultaneously and gain valuable insights into customer preferences. Additionally, it helps to identify hidden trends in discrete choice conjoint analysis that may have been overlooked by traditional methods of data gathering. With these powerful tools, businesses can get a clearer picture of customer choices and refine their strategies to better match consumer expectations.
The data obtained from conjoint analysis can be used in a variety of ways to further improve business efficiency. For example, companies may use the data gained to price their products or services competitively, target specific customer segments more accurately, and develop new features that customers will likely find attractive. By employing conjoint analysis techniques, businesses can better understand customer preferences and develop strategies that are most likely to reach them.
FAQs
1) Who invented conjoint analysis?
Duncan Luce and John Tukey published the first source on conjoint in 1964, called 'Simultaneous conjoint measurement: A new type of fundamental measurement'. The paper, which was published in 1971 by Paul E. Green and Vithala R. Rao, is an important approach to the idea of studied judgments. It is "consumer-oriented" because it purports to focus a great deal on how different people respond to the same information.
2) Is conjoint analysis qualitative or quantitative?
A form of quantitative research, conjoint research helps businesses see how their customers feel about different products and refine their product offerings. Respondents can make suggestions on which combination would be the most appealing to them
3) What is the conjoint analysis formula?
For calculating conjoint analysis, you need to use different formulae for different steps to finally find the relative importance of attributes –
Calculate Attribute Utility Range – You can do this by using the formula – Utility Range = Highest Utility Value of an attribute – Lowest Utility Value of an attribute
Calculate Total Attribute Utility Range – Find out the total attribute utility range via equation – Total Utility Range =? Utility Range
Calculate the Relative Importance of Attributes – Finally, you need to find relative attribute importance through the formula – Relative Importance of attribute = (Attribute Utility Range/Total Attribute Utility Range)*100
4) What are part-worths?
Part-worths is a number that compares the influencing factors of various products or concepts. Part-Worths means that each attribute value contributes a portion to the total value of the product. It refers to level utilities for conjoint attributes.
5) What are the advantages of conjoint study?
Conjoint analysis offers several distinct advantages. First, it uncovers the preferences of customers in a realistic, competitive setting. Second, it provides conjoint data and actionable insights to optimize product features, pricing, and market positioning. Lastly, it enables companies to forecast consumer behavior based on their preferences.
Liked this post? Check out the complete series on Market research