Marketing tools are crucial in alleviating, automating, empowering, and optimizing the marketing endeavors of a company. They also play an effective role in product development as well as promotional strategies.
We all know that marketing is the best way of communicating with the company's customers/audience. From offline platforms to digital marketing and social media channels, marketing tools are inevitable.
We are talking about the contemporary business world where every hour, a new start-up or company is placing its foot. There are so many competitors. Every company wants to be on the top.
To be on the top, companies need a really good marketing team that can take care of their company's lead generations, conversions, social media, and sales. Let us dive into the world of marketing tools and understand what they are, their types, and examples. So, let us get started-
What are Marketing Tools?
Marketing tools are those techniques, methods, or software that are used to promote the products or services of a company.
These tools are an important part of real-time marketing. The companies who are willing to reach their customers or the companies who want to connect their viewers and visitors should always get started with these tools to help them.
Companies use various types of social media and digital marketing tools. It can be direct marketing or indirect marketing. It can help in collecting the customer's interests. The marketing tools can also be traditional ways or digital ways-
1) Traditional Ways
The traditional marketing tools include all those advertising methods that are used for a long time. It includes an advertisement in newspapers, phone-directories, magazines. Television and radios are also categorized under traditional ways of marketing. From a small business to established business houses, all opt for traditional marketing tools.
2) Digital Ways
Digital marketing tools include all those methods which have developed in recent times. It includes all kinds of internet-related ways to promote websites or companies. It includes web analytics, search-engine-optimization, blogging, tweeting, social media marketing, email marketing, media-sharing, etc. SEO helps in. It includes digital marketing/online marketing, email marketing, social media marketing, content marketing, social media tools, marketing automation sorts of marketing tools for optimized online presence.
Why are Marketing Tools important?
In the field of business, there is a huge importance to marketing. It is an effective way of attracting and engaging customers.
It helps to build a better reputation for the company. As we all know, being good in business means being good with people. It is all about building relations. So marketing helps in building an honest relationship between the company and the customers. It also helps in boosting sales as well as inform the customers. With several marketing tools, you can generate revenue too.
Since marketing has a major role to play, thus, marketing tools share the same importance. So marketing tools are important because of the following reasons:-
1) Helps business to make the relationship
As already mentioned, business is about making relations. With the help of marketing tools, it is easy to build relationships. For building a relationship, both the means are equal. Email marketing to social media to other digital marketing channels- all are crucial in building relationships.
2) Enables you to stand out of the crowd
The world inside out has become a competitive ground. Every day new competitors arise. To always top the ranking bar, it is necessary to stand out of the crowd. With the help of these marketing tools, it is possible.
3) Offers valuable information
When we see around ourselves, we see people so busy and living a hectic life. They are so busy going through something deeply. They want something easy to read and understand. They need easy information to meet their requirements. They are not looking forward to any misleading offers. They need valuable options in their valued time. Marketing tools work for that purpose only.
4) Easy management of updates and feedback
With the help of marketing tools, it is easy to get a hold of updates and feedback. It is easy to get feedback about the products or the services a company provides because it is very important to know what your customers want.
5) Lets you know your target audiences
It is important to know your target audience so as to change your products and services.
What are the different types of Marketing tools?
As already mentioned that there are various types of marketing tools. Some of these are:-
All these belong to the categories of internet marketing. It is a type of marketing that occurs on the internet. All kinds of online advertisements and search engine optimization fall into this.
Search engine optimization is an important aid in today's times. SEO helps in increasing the position of the company on the search engines. In the same way, social media marketing, email marketing strategy, digital marketing, content marketing, google analytics, marketing automation, etc. are useful in optimizing marketing campaigns.
1) Classified Ads
They are used to generate potential customers: the consumers who are the willing buyers of the products. It helps in directing the people to a new webpage or website.
2) Social Media Marketing
Social Media is a platform where growth is quite fast. It is very helpful in building interactive relationships. It can be for mass or even one to one. It helps in generating content and reaching people. The company can also know about engaging content and can help in providing their best services. It includes social media platforms like Facebook, Instagram, Twitter, YouTube, Reddit, and much more. Social media marketing optimizes brand presence quite effectively.
3) Surveys
It is one of the major marketing tools. With the help of surveys, it becomes easy for the company to understand the customer's interests. Surveys help the company to know the growth of your company and your competitor's companies.
4) Direct Mail
It is a mail campaign launched as a marketing tool. It is useful because it hits the target customers and reaches them. It has been effective for a long-long time. It is also called "mailshots" and is sent to potential customers.
5) Video Marketing
It is one of the effective tools in the marketing world. People see videos and talk about them. More than graphical representation or written formats, people tend to memorize videos more. So using a platform to create videos and then market through them is one of the best ways of reaching the audience.
6) Customer Loyalty Programs
It is common to say that existing customers can help you grow more at times rather than new customers. The approach towards a new customer is more costly than the old ones. So brand loyalty is of utmost importance. It also saves you time. Thus, getting customers who are going to stick with your brand or company is something more encouraging. It is a better strategy in terms of marketing.
7) Automation
To provide a better personal experience to the customers, some companies perform marketing tasks many times. So automation marketing helps in automating various marketing activities. Marketing automation tools play a crucial role in optimizing social media, digital marketing, email marketing, sorts of campaigns.
8) Google Analytics
It is a web analytics marketing tool used to track the company's website traffic and activities. It issued in analyzing a deeper view of the visitors and landing pages performance. The number of visitors plus their locations can be easily tracked with Google Analytics. Most companies use this effect as a tool for marketing. It provides key stats related to digital marketing.
9) Event Marketing
It is a way of reaching potential customers. Some companies hold event programs. Some small gatherings, conferences, parties are held to build relationships. Companies want to connect and communicate with their customers and thus hold events.
10) Team Communication and Collaboration Tool
This is an important tool for the marketing team's smooth and convenient functioning. With the help of this tool, the employees can communicate and share reports and updates. It makes it easy to interact and engage in a well-scheduled and productive manner.
11) Internet marketing
It revolves around the marketing that just occurs on the web. SEO, SEM, online advertising, etc. are associated with marketing. Many practices and tools are integral to successful online marketing campaigns. From increasing a site's reach to optimized Search Engine Ranking, internet marketing is one of the most contemporary marketing tools. It includes social media management tools, email marketing tools, etc that are easy to use for optimized presence.
12) Media monitoring tools
Such tools you need for scanning the web and updating you about the conversations that are favorable to your brand, product, or service. They do scanning of different media on the web to find out what people are saying about you. It is crucial in real-time Online Reputation Management as well, plus they also include media management tools.
13) Promotional Marketing Tools
It includes brochures, press kits, business cards, websites, informational videos, merchandise sorts of promotional items. They are useful in building brand awareness and increasing sales. Such tools can offer real-time solutions.
14) Traditional Marketing Media
This tool incorporates billboards, newspapers, banners, magazines, radio, television, telephone directories, sorts of mediums. You must have noticed paid print advertisements, news releases, commercials, etc. They also come in this category, and all of these are crucial in reaching high numbers of people to ensure optimized lead generations and conversions.
15) Email Marketing Tools
There are many easy to use tools for optimizing email campaigns. It also alleviates content creation for email campaigns. They optimize inbound campaigns and optimize lead generation strategies.
Examples of Marketing Tools
1) Customer Relation Management Tool
HubSpot CRM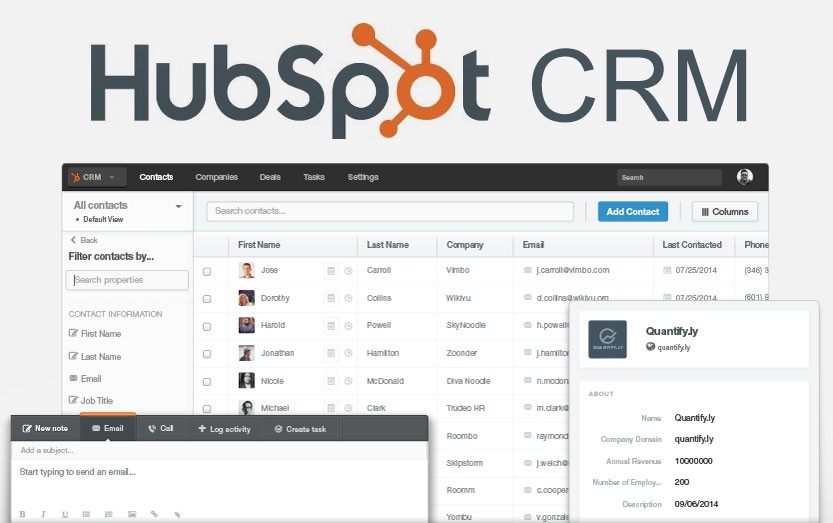 HubSpot CRM is effective in automating the tasks of Customer Relation Managers in much less time. They help to accomplish more deals, conversions, and effective customer service with less data entry procedures.
Other CRM tools for marketing automation, social media, and digital marketing campaigns are-
Salesforce Sales Cloud
Zoho CRM
Infusionsoft
Hatchbuck
NetSuite CRM+
Infor CRM
2) Online Advertising Tool
AdStage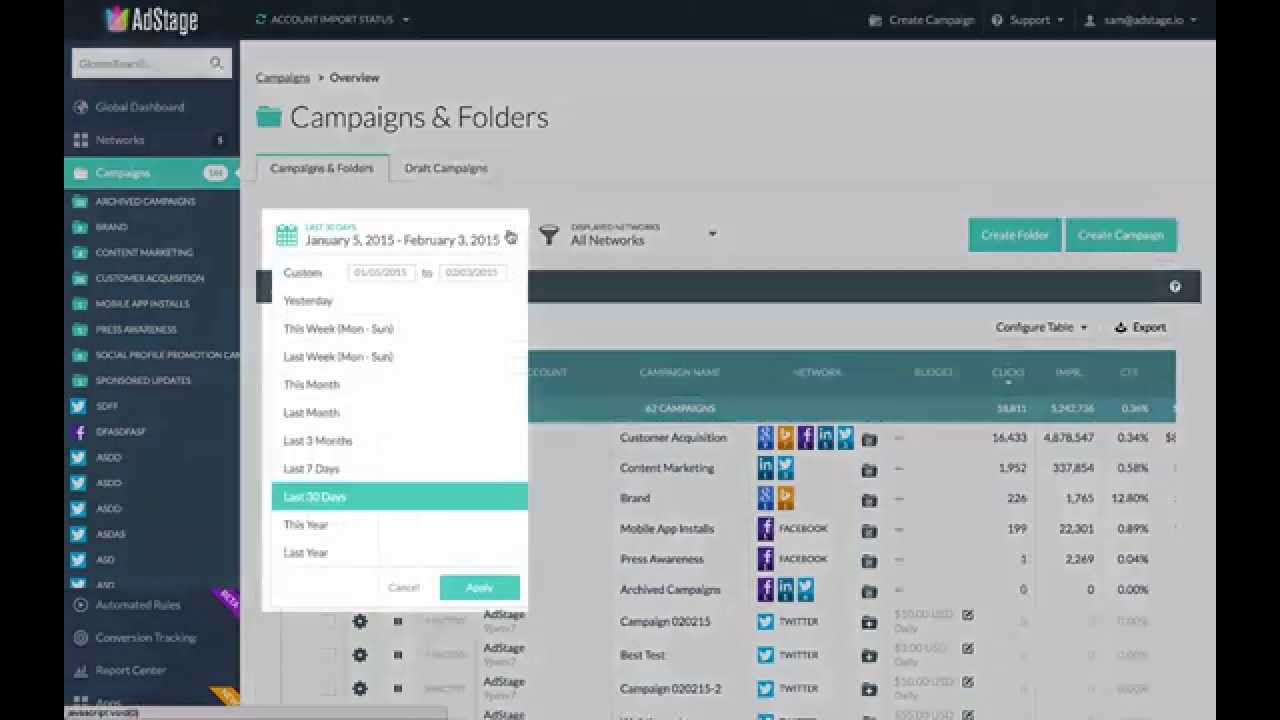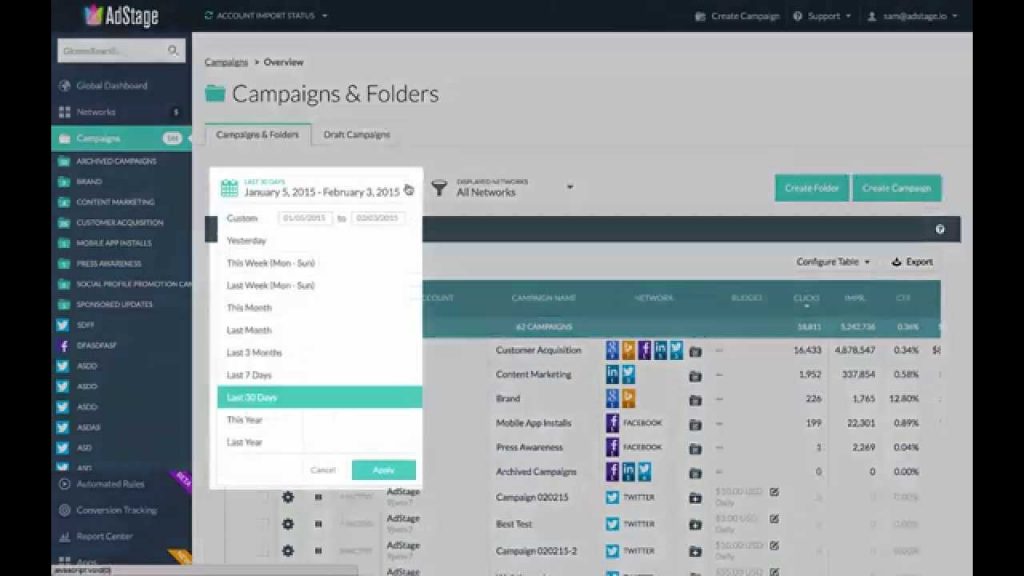 As one of the best advertising tools, it eases the handling and management of all the PPC ad campaigns you're running. It automates, makes, and channelizes your ads across all the major PPC channels, and hence it permits you to have details regarding your outcomes. With visual highlights, content creation, and amazing automation abilities, it is an unquestionable requirement for PPC marketers.
3) Social Media Tools
It is the ideal marketing tool for advertisers and marketers to develop their image on Instagram. It tells you what is working in your favor and what is not favoring your brand on Instagram. You can opt for this Instagram Marketing tool to optimize your Instagram presence via key analytics and automation feature sets.
Other Social Media Tools for Social Media Management are-
Biteable
Buffer
Buzzsumo
Missinglttr
MeetEdgar
Hootsuite
Mention
4) SEO Tool
Ryte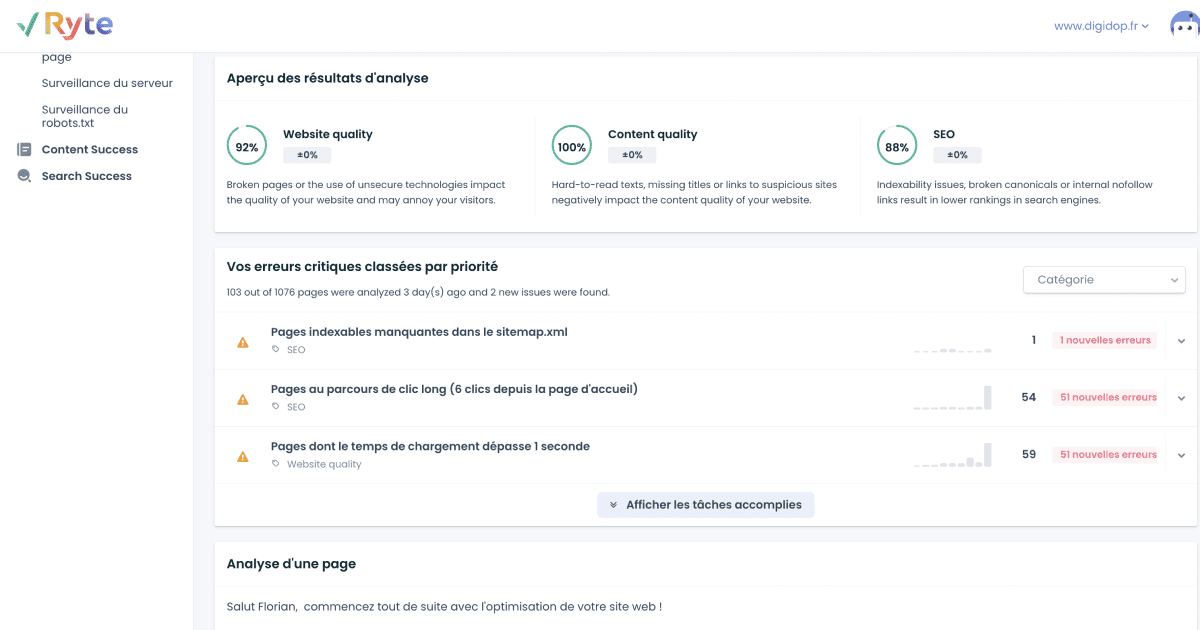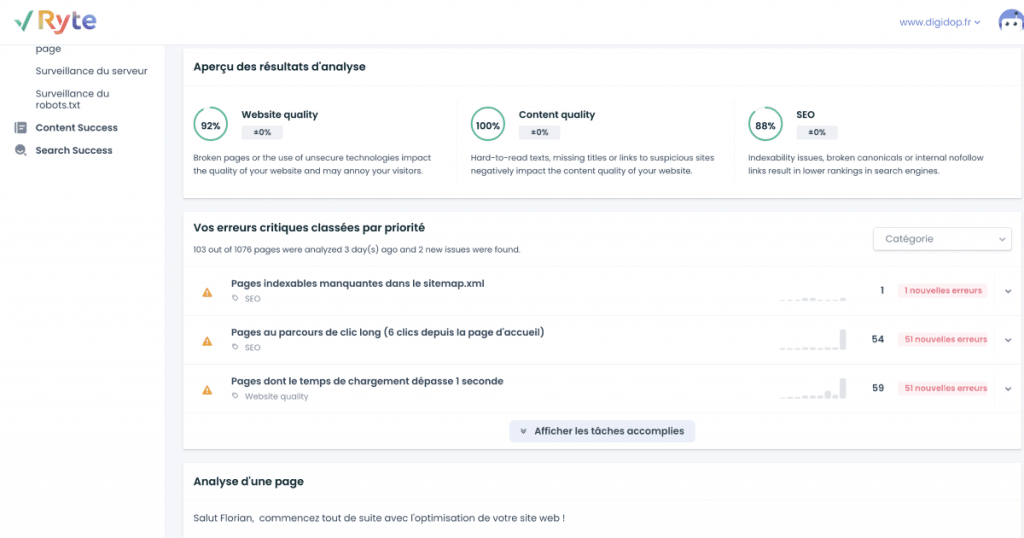 Advertisers and marketers need internet marketing tools to find out the best keywords to rank for, as this helps them in creating a more effective content that meets their objective. It is the ideal tool for SEOers and marketers. It ensures landing page optimization, plus optimizes the process to bring traffic to your website. It makes it easy to optimize landing pages.
Other SEO Tools are-
Answer The Public
Google Keyword Planner
Ahrefs' Keyword Generator
Google Trends
Keyworddit
5) Video Marketing Resource
Wistia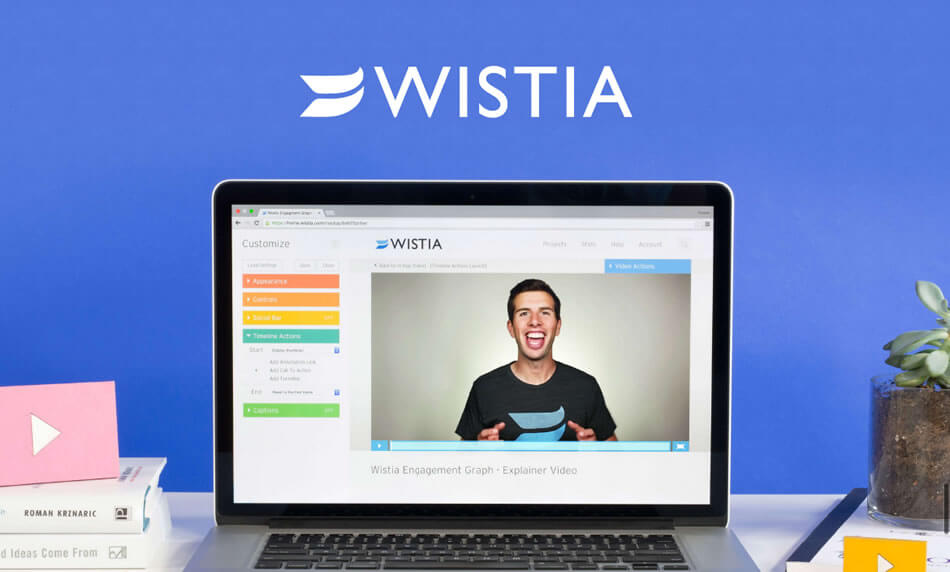 It is an incredible video hosting tool that permits marketers to have their videos on their site without any ad. It comes up with smooth playback and a responsive player. It additionally assists you to demonstrate the ROI of your video marketing endeavors by offering you video details, metrics, and key data to tweak your video strategies after some time. It will help you to take your video content creation to the next level.
6) Event Marketing Resource
Eventbrite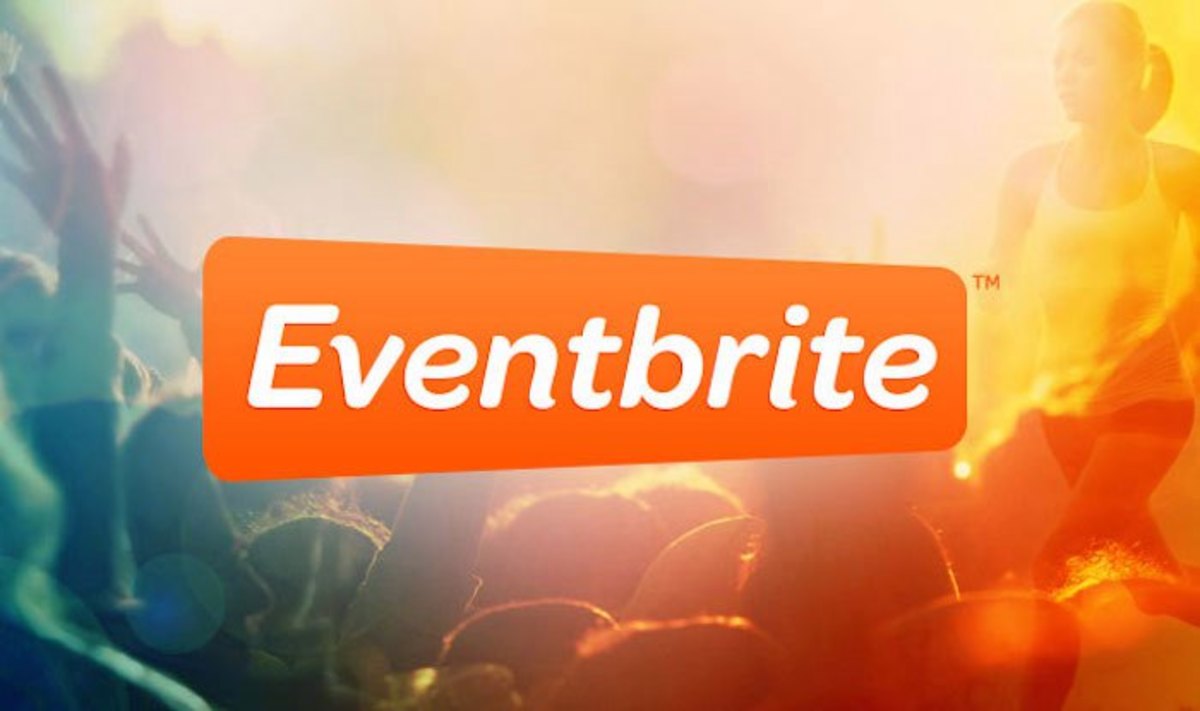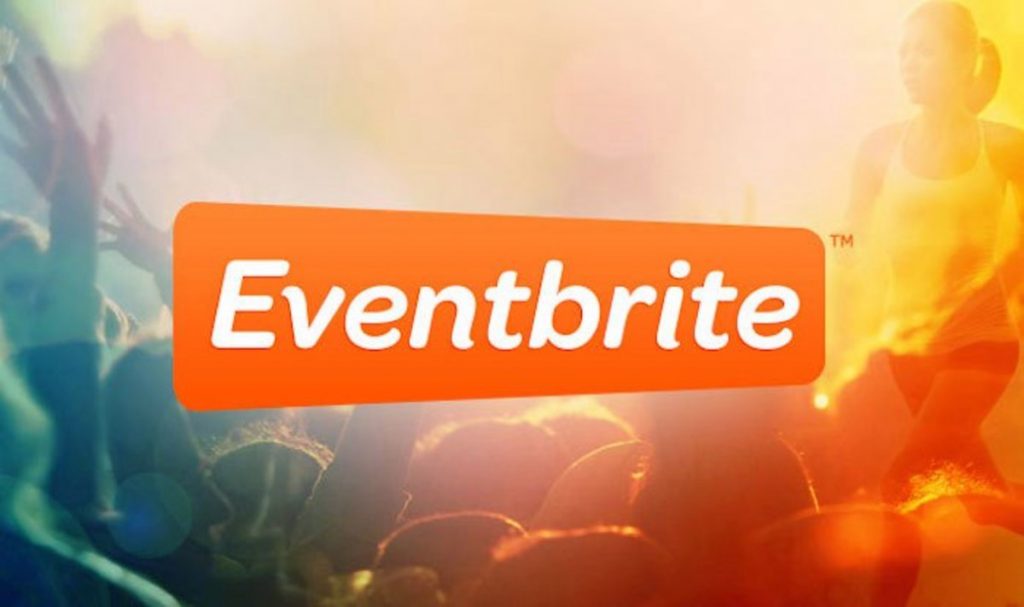 It is an effective marketing tool that advertisers and marketers use not only for managing the logistics of an event but also for promoting that event. It allows you to make a landing page for your event, plus it also enables you to set up your payments and ticketing system. It is in every case free in case you're facilitating a free event.
7) Lead Capture and Conversion Resource
HubSpot's Free Plan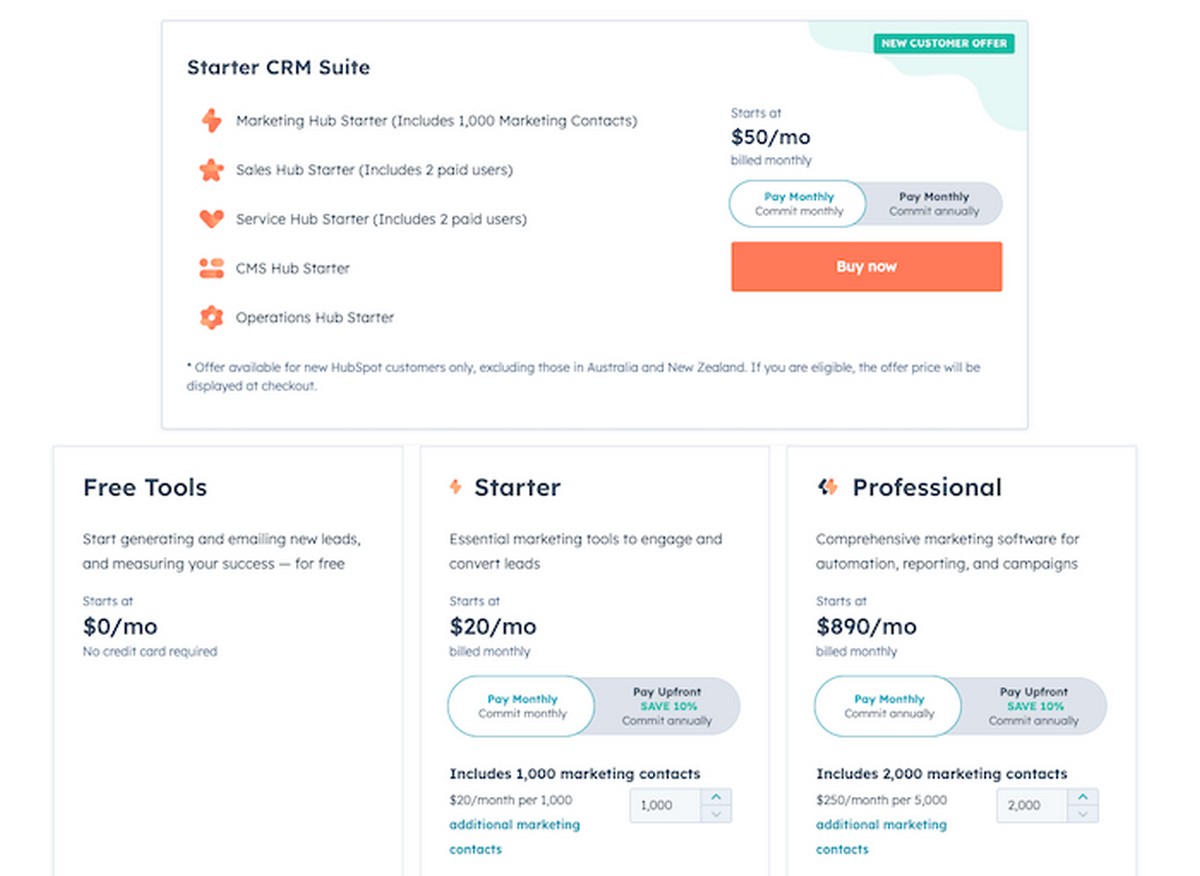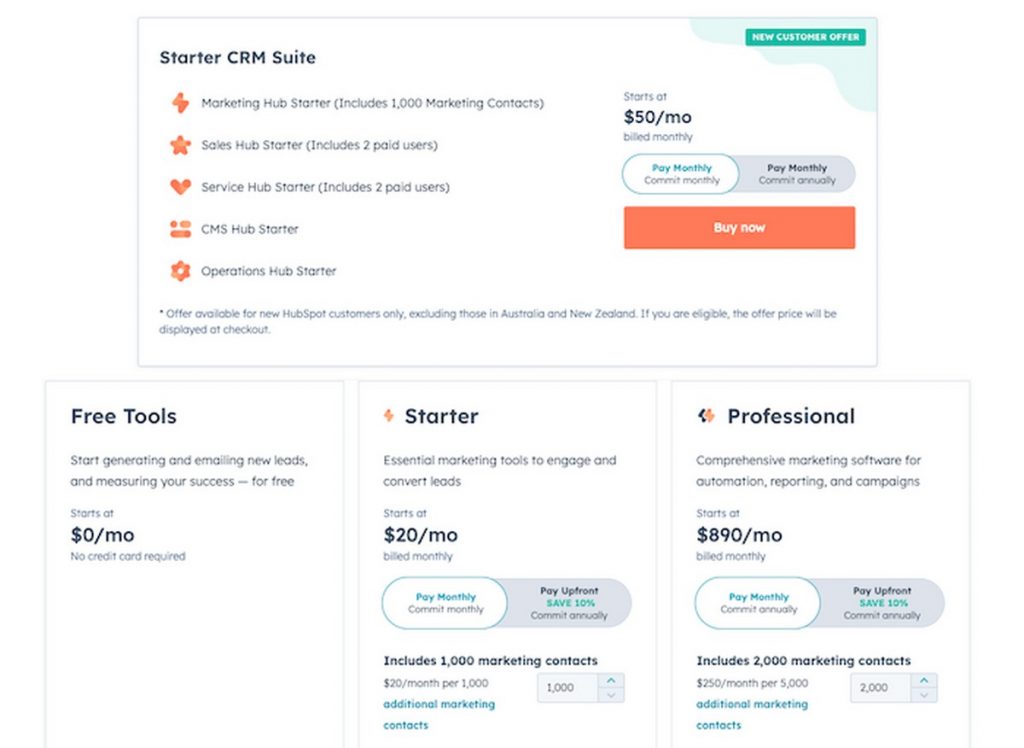 The free marketing tools of HubSpot can help you channelize and manage marketing endeavors in an automated manner. The second a lead shares their email, it will let you know what their identity is, the place where they work, and what pages they visited straight away.
At the point when they see an offer or check your price, it lets you be prepared to catch up immediately. HubSpot Marketing tools also offer amazing analytics info that will let you study what's working and so forth – like which traffic sources or content are driving the most conversions. It is one of the most effective ways to discover what inbound marketing campaigns can accomplish for you.
Final Thoughts!
We are living in a competitive world. Here everything is a race, and we are the legit participants of that race.
Everyone is here to win, and nobody is interested in facing loss. People nowadays are busy with different types of challenges. They want to be in the front seat all the time. With the sheer passage of time, competition has increased.
Any stream or field has increased competition. Everyone wants to rule. But it's not possible. However, you can always try to be on the top. The race is all about being on the top and being the best. If people get to know what you are, in no time, you will start getting offers.
Marketing tools help us with getting recognized. It is the best feature available for business companies to flourish. This was all about the Marketing Tools of the business world.
How effective do you consider marketing tools in optimizing business reach, lead generation, and conversions?
Liked this post? Check out the complete series on Marketing