Customer retention is an essential goal for any business aiming to succeed. The longer you can maintain customer loyalty, the more likely they are to stay and make future purchases. To guarantee customer engagement and devotion, businesses must develop customer retention strategies that entice existing customers to remain loyal.
One of the popular examples of customer retention strategies can be loyalty programs. Businesses offer exclusive discounts or reward points to loyal customers that purchase from them, incentivizing their return. This type of reward system incentivizes customers to stay loyal, fostering repeated patronage and a strong connection with the business.
What is Customer Retention?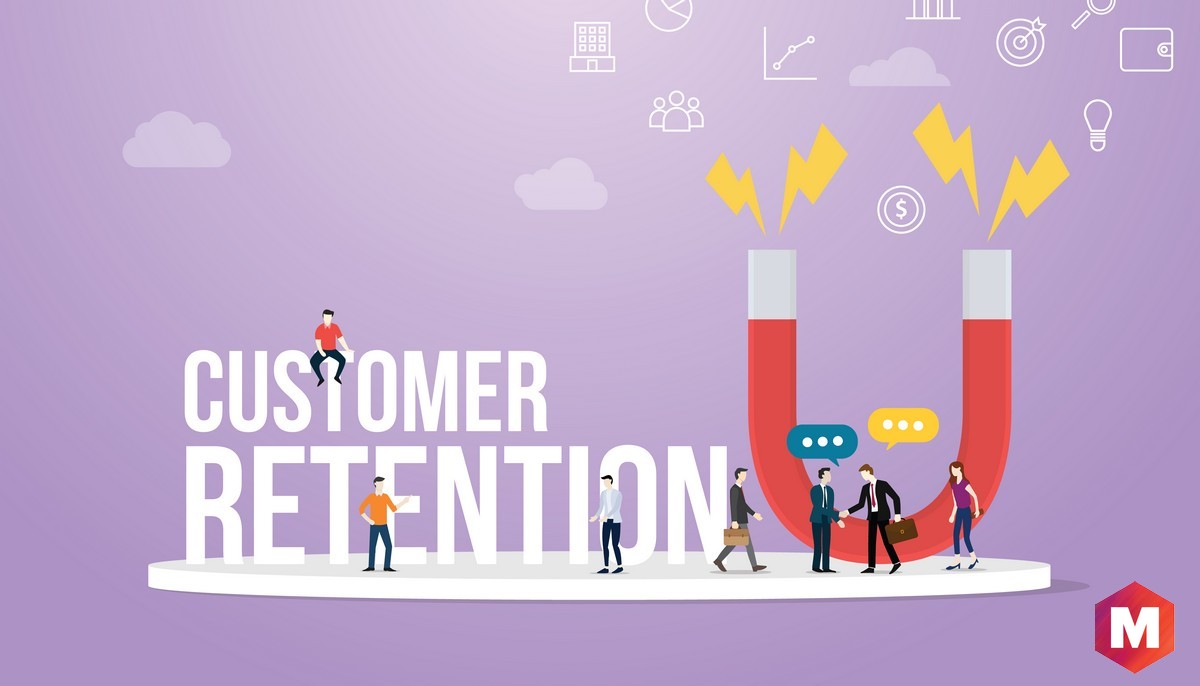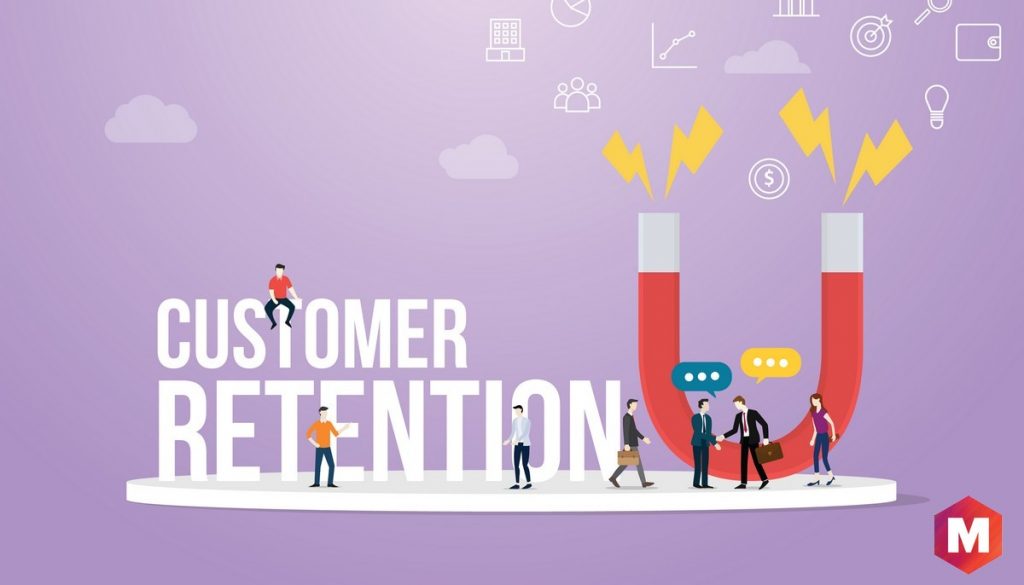 Customer retention is an indicator of success, as it measures the loyalty of customers and evaluates how successful a business is in retaining customers. To ensure customer loyalty and increase retention, companies employ multiple strategies to decrease the number of customers lost during a set period. In addition, they'll strive to enhance user experiences so that their customers remain loyal.
Retaining customers is the practice of helping an individual or business become repeat customers by providing exceptional experiences with your products and services. By striving to create long-term relationships, you can build brand loyalty that leads to loyal customers returning time after time.
Why is Customer Retention Important?
Customer retention strategy is a key element of any flourishing business. When customers come back time and time again, it attests to the trustworthiness of your brand and their satisfaction with what you have to offer, often resulting in referrals from existing customers. Additionally, customer loyalty curtails the amount of money and effort needed for acquiring new clientele.
Keeping existing customers is the strategy behind customer retention and making them devoted buyers. Our ultimate objective is transforming initial purchasers into long-term patrons, in addition to optimizing their lifetime value (LTV). Some of the upsides that make having a good customer retention rate very important are –
Amplified Average Order Value (AOV) – Studies demonstrate that faithful customers have a 23% higher chance of parting with money for your products or services compared with the average customer.
Makes your customers your Brand ambassadors – Yotpo affirms that a whopping 60% of customers share their loyalty to brands with their family and friends. With word of mouth spreading quickly, customer retention is essential for any profitable business.
Cost savings compared to customer acquisition can be substantial – According to Econsultancy, 82% of businesses are aware that it is more cost-effective to retain customers than acquire new ones; yet most companies spend much larger sums on acquiring instead of nurturing their existing patrons.
Maximized profits – Research demonstrates that a slight 5% rise in customer retention can deliver an impressive 25-95% bump in profits, as existing customers happen to account for 65% of the company's total revenue.
Best Customer Retention Strategies & their Examples
1. Embrace customer service tools to optimize your client experience
Customer service tools such as chatbots, customer feedback surveys, and automated emails allow companies to provide seamless support, collect valuable feedback, and stay ahead of customer issues.
Example – By leveraging chatbot technology, you can effortlessly direct customers to the correct website page or provide them with self-service solutions. Moreover, customer feedback surveys empower companies to track customer satisfaction and modify their strategy according to this data.
2. Own up to your mistakes and offer an apology
Despite all efforts, mishaps are inevitable in business. Be it a data breach, an outage, or even a billing error – these can lead to potential customer loss if not managed well. Therefore, you must take the right steps to address any mistakes and minimize their impact on your customers.
Example – In the unfortunate event of a data breach, companies must take responsibility and quickly notify their customers. They should apologize for any disruption caused and supply resources to rectify it, as well as detailed decisions taken to prevent future breaches.
3. Ignite enthusiasm for your mission!
At times, it's not strategies and approaches that cultivate brand loyalty but rather its core identity — the mission or purpose behind a company.
Example – Companies like TOMS and Warby Parker have a noble mission to give back, whereby customers can be part of something greater than the product they purchase. With each item bought, these brands donate shoes or eyeglasses to those in need. By shopping with such companies, we are not only rewarding ourselves but also society as well.
4. Give your customers the ultimate level of ease and comfort
It's essential to ensure that your product or service is easily accessible, regardless of the sector your business operates in.
Example – Enabling easy onboarding with a download link, providing helpful resources and guides, and making sure the customer journey is smooth are all great ways to ensure convenience for your customers.
5. Take personalization to the next level
Personalization is all about placing people first. Not only do customers want to be addressed as individuals and receive tailored service, but they also desire to experience the humanity behind your company.
Example – Surprise your customers with a heartfelt handwritten note when they make an order, or curate custom coupons and offers based on their previous buys – it will undoubtedly show that you appreciate them!
6. Have meaningful conversations with your customers
It's essential to any business that they both tune into and interact with their customers. By doing so, you will gain direct insight into what exactly is working in your strategy or where it needs improvement.
Example – To directly engage with your customers and gain insight into their needs, why not host a webinar or online session? This will provide you with invaluable information to make more informed decisions while helping you connect on an emotional level.
7. Differentiate yourself from your competition and stand out in the crowd
Establishing your distinct reputation and standing out from the competition can help you acquire authority in your field.
Example – You could create unique services or develop revolutionary products that your competitors don't provide. In addition, it is essential to build a well-structured website with superior visuals, content, and an effortless customer experience.
8. Offer subscriptions to amplify the user experience
When customers receive preferential treatment from your business, they are more likely to become loyal purchasers who continue buying from you in the future.
Example – Provide subscription deals with discounts and additional benefits. This will not only elevate the value for your customers but also motivate them to remain loyal to your enterprise in the long run.
9. Tap into experiences to ignite joyful emotions
For many years, companies have used experiential marketing to create an emotional connection with customers and draw out their positive emotions. Attempting this engagement strategy is surely worth a try!
Example – You could organize a fun event, put together an interactive quiz, or launch a meaningful competition. All of these will help your business stay in the minds of customers for the long term.
10. Leverage the power of social proof!
Unlike traditional branded advertisements, customers are more likely to place their trust in the opinions of family, friends, and other regular people. This means that sometimes, word-of-mouth advertising is far more effective than any commercial or paid content you can create.
Example – Leverage the power of social proof and bolster your business's reputation in the marketplace by prompting your customers to write reliable reviews, share photos or post about it on their social media channels, and even initiate a referral program.
11. Educate your target customers
Never stop striving to close the deal even after your customer has already purchased from you. As competition continues to increase, provide something of great worth – like a complimentary educational program – and go above and beyond to remain ahead of the game.
Example – By enrolling in HubSpot Academy's free courses on marketing, sales, and customer service, not only do customers gain valuable knowledge and skills but they also form a closer bond with HubSpot and its products.
12. Deliver aid to customers on the most relevant and effective channels.
To gain insight into your customers and have a better understanding of their behaviors, it is essential to know where they use your product the most and how they prefer to receive customer support.
Example – Through customer surveys and feedback, you can identify which communication channels they prefer–email, live chat, social media platforms, or phone. With that knowledge under your belt, you'll be able to provide the utmost level of service by offering them assistance on their desired platform quickly and efficiently.
13. Appreciate customers by thanking them and use customer loyalty programs
A well-timed "thank you" to your customers demonstrates that you value their business, resulting in a more lovable and unforgettable brand. Enticing customers with rewards, discounts, and promotions is an incredible incentive that can significantly increase customer loyalty.
Example – Make sure to express your gratitude on special occasions, like holidays or birthdays, with wonderful thank you cards. Offer discounts and complimentary products for loyal customers who continue to support your brand – not only will it make them feel appreciated but also help build an ongoing relationship of trust and loyalty.
14. Make use of referral programs
Referral marketing is an economical approach to enhancing customer loyalty. Present customers can help draw in new customers by utilizing their networks and associations. Using gamification and referral programs are quite useful ways to improve customer retention.
Example – AirBnB incentivizes its current customers to refer others with reliable credits, allowing them to book dream stays without paying a penny. Referrals can be an extremely effective way of acquiring and retaining clients – why not take advantage of this awesome offer?
15. Offer incentives before customers decide to end their membership
To maintain customer loyalty, it is essential to be proactive and have an effective plan in place to ward off potential cancellations.
Example – By providing discounts, free trials, and other enticing experiences to annual subscribers who renew their subscriptions before their expiration date, Adobe has been able to secure customer loyalty while continuing to attract new ones. This strategy not only ensures the retention of customers but also boosts your brand's reputation in today's saturated market.
In addition to these customer retention strategies, you should also try to –
Build trust with your existing customers
Become part of your customer's lifestyle by meeting customer expectations
Create a community around your product or service to increase customer retention
Incorporate customer loyalty program in your customer retention programs
Collect customer feedback, use gamification and make things interesting, etc.
Understanding Your Customer Retention Rate (CRR)
Before you can begin to put Customer Retention Strategies into practice, you must become aware of your CRR or Customer Retention Rate. This figure is the proportion of customers who remain loyal and keep purchasing from your business over a certain timeframe.
Customer retention rate is the opposite of customer churn, which reflects how many customers a business lost in any given amount of time. Your Customer Retention Rate (CRR) reflects the rate at which your business holds onto its existing customers within a certain period.
How do you calculate your customer retention rate?
To figure out your customer retention rate, use this simple formula –
CRR = [(E-N)/S] x 100

OR

CRR = ((Customers at end of the period – New customers during this period) / Total customers at the start of the period) x 100
How to Retain Customers in the Long Run?
If you'd like to retain customers and build loyalty, simply follow the steps outlined below while using the aforementioned customer retention strategies in between –
1. Understand Customer Needs
If you want to keep your customers loyal in the long run, the essential first step is understanding their wants and needs. You must have a deep appreciation of who they are and what they expect from your business. To remain proactive with customers, organizations must regularly conduct surveys, observe customer feedback and initiate contact via social media or other channels.
2. Promote Customer Engagement
To strengthen customer loyalty and make your business stand out, you need to create meaningful opportunities for engagement. Survey customers about their experience with your brand, provide incentives through contests or promotions, and host engaging events – these strategies will not only help keep existing customers coming back but also spread awareness of your company!
3. Offer Value
Make sure customers have a compelling reason to return to your business. Offer them something unique that they can't find elsewhere, such as attractive incentives, discounts, rewards, and loyalty programs – it's the perfect way to foster customer retention!
4. Remain Customer-Centric
Retaining your customers is rooted in being attentive to their necessities. Concentrate on offering top-notch services and products that fulfill their requirements, backed by a customer service team who are available 24/7 to address any inquiries or problems.
5. Monitor Customer Experience
It's crucial to remain mindful of how your customers view their experience with you. Conducting customer experience surveys is a great way to get feedback and gain insights into what they truly appreciate—or don't—about your business.
Customer Retention Rate Metrics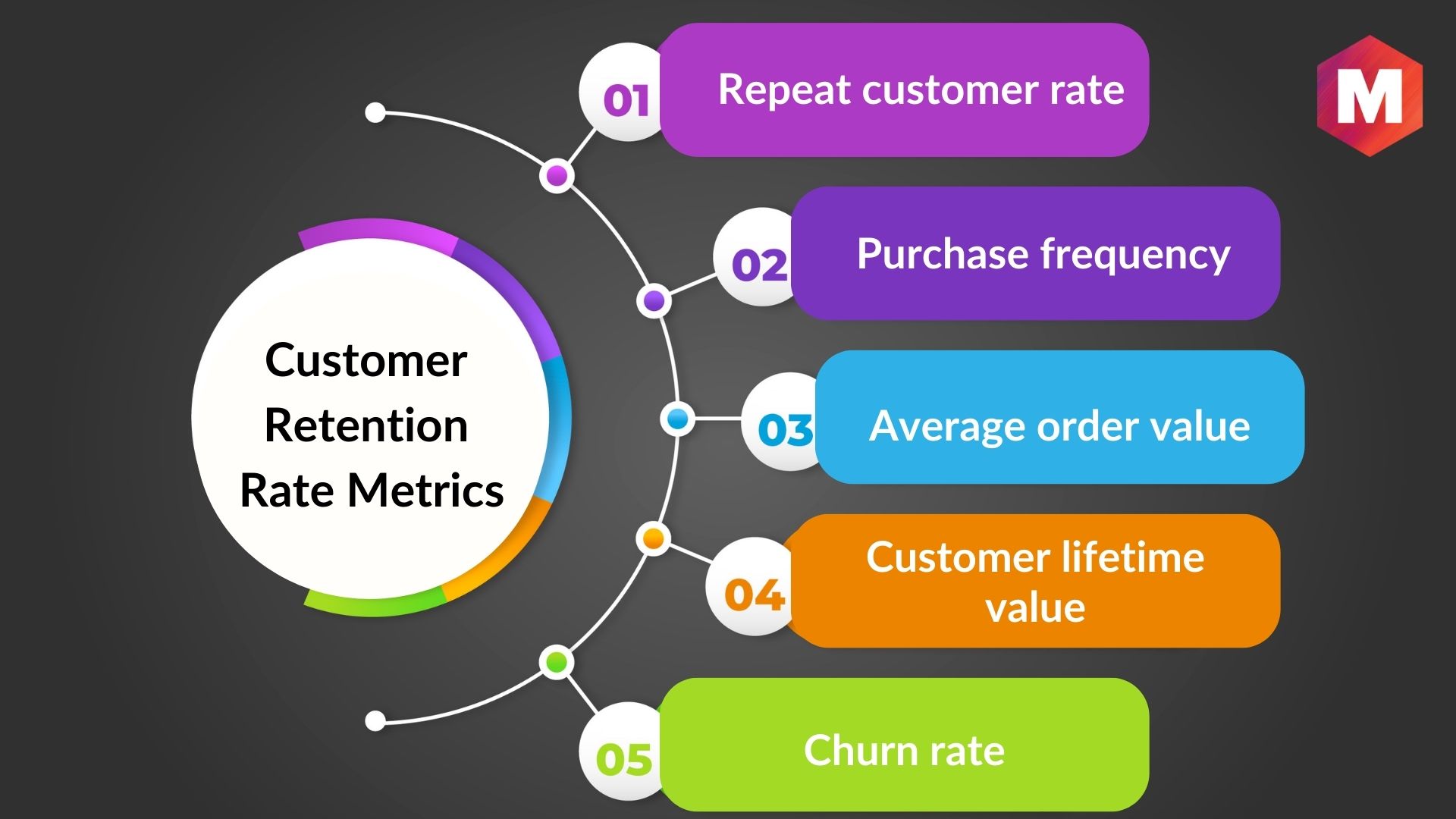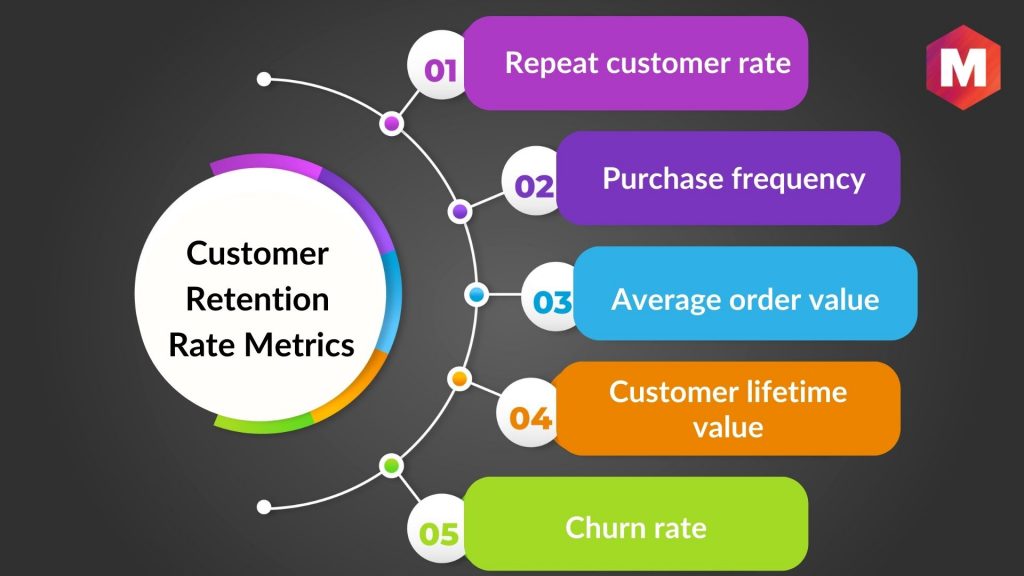 1. Repeat customer rate
Maintaining customer loyalty is key to any successful business, and the repeat customer rate offers valuable insight into how many customers are willing to come back for more. This metric measures the percentage of customers who return after making their initial purchase with you.
Formula – Number of Customers That Purchased More Than Once / Number of Unique Customers
2. Purchase frequency
By tracking customer purchase frequency, you can gain insight into their loyalty and how often they return to buy from your store.
Formula – Number of Orders Placed / Number of Unique Customers
3. Average order value
Your store's average order value is the sum of money spent by each customer per purchase.
Formula – Total Revenue Earned / Number of Orders Placed
4. Customer lifetime value
Customer value is the essential component of this puzzle, as it allows you to comprehend how much each customer truly contributes.
Formula – Customer Value = Purchase Frequency x Average Order Value
5. Churn rate
Customer churn rate is the percentage of clients who have ceased utilizing your services within a certain period.
Formula – Churn rate = (Lost Customers ÷ Total Customers at the Start of Time Period) x 100
Customer Retention Examples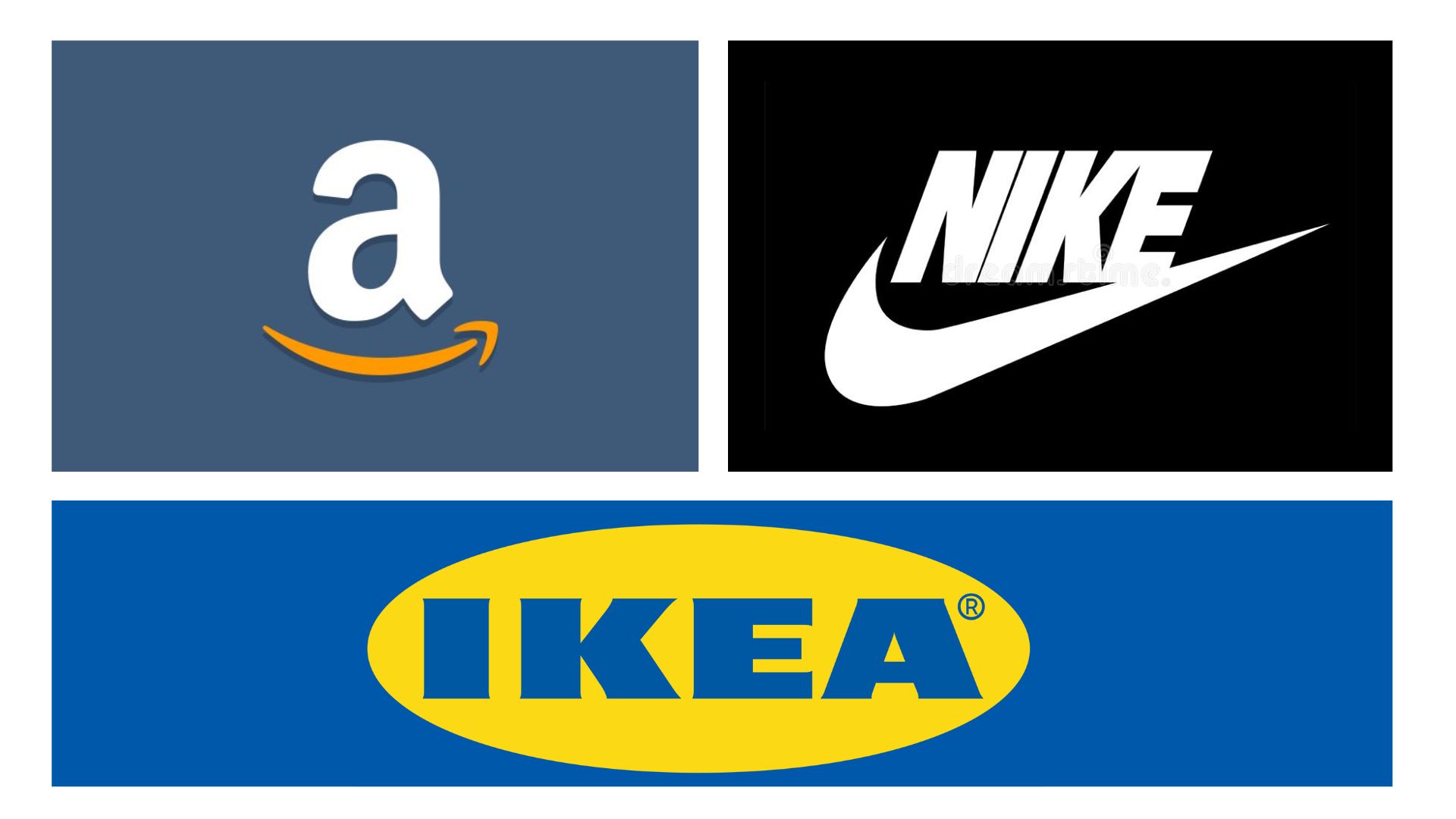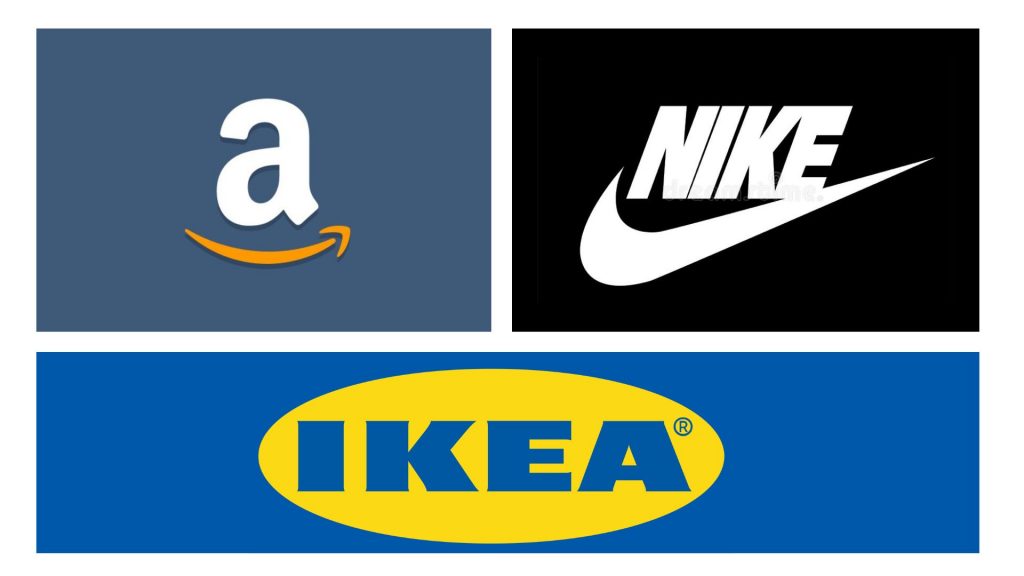 1. Amazon Prime Loyalty Program
Amazon has developed a loyalty program that instills enthusiasm and engagement in its customers. With free shipping, discounted products, streaming services, and more, Amazon has discovered an unbeatable way to keep its loyal customer base coming back for more!
2. Nike Omnichannel Customer Service
Nike has revolutionized the customer service experience with an omnichannel approach. From social media to online chat, and email to in-store services, customers can get help from this iconic brand at every step of their journey – ensuring no one is ever left feeling unsupported or unheard.
3. IKEA Create Interactive Educational Content
IKEA has created a plethora of interactive content, video tutorials, and educational resources to help customers make informed decisions about their product choices. This not only helps them stay engaged with the brand but also encourages repeat business for IKEA. By arming its customers with knowledge and guidance, IKEA is paving the path for long-term customer loyalty.
Use Customer Retention Strategies that best serve your business goals!
Depending on the nature of your products and services, as well as the requirements of your customers, devising a customer retention strategy tailored to your business will be critical for success. Not every approach will be beneficial to all companies, yet as long as you focus on the customer's wants and needs they'll make sure to come back for more.
Frequently Asked Questions (FAQs)
1) What is Customer Retention?
Companies use customer retention strategies to cultivate loyalty and preserve their customers' interest so that they stay engaged with the business in the long run. These practices are designed to limit customer churn and foster a bond of trust between clients and businesses.
2) What are the 8 Cs of customer retention?
To truly keep customers engaged and foster loyalty, businesses should strive to hit the 8 Cs – Clarity, Convenience, Choice, Communication, Cast, Control, Consistency, and Connection.
3) What are some Customer Retention Strategies in service marketing?
Customer retention strategies in service marketing should include customer loyalty programs, personalization and customization of services, customer feedback surveys, upselling and cross-selling, reward programs and incentives, customer segmentation, and loyalty rewards. Moreover, outstanding customer service is integral to maintaining customers in the realm of service marketing.
4) When to focus on Customer Retention?
Customer retention strategies should always be a top priority. While it is important to acquire new customers, retaining existing ones can help your business grow and flourish in the long run. Depending on the stage of your business development – whether you're just starting, gathering momentum, or sustaining consistent growth – will greatly determine what kind of attention you should focus more on customer acquisition or retention.
Also, read – Customer retention | Reducing customer defection | Cost of lost customers | Customer lifetime value
Liked this post? Check out these detailed articles on
Topic of Customer Management
Alternatively, check out the Marketing91 Academy, which provides you access to 10+ marketing courses and 100s of Case studies.