Personal attention is a great way in showing your appreciation to a customer. Listening attentively, showing concern are sure signs of caring that brings the customers back again and again.
It is reflected in the proactive approach of the clients that show their willingness to make a purchase from your company. In order to retain customer loyalty, you have to realize their worth and dedicate effort and time to bring them in your fold. Impeachable and sincere services have the ability to accomplish and retain customer loyalty towards your organization.
1) Maintain regular contact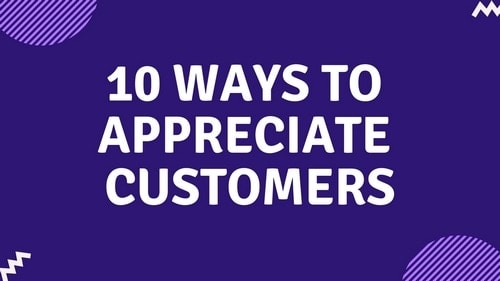 Out of sight and out of mind is a sad truth that a company needs to understand. Appreciate your customer by becoming their partner. Selling a product once is not good business, making him come again for repeated services surely is. A company needs to find ways and means to influence the customers in its direction.
You can send periodic emails and messages to remind them about upcoming sales or important events. This will create a personal bond that a customer will appreciate. When a customer has made a purchase you can send a thank you message. A handwritten note is personalized attention that has an old-fashioned charm of itself. You can write some simple and sincere words that would communicate positively. Your meaningful message will make him a life-long customer and bring his business back to you.
2) Make it personal
Appreciate customers by giving them your full attention. It is the simple things that matter most. Show that you value them as a person and not just the transaction that they are intending. Make eye contact and greet them with a warm smile. If he is a regular client and you remember his/her name then greet them accordingly.
It will make them feel happy to receive such warmth. Do not be distracted by your surrounding simply deal with them as per their requirements. Individual attention is a great way of retaining brand loyalty amongst customers. One thing an employee must remember is not to hover and disturb when the client is making a personal choice it will then seem like intruding. If you are dealing with an online client, then guide him towards proper channels to help him.
3) Reward the socially active customers
Followers on the social media portals require an additional acknowledgement as they prove loyal customers with their connectivity and feedback. It is easy to gain followers and maintaining the connection by offering rewards and incentives as a surprise at periodic intervals. Encourage customer testimonial and reviews on your website so that they remain attached to the company.
Social media has become one of the most prominent tools in recent years and has a long list of followers. It is a strong and powerful communication medium that has a very wider reach and is proving useful in garnering loyal customers. You can start a special loyalty program meant only for people active in this medium. Award them points and upgrade their cards when they share a post on your site or write a review.
4) Give them VIP treatment
Appreciate customers by making them feel VIP. Give them literally a celebrity treatment that will make them feel good and special. Appeal to their vanity and give them your personal assistance. Greet them, with a smile and try to be of service if they want something special. It is not a gift that matters but the inclination behind it that matters most.
You do not have to spend a much greater amount; instead, a personalized token will matter much more. Offer exclusive deals on special days meant only for VIP customers, Order a bunch of flowers on special days, send a thank you note for any customer testimonials or simply order a cake to the biggest customer of a particular brand.
5) Honour your customer by giving a charity gift
Charity gifts are a great way to make a worthwhile contribution to society. Make a selection of your loyal customers at the end of a year and inquire about their favourite charity. Make a contribution in his name and ask him to give it to that charitable organization in every body's presence. If a customer is already involved in a charitable trust you can match his donation to show your appreciation. This makes a positive impact on the mindset of a customer and is a great way to show respect and appreciate customers.
6) Offer a loyalty program
Appreciate your customers by offering them their due rewards via loyalty programs. If done right it can be a boon for the company. Do not create a common program that will not be able to hold the interest of the customers. Think something out of the box and implement it to gain customer loyalty. Offer rewards, incentives, upgrades, discounts, vouchers, gifts and tickets to special events. Make sure to offer meaningful rewards if you want them to retain an interest in your company's loyalty program.
7) Start a referral program
Your company already has a loyalty program in place to reward your loyal customers. How can you make it more rewarding? Mouth publicity is an important marketing tool in any business and a satisfied customer has already proved to be a valuable brand ambassador.
When he refers the brand or product to friends, family and acquaintances there is a 60% chance of that person of at least browsing the content and making a purchase. Why not start a referral program that will reward your loyal ambassador by offering him free products, store credit, incentives, vouchers and more loyalty points.
8) Ask for their feedback
Feedback is an important part of any organization. It gives the employers an honest chance to get to know about their mistakes and rectify them in accordance with the wishes of its esteemed clients. Encourage feedback from every client. Give an incentive to the hesitant ones and encourage those who are ready to voice their opinion.
Some organizations have included a feedback column in their contact form that is mandatory. Few lines can have a great impact on the perspective of a company. It is better to let the customers know the importance of feedback so that they can give their honest opinion. Appreciate customers by giving them their due if any suggestion has helped the company in better efficiency.
9) Offer an upgrade
Most companies have a loyalty card in place for its customers so that they can earn points on purchases and redeem them periodically. It is a great way to bring them back to your outlet. One way to appreciate customers is to upgrade his card as a spontaneous action to the next level. Create your database in such a way that as soon as a customer reaches a milestone in the purchase you will be informed. This will clue you to the loyalty of a customer.
You can then upgrade his card as a surprise. This innovative approach will win brownie points for your company. The upgrade can include an extra discount on the already discounted item, an additional service along with the previous one or a special incentive only for preferential clients.
10) Send personalized gift
Each and every one of us loves gifts so why not your customers. If they are custom-made they become more meaningful and can create better bonds. Loyal customers are those that come back, repeatedly, irrespective of any condition. It is up to your company to realize their worth and connect with them in professional, personal as well as emotional manner.
You can send coffee mugs with their surname, personalized notebook, a gift basket with treats, a bottle of wine and even wine glasses. A personalized thank you note with the gift will clinch the deal in your favour and show that you appreciate customers.
Above were all the ways and methods you can Appreciate customers and make them happier to visit your business or organization. Showing Appreciation to customers can also boost your business manifold as it increases word of mouth and also retains customers for longer times.
Liked this post? Check out the complete series on Customer Management