Measuring customer satisfaction can be immensely valuable for any company, as it offers a peek into how their services and products are received, used, and evaluated. A customer satisfaction score is an excellent opportunity to identify areas of improvement while gaining an important understanding of what customers want.
For example, customer satisfaction surveys can help businesses uncover what their customers appreciate and dislike about their products, which features they find most desirable, as well as how those features could be improved. By gathering this data, companies can tailor their products and services to meet the preferences and needs of their customers, enabling them to gain a competitive edge.
What is Customer Satisfaction?
Measuring customer satisfaction is a surefire way to gauge how well you meet and exceed their expectations. As such, it's an essential tool for measuring the quality of your service and product offerings. This kind of feedback from customers can be invaluable in helping you continuously improve and grow your business.
Companies can gain valuable insight into how they are performing and meeting customer needs by utilizing surveys, interviews, or focus groups to measure customer satisfaction. Customer satisfaction is best defined by the customer experience (CX) which encompasses all of a client's thoughts, impressions, and engagements with your business.
Why measuring customer satisfaction is so important?
The only way to assess whether or not you are achieving your goals is by measuring them. Without a strategy for tracking and analyzing success, it's impossible to understand if you're reaching the desired outcome; don't leave yourself in the dark! Establishing an effective metric evaluation process will help ensure that all of your hard work pays off.
Achieving customer satisfaction is a multifaceted process, and it's likely to evolve with time. Customers who feel a genuine connection with a specific brand name tend to not be as sensitive to prices when compared to those lacking such an emotional bond. Attitudinal loyalty has been proven to exist between merchants and their customers time and time again.
InfoQuest's research shows that customers who are "totally satisfied" with their experience will purchase up to 10 times more than those only somewhat content. By monitoring your customer service ratings, you can gain invaluable insight into what your future sales may look like.
Consequently, collecting customer satisfaction metrics is vital to your business's prosperity. Measure customers' responses through surveys, reviews, or even automated POS systems that gather feedback promptly. This data can help you quickly detect frequent problems and better satisfy consumer needs.
Steps to Measure Customer Satisfaction
1. Define your goals.
Before launching any type of campaign, it's wise to pause and contemplate: "What is our underlying motivation for taking this action?"
To make the most out of your data analysis, you must first have a clear idea of what metrics need to be tracked and which objectives should be met. Without any direction or purpose, the measurement itself is pointless; thus you must plan and strategize thoroughly before embarking on this journey!
2. Outline your plan.
With your objectives in place, it's time to devise a plan of attack. Before you start collecting customer data, make sure that every member of the team is aware of what they should do with the feedback once it has been analyzed and compiled. This will help ensure that all goals are accomplished efficiently and effectively.
You can outline your plan by:
Setting up surveys or questionnaires.
Analyzing customer data from past campaigns.
Implementing a feedback mechanism for customers.
Doing customer interviews or focus groups.
3. Create an effective survey questionnaire
Once you have a clear understanding of what it is you're trying to measure, it's time to create a survey questionnaire.
After having a conversation with your key stakeholders, the next step is to design your survey. To begin, determine which metrics will be used to monitor customer satisfaction.
Deciding on the perfect customer satisfaction survey approach can be a tricky decision, as there is no definitive answer to which option reigns supreme. Some of the popular methods to accomplish this goal include:
Customer Satisfaction Score (CSAT)
Customer Effort Score (CES)
Net Promoter Score® (NPS), etc
4. Perfect the layout and content of your survey with customizations
Ensuring customer satisfaction is a breeze when you align the questions to your particular product or service, and use an affable style that resonates with customers.
Craft your survey to fit whatever goals you have in mind – just keep it concise, as shorter surveys typically get more completed. Feel free to include demographic questions if desired; however, the simpler the better!
Don't forget to use a conversational tone of voice in your questions; customers are more likely to provide genuine feedback when they feel as if you're having an engaging dialogue.
5. Choose your best survey medium
After crafting your survey, select the medium that best suits you and your needs. Generally, there are three primary ways to distribute customer satisfaction surveys:
In-app or on-site questionnaires
Long Email Surveys
Post-Service or Post-Purchase Surveys
Depending on the purpose of your survey, you may need to employ a particular tool or software. If user experience surveys are what you're after, Usabilla and HotJar have got you covered with triggered in-app surveys.
On the other hand, if post-purchase inquiries are more up your alley then Typeform might be just what you were searching for—it's all available via web interface! Lastly, email polls can typically be established using any survey service such as SurveyMonkey or Google Forms – easy peasy!
6. Measure and analyze the results
After dispatching your survey, it is essential to assess the feedback attentively. Search for regularities in customer responses; do most customers adore the product? Are there any possibilities of development to evaluate?
Careful analysis of your customer data can help you design a strategy for future customer service optimization. Moreover, these insights will provide the means to enhance the quality and features of your products or services even further!
7. Track your customer feedback
Gauging customer satisfaction is essential to the success of any business, and tracking feedback will help you do just that.
Monitor your customers' reactions and analyze their sentiments by counting both negative and positive comments. This way, you can ensure a high-quality product or service for your clients.
Periodically measure customer satisfaction and leverage the collected data to increase your customers' loyalty towards your brand for lasting success.
KPIs to Measure Customer Satisfaction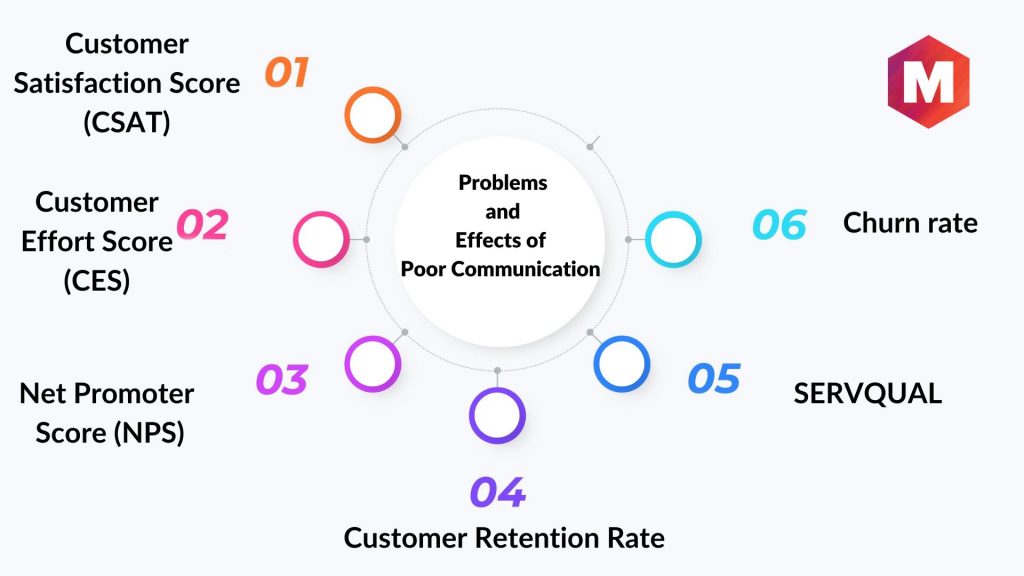 1. Customer Satisfaction Score (CSAT)
Evaluating customer satisfaction is a critical part of any business. The customer satisfaction score lets you know exactly how your customers feel at the moment, and it's one of the most reliable ways to measure consumer sentiment. To accurately measure customer satisfaction, you can utilize a CSAT score ranging from 1-3 to 1-10 or any numerical value in between.
2. Customer Effort Score (CES)
Measuring customer loyalty can be easily done with the Customer Effort Score (CES). This metric works similarly to a CSAT score and is determined by asking customers how easy it was for them to complete a task, such as making purchases, finding information, or resolving an issue. By assessing these experiences through CES, you will have insight into consumer satisfaction levels.
3. Net Promoter Score (NPS)
Net Promoter Score allows businesses to monitor and gauge their customers' affinity for recommending their product or service. It serves as an effective measure of customer satisfaction and loyalty, extending beyond present sentiments about the offering. To accurately calculate your Customer Satisfaction (CSAT) metric, classify responses ranging from 0-6 as detractors, 7-8 as passes, and 9-10 as promoters.
4. Customer Retention Rate
Maintaining loyal customers is essential for your business as it costs 5-25 times more to acquire new buyers than retain existing ones. As such, the customer retention rate should be considered a top priority in terms of measuring customer satisfaction.
Depending on the size of your organization, determine weekly, monthly, or annual customer retention rates using this simple formula: ((CE-CN) /CS)) x 100.
This calculation will enable you to stay abreast with current trends and make necessary adjustments for improved performance.
5. SERVQUAL
SERVQUAL is a premier metric for measuring service and quality. This particular method has long been utilized by businesses in their effort to assess the personal aspects of providing superior customer service. Gather information to measure service quality through SERVQUAL by asking customers for a rating on five RATER attributes: Reliability, Assurance, Tangibles, Empathy, and Responsiveness.
6. Churn rate
If your organization's churn rate exceeds the expected range of 5% to 7%, then it is time to strategize and address the problem. Monitoring the churn rate will help you recognize any issues or changes in customer engagement that need attention. Measurement cycles are largely determined by sales volume with this particular metric.
How you can Measure Customer Satisfaction using KPIs
Measuring customer satisfaction is an essential component of evaluating the success of any organization. To accurately assess these levels, numerous businesses utilize KPIs (Key Performance Indicators). With this data-driven strategy, companies can gain invaluable insights into their customers and determine the most effective strategies for improvement.
If your efforts are not resulting in a higher customer satisfaction score CSAT, then it is time to reassess what adjustments could be made for better outcomes. Some of the ways you can create a measurable objective for your customer satisfaction score that serves as a Key Performance Indicator –
1) Improve your past customer satisfaction score
To ensure customer satisfaction, it is essential to assess your past feedback and establish a benchmark. Assessing progress at regular intervals not only tracks consumer contentment but also helps improve the quality of service over time.
2) Take a look at the competition
Your competition is likely leveraging customer satisfaction metrics to gain an edge. Scrutinize the strategies your rivals are using and use them to your benefit. Discerning how well they're doing can be an outstanding way for you to set goals, enhancing customer satisfaction in the process.
3) Judge by industry benchmarks
Knowing your industry's benchmarks of customer satisfaction provides you with a reliable standard to measure how content your customers are. If you're behind your competitors in terms of performance, it likely means that the customer experience provided by your business isn't up to standard and is below what customers expect.
How to Achieve Customer Satisfaction
1. Measure customer satisfaction
Customer satisfaction is not just a number – it's the result of multiple interactions with your brand and offerings. Measure customer satisfaction through surveys, feedback forms, and interviews to get an accurate picture of how your customers are feeling.
2. Respond quickly to customer inquiries
It is vital to promptly answer all customer inquiries, questions, and remarks. Assemble a devoted team that can ensure fast responses to customers' queries.
3. Make pricing open and honest
It is essential to maintain honesty and openness about prices for your services or products. Customers will appreciate the transparency that comes with knowing precisely what they are paying for, so make sure you keep them up to date on any changes or updates.
4. Onboard new customers with educational content and training
To ensure that your customers comprehend the value of your products and services, provide content-rich tutorials and videos. This will help new customers familiarize themselves with your brand faster, making them more likely to stick around for the long haul.
5. Ask for customer feedback regularly
Consistently assess customer satisfaction by posing questions about their experiences. Inquire about what customers enjoyed, the elements that need strides, and how your company can further advance its services or products. Demonstrate to customers that you value their opinions and act on them to enhance your offerings.
In addition to these, you can also use the following tips to achieve customer satisfaction-
Enhance your customer service by offering around-the-clock support across multiple communication platforms.
Construct both virtual and in-person communities to foster connection.
Harness the power of personal and virtual networking events.
Streamline the process for altering or canceling contracts/subscriptions, so your customers can have an effortless experience.
Establish customer loyalty programs and rewards to generate lasting customer relationships.
Create avenues for your marketing, sales, customer service, and product teams to work together seamlessly.
How to Improve Customer Satisfaction
A customer service team can increase customer satisfaction during a customer journey by using the following methods –
1) Establish an internal customer culture
If you want to get an accurate gauge of customer satisfaction, then create a workplace culture that puts customers at the forefront. This will ensure all members of your staff understand how important it is to prioritize customer service and make sure they are taken care of in every interaction.
2) Improve customer knowledge
Enhance customer education by offering thorough product information and training programs. This will enable customers to comprehend their choices and make well-thought-out decisions.
3) Invest in customer experience
Make an effort to get to know your customers better by proactively understanding their needs and expectations. This may include gathering insights through surveys, focus groups, or customer conversations.
4) Enhance communication & customer relation
Improve customer satisfaction by strengthening communication of the customer support team with customers. Keep them apprised of any changes in products, services, and policies. Allow customers to contact you through multiple channels and promptly answer their inquiries efficiently for maximum consumer contentment. It plays a pivotal role in resolving issues of unhappy customers.
5) Personalize the services
Enhance customer satisfaction by customizing their experience. By leveraging data-driven marketing, loyalty programs, and tailored discounts/rewards to loyal customers, you can easily measure the impact of your efforts in delighting them. Offerings such as coupons or incentives will further encourage repeat business from those who value being rewarded for their patronage.
Customer Satisfaction Measurement Tools
Some of the tools you can use to track customer satisfaction are –
1) Satisfaction survey
Measuring customer satisfaction has never been easier than with a satisfaction survey. By compiling the feedback of customers after interacting with your brand, you can gain invaluable insights into their experiences and expectations. Plus, it's quick and easy to set up!
2) Mystery shoppers
Companies can gain invaluable insight through the use of 'mystery shoppers.' Sending an investigator to check out a service, phone customer support, or go into a store allows brands to assess their customers' experiences objectively. This feedback helps companies pinpoint areas that need improvement so they can work towards providing better services in the future.
3) Qualitative interviews
Through qualitative interviews, companies actively listen to customers to accurately evaluate their expectations, needs, and motivations; this process is instrumental for measuring customer satisfaction. By experiencing an intimate understanding of the consumer's buying journey and decision-making process, businesses are better equipped to provide a tailored solution that meets their exact requirements.
4) Other sources of Customer Feedback and Insight
Email: Analyze your written communications between customers and support staff; you could easily uncover positive comments or discover frequent customer dissatisfaction.
Social media: It has become essential to stay abreast of what your clients are saying about your brand on the web. Keeping an eye on comment threads and tags can provide a plethora of customer insights, so be sure not to overlook them!
Online reviews: Taking the time to regularly assess customer satisfaction and identify your satisfied customers through online reviews websites like Capterra is essential. With their ratings, you can gain valuable insight from consumers so that you can continue to provide exceptional service to them.
Phone: Don't forget to ask your support team to pay attention and take note of any feedback or ideas that customers provide when you speak with them on the phone.
5) Cohesive Tools
By utilizing cohesive tools like Qualtrics X, you can streamline surveys, create automated tickets and send out meaningful insights faster and more efficiently.
By monitoring and analyzing your customer satisfaction metrics with one comprehensive platform, you'll not only reap the benefits of powerful analytics tools and simple-to-interpret results but also be able to harmonize these findings with other parts of your customer experience data.
Unleash the benefits of Monitoring Customer Satisfaction Today!
To fully comprehend how well your company is meeting its customers' needs and expectations, measuring customer satisfaction should be a priority.
Being aware of how your customers feel about their experiences with your business is essential for improving any areas of deficiency and making certain that customer loyalty persists.
Keeping track of customer satisfaction not only permits you to carefully observe fluctuations over time but also helps you rapidly address customer issues.
Analyzing customer feedback provides you with tangible insight into what customers like and dislike about your offerings, products, and services.
Ultimately, monitoring customer satisfaction levels is the most effective way to demonstrate your commitment to customers and guarantee a top-notch experience. When you measure customer satisfaction data, you will get all the information to optimize customer support interactions and customer success.
Liked this post? Check out the complete series on Customer Management