There are several ways to measure customer satisfaction. However, some methods are elementary and can be applied to any business format, be it a large corporate or a small and medium enterprise. As these measures can be carried out through internal analysis, they should be done as regularly as possible and will help develop customer satisfaction for your organization. This helps you keep yourself up to date of what your customer needs.
Periodic surveys –  Periodic surveys involves getting in touch with your customers and taking feedback from them directly. There are various forms of periodic surveys such as online surveys, email surveys etc. You can even have a retail survey wherein you take feedback from your walk in customers. The benefit of a periodic survey is that you can get direct feedback from your customers and you can have an idea of where you stand in the customer satisfaction index (CSI). Furthermore, by comparing the current CSI with the last one, you can also observe a change in your consumers preferences.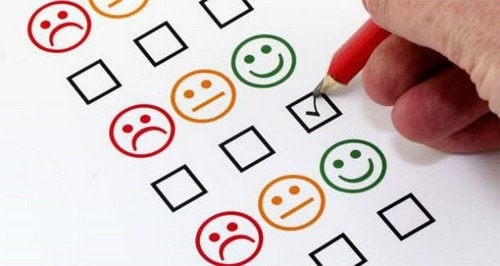 1) Customer loss rate –
Customer loss rate is one measure which can be done by the smallest of enterprises to measure customer satisfaction. There can be several reasons for loss of customers. Customer might not be satisfied by your product quality, logistics, service, wrong commitments or other such internal reasons. It can also be due to some changes in your own products, or due to a competitor launching a different product, your product going out of trend or more importantly, customers losing interest in your product.
Further to the customer loss rate, you need to find out where your customers are going. Are they shifting over to a new brand, or have they have shifted to a completely different type of product. For example –  Surf excel buyers can shift to tide. And desktop computer buyers can shift to Laptops. Thus in one case there is a brand shift whereas in another there is a product shift.
2) Mystery shoppers –
This method can be used for any type of purchase. You have to act as a demo buyer and approach the competition or even your own product. This shows you how your product is being presented to the customer or how a competitors product is presented to their customers. Thus you can find out the differences in customer interaction and thereby determine whether the customer will leave with a positive experience or a so–so experience. You want the customer to have as good an experience with your product as possible. For example –  In restaurants you have to make sure that the waiters have excellent manners. In retail or electronic stores, you have to ensure that your salesmen have complete product knowledge and know how to handle a high value customer.
3) Monitor competitor performance –
Mystery shopping is one of the ways to monitor competitor performance which can let you decide who has a better customer satisfaction. To best understand the role of monitoring your competitors and to measure customer satisfaction, let us take an example. Imagine a company with multiple product lines and length. This company will easily have 5 competitors per product. Thus, it cannot survive without knowing everything about the competitor. Only by knowing what the competitor is offering in the market, the company can retain its customers by offering products which have more USP's and are better in most of the aspects when compared to a competitor. Monitoring competitor performance needs a good marketing network as well as regular secondary research data.
The above 4 steps can be carried out by any company and they are most necessary to be performed time to time to ensure that your customer is satisfied with your product / brand.