Customer feedback is as important as getting a sale. While getting a sale is a one-time thing, customer feedback – whether positive or negative – if taken and implemented can get a loyal customer and regular sale. Customer feedback helps the company to take into consideration customer insights and helps them to make product-related decisions. There are times when customer feedbacks are more important than product management team inputs.
Customer feedback can be positive – which can be highlighted during a sale – or negative – which the company can listen, understand the problem, work on it and troubleshoot it – or it can be a suggestion, which is but a positive note and says the product or service can be made better. Usually, a dedicated customer care helpline and mail IDs are allocated for feedback collection.
Following are few ways customer feedbacks can be collected :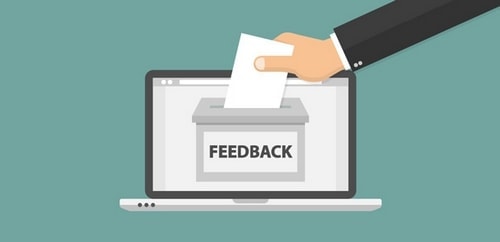 1) Feedback forms :
This is the age old method and can be employed by any company for almost any product or service. The forms are printed with predetermined questions designed to address or understand specifics related to the rendered product or service.
These feedback forms are collected and analyzed and the reports are provided to the customer management teams. Then an action plan is drafted in order to address issues if any, and it is reported to the management.
Continuous improvement in customer service is only possible through regular feedback. The advantage of this method is that drafting it is very easy and doesn't require a lot of technical expertise unlike other methods while the disadvantage is if the forms get too long, then customers may find it irksome to fill it. Many times, satisfied customers tend to give a mediocre response or no response at all.
2) Online community :
Online communities are becoming more and more popular thanks to Apple and Google. Setting up an online community is very economic and unlike other methods, all the responses stay at one place for a long time and can be highlighted and reused to answer Frequently Asked Questions.
3) Chatbots :
These are chatting robots which keep the customers engaged till a dedicated customer care representative can take up. Regular responses like Hello Customer, how can I help you. Please wait and out support executive will be with you shortly.
Such messages can help to keep the customers engaged. The advantage of this method is its cost effective while the shortcoming is it can be used only for businesses having a presence online. Offline businesses cannot use this method. The customer care executive then prepares reports on the issue that has been addressed and submits it to the customer care team.
4) Email Surveys :
Once a purchase has been done, the customers are then sent email after a few days to know their responses. This email is pre-drafted with a response sheet which asks few basic questions about the product.
The primary aim is to know if the customers liked the product and what went well. If the customer is not satisfied then what went wrong. As soon as the customer submits the mail, a thank you mail is sent and the response is recorded. Customers who respond are selected for surveys next time while those who do not respond are not.
5) Website feedbacks :
This is a new type of feedback followed by many popular food chains like McDonald's and Dominos and Pizza Hut. When a customer buys anything in the outlet, they get a bill of purchase.
On the bottom of the bill is a code which says Fill the feedback on the website (link provided) and writes the generated code and gets X% discount on next purchase. The advantage of this type of feedback is a repeat purchase. The customer is going to return at least once in order to claim the discount.
6)  Social Media :
The biggest data collection center – Social media – is also the capital for feedback collections. Companies have made their Facebook and Twitter pages. Customers can tag the companies or service providers with any issue or complaint and within 30-40 mins (in working hours) the customer can expect a response. The feedbacks are not anonymous and it is viewed publicly by everyone – including potential customers and competitors.
The companies have to respond to the complaint and cannot leave it unattended since it is on a public platform. Competitors can track such requests, complaints, and issues and tap the customers to convert him to competition. The presence of government bodies makes things even more clear and transparent.
For example, if a customer receives a wrong order from Amazon, the process is to escalate it via a call to customer care. But going through automated responses can be time-consuming and overwhelming at times. The customer can instead put up a complaint with the order number and will get a call back within an hour.
7) One on one interview :
Usually, pharmaceuticals use this approach when testing or launching a new drug in the market. Although people voluntarily sign up for test drugs, there could always be side effects or reactions which the company has not anticipated.
Such things cannot be presented on paper and the questions vary based on responses. In such cases, a one-on-one interview is the best alternative. The interviews can be conducted by seeking an appointment with the customer or patient and he or she is asked about the product, its feel, and his reaction and liking to the product.
8) Polls :
A poll is taken to determine the liking of the customer towards a particular product or service. Polls are usually quick and let know about the consumer likings in a very short period of time. Setting up polls and designing the questions are easy.
However, if the analysis of polls is to be done offline or manually, then it can be a very lengthy process. Instead, setting up online polls is easier, free and results are calculated in minutes. Questions such as 'Do you prefer Veg or Non-Veg?', 'How would you rate our service on the scale of 100?' etc can be formulated.
Here is a video by Marketing91 on Customer Feedback.
Customer Feedback Template :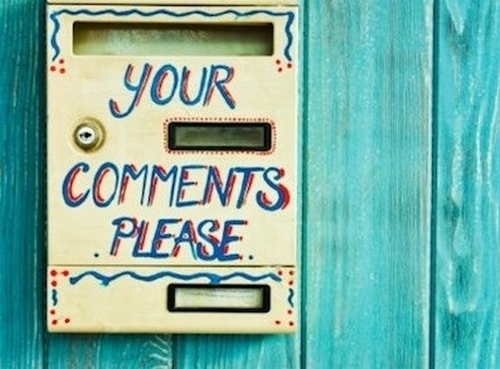 We will consider the scenario of the Hotel industry wherein the response form can be used – with little modification – to any other industry as well.
The foremost thing is to establish objectives which need to be evaluated. For a hotel, the objectives could be:
a) Knowing the effect of hotel ambiance on the customer :
The effect of the restaurant on the customer from entering to exiting, the arrangement of furniture, the lighting and music quality etc is to be evaluated. Questions such as: How did you feel the ambiance of the restaurant won't work and  it should be closed-ended like 'On the scale of 1 to 10, 10 being best how much would you rate the ambiance of the hotel.'
b) Service quality :
The service is yet another important parameter on which the success of a restaurant depends. A better service means a happy customer. A question similar to above can be framed asking quality of service or rating for service.
c) Food Quality :
The other important parameter is food. The quality of food matters for customers since better the food, successful will be the restaurant. Here the question can be subdivided into the food quality, taste, serving, etc.
d) Overall :
 final question would be for the overall experience of the hotel. This should be as positive as possible since a negative experience would mean the loss of customer and negativity in the market. Questions such as "How would you rate our restaurant overall?', 'Were you satisfied with our services and food?' yes or no. These type of questions can help the restaurant get better insights.
e) Demographics :
The final part of the Questionnaire would contain demographic information of the filler in order to categorize the responses and know the audience target segment better. Information such as Age, Gender, City, contact details etc. Some may also include the occasion of the visit.
There may be additional questions in order to know the customers better such as: How many times do you visit a restaurant in a month, what kind of food do you like to have etc. Making the questionnaire short should be the target since the customer would not want to spend more time filling the feedback form. At times, the waiter will himself mark the responses by asking the customer thereby reducing the time to fill.
The use of tablets to fill the feedbacks has become more common in restaurants. The use of paper is avoided and the time required to process the results is easy. Collection and storing and retrieving is easier when the results are digital.
Following is a sample template for Customer Feedback Collection for a restaurant.
XYZ Hotels Pvt. Ltd.
Dear Valued Customer,
Thank you for visiting us. In order to serve you better please respond to the questions below.
How would you rate the ambience of our restaurant?

Great Good        c. Okay        d. Bad                   e. Terrible

Did you like today's theme of our restaurant?

Yes No           Reason_________

Was the Music interesting?

Yes No           c. Could have been better

Did you try today's special from our Menu?

Yes No

If yes, did you like it?

Yes No

How did you like the food that you ordered today?

Great Good        c. Okay        d. Bad                   e. Terrible

Have you been to our restaurant before?

Yes, Im a frequent visitor No. This is my first time

If you are a frequent visitor, then how often do you visit us?

Once a week Once a month    c. Twice a month

Is there any particular food item that is your favorite and you have had it more than once?

If Yes, please write the name If no, proceed

If you have visited for first time, how did you hear about our restaurant?

Friend Internet     c. Social Media    d. Others – Specify
Contact Details :
Age group – a. 0-18 18-25       c. 25-40       d. 40 and above
Gender – Male Female        Prefer not to disclose
Phone number –
Mobile Number –
Birthday – Anniversary  –
Any other suggestions for us :
Such above Customer Feedback template can be used for yourself.
Hope the above tips on how to collect customer feedback helps you in your business and you are able to use customer feedback templates to get more feedbacks and add on it.