Customer satisfaction is a behavioral response of a consumer when he or she does an after-purchase evaluation of a product, service, brand, or experience. It is a measure of how well the customer's expectations and requirements were met during and after the transaction. Improving customer satisfaction is an important goal for many companies, as it often translates to higher profitability, improved reputation, increased loyalty, and repeat business.
Measuring customer satisfaction is also key in determining if a company's efforts to improve its customers' experience have been successful. Companies track customer satisfaction in many ways, through surveys, interviews, and analytics, to understand how customers view their products and services.
What is Customer Satisfaction?
Customer satisfaction is the measurement of how a business, product, brand, or service meets, falls short, or exceeds the expectations of existing and potential customers. It measures how and what a customer feels about the brand or company interaction.
An example of customer satisfaction would be a customer's experience with the customer service team. If they are responsive, friendly, and helpful in resolving an issue, this will result in a positive customer experience and potentially higher levels of satisfaction. On the other hand, if their response is slow or unhelpful, it may lead to lower levels of satisfaction.
Any business involved in offering products and services must understand the importance of customer satisfaction, as satisfied customers are loyal customers and they do not just make repeat orders but they also optimize business presence by referring it to other target audiences.
The difference between the customer expectations and the performance received by the user results in either customer satisfaction or dissatisfaction. It tells the degree to which a customer is satisfied with a product or service, and finally guides about customer success.
What is a Customer Satisfaction Survey?
The customer satisfaction survey is the very first step in improving customer service and satisfaction.
Customer satisfaction is conducted through telephone calls, the Internet, sending emails, face-to-face, etc. This is the first step in improving relations with customers.
However, the job does not end here. Many companies hire third-party to conduct the first step but fail to set up goals, action steps, and plans.
Customer satisfaction is the key to maintaining good relations with customers, but some companies take too long to complete this process. This requires a scientific approach to product design delivery and market segmentation.
Why is Customer Satisfaction Important?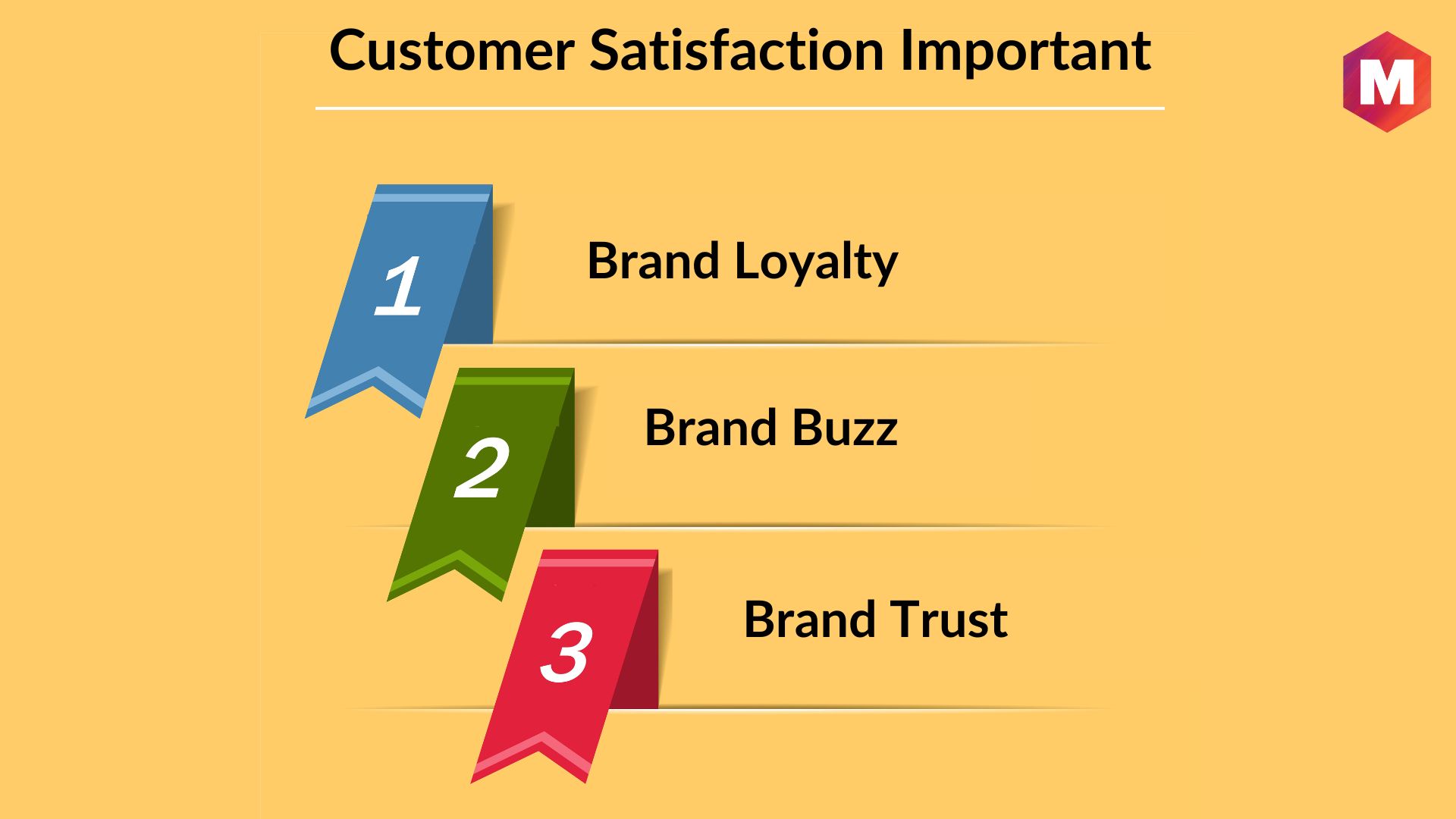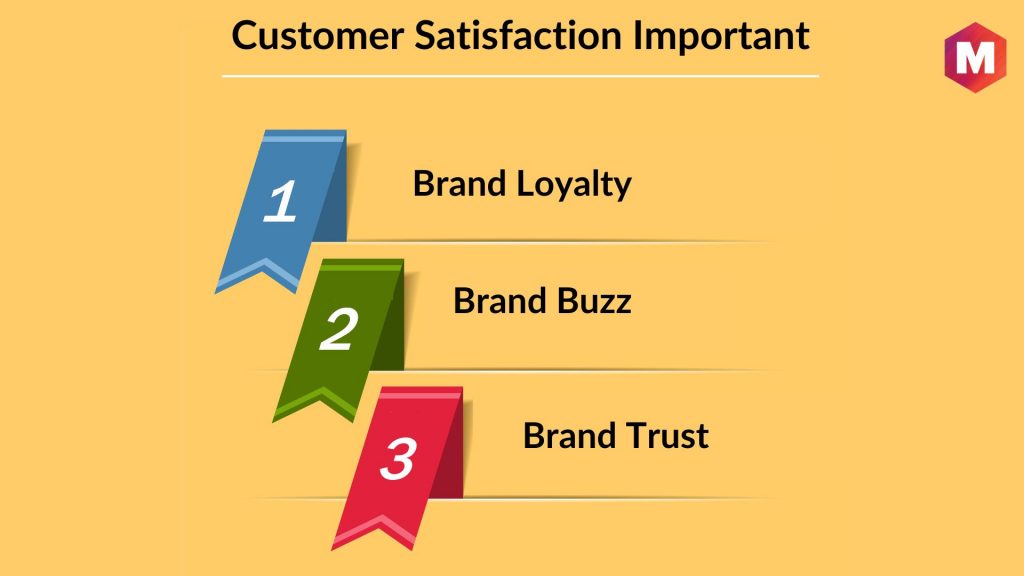 The reason why customer satisfaction is important because it helps the business grow and increase revenue. Companies that don't look into customer satisfaction do not sustain in the market, while exceptional customer service that meets customer satisfaction levels optimizes sustainability.
As growth and revenue earned by the business are the keys to success, if a company focuses on customer satisfaction, it is more likely to see an increase in business revenue. If the brand does not place a healthy relationship with the customers, the organization would not be aware of its problems.
There are several benefits to customer satisfaction. Here are mentioned a few of them –
1) Brand loyalty
Customers stay loyal to the brand, which makes the company stand well in the competition. Creator of Net Promoter, Fred Reichheld says-
"Return customers tend to buy more from a company over time. As they do, your operating costs to serve them decline. What's more, return customers refer others to your company. And they'll often pay a premium to continue to do business with you rather than switch to a competitor with whom they're neither familiar nor comfortable."
2) Brand buzz
If the customers are happy, they recommend it to other people, and that buzz about the brand stays in the market.
By ensuring customer satisfaction, you will have a powerful customer base who will act as your brand ambassadors, cheerleaders, and advocates to optimize the word-of-mouth marketing of your brand,
3) Brand trust
If the company can build trust with the customers, they stay happy.
Customer satisfaction is the very first step that will let existing, as well as potential customers, trust a brand.
Designing products or services as per the specific needs of users and continue fulfilling their expectations with personalized customer service and customer experience helps in ensuring brand trust.
Why Brands Should Measure Customer Satisfaction
Measuring customer satisfaction is important because, through this, you can list down the reasons behind your unsatisfied customer base.
In the words of H. James Harrington, author of Business Process Improvement-
Customer Satisfaction"Measurement is the first step that leads to control and, eventually, to improvement. If you can't measure something, you can't understand it. If you can't understand it, you can't control it. If you can't control it, you can't improve it."
If the company cannot figure out their unhappy customers, it can bring their business to fail.
Without getting feedback from the customers, the companies stay in a bubble that everything they are doing is right. But the truth is, the most innovative company or brand would have some faults and chances to improve.
To know this, companies need to gauge customer satisfaction. This gives a chance and idea to improve in fields that might be a bit weak. Some of the benefits of customer satisfaction because you should measure and optimize it offering personalized and conversion-driven services.
Role of Customer Satisfaction in Customer Retention
Customer retention is the most important factor, especially for the long-term growth of the business.
A company can attract customers as soon as they want, but the business is not sustainable if these customers do not stick around.
From customer acquisition cost to customer lifetime value, retention affects the business in every way. It is good to spend more money on customers if they tend to retain them for a longer period.
Brian Balfour, former VP of Growth at HubSpot explains the importance of retention-
The point is, every improvement that you make to retention also improves all of these other things — virality, LTV, and payback period. It is literally the foundation of all of the growth, and that's really why retention is king.
Stats also prove this as-
82% of businesses say that retention is cheaper than acquisition. Plus, repeat customers would spend 67% more than any new customer.
Customer Satisfaction Goals
To improve customer satisfaction, it is important to be aware of different goals that customer satisfaction can fulfill. The goal of a company is to know the number of customers who are churning or are unhappy.
A company's goals should be –
Decrease the complaint response
Experimenting with different communication channels
Increase the number of completely satisfied customers
Reduce the shipping time for online orders
These are a few goals that a company has to fulfill to improve its business's customer satisfaction level. As for yourself the question – what will benefit the company as well as the customers? The answer to this question will help you achieve a good customer satisfaction level.
Let us have a look at some of the common goals that will improve customer satisfaction for your brand-
1) Having a SMART goal system
You should keep things simple and therefore, your goals should be Specific, Measurable, Achievable, Relevant, and Time-limited.
You should have realistic goals for your customer service and customer experience by setting only 1-2 at a time.
2) Start collecting customer satisfaction data now
In case you have not been looking at the customer satisfaction data, it is the right time to do it right away. Collecting customer satisfaction data about your product or service will help you in optimizing your customer service.
It will help you find out bottlenecks, problem spots, and reasons behind the frequent complaints.
3) Know what would benefit your customers and optimize the customer experience
To improve customer satisfaction, your goals should revolve around-
Decreasing complaint response time
Reducing churn or increasing customer retention by X%
Reducing the number of contact points with repeat customers
Increasing the NPS by X%
Experimenting with different communication channels
Boosting the number of "completely satisfied" customer interactions
Reducing shipping time, etc.
How to Measure Customer Satisfaction?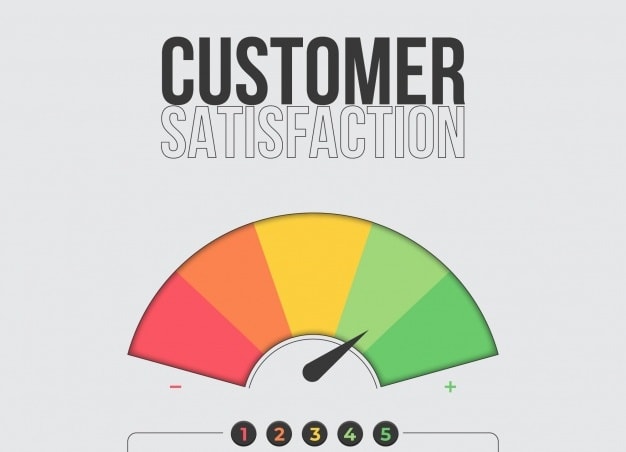 This is the utmost difficult part. Planning and promoting customer satisfaction is good, but the question is – how to do it.
Here is Hubspot's simple way to of achieving customer satisfaction- OCCAM- which is
Outlining the goals and plans
Creating customer surveys
Choosing a trigger or timing
Analyzing the data
Make different adjustments
By doing all this, the business can achieve customer satisfaction.
As discussed above, a customer satisfaction survey is the easiest and the most reliable method to collect information about customer service and satisfied customers. There are a few methods that are popular and can be tried here to get customer feedback and gauge customer satisfaction such as-
1) Customer satisfaction score (CSAT)
Customer satisfaction scores help brands in gauging customer satisfaction with a specific interaction.
2) Customer effort score (CES)
It can be used to measure the ease at which the customer's issues are solved.
3) Net promoter score (NPS)
It tells whether the customer has recommended the brand to someone else)
Through these ways, the business can understand the potential customers and who are happy with the services.
It is also essential here to find out who will receive your survey. Also determining the time of the survey such as. just after purchase or at the end of an online chat or A week after a complaint was lodged is very crucial in tracking customer satisfaction,
After having the customer data, you should always analyze and use it to make improvements. Different customer satisfaction tools comprise built-in analysis as part of the service. You can also do an online search to find how-to guides on customer satisfaction specifically made for your kind of business.
Customer satisfaction surveys with a single question and a multiple-choice answer are considered best for the purpose. The prime goal of all these endeavors is to make it easy and convenient for your customers to get what they expect from you.
How to Achieve Customer Satisfaction?
Now that the importance of customer satisfaction has been discussed, the question is, how can the company improve it? There is no deep strategy that a company needs to follow. But there are a few ways that are supposed to be looked into while improving the level of customer satisfaction –
1) Ask the customers for feedback
You should make it easier for your customers to share feedback or make complaints regarding the product or service they have used.
2) Educate the customers and provide them with answers
You should let the customers know about your brand. Let them know about the company's services and plans. If they have any queries, solve them within time. Try building the trust level with the customers and improve the customer service of the company.
3) Make an impact on social media and spread the brand through it
In today's time, when social media is omnipresent, you should leverage the power of social media to optimize your presence in front of your target audiences.
4) Make things easy for the customers
It is important to understand that the easiest-to-use products are the most tempting ones. Making things frictionless and alleviating how users can buy and use the products will improve customer satisfaction.
5) Try pleasing your customers through your services
You should make your customers feel important, and therefore, your customer satisfaction strategies should be directed to Wow your customers. It optimizes the word of mouth marketing for you as well. In the words of Warren Buffett-
"Any business with delighted customers has a sales force they won't have to pay; You don't see them, but they are talking to people all the time."
6) Make space for constructive criticism
You may use focus groups to meet a number of your target audience members to collect constructive criticism about your product or service. Such groups work to get honest responses from the users to increase customer satisfaction.
 7) Keep an eye on the competition in the market
This will let you know what you have to improve in your brand. Unsatisfied customers will for sure go to your competitors, and therefore, being aware of your competitors' strategies will help you in the process.
8) Try improving the Net promoter score
The quick calculation for this is:
Percentage of promoters – the percentage of detractors = Net promoter score
Tools to Measure Customer Satisfaction
A company would want to survey to know about the customers and their reviews of the product. There are many popular options or tools that one can use to measure satisfaction and prioritize customer success –
HotJar
Usabilla
Qualaroo
HubSpot
Google Forms
Typeform
SurveyMonkey
Customer Satisfaction Examples
1) Return Policy of Trader Joe's
A popular chain of grocery stores called Trader Joe's has stores in over 470 locations.
Their return policy is remarkable, which satisfies the customers and puts them at ease, especially for those who are buying the products for the first time.
Their policy is to take back any product even if it is open or consumed partly. No questions asked. This makes the customers extremely satisfied. They say
"Try it. We think you'll like it. If you don't, bring it back for a full refund."
2) Read or leave a review of Amazon
Amazon allows customers to leave honest reviews under the products that are displayed.
These reviews are not deleted if they are not up to the mark. They have a star rating on every product, which helps the customers to understand the product and share customer feedback.
And this is one of the many reasons why Amazon is the greatest e-commerce website.
3) Customer satisfaction survey of Dashlane
Dashlane – a company about managing password vaults has already become a very popular brand in its niche.
They use a simple way to gauge customer satisfaction, and this is an NPS survey sent via mail to their existing customers.
Cost of bad Customer Service – What if your customers are not satisfied?
The importance of customer satisfaction can also be measured in the form of bad customer service costs to the brand or the organization.
Any brand in business for a while shall aim to provide a wholesome service to regular and new customers.
For example, a customer experiences joy and respect when the manager successfully removes a poorly prepared dish from the bill without the customer having to say it or point it out.
It adds more to the customer's satisfaction if the manager tries to make amends by offering a peaceful dessert on the house.
The customer leaves the restaurant happy in that case. But here, the fact that this amendment costs a little to the restaurant management does not change. Whether or not your customer service team handles disputes by offering customer discounts, refunds, or freebies, not handling a situation properly can also affect future profits. An unhappy customer has a decent amount of power over your brand's reputation.
People are actively searching for unfiltered reviews and discussions before making their purchasing decisions. Filter in the fact that 88% of those people have been influenced by what they've found suddenly that a single negative encounter is greatly affecting whether or not you continue to gain new customers.
Once your reputation takes a hit, it's almost a dominos effect on sales.
Best Way to Deal With a Difficult Customer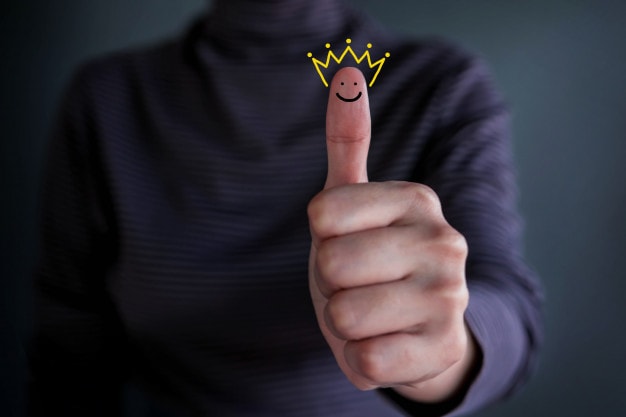 Even after you have picked up the best strategies and practices to curate your plan for customer satisfaction, there are always going to be a handful of unhappy customers.
They might have issues with the service, the quality of the product, or other relevant or irrelevant issues. No matter what, the business has to tackle even the fussiest customers keeping in mind the customer is the King's mantra.
You can't make everyone happy all the time. Don't even try. When a difficult customer crosses your threshold – digital or otherwise – follow a few best practices:
The customer always wishes to be heard. It is advised to listen to the dissatisfied customer with the utmost patience and let them get it all out of their system. Acting curtly and disregarding their complaint might make the scenario worse.
The next step in line is to apologize to that customer with empathy. They should believe that you understand the issue as well as the place they are coming from. You should be able to empathize with their concern with utmost honesty.
Ask questions for clarification as necessary. Explicitly ask what they would like to see done in response.
Offer solutions rather than serving them with excuses for a bad product or a messy service. If you can't give them exactly what they want, offer alternative solutions. Use positive language: instead of saying, "I can't do that," try leading with "Here's what I can do…"
The person or the manager needs to attend to the complaining customer to keep his emotions in check and not lose their calm during the discussion.
Following up after the redressal of the complaint is also very important. The customer should believe you and have enough trust in your redressal process to come back to you in the future.
Learning from every experience, so a similar trend is not repeated, is also key to tackling a customer.
The strategies above are key in resolving a complaint or a dispute with a tactic. This tact shall determine the level of trust the consumers shall place in your brand for future business. Other psychological tactics can also come in handy to tackle a dissatisfied customer.
Here is a video by Marketing91 on Customer Satisfaction.
Ways to ensure a good line of communication – Optimization of Customer Satisfaction
Along with all the strategies mentioned above, it becomes essential for businesses to maintain formal, respectable, and regular communication lines with customers.
The first and most important aspect of this communication is respect. Beyond that, you are making your business platform and complaint portal easily accessible to the customer matter a lot.
Helping them reach you through phone, email, social media, etc., adds many consumers' trust in the process.
Responding to queries and delivering a tad bit better than the promised quality goes a long way in fetching the desired consumer satisfaction levels.
This loop of listening, responding, and asking for feedback is the key to ensuring a positive communication channel.
Conclusion!
All in all, customer satisfaction is one of the most crucial factors that can help a brand optimize its presence and enjoy a loyal customer base to have a sustainable and profitable market presence.
With happy customers, a business can easily optimize its revenues. Loyal customers are the assets of a business, as they not only help in boosting the revenue of a business but also generate new customer bases for the brands.
What strategies do you use to satisfy your customers and optimize customer loyalty? How would you define customer satisfaction? Share with us in the comments below!
Liked this post? Check out the complete series on Customer Management