Can a business survive without the customers? Of course not is the right answer. If you are an experienced salesperson then you can easily hook a customer with an initial offer but maintaining their loyalty is a completely different ball game.  Loyal customers are those that will repeat its business with you irrespective of any surge in prices or in no-sale periods.
When a client is happy and satisfied he becomes your brand ambassador as the word-of-mouth publicity acts as a boon for the company. His positive reviews will bring in additional customers and keep the revenues and profits flowing. Start making important changes to gain customer loyalty.
1) Communicate with your customers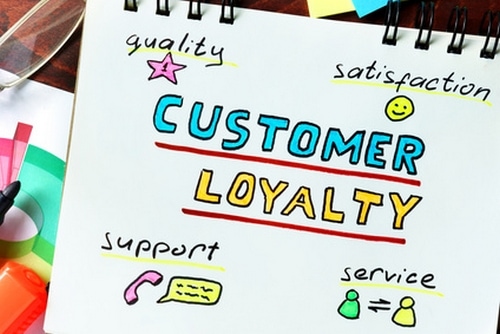 Both direct and indirect communication with customers will pay off as everyone likes attention. Frequent communication will serve as a reminder and prompt him to make a visit to your outlet. Set up a proper database that will record contact information of every customer like phone number, address, and email address.
Create a team that will work throughout the year and sends greetings on occasions like New Year and festivals like Diwali, monthly newsletter, and reminders about the sales or available discounts. Social media has become an important tool in recent years, update information on your website and send personalized emails to the customers directly.
2) Provide excellent services
It is important to provide excellent services to gain customer loyalty. A ready smile, engaging personality and the willingness to serve are important characteristics that must be in a salesperson if he wants to make a favorable impression on his customer. Good service means treating every client as a VIP and fulfilling his requirements by going the extra mile.
Customers have a long memory and they remember every detail. If they have been offered impeccable services and treated well it will reflect in favorable mouth publicity to their friends and acquaintances. If they are dissatisfied then they will complain to all and sundry in their vicinity. So be smart and pay individual attention to every customer's complaints and concerns and resolve the issue as soon as you can. Make sure that the customer can easily gain access to the help desk and communicate with ease.
3) Train employees
Make training sessions compulsory for every employee as it will help them in honing their skills and knowledge. This will result in personal as well as professional growth of an employee and increase the business productivity of that company.
The know-how and experience which an employee gains will help him in dealing with his customers with a better mind frame. They will be more understanding and will tend to offer impeccable services to gain customer loyalty. Train your employees about the products of your company so that they can offer relevant information to the customers. Remember a satisfied customer is a repeat customer.
4) Offer incentives to the customer
Everyone loves free gifts and incentives. It is the reason why everyone will go again and again to the same place. Give your clients a reason to be back. Offer incentives to boost sales figures in the form of discounts on products, free gifts on bulk purchases, buy three and get one free, frequent shopping points, gift cards, rebates and free and customized services for some products.
In order to gain customer loyalty establish a loyalty program. Make things interesting and offer a tempting deal to reward loyalty. Send coupons and codes as discount vouchers to entice the loyal customers.  Run the promotions via social media portals, company website, newspapers, messages, emails and leaflets to let the customer know about them.
5) Promote product awareness
It is important to know your products inside out so that you have the necessary information. Make sure that your employees have been trained to know about the products of the company.
Sometimes a customer can ask him a product related question then it will prove his efficiency if he knows the answer to the query and thus can satisfy the customer.  If you start fumbling it will show your ignorance. A brand can promote product awareness amongst customers via promotional strategies on television, radio, social media platforms, billboards, and newspapers.
6) Offer reliable services
A sure way to gain customer loyalty is by giving them their due. Impeccable and reliable services are expected by every client and it is up to the company to live up to all its expectations. This is why a legend has rightly said: "Do what you promised to do". Make sure you have trained staff to handle one-to-one services so that the satisfied clients become eager to repeat their experiences.
Suppose a company has promised to make a product delivery in 36 hours then it is important that they stick to their promise otherwise they will lose their reputation and customer loyalty. If you treat your customers well and fulfill all your promises made to them then they will reward you with repeat business and loyalty. Reliable services help you in beating your competition easily as you have established life-long clients that will be true to your company.
7) Make use of automation
In this world of advanced science and technology, it is better to use automation for your advantage. It is a very handy tool to keep customers in the loop and to save valuable time of both the client and the organization.
Register the client's mobile number with your organization and loop it with the help desk. Suppose a customer calls you with complain then it will automatically connect him to the help desk. The employee on learning about the issue can directly connect in the required department and solve the problem easily. It will be a tremendous help to the customer who will not have to go on dialing the required numbers again and again.
8) Be flexible
A company has its own laws and bylaws so that it can run smoothly. Sometimes you need to be a little flexible in your dealings to gain customer loyalty.
Suppose a garment has a thirty-day return policy and a customer who has bought it is unable to return it within the stipulated time then there must be a reason for it. Try to find it and then make a feasible decision. If the case is genuine, make your rules a little flexible and incorporate her demands. You will gain a loyal customer for life who will bring her personal business as well as business from friends and family to you to show her gratitude.
9) Surprise your customers
Good and unexpected surprises can make a big impact on the customers. The little things will turn the balance in your favor. For example, give a special deal for the entire birthday week or month only to the customers who come back repeatedly.
Send a birthday card or a bouquet on a loyal customer's birthday or a give gift voucher on her anniversary. It need not be of the high amount but the gesture will surely be appreciated. You will gain the steadfast loyalty of a customer that will bring lots of business to the company.
10) Ask for feedback
Encourage all your customers to write feedback. It is a great opportunity to know about the mindset of a customer as it is he/she who is the reason the organization is showing profits.
Is your customer satisfied with your services or he has some genuine complaints against you are some viable questions that can be answered only via the feedback? Is he happy with the quality of products and services or dissatisfied? Create a team that will go through all the feedback and jot down the relevant suggestions and complains.
A good company is one which will take formidable actions against all complaints and try to please the customers by implementing feasible suggestions.
Above were all the steps which can help you gain customer loyalty. Hope these steps help in attracting and retaining your customers
Liked this post? Check out the complete series on Customer Management