The customer life cycle is a roadmap to envisioning the path customers take when interacting with a brand, product, or service. By comprehending each stage of the customer journey, businesses can create tactics to maximize engagement and loyalty while pinpointing potential opportunities.
The customer life cycle begins the moment a consumer becomes familiar with your company and culminates upon their final transaction. A standard customer journey is often divided into five distinct parts –
Outreach
Acquisition/Engagement
Conversion
Retention
Loyalty
What is the Customer Lifecycle?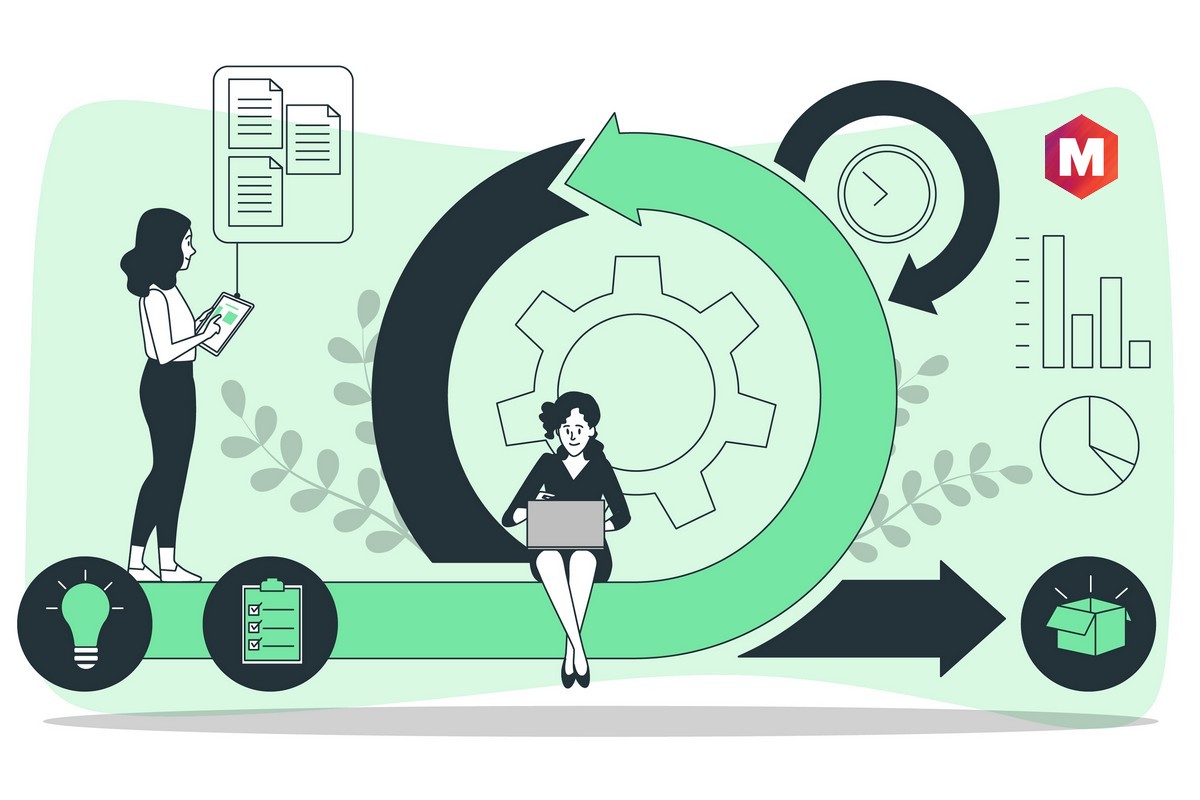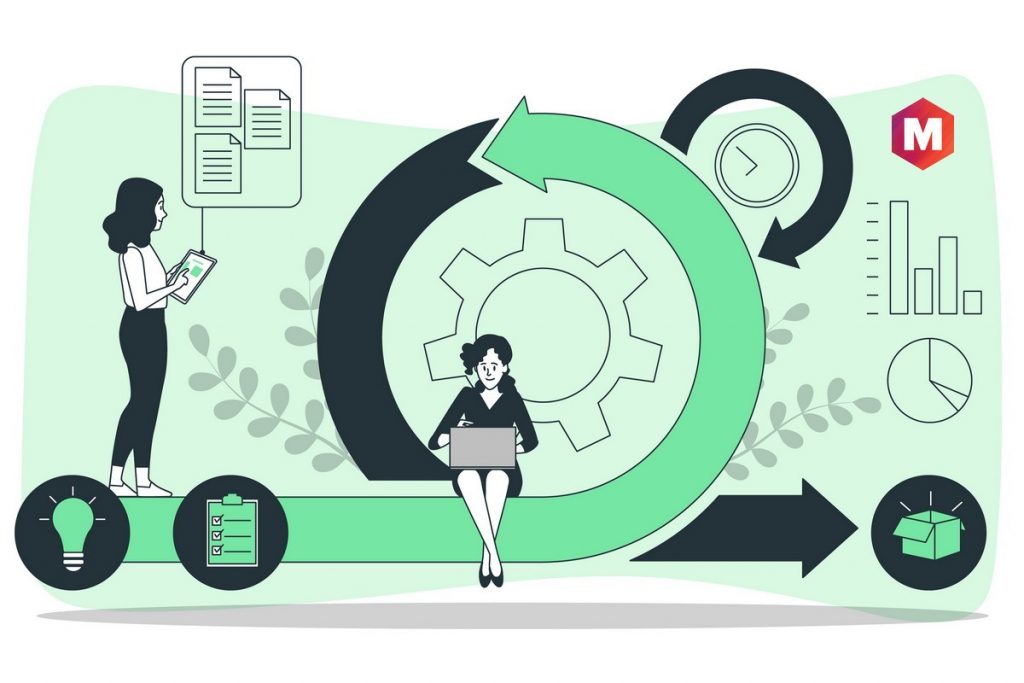 The customer lifecycle refers to the journey of a prospect becoming aware of our product, investing in it, and hopefully remaining loyal to us is what we strive for.
To comprehend how a customer interacts with our product, it is essential to delineate the entire lifecycle into distinct stages. This will provide great insight and understanding of the experience of a customer.
The below given example will help you can understand what is customer lifecycle, so let's go through that right away-
Example of Customer Life Cycle
A clothing brand initiates its outreach efforts (the first stage) on social media and influencers, to generate leads for acquisition (the second stage).
At this stage, the company builds a relationship with potential customers to create awareness of its products.
Next, comes the conversion (the third stage) when a customer finally decides to purchase. The brand might use discounts or rewards to incentivize customers during this stage.
Retention is the fourth stage of the customer life cycle. To encourage customers to keep coming back, the company might offer personalized email campaigns, loyalty programs, or exclusive discounts and deals.
Finally, comes loyalty (the fifth stage). This is when a customer becomes an ambassador for the brand, advocating and sharing their experiences with other customers. At this stage, companies should focus on building a sense of community and providing regular support to ensure customers stay engaged.
What is Customer Lifecycle Management?
Customer life cycle management (CLM) is a process that helps businesses better understand and serve their customers.
As customers traverse their life journey, their opinions and attitudes continue to evolve alongside them. To monitor the changes occurring along the customer's journey, companies opt to establish metrics and track its performance across their lifetime.
Why is Customer lifecycle management important?
With customer lifecycle management, you can monitor every step of the customer journey, assigning metrics to each milestone and gauging success based on those numbers. This process helps businesses understand how well they're performing over time-related to their customers' experience.
Customer Lifecycle Stages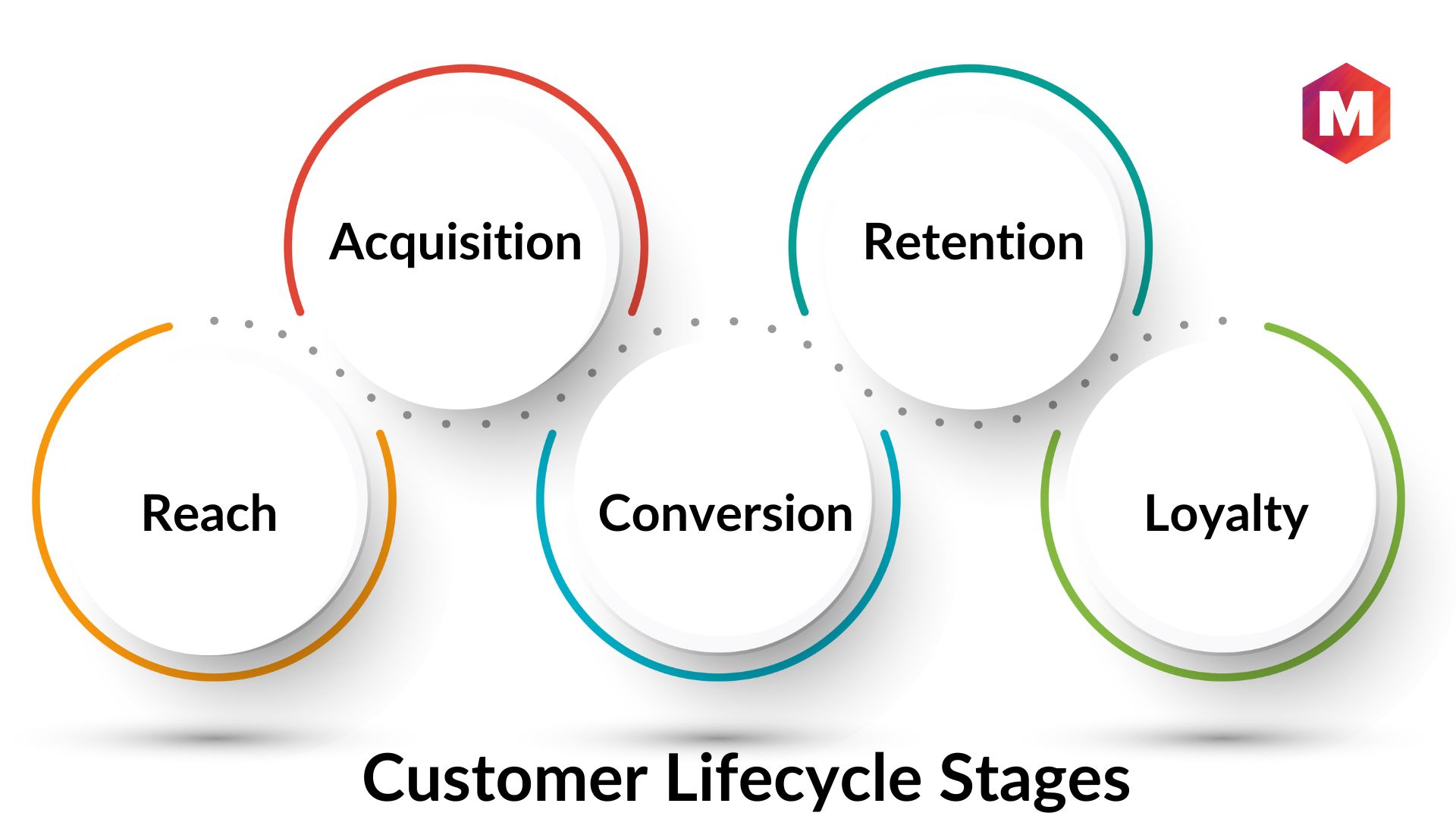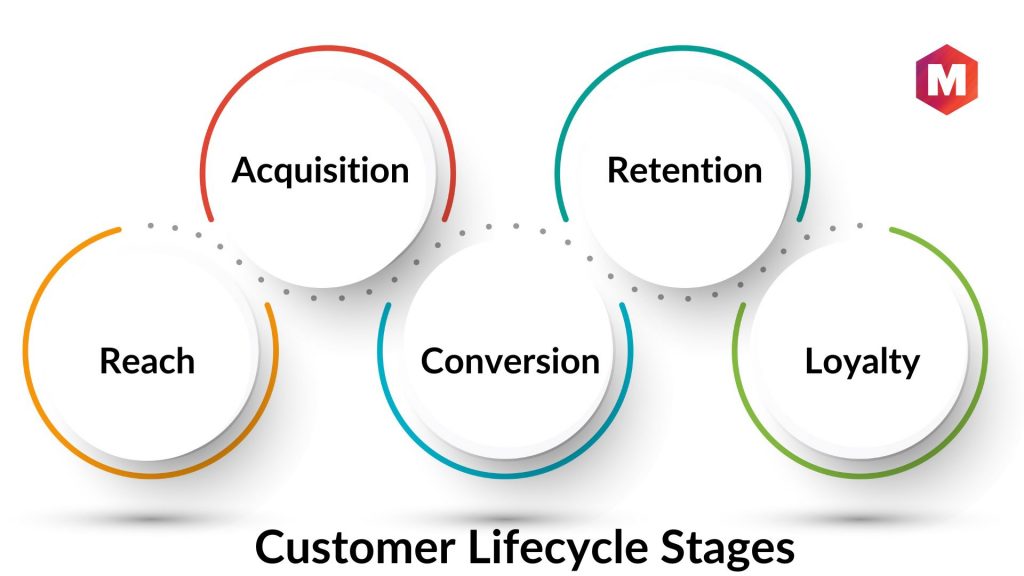 1. Reach
At this point, a potential customer begins the search for their solution. This is your opportunity to make contact with them during their decision-making process – it's what we call "Reach"!
During this stage, buyers will be comparing their options between brands (including yours), researching, and perusing customer reviews. It's your responsibility to catch their attention and demonstrate why you are the ideal choice.
Reaching potential customers is possible through the utilization of various tactics, including but not limited to website optimization, content marketing, and social media campaigns.
2. Acquisition
Once your customer is confident in their decision, the next step is customer acquisition. At this point, they have already chosen to commit to your product or service.
Now is an essential moment to guarantee that your customer has the highest quality experience, thus creating trust and commitment. Proactive approaches such as e-mail campaigns and customer onboarding can help you solidify a strong bond between yourself and your customer.
Moreover, it is essential to remain informed of their post-purchase behaviors to recognize potential development opportunities.
3. Conversion
Gaining all the necessary knowledge and being thoroughly pleased with your brand's customer experience, the prospect decides to make a purchase. They are now part of your customer base!
At this point, it is essential to emphasize the value you are offering. After all, customers have entered a relationship with your business, not just purchased a product.
You should maximize the customer experience with promotional campaigns, loyalty programs, and discounts that truly reward your loyal customers.
4. Retention
By far, the most important component of a successful business is customer retention; that is, retaining relationships and loyalty with customers after they make their first purchase.
Ensuring customer loyalty begins with understanding how your customers feel. Follow up with them and inquire about the quality of their new product or service.
With Customer ServiceSurveys, you can accurately measure and monitor your Customer Satisfaction Score, as well as implement a Voice of the Customer program to understand what could be improved to optimize customer satisfaction.
You can use this data to further improve your customer service and product offerings!
5. Loyalty
At this juncture, customers become invaluable assets to your brand by generating additional purchases. They may share their experience with you on social media or even create reviews that guide prospects in the reach stage. Thus, fostering a sustainable connection between you and them for an extended period.
Show your customers that you appreciate their loyalty and patronage with strategies like rewards programs and advocacy initiatives. Such efforts will keep them coming back for more!
Measuring the success of your Customer Lifecycle
Having outlined the cycle your customer will go through during their journey with your brand, it is now time to move stage by stage to optimize customer relationship management at all the stages of the customer journey. Email marketing automation stands out as a reliable approach since you can easily keep track of how successful each step has been. With this method, you are supplied with valuable data that allows you to assess and optimize your campaigns for maximum success!
Optimal segmentation makes it easy to keep track of each customer's progress throughout the customer lifecycle. To get a clear picture of customer lifecycle success, it's essential to check the Key Performance Indicators (KPIs) for each stage. Keep an eye out for any sudden drops in open rates, click rates, and unsubscribe rates – these serve as invaluable metrics that can help measure campaign performance.
Conducting a Customer Lifecycle Analysis
A powerful customer lifecycle management strategy incorporates an effective analysis system to analyze customer lifecycle strategy at the different stages of the customer to analyze customer relationships and optimize the whole customer lifecycle management process. The following steps will help you do so –
1) Reach Stage Analysis
If you're looking to gain an understanding of how your company is performing, ask yourself these questions:
What are the primary channels through that a prospect discovers your business? Is it TV networks, social media sites, sponsored advertisements, or search engines?
How well do you perform in each channel based on click-through rates and impressions?
Are there certain methods used by competitors for reaching customers that you have yet to implement into your strategy?
Do people recognize your brand as one offering good service experiences or bad ones?
And lastly, would you say that regular posts appear on social media platforms related to your organization's products/services?
2) Acquisition Stage Analysis
Before making any decisions, ask yourself these pertinent questions at this stage –
What type of content exists on your website that can help customers make a knowledgeable decision?
Does your site possess a blog section with easy-to-digest and navigate articles?
Have you created special offers that could potentially persuade prospects to take action?
Are the prices listed clearly on the web pages or do clients have access to talk directly with sales personnel if they must?
Is it simple for visitors to browse through your website and is there an effortless way for them to contact service staff in case they need assistance?
3) Conversion Stage Analysis
As you proceed, it's important to ask yourself the following questions at the conversion stage –
Is your shopping experience a smooth and simple one?
Are guests able to quickly complete their purchase if applicable?
Do any bugs or technical issues delay customers from making a purchase?
Have you crafted an effective privacy policy that offers protection against the misuse of personal information for buyers on your website?
Are there clear refund policies, product warranties, or trial programs in place so potential buyers can be more confident about buying with you rather than another brand?
Lastly, are our product descriptions thorough enough to give clients assurance regarding quality before they commit to buying them too?
4) Retention Stage Analysis
To ensure customer satisfaction and loyalty, consider asking yourself the following:
Do your customers hold a positive impression of your business?
Have you provided an effortless way for them to make repeat purchases such as a one-click reorder button in the user portal?
If necessary, do they have access to their dedicated customer success manager that assists with new product inquiries?/
What sort of feedback are customers giving about your new product?
Have you personalized the customer's experience so that they feel valued and understood by your brand?
5) Loyalty Stage Analysis
Are you looking to enhance your customer engagement? If so, consider answering the following questions:
Have you included social media follow buttons on any of your website and marketing emails?
Are you actively engaging with current customers in social media profiles/comments?
Do existing customers have access to exclusive offers, discounts, and birthday gifts that can keep them coming back for more?
Are you providing a referral program that inspires your customers to bring in more leads?
Furthermore, have you made it as easy as possible for customers to contact you via email, telephone, or live chat?
How to Manage the Customer Lifecycle
1. Identify your target audience at the reach stage
Before your customers encounter your business, it is essential to determine the exact people you want to reach. Instead of aiming at a broad audience, recognizing a particular target market can help create content that resonates with them. This step in the customer lifecycle stage is aptly named "Reach" – and now you understand why. Crafting buyer personas is the simplest way to understand your target audience.
2. Share relevant content for optimizing outreach
Establish credibility with your customers before they invest in you. With an abundance of useful, engaging, and search-engine-optimized content, your company will become more visible on the web when people are looking for related topics to what you offer. This is a crucial step in bringing potential customers into the reach stage.
3. Understand their needs and develop solutions to channel acquisition
Once you've identified your target market, the goal is to establish a meaningful relationship with them by providing products and services that meet their needs directly.
This will show them that you genuinely want to help solve their problems and understand why they are seeking out your business in the first place.
3. Provide self-service resources for the acquisition
It's time to supply future customers with an abundance of self-service resources that systematically explain the quality and details of your product offering. By providing such a wealth of knowledge, you'll simplify their lives and make them more likely to choose your brand for their needs.
4. Use proactive customer service to enhance the acquisition process
By providing proactive customer services such as community management, live chat support, and efficient email responses, you can actively contribute to the acquisition process. Address any doubts or queries that your customers may have about your product offering and give them a reason to choose it over other options.
5. Create an engaging onboarding experience for conversion optimization
Making the onboarding process entertaining and simple ensures that customers can start using your product or service quickly. Create an onboarding experience that will guide your customers to the primary benefits and features of your product or service.
6. Remove friction and provide easy support options to supercharge conversions
After customers have completed the onboarding journey, offer them additional support channels. Make sure that they can quickly and easily access your customer service team or automated tools such as FAQs, help center articles, and tutorials to get their questions answered promptly.
This will eradicate any hindrance and make it effortless for clients to achieve success with your services. You should pay heed to customer feedback to make customer lifecycle management more result-driven.
7. Empower customers with personalized content and support to enhance retention
A successful customer experience is achieved through creating useful resources, providing personalized customer service, and consistently communicating updates about your product or service to maintain loyalty.
You need to ensure that every step of their journey is brimming with excitement, personalization, and curiosity to make it an unforgettable experience.
8. Maximize your retention potential by investing in automation
Utilizing automated systems can free up energy to pursue other tasks, making operations faster and more efficient than ever before. Investing in automation is an investment for growth that will pay off dividends for years to come!
Here's where marketing automation takes the lead. Connecting it to your contact database and CRM allows you to rapidly gain access to user info and promptly transform it into customized content that speaks directly to them!
9. Solicit feedback from customers and ask them to use referral programs to boost loyalty
Encourage customers to give feedback about your products and services by offering an incentive program or business-card referrals. This can help build loyalty and trust with existing clients, resulting in a more authentic reputation within the community.
To give your customers that extra push to go the distance for you, let them know how much their opinion matters. Invite happy customers to express what they think of your brand by sending out short surveys or linking them to Yelp and Google Reviews websites. Show appreciation by providing discounts, rewards, or referral bonuses when they refer a friend.
Customer Life Cycle vs. Customer Journeys vs. Conversion Funnel: What is the Difference
The customer life cycle outlines the journey of how a buyer experiences and engages with a company's products or services – from initial curiosity to purchase, loyalty to ongoing advocacy. It is an extensive framework that examines the long-term relationship between customers and businesses.
Customer journeys are a more focused version of the customer life cycle, allowing marketers to understand precisely how customers experience each step in their process. By drilling down into this level of detail, it is easier for marketers to identify necessary changes and improvements. For instance, if a customer struggles while browsing the website, this problem would be identified in their journey.
A conversion funnel is a term used to describe the prospective customer journey from landing on your website to becoming a paying consumer. With each stage of awareness, consideration, evaluation, and purchase being essential for maximum success, optimizing this process could help you generate quality leads in no time!
The purpose behind customer life cycles, customer journeys, and conversion funnels sets them apart from one another.

A comprehensive view of the entire customer-business relationship is known as the customer life cycle, whereas individual consumer experiences are referred to as customer journeys. On the flip side, a conversion funnel is employed to optimize customers' journey from start to finish and ensure they have an unparalleled experience.
Customer Lifecycle Management Best Practices
For letting a customer lifecycle management system work efficiently, it is important to incorporate the following practices –
Create meaningful, personalized interactions with potential customers and existing clients
Craft a unified experience to reach consumers on all available platforms
To gain a better understanding of customer pain points during the entire lifecycle, surveying current customers is crucial
If you're looking to understand why potential buyers never made a purchase, surveying them can be an effective way of uncovering the answers
Foster lasting relationships with customers even after their purchase
Customer Lifecycle Software
Some of the customer lifecycle management software you should be aware of are –
1. Content Management System (CMS)
Utilize the appropriate CMS to effectively oversee customer relationships and build an incredibly personalized experience. As customers progress through their life journey, harnessing a reliable platform can prove essential for optimal success.
2. Customer Relationship Management System (CRM)
A CRM system serves as the foundation for any customer's journey, granting businesses a better understanding of their clientele and allowing them to build stronger relationships.
3. Marketing Automation Tool
Maximize your customer's experience and deliver relevant content at the perfect times by utilizing marketing automation tools.
4. Analytic Tool
Delve into customer data to uncover meaningful insights about their habits, likes, and inclinations. Armed with this information, companies can make informed decisions that fulfill customers' needs.
5. Customer Service (Help Desk) Software
With reliable customer service software, companies can prioritize and rapidly address client queries. This will guarantee that customers can enjoy a satisfactory experience regardless of their circumstances.
Conclusion!
It's no secret that understanding the customer lifecycle is key to success for any business. It helps you better understand your current customers, learn how to attract new ones, and keep existing customers around for a longer time.
By comprehending where customers are in their life cycle, you can customize your products and services to accommodate their requirements. This leads to higher consumer satisfaction, which then produces more dependable patrons as well as improved revenues.
Liked this post? Check out the complete series on Customer Management