A company's customer service channels refer to the different methods that they offer for customers to receive support and assistance.
For example, a company may provide different channels of customer service such as phone, email, live chat, and self-service options including FAQs and how-to guides on their website.
Customers can contact the company through various customer service channels for assistance whenever required. The channels are in place to make sure that customers receive support that is convenient and timely.
What are Customer Service Channels?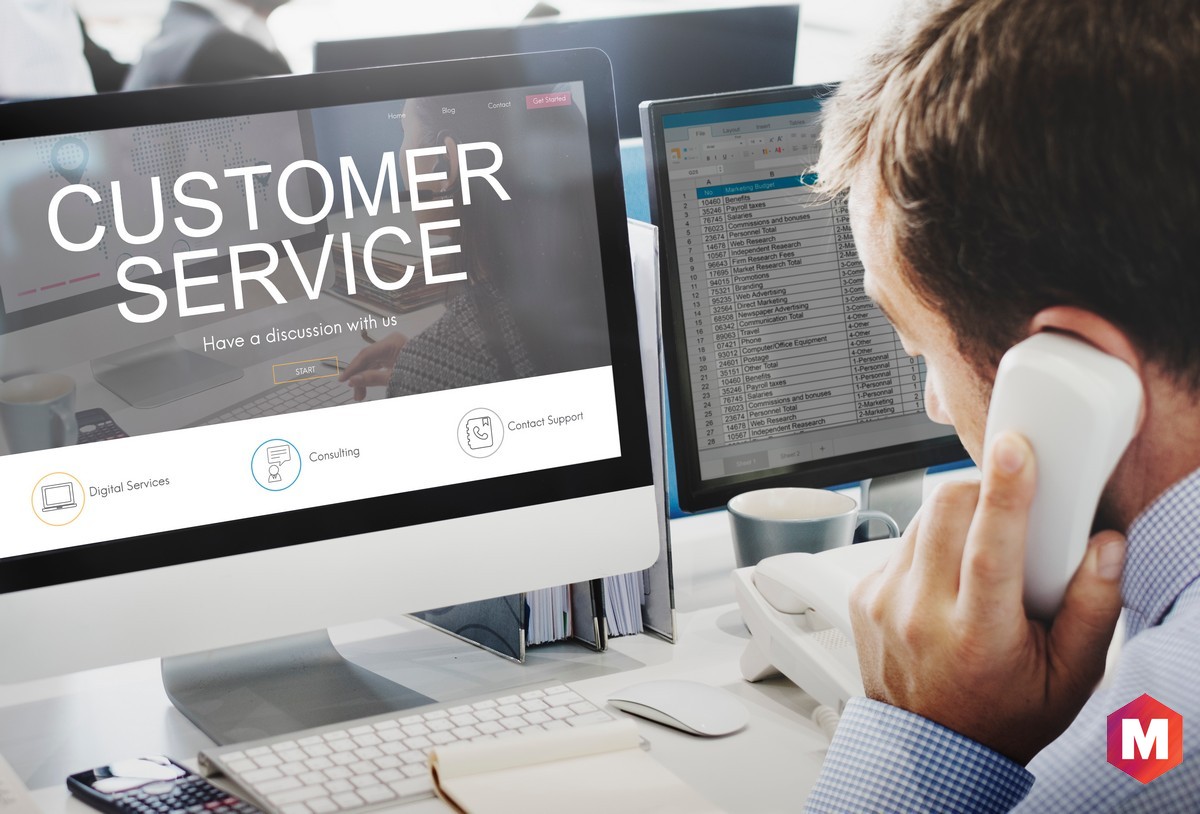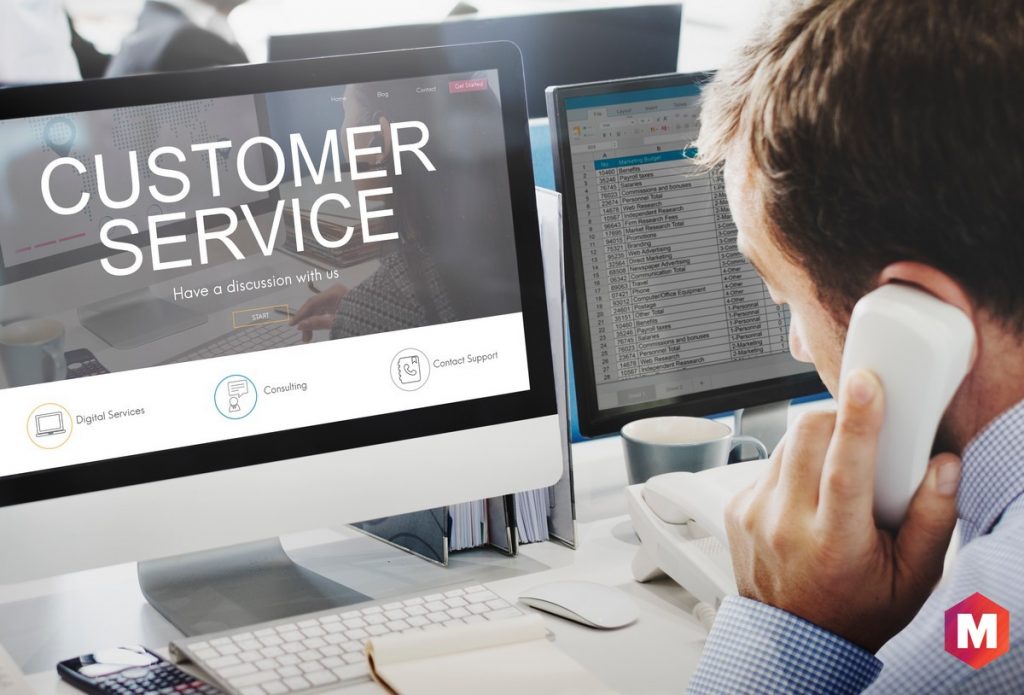 Customer service channels are the interactions or touchpoints that occur during the customer journey. If a brand invests in an omnichannel communication approach, it will be able to combine all of its customer support channels, such as phone, email, website, social media, and messaging apps.
Customers can choose their preferred communication channel when reaching out to a business. By identifying and providing those channels, businesses can improve their credibility and deliver more effective services tailored to their target audience.
Types of Customer Service Channels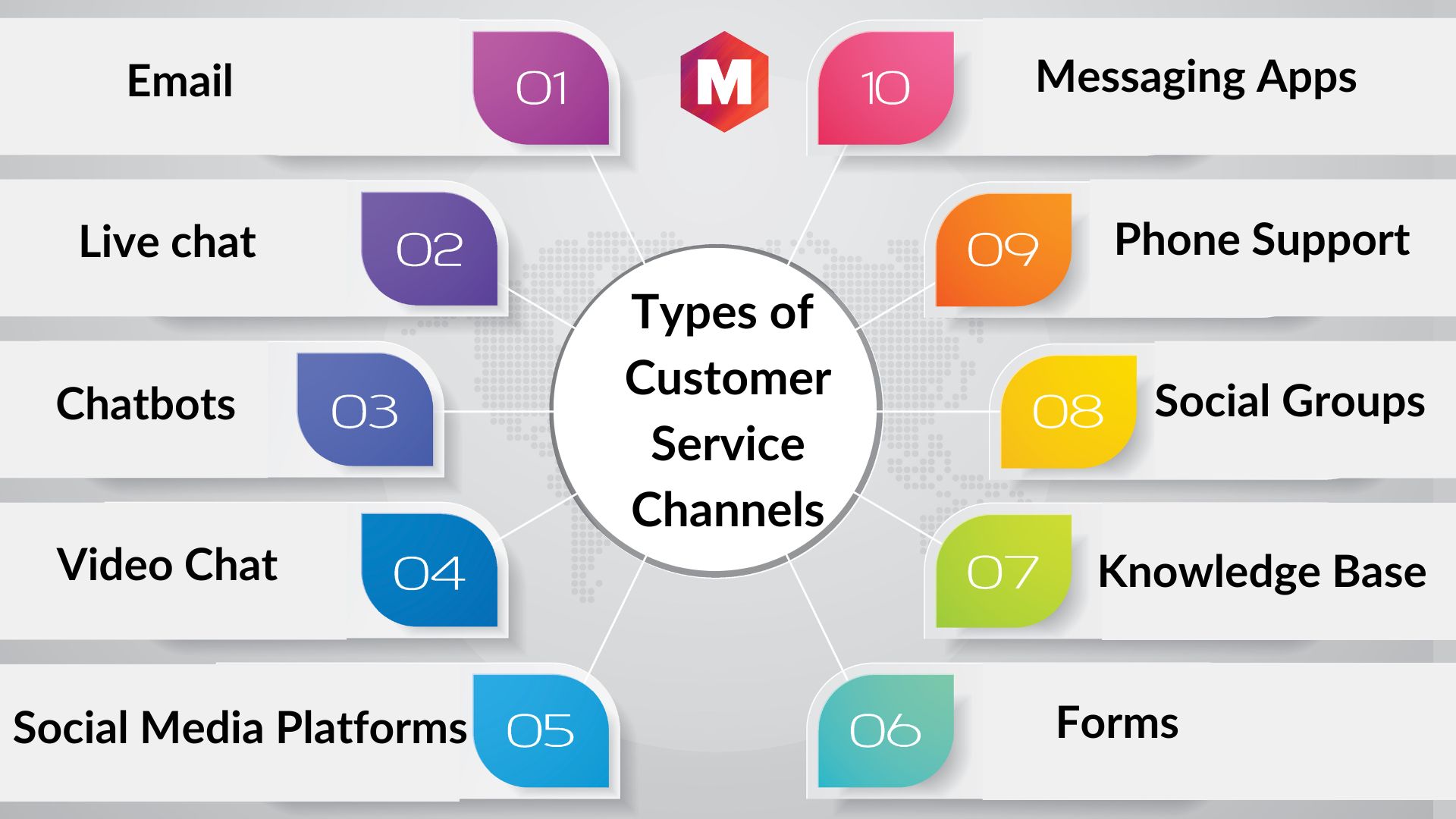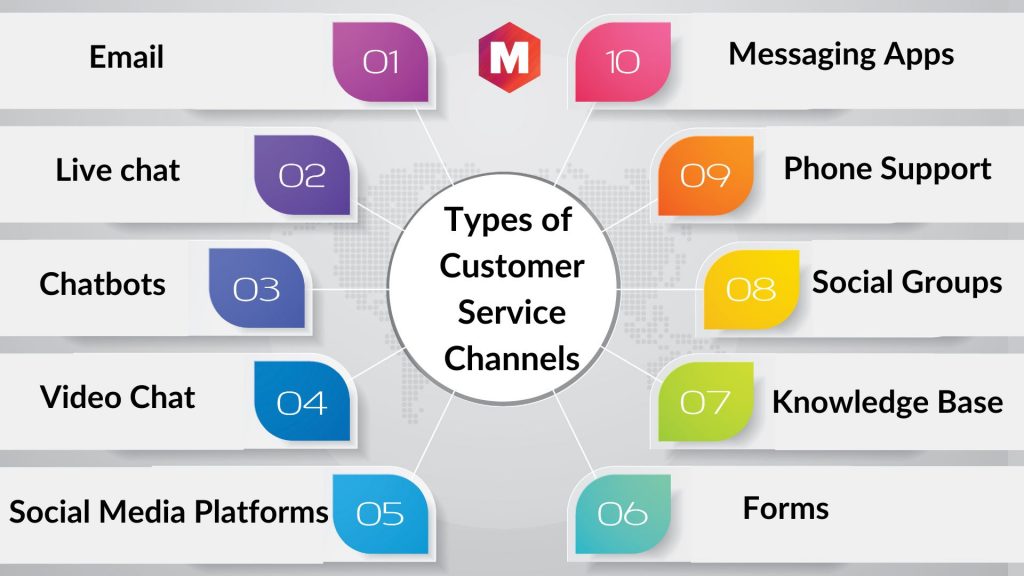 1. Email
Most companies find email to be an effective and affordable way to provide customer support and improve the customer experience. For online businesses, offering email customer service is essential. Customers prefer it as one of the best support channels.
According to Forrester, email was the most popular digital channel for customer service last year, with 54% of customers using it.
Having a strong email support system can greatly enhance your customer engagement plan. Email is beneficial for businesses as a customer service platform due to its convenience. It offers asynchronous communication, which means customers don't have to wait in line to receive a response.
How to use Email Customer Service Channel for Your Business –
Email support is an ideal solution for customers who have very little time to spare. With it, businesses can easily organize and group these customers and send them emails right away. You can integrate it with voice or chat support as well.
Customers effectively communicate their issues through email support by including all the necessary information. This allows support agents to better comprehend the customer's concerns and provide a solution in a clear, step-by-step manner.
2. Live chat
Live chat support yields higher customer satisfaction levels compared to other communication channels. Nowadays, most customers opt for online chat support due to its immediacy. It is one of the most preferred automated tech support tools.
Crazyegg found that Live Chat assisted more than 38% of customers in making improved decisions when selecting products.
Using live chat for customer service allows businesses to better understand their customers' needs and tailor their services accordingly. By interacting with customers in real time, businesses can foster brand loyalty and increase customer lifetime value (CLTV).
How to use Live Chat as your Customer Service Channel –
To improve customer support, integrate live chat on pages where customers frequently interact. Offer offline forms to allow customers to submit queries even when agents are unavailable, and follow up with them once online.
Create pre-written responses to provide quicker and more precise answers, and establish routing rules to ensure that all conversations are directed to the appropriate team, thus enhancing response time.
3. Chatbots
Many businesses are using AI to automate their customer service, sales, and marketing tasks. Customers are becoming more accepting of AI-enabled assistants, as long as they receive effective and timely assistance throughout their experience. This helps businesses improve their ability to quickly meet customer needs at each step of their journey.
Using a chatbot in addition to other communication channels can provide quick assistance to frequently asked questions from customers. This can lead to real-time customer engagement, ultimately increasing customer satisfaction.
How to use Chatbots as Customer Support channel –
If your business gets a lot of similar questions, using chatbots is a smart way to offer fast help instead of making customers wait. Chatbots can be the first step in helping customers so they don't leave, and can get a human to take over for more difficult problems.
Training customer service chatbots to deliver relevant answers can anticipate the needs of customers and increase their satisfaction levels due to zero wait time. Additionally, a messaging bot for customer support can address simple queries instantly, reducing the number of support tickets raised.
4. Video Chat
Businesses are increasingly using visual engagement as a way to enhance their customer service and improve the customer experience. Video chat is a popular channel for the customer service team that makes conversations interactive, and personalized, and results in a better experience for customers.
According to data, customers are more satisfied with live video chat customer service than email or phone, with a satisfaction level of 73% compared to 61% for email and 44% for phone. This makes it a more popular choice for consumers seeking assistance.
How to use Video Chat Customer Support Channels –
Using live video chat for customer support helps to quickly identify issues and provide effective solutions in real-time. This reduces the need for multiple customer interactions and improves the chances of resolving the issue in the first contact.
During chat sessions, you can have personalized conversations to establish trust with customers. By incorporating video chat, live chat, and co-browsing, you can assist customers through difficult situations in real-time. This proactive approach is different from reactive customer support channels.
5. Social media platforms
Social media platforms are important for customer service and one of the most popular customer service channels. They allow customers to easily connect with brands through various channels like Twitter, Facebook Messenger, and YouTube. This helps build brand awareness and engage with customers on a wider scale.
According to a survey, more than 60% of consumers use a brand's social media channels for customer service because they receive quick responses to their inquiries or complaints.
How a Customer Support Team should use Social Media Channels –
To provide excellent customer support, make sure to respond quickly on social media by incorporating it into your omnichannel strategy. Additionally, listening to social media conversations can help understand why and where discussions about your brand are taking place and what customers are saying.
Using customer service training and etiquette can make it easier to start conversations in the right way. Just remember to keep a conversational tone.
6. Messaging apps
Messaging apps like WhatsApp, Viber, Telegram, and Twitter can be popular based on their user demographics. These apps have now become an essential aspect of customer service. Customers from all over the world tend to trust businesses more when they can directly message them.
The WhatsApp Business app is a widely used platform for customer service worldwide. It provides businesses with tools to automate, sort, and promptly respond to messages, making it easy for them to engage with customers.
How to use Messaging Apps as your Customer Support Channel –
Messaging apps provide useful information about the delivery and reading of your messages.
Using them for broadcasting messages about offers and promotions is another powerful way to utilize them.
7. Phone Support
Phone-based support is a common and effective way for customer service teams to communicate with customers. Since it is a traditional contact channel that people are familiar with, many companies choose to implement it.
The human element in the support experience is most effectively provided by phone support, allowing for more natural conversations between agents and customers. This enables the agent to better read the customer's emotions and ultimately reduces miscommunications.
How to use Phone Support Channels –
To provide the best customer experience, it's important to train agents on proper customer service etiquette, including maintaining a positive tone during phone conversations with customers.
To create a more personal conversation experience, agents should avoid overusing scripts and instead use the customer's name.
8. Social groups & online communities
Social groups, online communities, and forums offer valuable assistance to online businesses. They serve as a platform for customers to seek answers, help each other, and gain knowledge. By creating a supportive environment through these channels, companies can provide relief to their existing teams and gain a better understanding of customer issues.
How to use Social Groups & Online Communication Channels in your Customer Support Strategy –
Customers can search groups or communities first to see if someone else has experienced a similar issue before creating a support ticket. This may help to reduce the number of support tickets.
By enabling customers to connect with each other, you can foster loyalty and create a real sense of community. This allows for a broader range of ideas and solutions to emerge, benefiting everyone involved over time.
9. Knowledge base
A knowledge base on a website can be very helpful for customers who want to find answers on their own. They are quite effective in meeting customer expectations.
By gathering commonly asked questions and providing answers, businesses can offer round-the-clock support, even if they have a small team.
How to use the Knowledge Base as an effective customer service channel –
In addition to making your help desk available 24/7, self-service support can also lead to cost savings and allow you to use your support resources more efficiently.
The reason for having FAQs, how-to guides, and troubleshooting instructions is to help individuals easily find solutions on their own.
10. Forms
Online forms are commonly used by businesses as a means of communication. Visitors can provide their information, request services or products, and include any necessary details or specifications for the business to fulfill their request.
The purpose of having a form is to create a convenient customer service communication channel for visitors to contact your business. Forms are a reliable way to establish a stronger bond between a company and its customers. You can trust that the data collected through forms will be sent directly to you and ensure that requests are processed efficiently.
How to use Forms in your Customer Service Strategy –
Gather fundamental information from customers and initiate a dialogue with potential clients.
Enable visitors to leave comments and gather their feedback on your offers.
Which Channels Are the Most Effective for Customer Service?
There is no one-size-fits-all solution for customer service channels, as the most effective ones depend on the individual business. It's a good idea to use a range of methods so customers can contact you in a way that's easy for them. This ensures that everyone who needs help can get in touch with you.
One of the most preferred customer service channels is phone support because it offers a direct communication line and enables agents to promptly comprehend the customer's requirements. Social media is also a helpful platform for interacting with customers since businesses can reply to queries in real time.
Using knowledge bases and online forms can be beneficial for customers to find answers to their questions independently. These self-service support options complement other customer service channels and enhance the overall customer experience.
Here, it is essential to understand that customers nowadays anticipate a customer service experience that is omnichannel.
Why Is It Important to Regularly Evaluate Customer Service Channels?
Each customer service channel has different strengths and weaknesses. Additionally, what is effective now may not be effective in the future. Regularly assessing your customer service channels will enable you to be more ready for future challenges.
Continuous assessment enables you to recognize shifts in consumer demands and behaviors and assesses your ability to adapt to these changes. Additionally, it provides a comprehensive analysis of the customer support channels that require enhancement. To enhance customer service experience on all communication channels, it's important to prepare and be proactive instead of reactive. This will benefit both you and your team.
How to Decide Which Customer Service Channels to Use
You can find out which customer service channels work best for your business with these steps –
1. Know Your Team's Capabilities
Before selecting a customer service channel, it is crucial to grasp the technical proficiency and capabilities of your team. Opt for a channel that your team can competently manage.
2. Identify Your Customer's Needs
To determine the most appropriate customer service channels, it's essential to understand the customer's needs. Take into account their communication preferences, such as whether they prefer to contact you by phone or email.
3. Evaluate Your Resources
Which customer service channels are available and what are the associated costs of setting up and managing each one? It's important to consider these factors before choosing the most appropriate channel for your business.
4. Observe Customer Behavior Patterns
To determine the appropriate channels to use, analyze customer behavior patterns. If a specific channel shows higher engagement levels than others, it is probable that it will be the most efficient one.
5. Utilize Analytics
By using analytics tools, you can gain an understanding of your customer's behaviors and preferences on various customer service channels. This information will help you choose the most effective channels for your customer service.
3 Practices to Manage Omnichannel Customer Support
To provide customized service, it's important to comprehend your customers' expectations and adjust your services accordingly throughout their experience.
Collecting feedback from customers can help you gauge their satisfaction levels and improve your support processes to exceed their expectations.
When creating your website, prioritize making it mobile-friendly for better engagement. It's recommended to provide self-service options to improve customer service.
To enhance customer engagement, utilize visual tools that enable real-time interactions, simulating an in-person experience.
Additionally, respond promptly to comments and posts on social media. This will aid in understanding customer requirements, and providing effective solutions, thus reducing customer churn rates and increasing brand awareness.
Conclusion!
It is important for organizations to view customer service channels as a crucial component. Offering multiple channels for customer service can guarantee that customers receive optimal support and satisfaction with the organization's products and services.
There are various channels available for customer service such as telephone calls, web chats, social media, email support, and live chat. However, each channel has its own set of advantages and disadvantages. Therefore, it is important to carefully select the appropriate channels that align with the company's requirements and target customers.
Liked this post? Check out the complete series on Customer Management