A customer profile is a useful tool for businesses to understand their target audience. Customer profiling contains essential information on the customer's pain points, interests, buying behaviors, and demographic data which can be leveraged for better decision-making processes.
PwC research suggests that one bad experience with a brand is enough to lead 32% of customers to abandon it, even if they had previously loved it.
Customer profiling helps in resolving the occurrence of such bad experiences by knowing customers and personalizing products and services. By using the right customer profile template, you are setting yourself up for greater success & expansion in the future. With the help of customer profiles, your organization can gain insight into how users interact with your brand & goods, enabling you to tailor strategies and offer individualized aid.
What is a customer profile?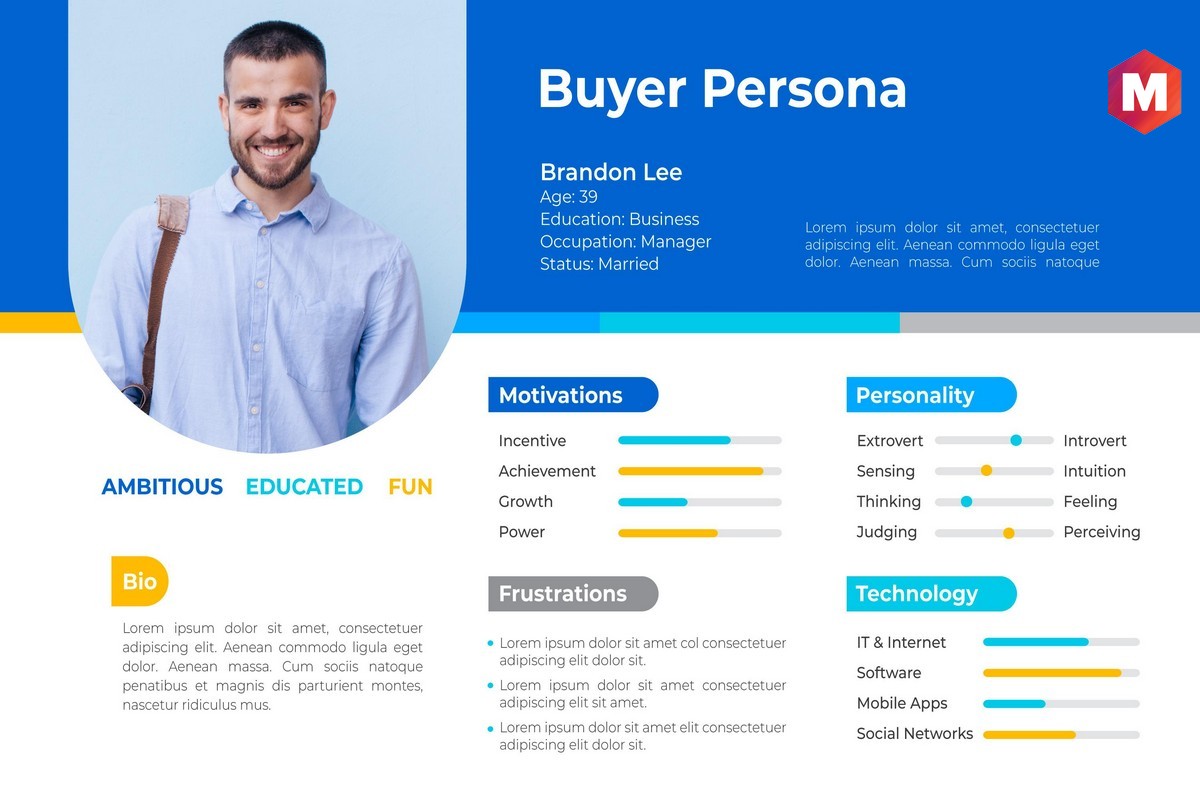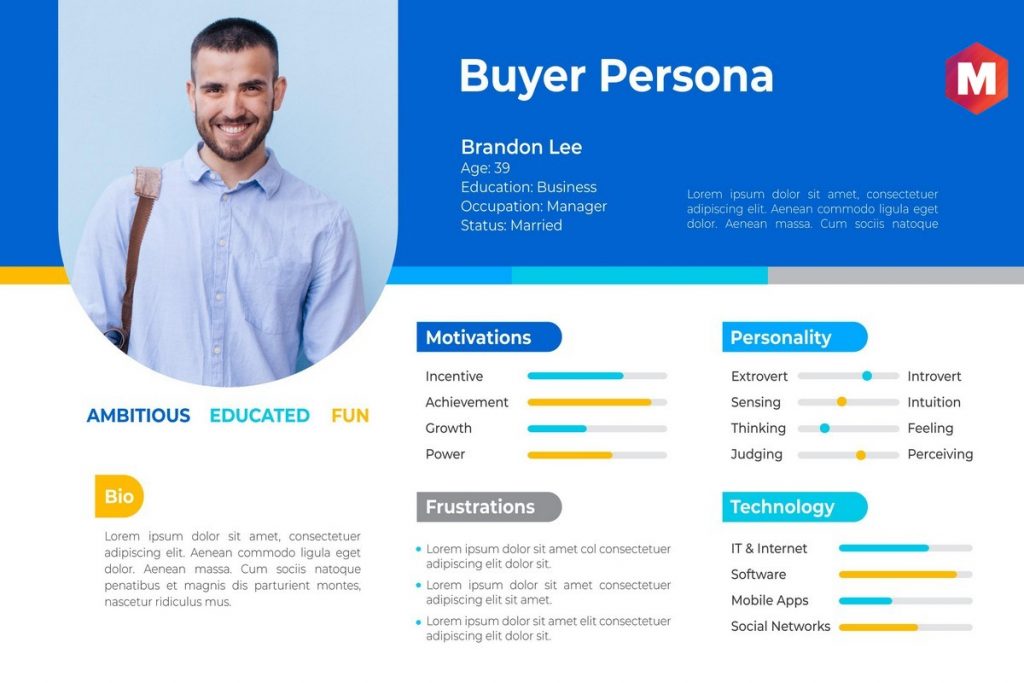 A customer profile is an in-depth summary of your current customers that enables you to segment and target similar customers with your sales and marketing strategies. These profiles have data about purchasing behavior, psychographic information, demographic information, and customer pain points.
Customer profiles provide vital information about an ideal customer that can help businesses customize services and products to appeal to him or her. Examples of some of the common customer profile detail that sales and marketing teams should pay heed to are-
Purchasing habits
Income
Location
Hobbies
Job title
Age
Challenges or pain points
Goals or motivations, etc.
Customer Profiling Benefits
It is essential to create customer profiles to gain insight into what customers want and need. This data can be utilized to create personalized experiences that will draw them in and make them feel valued. Furthermore, it enables you to identify the aspects that motivate buyers towards making a purchase as well as those that prevent them from doing so.
When you assess the interactions with customers, not only will you get a better understanding of what they value, but you can use this knowledge to tailor your strategies. This can be beneficial for your business to find new ways to engage and grow.
Some of the benefits that you can get by creating customer profiles are –
Common types of Customer Profiling
1) Psychographic
A psychographic customer profile is an in-depth description of a consumer, including their personality traits, qualities, preferences, and other characteristics. It allows businesses to tailor their products and services to the psychographic features of their potential customers. It is of two types –
Demographic data can help to better understand a company's target audience. This information typically includes age, location, gender, marital status, ethnicity, income level, Internet access usage and job title. Homeownership status and education level are also taken into consideration in certain cases.
Lifestyle encompasses different aspects of an individual's life such as hobbies, activities, interests, values, attitudes, opinions, and even political or religious conversations related to human rights. All these factors play a huge role in forming one's lifestyle.
2) Typology
This customer profile explores the motivation behind a customer's engagement with your business. It evaluates the customer based on their motivations and helps tailor products/services to fit their needs. It is of four different types –
Need-based customers are those who purchase items only when they have an actual need for them, instead of buying on impulse or out of curiosity. This helps them save money and time in the long run.
Deal-based customers prioritize discounts and are primarily driven by the cost of a product or service.
Impulsive customers often make decisions and purchases based on their emotions and desire, rather than following a logically-planned course of action.
Loyal customers are those who repeatedly purchase products or services and advocate for your business to their contacts.
How to Create a Customer Profile
1) Use customer profile templates
Streamline your customer profiling process by downloading and utilizing pre-devised templates. The sections for customer profiles have already been created for you; all you need to do is simply fill them in. Doing this will save you from having to build out each piece from scratch.
2) Choose your customer profiling software
Establishing customer profiles is a great way to gain more insights into your customers. To accomplish this, you may need various types of software and the data that you collect from your existing customers will help generate effective & accurate profiles. Some of the tools that will help you in the process are –
CRM
A CRM is a great tool to help you stay organized and effectively manage customer data. It provides a comprehensive insight into your customers, including their name, business, contact details, and other important information that can help you better serve them.
Customer Feedback Software
After having the right CRM software, survey tools are the next important thing to have. These will help you to gather extra insights about your customers which are not usually stored in your CRM system.
Analytics Software
Analytics software is an invaluable tool not solely limited to the marketing team–it's crucial for customer profiling initiatives. AI can reveal which types of customers are most likely to respond to content, as well as which product pages are most popular on websites.
3) Dig into demographics
To create comprehensive customer profiles, you'll need to start with demographics and behaviors. After that, you can explore their individual needs and see how your company's offerings align with those requirements. With the right templates and software, you can easily begin profiling each account.
4) Collect customer feedback
With the help of CRM data, businesses can collect vital demographic information about their customers and use it to build an in-depth understanding of their target audience. Gathering direct customer feedback and engaging with them is essential to develop a thorough understanding of their needs & preferences. Gathering customer information through surveys and interviews is a great way to build an accurate customer profile.
5) Review the customer journey map to identify areas for improvement
Before exploring your customer profile data, it is important to correlate it with your customer journey map for proper context. This will help in gaining a deeper understanding of the customer's experience.
Creating a customer journey map is an essential part of any business plan. This document provides an overview of all the touchpoints that customers must go through to successfully complete their desired action with your company.
6) Businesses should prioritize problem-solving to achieve their goals
With an abundance of data available, it can be difficult to focus on the main issue. If you feel overwhelmed, direct your attention back to what your business is striving to achieve and it should help set the direction.
This challenge can be faced by a variety of people, and it is important to identify who they are. To do this, it is essential to analyze the behavior and characteristics of your current users. Doing so will help you determine which type of people could face this challenge.
7) Examine contextual details
Once you have an idea of who your customers are and what it is that they need, it is important to delve into the specifics to gain more insights and devise ways to satisfy them.
Prior to launching a product or marketing campaign, it is essential to conduct extensive research into the wants and needs of your target audience. This can help ensure that your effort is focused in the right direction.
Now that you have a clear understanding of the external elements and contextual details, you should be able to get an overall picture of what your potential customers are like and what their objectives may be.
8) Understand your industry
Knowing your target customers and competitors is necessary to build relationships with them and grow your business. It helps you gain insights into the kind of people you should be targeting, as well as what strategies your competitors are using.
Staying informed about your industry and the wider market can help you develop a unique brand identity. To stand out, you must find ways to differentiate your product or service from other companies within the same sector.
9) Build personas
It's important to remember that each customer is a unique individual with their personality, feelings, and needs.
When creating your customer profile, it's necessary to consider who the company is targeting and ensure you successfully reach these people.
10) Companies should continually analyze and refine their customer personas
A thorough understanding of customer profiles is essential for any business to reach its maximum potential. Knowing your customers can help guide important decisions like what products to develop, which channels to use while doing marketing, and more.
To ensure success, you should make sure that your business operations are in line with the preferences and requirements of your target customers. This should apply to decisions related to product/feature development as well as go-to-market strategies.
What Is the Difference Between A Customer Profile and A Buyer Persona?
A customer profile includes particulars such as age, location, interests, and other details that define their lifestyle and behavior. This helps you target the right companies as customers with your offerings.
In contrast to this, a buyer persona is an imaginary representation of the targeted customers based on certain factors like goals, motivations, obstacles, and so forth. Such information helps you craft appropriate marketing strategies for better customer engagement.
B2B companies typically use an ideal customer profile to gain better insights into their target audience while B2B and B2C companies both use buyer personas to better understand who they are marketing to. Also, buyer personas come into play when you have some basic idea about customer profiles.
Tools for collecting Customer Profile Data
1) Lead capture forms
Engage your website, and visitors, by placing a sign-up form on the page and incentivizing them to fill it out with their contact details. What they get in return could be something like an exclusive discount code or educational material, such as a white paper.
2) Surveys
Gathering customer feedback is an important part of running a successful business. Gathering customer feedback on products and services can help businesses gain valuable insight into what is working and what needs improvement.
3) Email marketing platforms
You can use email data for targeting ads, upsell customers, and expand the business. Click-throughs allow customers to be presented with items that fit their current needs.
4) Social media's role as a communication platform
Social media has become a widely used and powerful platform for businesses and individuals. It provides an efficient way to communicate, connect and enhance brand awareness while offering great opportunities.
6) Google Analytics
AI can help improve website success by providing customer insights and helping optimize marketing efforts to better serve customers.
7) Customer accounts
Customer accounts provide companies with the important contact information like names, emails, and communication preferences to help build relationships and better understand customers.
8) Ecommerce platforms
Shopify and other similar tools can give businesses insight into the shopping habits of their customers, allowing them to analyze purchase patterns and optimize their marketing campaigns accordingly.
9) Billing systems
Company billing data provides insight into customer buying history, allowing for more informed decisions.
10) CX platforms
An open and flexible CRM platform allows businesses to access customer data from multiple sources for more precise marketing strategies.
What data is necessary for creating a customer profile?
Demographic data
Geographic data – Lead generation forms enable businesses to gather geographical data on customers, helping them tailor marketing strategies to different demographics.
Age – Collecting customer age through website accounts, surveys, and feedback forms allows businesses to gain valuable insights.
Income – Surveys can be used to target customers with different income levels for the appropriate product promotions.
Hobbies – Gather information about customers' hobbies and interests through surveys, forms, social media, and web analytics.
Customer sales data
Loyalty status – Companies use customer interactions to measure loyalty levels.
Service-level agreement (SLA) terms and conditions – SLAs can provide insight into a customer's expectations, which should be noted in the contract and stored in a CRM.
Buying patterns – Gathering consumer data is essential for understanding customer patterns and ensuring their satisfaction.
Warranty info – Knowing a customer's purchase history helps with renewals and ensures warranties are up-to-date. This information can be found in their account or contract.
Customer support data
Conversational data – CRM should record why customers contact support, how they are helped, and keep track of past support tickets for each customer.
Returned items – Store customer data on your ecommerce platform. This will help prevent your marketing team from trying to sell unappealing products and give your support team insight into what didn't work before.
Customer lifetime value – Teams can better identify VIP customers to give them special treatment by using customer lifetime value calculations based on past sales and purchases.
Customer satisfaction (CSAT) score – CSAT surveys measure customer satisfaction after a support interaction.
Examples of Customer Profile Templates
1) Demographics & Basic Information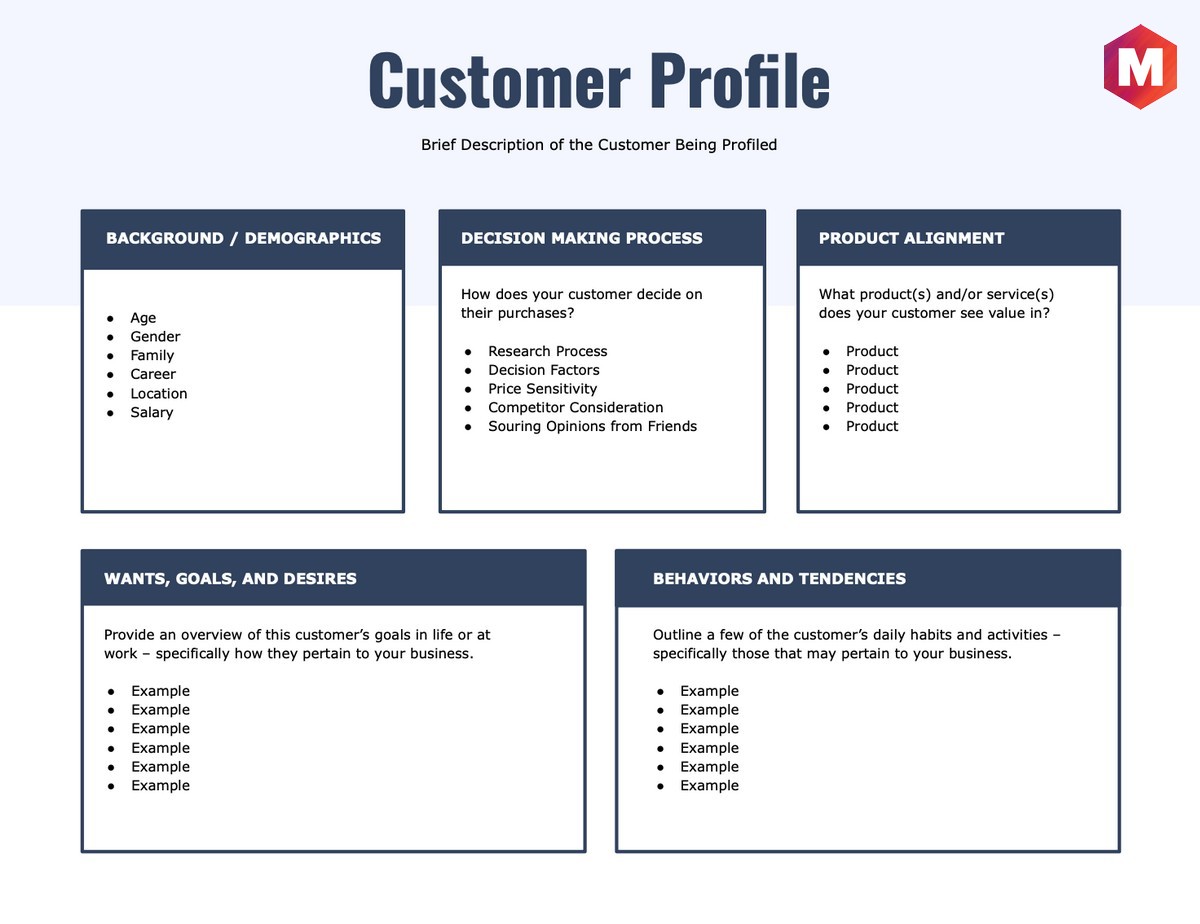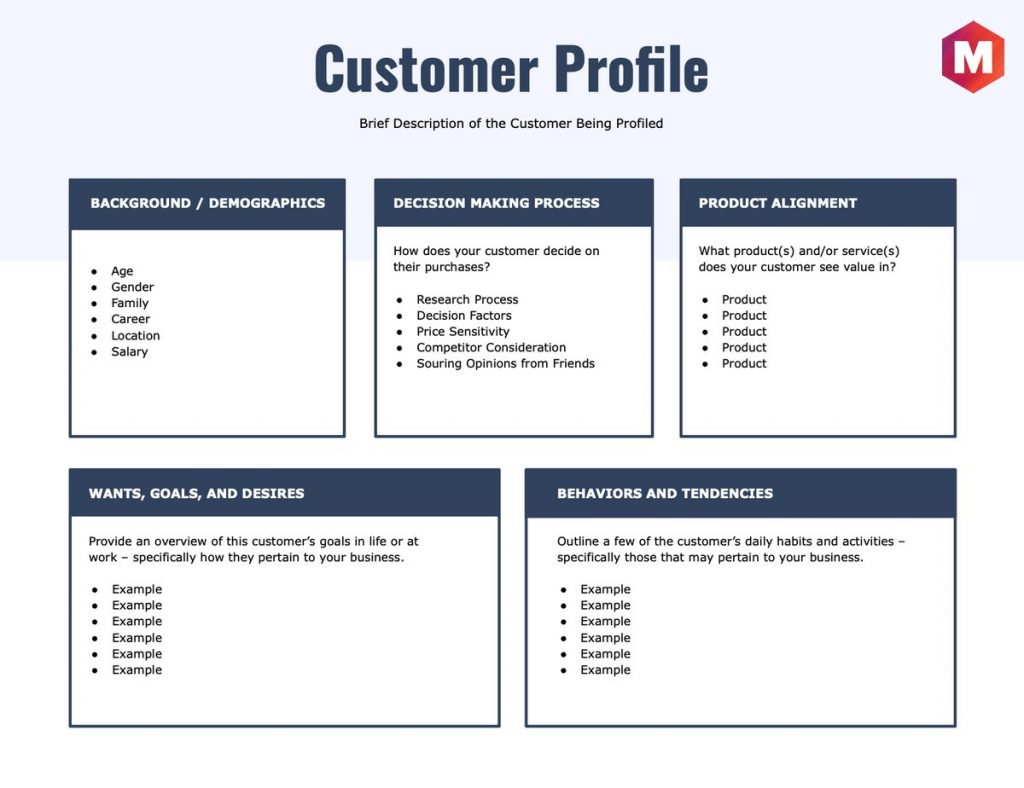 The customer profile template given above is one of the key customer profile examples that incorporate all the essential information you would need about your customer profile.
2) B2B Customer Profile
This B2B customer profile template is useful in understanding how you can design a customer profile for your B2B ideal customers that will help your sales teams in meeting and converting a target customer.
Conclusion!
Businesses use customer profiling to get a better understanding of their customers and tailor their marketing efforts accordingly. This allows them to develop products and services that meet the needs of customers, target potential audiences more effectively, and create loyalty with existing ones.
Businesses need to have a deep understanding of their customer base as it helps them make informed decisions that can improve customer satisfaction and boost their profits.
Liked this post? Check out the complete series on Customer Management