Marketing ROI is a metric used to calculate the return on investment (ROI) that is received from implementing marketing strategies. The calculation of ROI in marketing is important to gauge the value and returns generated by the marketing initiatives planned by the business.  It is basically the final amount of money that is obtained after subtracting the initial investments.
Determining the ROI in marketing campaigns is also important because it helps them in understanding where all of the money is being spent, and thus they can slow down their expenditure rates by working on those specific areas.
What is Marketing ROI?
Marketing ROI involves measuring the profitability and revenue increase that can be attributed to the effectiveness of marketing efforts. Different metrics that can be used to measure ROI in marketing are Reach, Leads, Impressions, Conversion rates, CLV or customer lifetime value, Cost per lead CPL, Return on Ad Spend (ROAS), Cost per Acquisition (CPA), etc.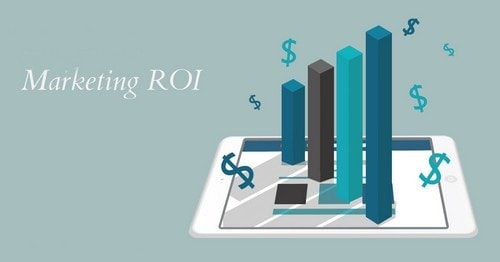 ROI in marketing is the return on investments made in different marketing campaigns by a company or any business entity. It can be used as a barometer to measure the performance of the marketing tactics that the company uses. With the help of the marketing ROI, it becomes easy to determine the success of the effort that is put in by a company to improve its business methodologies.
The marketing ROI is a representation of the overall gain whether it relates to gaining leads, driving sales, or the increase in the engagement of the customers, or the tactics which are driven by the sales growth. By looking at the stats, it was found that there are so many businesses in the world out of which 40% of those, think that providing a good marketing ROI is one of their top marketing challenges.
In the case of the marketing ROI, the money here is not tied up to the plants and inventories. Instead, it is risked in the marketing funds. The dollar spent on marketing ROI is normally tracked in overhead in the 'Sales and General expenses.' But there are a few companies and other business entities that deduct these from the ROI calculation.  This way, one gets to have a closer estimate of the true profit that is being generated by their marketing campaigns in favor of the company.
Why is Measuring Marketing ROI Important?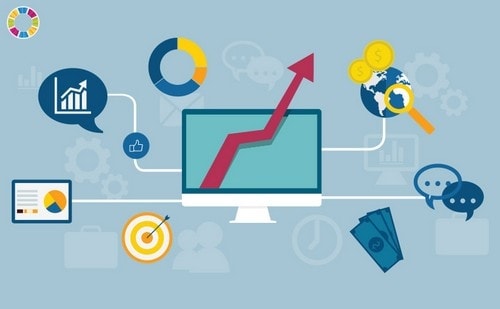 Calculating the marketing ROI is not an easy task, but it still is a necessity. Thus all those companies who are serious about their business prefer to calculate the marketing ROI. The reason why calculating marketing ROI is so important is that it is quite helpful in justifying marketing investments.
Some of the reasons why I'd suggest you to measure marketing ROI are-
Helps identify the most effective marketing campaigns
Enables businesses to redirect resources to high performing investments
Drives continuous improvement in marketing strategies
Provides data-driven insights for better decision making
Creates accountability within the marketing team
Validates the impact of marketing efforts on bottom-line results
Assists in forecasting future marketing budgets
Encourages a focus on customer-centric campaigns with measurable outcomes
Supports understanding of market trends and customer behavior
Offers a benchmark to compare against industry standards, etc
How to Measure Marketing ROI
The calculation of the marketing ROI totally varies from one company to another.  An organization to free to choose from the components to calculate its marketing ROI. Now while calculating these two primary methods are used.
The first one of them is 'the cost to do something' and the second one is the 'outcomes that are generated as a result.'  Here one thing that should be kept in mind is that it is usually measured in terms of profit, but here the revenue has been used.
The formula for Marketing ROI Calculation –
Marketing ROI (%) = [(Revenue return – Marketing spend) / Marketing spend] * 100.
An example of how to calculate the marketing ROI
Now the formula that is used for the calculation of the marketing ROI is given as-
Now suppose that there is a person named John whose marketing costs for Twitter ads was $ 6000 and he was able to generate $12,000 in terms of revenue from these ads. Then you need to calculate ROI by using aforementioned formula –
Marketing ROI (%) = [($12,000 – $6,000) / $6,000] * 100
Marketing ROI (%) = 100%
This means that with the help of this campaign, John was able to receive a 100% return on investment.
Now the value of the marketing ROI can also be negative. Let us consider an example of that-
Suppose that John, this time spends $6000 on Twitter to generate ads. But what if this time he could only generate $3000 as revenue? So the calculation here would go as-
Marketing ROI (%) = [($3000 – $6,000) / $3,000] * 100
Marketing ROI (%) = -100%
Now here, it can be clearly seen that the final value of the marketing ROI has come negative.  This negative percentage value means that the return on marketing investment was also negative.
A negative marketing ROI is a sure sign indicator of the fact that the whole marketing mix strategy that is being sued is not the ideal kind of marketing strategy for that specific company.
Thus either the strategy has to be changed, or one needs to work on their ads creativity and the various parameters of the ad
Thus one must keep working on their marketing strategies until the value of the ROI starts coming in positive. Also, one important tip is that instead of just deducting the value of the amount of marketing dollars you spend forming the revenue generated, try to use the percentage value of ad spend instead.
This makes it easier to be able to compare the returns that get on the various strategies, even if the numbers differ from each other a lot.
Challenges of Measuring Marketing ROI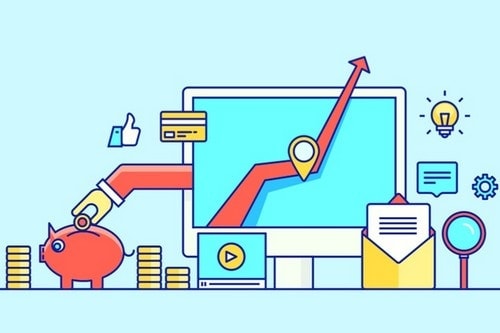 The calculation of marketing cost and ROI is very tricky, and complex algorithms and formulas are used.
When the traditional or digital marketing ROI is calculated manually, it becomes time-consuming.
It requires a lot of patience because it takes several months to finally be able to know whether the campaign was profitable or not.
What Practices to Use for Measuring Marketing ROI?
Accurately assessing Marketing Return on Investment (ROI) is essential to recognize the effectiveness of any business's traditional & digital marketing campaigns. To maximize your marketing efforts' ROI, measuring and analyzing several key metrics is important. By focusing on these aspects of digital marketing success you can gain a better understanding of how successful (or unsuccessful) your campaigns are performing-
Page Analytics: Boost the visibility of your product's landing page by using a tracking URL to measure how much traffic is being driven there from your content.
Time: How long did it take to craft the marketing materials?
Production Costs: Monitor the overall expenditure of resources, services, and software necessary for creating the campaign.
Promotional Costs: To accurately calculate your total costs, be sure to include any promotional expenses.
Non-Financial Returns: Were there any unforeseen benefits from your campaign, such as heightened social media engagement or additional website hits? If so, this could be a sign that recognition of your brand is increasing.
How to Improve Marketing ROI
To improve roi of a marketing campaign, I would suggest you to follow the tips given below –
1. Makin Clear Goals
Before you venture into any digital marketing campaign or endeavor, make sure your objective is well-defined. Having a clear goal in mind will allow you to accurately assess the return on investment of your efforts. Without an outlined ambition, measuring success becomes impossible.
2. Determine Costs
By understanding the costs that come with creative development, personnel, agency fees, and overhead while setting a marketing budget, marketers can accurately draft their ROI reporting and measurement strategies and determine which metrics to include in their ROI calculations.
3. Leverage a Marketing Analytics Platform
To measure omnichannel successes, use the right attribution and measurement strategies. A powerful marketing technology platform should seamlessly unite offline and online tracking alongside all of your other attributions for clearer holistic results. With a top-tier analytics tool like Marketing Evolution Platform in tow, you can see key performance indicators leverage sharper insights to power your ROI calculations—ultimately leading to smarter decisions with more accurate outcomes.
Determining customer lifetime value (CLV)
It's pivotal to figure out your customer's lifetime value to determine how marketers measure the worth of their commitment to your business. Additionally, it is much cheaper and more cost-efficient for growth purposes if you redirect marketing efforts toward current patrons rather than seeking new ones. Keep in mind that maintaining existing customers requires relatively fewer resources when compared with acquiring fresh clients!
With this metric, you can make informed choices on how to leverage your customer relationship management, and customer retention and amplify revenue in the process. By utilizing Customer Lifetime Value (CLV) to measure the gap between marketing expenses and generated value from customers over a period of time, you can estimate your Marketing Return on Investment (ROI). This lets you recognize which clients are worth investing in and which ones should be avoided.
What Mistakes Do Companies Make When Using MROI?
Companies often fall into the same traps when it comes to calculating their Marketing Return on Investment (MROI). One of the most common missteps is attempting to measure and calculate marketing ROI without first crafting a plan. However, companies forget that comprehensive strategy and strong tracking capabilities are essential for getting accurate results from MROI initiatives.
While it is effortless to identify the immediate profits associated with marketing by measuring ROI, one must be sure not to ignore the long-term value acquired from investing in branding that continues over time. Not only does marketing help companies generate short-term profits, but it also serves to create lasting value and exponentially increase future returns.
Here's where customer lifetime value comes in handy. By determining an individual customer's worth compared to others, marketers can demonstrate the financial benefits of their marketing efforts over time and prove skeptics wrong. This will surely impress a CFO as they continue to foster strong customer relationships.
Are your marketing investments paying off?
Accurately assessing the success of your marketing tactics is crucial, and Marketing ROI (MROI) can help you do this. Unfortunately, if MROI isn't used correctly, hazardous mistakes could be made that cost businesses dearly. Most companies fall into common traps while trying to utilize their MROIs:
1. Without a precise tracking system in place, it's impossible to properly measure the success of your campaigns and determine your Marketing ROI. This is such an essential part of marketing tactics that you can't afford to have one. If you don't have the right system established, you won't be able to accurately assess what works best for your business – and this knowledge is invaluable!
2. If you're not measuring your marketing ROI across all channels, then you are missing out on a comprehensive understanding of how successful your campaigns truly are. Just looking at one channel such as social media won't give the entire picture; measure across all channels to gain an accurate assessment.
3. If you overlook the customer's lifetime value, your marketing ROI will be inaccurate. Organizations need to consider their customers' potential for repeat purchases to effectively measure their Marketing ROI and gain maximum output from their investment.
Examples of Marketing ROI Calculation
1) Video Marketing
An e-commerce business is determined to boost sales of its new product. To do so, they have created a 90-second commercial that goes into detail about the features and benefits of their item which can be found on both their website and YouTube! They are sure this innovative approach will draw more customers in.
Utilizing social media and other marketing channels, the video was advertised for a mere $200. Shortly after, five orders were generated from the campaign – all valued at an impressive $100 each!
Here's how they can calculate their return on investment: [(5 x$100 – $200) ÷ $200] x 100 = 150%
Though the ROI was not as high as desired, there are multiple ways the organization can alter its techniques to increase success. For instance, they could experiment with different versions of their video – both longer or shorter than what it currently is- and broadcast through various channels. Alternatively, optimizing the existing content might also produce beneficial results for them.
2) Written Content
Aiming to improve lead generation, a B2B company determined that investing $300 into a blog campaign of content tailored for their target audience was the route to take. After only several months, this approach has paid off with tremendous success; three leads were acquired as an output!
To determine their Marketing Return on Investment (ROI), they applied the same equation as previously : [(3 x $300 – $300) ÷ $300] x 100 = 200%
The ROI of written content is undeniably much higher than the video campaign, likely because customers are more receptive to reading instead of watching. To maximize Marketing ROI, this company should consider refining its content strategy and exploring other channels such as email marketing, SEO optimization optimized for search engines, and more.
3) Email Marketing
To build its customer base, a software company decided to try email marketing and invested $50 into the campaign. This yielded five new customers – an impressive return on investment!
Calculating the Marketing ROI formula reveals just how successful their efforts were:
[(5 x$100 – $50) ÷ $50] x 100 = 900%
Email marketing is an invaluable tool for acquiring new clients and ensuring you get the most bang for your buck. To maximize ROI, try varying content types and honing messages to make them more impactful. Additionally, adjusting email frequency will leave a lasting impression on recipients that promotes brand loyalty while keeping them engaged with your company.
FAQs
1) What is Digital Marketing ROI?
Digital Marketing ROI is the measure of return on investment from digital marketing activities. It allows marketers to determine whether their investments in content, email campaigns, social media, and other digital strategies are generating positive results that can be directly attributed to the efforts.
2) What is a good marketing ROI?
The definition of a "good" marketing ROI can vary depending on the type of campaign and industry. Generally, anything above 100% is considered excellent. However, for small businesses or campaigns with smaller budgets, even a modest return (above 10-20%) can be considered successful.
In marketing, a general guideline for return on investment (ROI) is usually a 5:1 ratio, while a remarkable ROI is considered at around a 10:1 ratio. If the ratio falls below 2:1, it is considered unprofitable.
3) What are some strategies to improve marketing ROI?
Some of the ways to increase ROI in marketing are-
Optimize content for SEO.
Test different strategies and campaigns using A/B testing.
Utilize remarketing to reach customers who have already interacted with your brand or website.
Use data from analytics tools to adjust targeting, budgeting, and campaigns in real time.
Leverage automation tools to scale efforts
Use Influencer Marketing Campaigns to reach new audiences
Incorporate a consistent brand voice into all marketing efforts.
4) What are the metrics to track Marketing ROI?
The most important metrics to track for improving marketing ROI are –
Cost Per Lead (CPL): CPL measures the money spent to acquire a new customer or lead.
Conversion Rate (CR): CR measures how often visitors take a desired action on your website.
Return Visitor Rate (RVR): RVR measures the percentage of people who come back to your website within a certain timeframe.
Cost Per Acquisition (CPA): CPA measures the cost of acquiring a customer or sale.
Customer Lifetime Value (CLV): CLV is the total amount of money a customer can be expected to generate throughout their relationship with your business.
Return on Ad Spend (ROAS): ROAS measures the profit generated from a given advertising campaign compared to its cost.
Click Through Rate (CTR): CTR measures the number of people who clicked on your ad compared to the total number of impressions.
Liked this post? Check out the complete series on Marketing