Definition: Share of Wallet is the percentage of total spending an existing customer prefers to do with a particular brand. It's an important revenue-based marketing metric for businesses to understand customer loyalty and satisfaction. To measure Share of Wallet, companies should look at the percentage of purchases by an existing customer compared to other competitors in the same space or those offering similar products/services.
Share of wallet reveals how much a consumer regularly spends on one specific brand in comparison to its opponents. Suppose that an individual has allocated a portion of their allowance to invest in a particular type of product or service; share of wallet is the amount they spend on a particular as opposed to other players in the market.
Put simply, Share of Wallet is a brand's competitive "share" of the money customers put towards purchasing their product. It's like an imaginary wallet that consumers use to store funds and decide how much they are willing to spend on each brand. For example, if a customer spends $1000 for different products, and out of those $1000, $200 is spent on your products, then your share of the wallet is 20%.
What is Share of Wallet?
Share of wallet (SOW) refers to the amount of money that an average customer consistently spends on a specific brand instead of choosing other competing brands within the same product category. For a business, it is a sales metric that suggests the share of their products in a customer's wallet in comparison to the amount of money they spend on competing products.
That means for a given product category that your company deals in, how much money is spent by specific customers for your brand of products is Share of wallet. For example, in this constantly intensifying market, major brands like Coca-Cola and Pepsi are under immense pressure to maintain their share of wallets.
Whenever you consider soft drinks, which brand name immediately appears in your thoughts? It's Coca-Cola of course!
Around these parts, no one inquires about a soft drink; they just inquire "Do you want a Coke?" and then select their desired flavor (Mountain Dew, Pepsi, etc.). Clearly, Coke has become an integral part of our culture when it comes to carbonated beverages and hence enjoys a better share of wallet sow.
Hence, having a thorough grasp of your brand relative analysis of the share of wallet is an essential component to constructing any successful marketing plan. It permits you to gauge how much market share customers are willing to entrust to your business.
Key Takeaways!
Brands should encourage brand loyalty to increase their share of wallets.
They should implement targeted marketing strategies based on customer buying behavior.
They need to offer superior customer service to differentiate from competitors.
Example of Share of Wallet (SOW)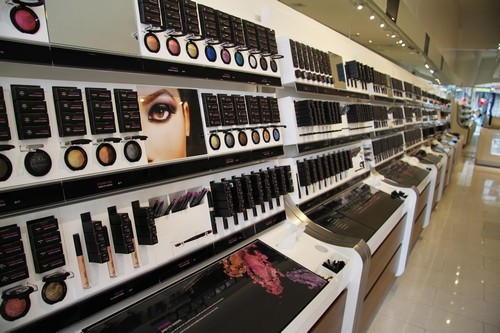 An example will clarify the concept better. E.g. You are a leading, high-end cosmetics brand. Your target market is working women in the age group of 25 to 40 who prefer and can spend on high-quality lipsticks. When your target market goes for shopping lipsticks, they would have different brands to choose from.
So if out of their total budget of cosmetics category, the budget for lipsticks is $20 every month; then out of that $20, the number of shares your brand claims is known as Share of Wallet. Thus, if $10 is spent every month on your brand 'Charming Queen' lipsticks, it means you have got a 50% customer's Share of Wallet.
Why Wallet Share is Important?
Grasping your customers' spending habits is an essential sales strategy, as it can save you a significant amount of money. Studies in marketing reveal that it costs five to seven times less to make further sales with existing customers than to acquire new ones. That's why understanding the share of wallet should be at the forefront of any business plan – by doing so, you have the potential to significantly boost your total revenues.
Knowing an individual consumer's share of the wallet gives insight into their buying behavior; it can help a company's marketing department to create sales and advertising campaigns that will be most effective in generating additional revenue. The analysis provides invaluable details, helping companies make informed decisions when designing their strategies and targeting the right customers.
Companies can use Share of Wallet to assess their customer satisfaction levels. For example, if customers are not satisfied with a certain product, they may not purchase as much of it. This indicates that their share of wallets is lower than expected and needs to be addressed before the company loses more customers.
It also helps companies determine how successful they are at selling complementary products to their existing customers; if a specific customer spends less on different products offered by the same brand, it means that they are not satisfied with those offerings. Companies can use this information to adjust their product portfolio or improve quality in order to increase customer satisfaction and strengthen sales.
Wallet Allocation Rule
A marketing study was undertaken by Ipsos Loyalty under which around 17,000 customers were studied for their buying behavior. The article containing the results of this study has been published in Harvard Business Review in October 2011. It sought to find out which factors had the most bearing on Share of Wallet. And the conclusions of the study are as follows:
Share of wallet is not dependent upon satisfaction. The business cannot assume that a highly satisfied customer will necessarily spend on its brand.
Share of wallet is directly related to Brand Rank. If your brand is Brand#1 in your customers' choice of brands, you will win a larger share of their wallets. If you are #2, your chances of winning a larger share go down by large margins.
This happens when there are only a few contenders for the #1 position in the market. Say, if there are only two brands in the market, Brand #1 inadvertently wins the higher share of wallets leaving behind Brand#2 with huge gaps between the sales.
If there are many brands to choose from, all the brands tend to win some Share of the Wallet. Here, the company that seeks to gain maximum SOW has to introduce product differentiation to get to the #1 position in the customers' preference list.
If there is a tie between two brands for the #1 position, that does not help the company in gaining the larger share of the wallet as the wallet share is equally divided between the competitors.
Hence, the only way to claim a bigger share of the wallet is to become Brand #1 in that product category.
How to Calculate Share of Wallet SOW?
The most reliable strategy to calculate the share of the wallet is the renowned "Wallet Allocation Rule." Here are the steps you need to follow –
1. Determine the number of brands
To accurately determine the share of the wallet, it is essential to first identify how many brands you want to analyze.
2. See how the customer ranks them
To get a full picture of the customer's thoughts and preferences, survey them on their opinion of various brands. If two brands are given an equal ranking, take the average between those positions to assign a score. For example, if two brands get ranked first by a consumer—these will both be awarded 1.5 as their rank.
3. Use The Wallet Application Rule formula
To calculate the share of wallet for a brand, simply plug in its rank and total number of brands within its category into this equation.
Share of Wallet vs Market Share
Market share refers extent of a market that one firm overtakes based on the number of customers or revenue. Share of wallet, however, expresses how much an individual consumer spends on one brand versus its rivals. Gaining fresh consumers augments market share while getting existing clients to fork out more amplifies their share of wallet.
Market share generally considers both new and old customers whereas Share of Wallet considers only the old customers who are already buying products in the market. It does not consider new customers. In a typical company, the share of the wallet might be measured for customers as well as for multi-brand dealers (Which brand has more share of the wallet at the dealer point).
How To Increase Your Company's Share of Wallet?
1) Lead the market trends
The business has to keep abreast of and be at the forefront of all the latest trends in the market for its product category. This ensures that the customers will develop faith in the company and will look forward to the company's range of products to experience the new trends that are in vogue.
2) Customer loyalty rewards
The company must reward its loyal customers for staying with the company by introducing special schemes such as loyalty discounts, special offers at concessional rates, gifts, etc. This makes the bond between the business and the customer stronger.
3) Maintain the 'Brand Connect'
Only securing the #1 Brand position in the market is not enough. It is equally important to maintain that position. And how can a business do that?
By maintaining a string of special actions to resurface a preferred choice of being a particular brand in a customer's mind whenever he recalls a brand. These special actions include marketing communications informing the customers about existing products, schemes, offers, new product launches, etc.
But apart from regular marketing messages, a brand has to do or communicate something special to the customers which they perceive as valuable. It may, for example, be organizing a talk show, live demonstration with a renowned celebrity, honoring special achievers, sponsoring some competitions, etc. This will keep the Brand alive and fresh in the minds of customers.
4) Focus on customers giving higher business
As stated earlier, generating more business from customers who have already bought from you and are happy is far easier than approaching new, reluctant customers. It optimizes your brand loyalty, market share, and customer retention.
Thus, the company has to concentrate a slew of marketing initiatives directed only at their present customers such as special privileges, free deliveries, price variations, new offers, and free upgradation of the products to keep them happy and buying from you.
5) Upselling and cross-selling
One more important technique to increase the Share of Wallet is cross-selling and up-selling. Cross-selling refers to selling products in the allied categories to the main product line. Thus, McDonald's, a popular fast-food chain across the world, offers a private space to celebrate birthdays. They also offer decorations and the services of a host for the party. The customer will have to pay additionally for this. This is cross-selling – selling a different product line apart from the principal line of products.
Upselling is offering a high value- high price variant of the existing product. Thus, if McDonald's sells its classic burger at $1.5, it may offer the customers its Big Mac at $2. This is upselling. Customers who like Classic Burger will go for Big Mac spending 50 additional cents.
6) Use Target Marketing to Grow Share of Wallet
To upsurge a brand's share of wallets, one must compete more efficiently to acquire some of the competitor's business. This campaign should begin with pinpointing precisely what customers discover from their competitors. It could be related to quality, price, or convenience; yet it may also have something specific such as vegan selections and fresher produce than yours. You must determine if they offer faster checkout times or free delivery options to better your services and products when compared side-by-side against theirs.
How to Use Target Marketing to Grow Share of Wallet
The goal of target marketing is to increase the business' Share of Wallets by focusing on the most profitable and loyal customers. Here are a few strategies that can be employed for this purpose:
Focus on high-value customers based on their previous purchases and spending patterns.
Give rewards or discounts to existing customers to encourage them to switch from your competitors.
Develop customer loyalty programs that will give exclusive benefits and privileges to customers who keep coming back.
Personalize offers or promotions tailored to the customer's individual needs and interests.
Provide incentives for buying more of the same products over time.
Liked this post? Check out the complete series on Marketing