What is Subliminal Advertising?
Subliminal advertising is a type of advertising that affects the minds of target audiences without their being aware of it. The history of subliminal advertising begins with James Vicary's idea of including 'Eat Popcorn' and 'Drink Coca-Cola's' in a movie dialogue in the year 1957.
The subconscious mind of viewers picked up these terms instantly that ultimately became one of the crucial reasons behind the growth of coke and popcorn sales. Hence, subliminal messages influence people below their threshold of sensation or consciousness.
It is very straightforward that Subliminal advertising is used to hit the unconscious or subconscious minds of people to take any action. In other words, it can also be referred to as manipulation in an indirect manner due to its effect on viewers' behavior, as audiences are made known to information secretly, in the absence of a direct message.
Subliminal advertising is a type of advertising whose intentional messaging influences people's responses subconsciously. Subliminal ads use messaging, sound, and visuals to share a message and engage target audiences without them being aware of that.
Subliminal advertising uses subliminal messaging, i.e. the inclusion of indirect or hidden messages to pass below the normal limits of human perceptions. They are made in a way for the viewers to have the message stored in their minds.
Types of Subliminal Advertising
There are different types of subliminal ads, such as provocative messages, logos having hidden messages, symbolic advertisement, and tricky picture placement.
Provocative messages by Snickers, for example- the 'feeling hungry? Grab a snickers' kind of message to instigate people to try them out someday indeed works well. And because such dialogues are easily memorable, viewers will keep them in their minds for a long time.
Brands having complicated logos with some kind of unreadable yet hidden message tend to catch people's attention. To understand more, observe the Milwaukee brewers logo. Barely anyone could extract the message hiding on it, but the logo's creativity amuses any viewer.
You'll find that the M and B letters of Milwaukee Brewers are given in small letters. The second great example is the Vaio logo, which creates an image of analog and digital mode. The actual catch here is that the brand works on it. Coincidence? Maybe not!
Kfc's lettuce leaves in their burgers represent money. This is another type of Subliminal advertising, known as symbolic advertising. What KFC wants to express is that their items are not very expensive and much affordable.
Another type of Subliminal advertising is the tricky placement of texts and pictures. This is where brands use their idea to place letters anywhere around the logo to create another message.
Advantages to Advertisers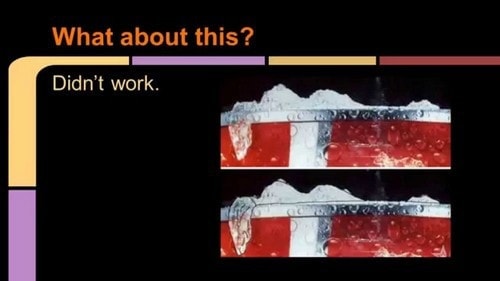 1) Instant Stimulator
Subliminal Advertising stimulate the unconscious portion of the human mind. It forces people to purchase a commodity without thinking much about its pros and cons. Besides producing an instant effect, this kind of advertising induces a belief that people want the particular product. It arouses their desire and makes them crazy for anything.
2) Minimum Exposure, Maximum Returns
Where other ads have a minimum exposure of 3 times as people don't register the brand name unless it is shown to them for at least this number of times; subliminal advertising only need one exposure to turn their probable consumers into buyers.
With just one dialogue in television or a digital image with provocative content, marketers break their benchmark targets and create new ones. There are more-than-expected sales of products with least amount of effort.
3) Longer Brand Remembrance
Brand-specific and out-of-the-box logo designs build a permanent brand identity in consumer minds. People love innovative things and hence remember unique brand logos and designs until their last breath. This gives a golden opportunity for the marketers to sell anything they like to the audience.
Next time they see the brand, there's quicker brand recall followed by an instinct to buy the commodity. Above all, people not only remember brands, they also start identifying themselves with the brand's values. This is another added advantage of subliminal advertising.
4) Boost Emotions
Through subliminal advertising, marketers practically control every psychological aspect of consumers. Such messages touch the soft-corner of every individual. It, therefore, enables marketers to manage the emotions of the people and take them anywhere they feel like.
5) Cost-efficient
When only one exposure is bound to grow up sales figures, marketers have a forever liking for crafting subliminal communication. It does not hit the marketing budget and requires minimum spending. Besides quicker sales gains, it has long-term returns in terms of the brand proposition, values, and ideals.
Types of Subliminal Ads
1) Provocative Messages
Messages like 'Hungry? Grab a Snickers', 'Feeling hungry? Grab a Popcorn' produce the instant effect on the audience. Such messages on signboards and especially in movie halls magnetizes audience in no time.
2) Logo Design with Hidden Meanings
Logos like that of Sony Vaio or Milwaukee Brewers is not understood easily but has a hidden connotation that talks something about the brand. In case of Vaio, the word actually displays the symbol of both analog and digital modes, where the brand works. The 'M' and 'B' of Milwaukee Brewers appears in small letters in its logo. Snooty Peacock features optical illusion with two kinds of pictures in one logo- one the brand image in the shape of a peacock and the other the image of the woman behind the brand.
3) Symbolic Advertising
The lettuce leaves in KFC's burgers are actually money. The motive is to present the brand as a pocket-friendly and cost-effective one.
4) Tricky placement of Picture & Text
The sci-fi SFX magazine cleverly places the image of women in front of 'F' so that it looks 'E' and it reads 'SEX' to the readers. This atomically stimulates people and then end up buying it at its very sight.
What are Subliminal Messages?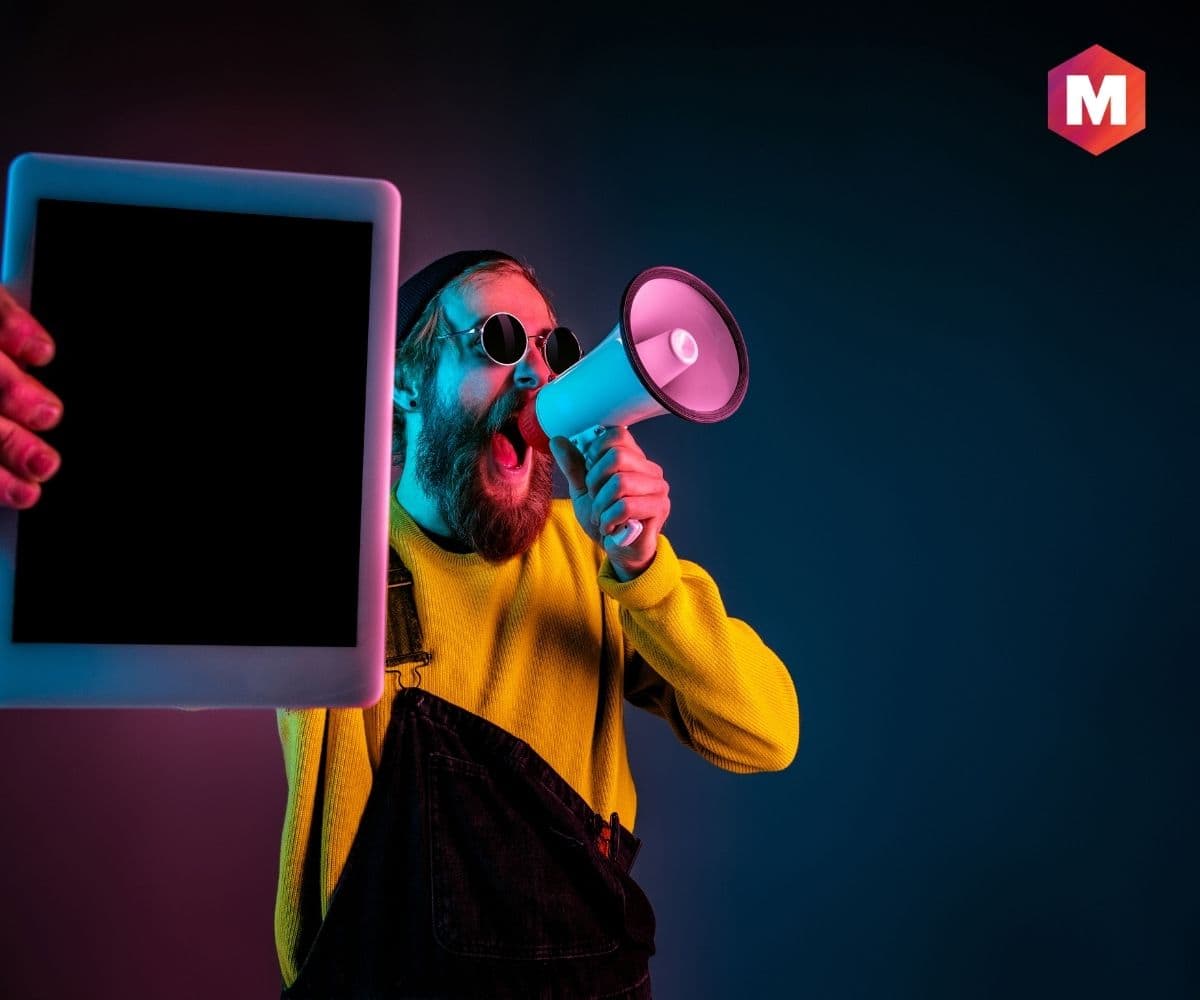 Subliminal messages are defined as the type of messages that are perceived by audiences without being aware of the fact that those messages were intentionally used by the advertisers. They are used so that the unconscious mind of people can catch the news.
Subliminal messaging is not only used in brand advertisements but for propaganda and political purposes, too. The conscious mind cannot pick up or instantly pull up a subliminal message. It is tough to do so, even if you are focused on finding one.
However, such subliminal messages get a positive response. Despite it being hidden somewhere and without having the conscious mind know of it, our subconscious mind responds to it without our knowledge.
To make it even more precise, understand what subliminal perception is first. The cognition, which works unconsciously, responds simultaneously to a signal/sound in a noisy area, while other signals are also tracked unconsciously. The best example of this is driving.
Importance
As with any regular advertisement, advertisers always consider the relationship of a product with its usefulness and economic value as a priority. But this notion takes a u-turn with subliminal advertising. That is, advertisements are more focused on being hidden.
The creator tries their best way to hide the message somewhere, ensuring that no viewer takes a note of it in the conscious state.
1. Engages the audience
Subliminal advertising does control a part of psychology, but such a thing generates a spark of emotion. It can get a few advertisers in trouble, depending upon the laws of the region, but marketers may use it for a greater sale rate.
Above all, subliminal advertising can help marketers save a penny. With such a low cost and requirement or single exposure alone, the height of the sales reaches the target. You might have unknowingly come across a subliminal ad through music, specific product appearance, tradition, and local brand.
Have you ever noticed slow-running music with a light tune being played in a shopping mall? If so, there's a reason for it. In an environment surrounded by such tunes, people naturally like it and are more likely to get slow shopping for what they need, which then ends up in them buying more items.
The same kind of technique is used in nightclubs, whereby loud and energetic music plays a key role in making people be more involved in the environment. The louder the music, the livelier it becomes to dance, and therefore, it generates more sales of drinks.
2. Increases sales
Attractive products attract more buyers, which is why perfume products that are meant for ladies are elegantly designed in a particular shape and size to look cute.
Not only perfume bottles but overall, every cosmetic product is marketed in elegance. Doing so attracts the females even more than what the actual product does.
Likewise, brands know that most guys prefer masculinity- which influences the fact that skincare products come in a straight, cylindrical container. In simple words, the appearance can boost sales. From the color itself, the consumer group can guess the product.
3. Develops Loyalty
Traditions play a huge role in consumer groups. Take, for example, the Amul girl, who has been the company's face since the very start.
Amul users seem to have an attachment with the Amul icon now and wish for her to stay in her position for a longer time. Since the company knows about it, they are not looking for an alternative either.
The manufacturing location of a product is also a concern for many of the buyers. Fashion lovers will never choose clothing from China over Italy. Why?
Simply because Italy sells authentic fashionable clothing, while China is known to dupe it. Likewise, Germany is always on priority when it comes to technology.
4. Acts as an Instant Stimulator
Companies wouldn't simply add a thing to their brand for no reason. They know even a slight mistake and a slight clever move can change the entire dynamics.
The first reason why you can say subliminal advertising is important is that it is an instant stimulator.
That is, subliminal messages are least concerned about the perks and disadvantages. Often, people would purchase items without a second thought, having been directed by the unconscious mind.
A subliminal message directly commands people that they need the item, and they have to have it.
5. Ensures easy conversions
All of these mental activities are done with the least exposure, but maximum gain is achieved.
Studies show how the public has to be exposed to a brand at least three times for them to realize its existence, while subliminal advertising cuts down the number to only one.
Only a simple Subliminal message is enough for people to turn to you, all while you can enjoy the sales boost through minimum efforts.
6. Increases brand recalls
Subliminal advertising also comes with the power of making the consumer group remember you for a longer time.
Because obviously, the subliminal message is going to be unique, the viewer's brain will have a short memory of it stored in themselves.
The more iconic the message is, the longer will people be able to keep recalling the brand. Following encounters of the brand by the viewers will make them more curious, searching for their products and wanting to try them out.
Instantly, the brand value comes up in their mind, and all the credit goes to Subliminal advertising.
Here is a video by Marketing91 on Subliminal Advertising.
Examples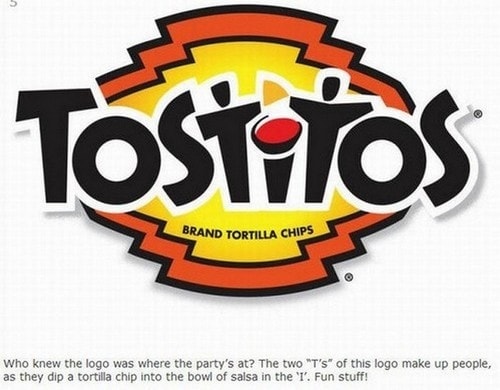 1) Music
It is mostly felt in shopping malls and discos. In malls, lighter tunes and soft music makes people slow and therefore they spend more time in making a perfect choice and purchasing as many as they can.
In case of discos, fast-track music inspires people to dance and the more they dance the more they consume shots. In either case, consumer end up spending more, whether for a product or a service.
2) Product Shape, Size & Colour
Products meant for ladies are generally curved in shape. From lotion bottles to cosmetics, everything has a sleekness and elegance that unconsciously attracts women.
As for men, they prefer straight shapes and hence their commodities feature in straight shapes and sizes. Skin care products resemble vibrant colors. In fact, most products are packaged in the color of the flavor contained within it. Just by looking at the color, people know what flavor to expect. As for mosquito replants and rat killers, the color is black.
3) Tradition
People hardly know how the little girl of Amul is related to the brand, yet they get attracted to the brand and keep using its products. The girl, the icon of Amul has been in use since the brand's emergence and in all probability, will continue to be shown in the future.
4) Manufacturing Region of Brand
Given a choice between French perfumes or Chinese ones, by default, most consumers will go to France. When it comes to electronics and technology, it is always German. If people are asked about wine, it goes back to France again. As every brand owes its primitive uniqueness to a certain place, it is by virtue of that place by which people make their choice.
Best Subliminal Ads
Here are a few examples of how an ideal Subliminal ad should look like:
1. SFX Magazine
The subliminal way of writing sex by the magazine SFX for its Jennifer Garner issue is one of the most popular subliminal ads. This way of the subliminal marketing campaign was also followed by the brand later.
2. Pepsi vs Coca Cola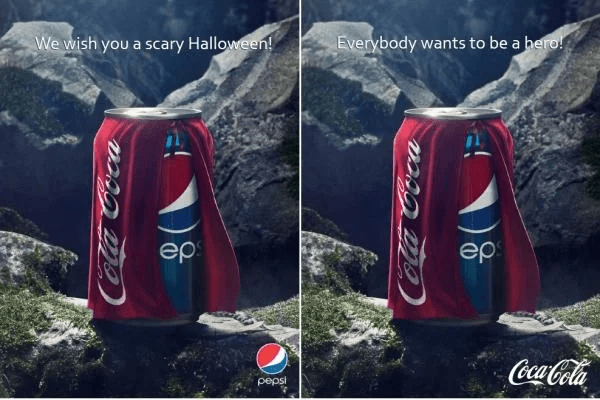 Pepsi came up with the subliminal ad suggesting that having a Coke when you wanted a Pepsi is scary, but then Coca-Cola responded to the same ad with even better subliminal messages saying that when Pepsi wants to be a hero, it wears Coca-Cola. So, using subliminal messages in the brand's tagline can also do wonders.
3. Pirates of the Caribbean & Disney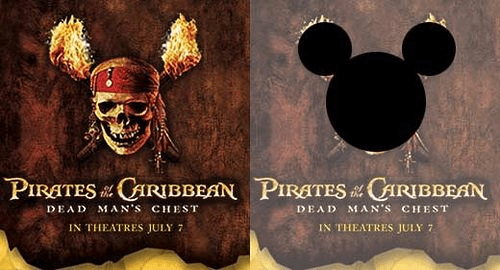 This is one of the most subtle ways and clean ways of conveying subliminal messages. Disney used a well-known skull and crossbones emblem of Pirates of the Caribbean to match their iconic Mickey Mouse logo to talk about the collaboration.
4. Seychelles' 50 Rupee Note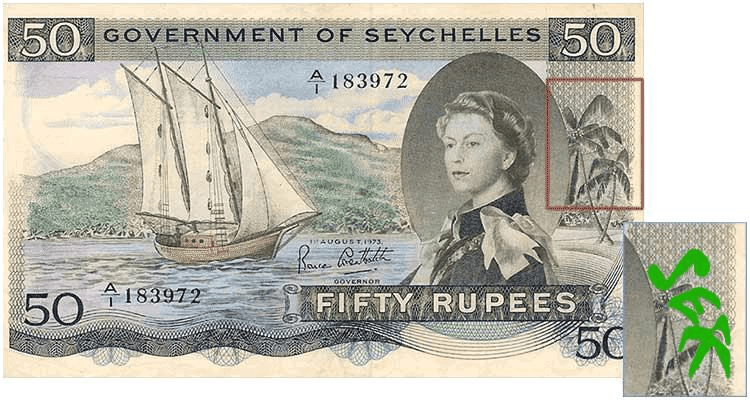 Seychelles' 50 Rupee Note is very confusing and hides the word SEX in the most impossible, unpredictable way. If you search for a few minutes and you still don't see it, don't worry because you are not alone. Go back to figuring out what's going on in the palm tree beside Queen's soldier.
5. Baskin-Robbins Ice Cream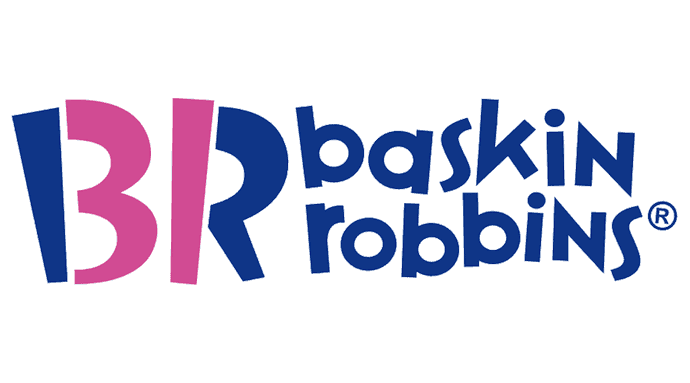 The "B" and the beginning of the "R" in the Baskin-Robbins logo subliminally convey the message of 31 different flavors of its ice creams.
Conclusion
Because subliminal messaging knows how to get responses from the conscious and unconscious minds, the concept is even more potent as an advertisement tool than its ordinary alternative. The messages it directs are sent directly to afloat in the deeper parts of the brain. Although its true power is not scientifically proven, they work out to be more effective than usual advertisement methods.
The thing is- it cannot be accurately told If subliminal ads work for real. Many types of research also ended up with a verdict that points out negatively on subliminal advertising, expressing that placing hidden graphics/audio works is not vast enough. Fortunately, the technique isn't always on its losing side, but equally on the positive one.
But the real question is, how can such deep stimuli convince people to buy even when they aren't aware of it? Another truth is that most of what you know as subliminal ads were not planned and happened on their own, or you may say, accidentally!
A strong hint comes from a psychological thing that people see what they want to see. It was lucky for them to turn out so good that consumers instantly wanted to make a purchase.
This was all about Subliminal Ads
---
---
Liked this post? Check out the complete series on Advertising