What is Banner Advertising?
Definition: Banner advertising is defined as image-based online ad campaigns that use a display ad or image ad. These banner advertising are image-based rather than text-based. These banner advertising are generally cost-effective, allowing advertisers to attract visitors and display their products and services effectively on the online platform. These ads allow increased brand recognition and ad targeting.
Banner Advertising is a form of online advertising which is done through banners. Banners are the rectangular graphic display, either horizontal or vertical, that stretched across the top, bottom, or sides of a website. Different shape banner-ads are known differently. For instance, the horizontal type is called a leaderboard, while the vertical banner advertisement is known as a skyscraper.
Hotwired.com of Wired Magazine showed the very first banner ad on October 27 in 1994 that said "Have you ever clicked your mouse right here? You will" and it was used to send the user to an AT&T campaign. From then to now, the banner advertising industry has come a long way and enjoys omnipresence on the web.
Banner advertising is similar to traditional advertising, but this can differ significantly in how advertisers pay the host. In banner advertising, the host can be paid through one of the three methods: cost per impression, cost per click, and cost per action. Currently, banner advertising or virtual advertising utilizes real-time bidding technology, which is known as programmatic bidding. This technology allows the approved companies to bid on ad space during the time it takes for a banner ad to load.
Features of an Appealing Banner Ad
A banner advertisement may include an image (.jpg, .png, .gif) or of a multimedia object (usually created using Flash or HTML5). Hence, such ads can either be static or animated as per the technology used for designing them.
The static banner ads can be understood as a simple image or a visual that is acting just like an ad but in the digital ecosystem. Site visitors can click on these ads to go to the website or landing page of the ad.
While animated banner ads (or web banners) are a type of digital ads that an ad server delivers. Its purpose is also to get noticed on the website and influence the user to take favorable action.
Banner ads that are close to the content or above the fold or around the other captivating content have better chances of offering favorable outcomes. Some of the common types of banners that are used in banner advertising are-
Types of Banners used in Banner Ads
1. Rectangles
300 x 250 Medium Rectangle
250 x 250 Square
240 x 400 Vertical Rectangle
336 x 280 Large Rectangle
180 x 150 Rectangle
300 x 100 3:1 Rectangle
720 x 300 Pop-Under
2. Banners and Buttons
468 x 60 Full Banner
234 x 60 Half Banner
88 x 31 Micro Bar
120 x 90 Button 1
120 x 60 Button 2
120 x 240 Vertical Banner
125 x 125 Square Button
728 x 90 Leaderboard
3. Skyscrapers
160 x 600 Wide Skyscraper
120 x 600 Skyscraper
300 x 600 Half Page As
Role of Banner Ads
The primary purpose of banner ads is to generate traffic to a website and to increase brand awareness. However, some banner advertisements are clickable, and the function of these ads is to get clicked on. The role of banner advertising is as follows:
1. Brand Awareness
Increasing brand awareness is one of the essential roles of banner advertising. With the help of banner ads, the businesses grow their brand awareness and make people easily recognize their product or service.
2. Lead Generation
Banner ads are formulated in such a way that it attracts visitors to the websites. In banner advertising, images are used to attract visitors. It is so because images are more eye-catchy than any text. If a business is SaaS-oriented, then they can use banner ads to get more sign-up.
3. Retargeting the audience
The role of banner ads is to retarget the audience. If in case, your visitor doesn't sign up or try the product or service, then the banner ads can help the businesses to retarget these visitors by attracting them towards the website again.
How to Create a Banner Ad
Usually, big companies hire professionals for having effective banner advertising. But for startups or small businesses, it is not that difficult to create banner advertising. Some applications in the market can help website owners or businesses to do this form of advertising. However, there are few simple principles that one needs to understand while designing banner advertising:
1. Determine the primary target and what you want from them
For designing an effective banner advertisement, the primary and first principle is to determine the main target for this advertising and what you want from them. The main target or core audience can differ as per the company's products, so determine the core audience. Then, determine what you want from them; you can either buy your limited sale product or click on your website or try any company service for free.
2. Determine the value proposition
Value proposition means the value or idea behind offering that product or service and then designing a banner on that basis.
3. Select a Standard web banner and size
It is better to use a standard size for the web banner because choosing any other size can limit the reach of the banner ad campaign.
4. Select the readable fonts
If you insert some text in the banner, then make sure that the fonts are readable. If you want the visitors to try a product, then make sure it is readable and understandable in the banner.
5. Make sure to use high-quality photos
Banner advertising is image-based rather than text-based. So, a business needs to use high-quality images. If low-quality images are used, then it can create mistrust between the users and the brand.
6. Make use of brand Colors
Creating a professional banner ad needs to reflect your brand image. It is crucial to use brand colors to help visitors recognize your brand immediately on the internet.
7. Don't stuff the banner with too many things
An effective way to attract visitors is to have a simple banner that is not stuffed with too many things. There should be only required information in the banner which can communicate the right message to the audience.
8. Use branding elements to let banner ads work
The most crucial thing in banner advertising is to use brand elements like company name, logo, or website. A business must include these elements in the banner ads as it helps the visitors to recognize the brand easily.
Some of the Best Practices for Banner Advertising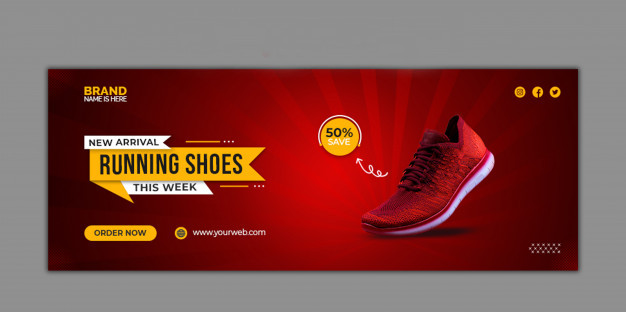 1. Impressive heading
The first that may catch the attention of an audience is the headline. Not only should be relevant to their need but also prompt the audience to go through the entire content. The purpose of the banner is to make the audience interested in the product or service which the company is offering. Try to construct a simple and captivating heading for the banner. Use appropriate and eye-catching font design, size, and color.
2. Impactful Call to Action
To leave a lasting impression, a banner for advertising needs a call to action that is impactful. There are a lot of banners that one frequently comes across in a day, but how many of those ads one can remember. Through the banner, try to express the needs of the consumer and speak out to the audience. It is essential to make the call to action visually appealing and engaging.
3. Optimizing the File Size
The recommended size for a digital banner ad should be between 10k to 40k. Make sure that the banner is of the required size as per the condition. The smaller size banner ad is said to be better. This is because smaller would be the size, more quickly will the ad load and would be able to be displayed on a page. Thus increasing the chances of catching the audience's attention.
4. Use of Animation and Motion
The audience is generally drawn to animation within the page. And due to this, animated banners have garnered more attention than static banner ads. Use visually appealing animation and motion that takes no more than 15-20 seconds to finish.
5. Harmonize the Banner with the Website
At the time of designing a banner for advertising, make sure to design it according to the website it is going to be displayed. Design the banner in such a way that it blends in with the website and compliments it. No one likes to click on banners that are flashy and too contrasting.
6. Create more than one banner for a campaign
Every website generates a different set of audiences who will react to the given banner differently. Hence one should create multiple banners for a single campaign and measure the response. According to the response, make the changes and provide variation to the banner. It is better to have different banners for different websites.
Network for Banner Advertising
Listed below are the different advertising network that allows one to spread the ads across a different range of websites.
1. BuySellAds
BuySellAds has a range of advertising options available like image plus text, pure textual ads, pure image ads, and sponsored tweets.
2. Ad-On Network
This network offers creative and unique ways to target banner ads. They display ads on the website that is based on the browsing history of a user.
3. Revenue Hits
Advertising options include a display, text ads, popups, and widgets. Revenue hits are known to serve over billions of ads impression each day. It has a 100% fill rate across geographic regions.
4. InfoLinks
InfoLinks provides a wide selection of ad units like InText, InTag, InFold, InFrame, and InScreen. All these types of ads help in SEO. It improves space utilization and gives the user a less intrusive experience.
Banner Ad Examples

Some of the common examples of successful banner ad campaigns are-
1. Amazon
This banner ad from Amazon is effective in resonating with the audiences that like to support the small businesses in the US. With the help of this banner, Amazon also communicates that small businesses can also sell on Amazon quite easily.
2. Staples
Here, the simple banner ad of Staples is quite effective in communicating to its audiences that the best place to shop when you want to save money is Staples.
3. Disney+
This banner ad example of Disney+ is emphasizing upon the exclusivity of the brand. It says that Disney+ would offer you content that you will not get anywhere else.
Wrap Up!
It is clear now that banner ads can be quite effective for you in optimizing the presence and reach of your business on the web if you know the right way of using them.
What are your thoughts about the effectiveness of banner advertising?
What are your favorite banner ads? Share with us in the comment section below.
Liked this post? Check out the complete series on Advertising