A competitive market is one in which there are many buyers and sellers, each offering a product that is similar to the offerings of other competitors. In such an environment, businesses must strive to set themselves apart from their competitors by offering unique products or services at competitive prices. As a result, competition drives down prices and increases innovation in order to stay ahead of the game.
A perfectly competitive market model implies a situation in which there are – no restraints to entry, a vast number of buyers & sellers such that none of them can influence pricing, and commodities are all identical. These conditions help ensure a completely free and fair market.
What is a Competitive Market?
A competitive market is a market that has immense competition due to the participation of numerous sellers and buyers offering similar products or services with no barriers to entry and nobody has the power to unilaterally set prices.
For example, in a race, all participants aim to reach the same finish line, but each one wants to be the first one to complete it. In a competitive market, each business strives to achieve success by offering the best product or service at the market equilibrium price.
Agriculture is also a good example of a competitive market where many farmers sell the same commodity, such as wheat, in a given market. Price competition between producers helps to ensure that prices remain competitive. Competitive markets foster innovation and maintain an advantageous equilibrium price for buyers and sellers. This results in affordable high-quality products and services.
Key Takeaways
No individual consumer or producer holds the authority to control the market in a competitive industry.
A perfectly competitive market is an ideal market that has many buyers and sellers (who are well-informed), no barriers to entry, and no chance of a monopoly.
Producers and sellers in a competitive market are price takers who must accept the market price.
Competitive Market Equilibrium
In a competitive market analysis, the point where demand and supply are balanced is known as the competitive market equilibrium. Market equilibrium is the point where the demand curve and supply curve intersect in a curve. The equilibrium point is where consumers and producers reach an agreement on both the price and quantity of a product. This determines the prices and quantities that will be available in the market.
Characteristics of a Competitive Market
1) Many buyers and sellers
As the competitive market definition suggests, it has numerous buyers and sellers. The large number of participants ensures that no single entity will be able to influence the price or quality of the product or service.
2) No barriers to entry and exit
A competitive market has low barriers to entry, meaning that any new business can join the market without having to pay an exorbitant fee or receive approval from existing businesses. Likewise, businesses can leave the market without any restrictions.
3) Focus on profit
In a competitive market, businesses focus on making a profit by producing goods and services for the lowest cost possible while still ensuring high quality. If there are many potential customers and the market is willing to pay for their product, the company will compete in the market. This would result in other companies selling similar products and competing with the original seller to earn profit.
4) Price taker
In a competitive market, buyers and sellers are considered price-takers, meaning they do not have significant power to control the price of goods and services. The price is determined by the equilibrium point between supply and demand, which represents the highest price that buyers are willing to pay for a good or service.
5) Homogenous products
In a competitive market, the products and services sold are usually very similar. Buyers might not be able to differentiate between different products and would likely choose the lowest-priced alternative. This means that businesses must remain competitive in order to stay profitable, and they must be able to offer a product or service that is superior to their competitors.
6) Relatively low profits
In a competitive market, businesses may not make large profits because of the competition and the price-taking behavior of buyers. Companies must be able to produce goods or services at a lower cost in order to remain competitive and attract buyers. This means that profits are typically lower than if the market was less competitive.
7) Information transparency
In a competitive market, buyers and sellers have access to the same information. This results in better pricing decisions as buyers can compare different products and services to make an informed purchasing decision. Additionally, these transparent information flows allow businesses to price their products and services accurately and competitively.
8) Consumer rivalry
In a competitive market, businesses are competing for the same customers. This environment encourages companies to innovate and provide better products and services than their rivals in order to attract customers and gain a competitive advantage. A competitive market means that consumers compete with each other for goods or services, especially when there is limited supply.
9) More entrepreneurial opportunities
In a competitive market, there are more opportunities for entrepreneurs to enter the market and create new products or services. This allows businesses to differentiate themselves from the competition and create new value for buyers. Additionally, the increased levels of innovation can lead to greater productivity and increased economic growth overall.
10) Protection of property rights
In a competitive market, property rights are better protected. This is because buyers and sellers both have the incentive to respect each other's rights and abide by the law. This helps to ensure fairness in the marketplace, which is beneficial for both buyers and sellers.
Types of Market Structures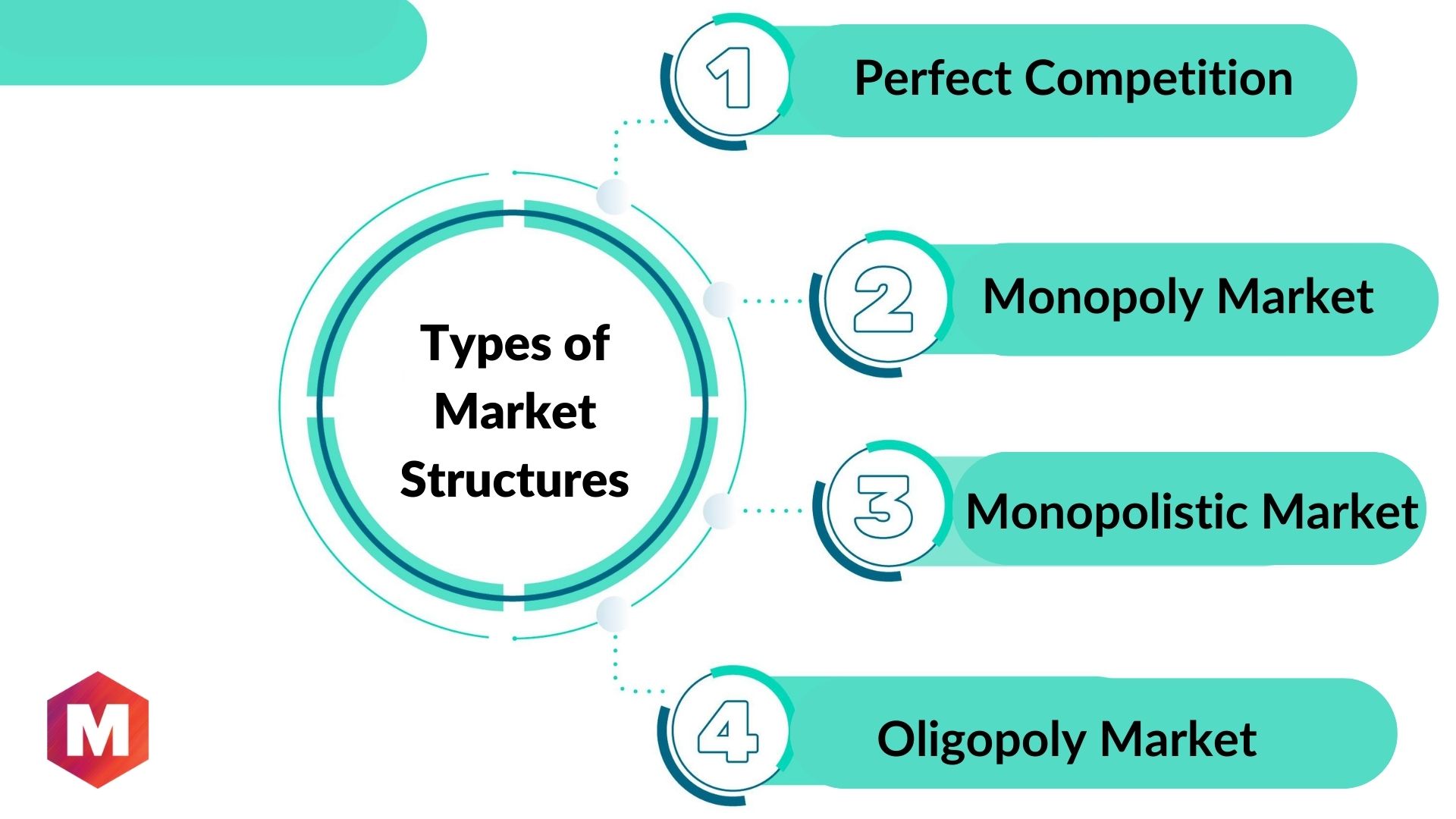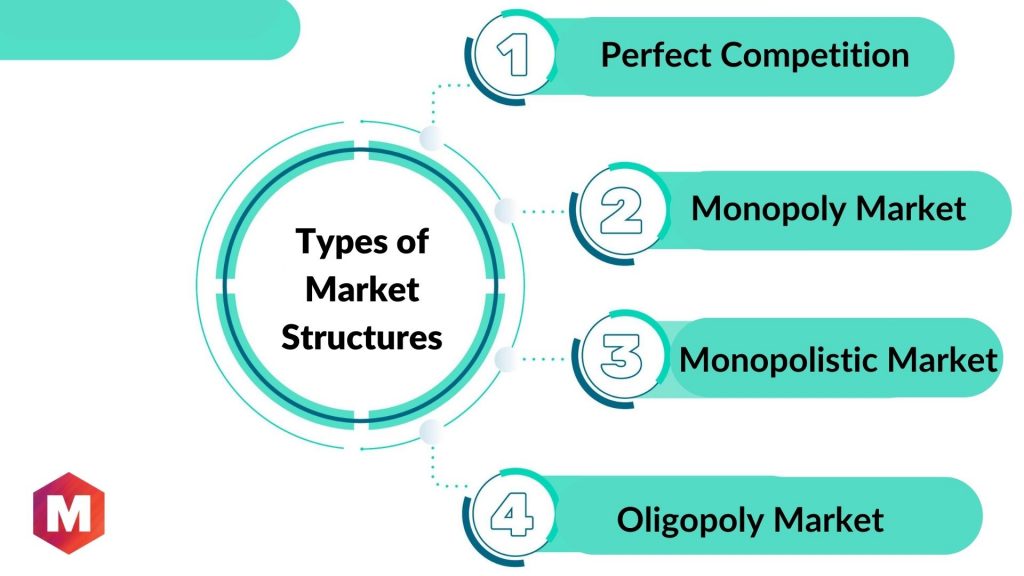 There are four main types of market structures: perfect competition, monopoly, monopolistic competition, and oligopoly. Each type of market structure has different properties that determine the prices of goods and services sold. Let's take a look at each one –
1. Perfect competition
Perfect competition is defined as a market structure in which there are many buyers and sellers of homogenous products that are sold at the same price. This type of market structure is characterized by a large number of small companies competing for the same customers and resources. Some of the notable features of such markets are –
To ensure a fair market, there should be a variety of both producers and consumers.
It's important to prevent any one buyer or seller from having too much influence over pricing.
Additionally, any barriers to entering the market should be eliminated.
Producers are price takers and they should be willing to accept the prevailing market price and focus on meeting consumer demand.
2. Monopoly market
A monopoly market structure exists when there is only one seller, with no competitors. This means that one entity has all the market power and control over the supply or trade of a certain good or service, becoming the price-maker and determining the prices. Additionally, this entity creates barriers to prevent others from entering the market and adjusts prices to maintain profitability. Some of the notable features of monopoly markets are –
The single seller has absolute control over pricing and market share.
No competition exists in the form of other firms, as the seller is able to create barriers against new entrants.
The seller may be able to charge above-market prices and earn higher profits.
3. Monopolistic market
A Monopolistic Market combines aspects of both monopoly and competitive markets. It is characterized by many small firms offering similar but differentiated products, with no or very low barriers to entry or exit. This refers to a situation known as imperfect competition where multiple producers sell products that are slightly different from each other, meaning they are not perfect substitutes. Despite competing against each other, they are not identical products. This market structure has the following features –
It allows companies to exert some control over pricing by attracting more consumers to popular products, which may result in a slight price increase.
Since there are few barriers for new businesses to enter the market, these actions are likely to encourage competition.
4. Oligopoly market
Oligopoly is a type of competition where there are only a few sellers in a market. This usually happens when there are two to ten sellers who are selling either identical or different products. The cold drinks industry is a good example of an Oligopoly. Airline, banking, and mobile industries are also examples of oligopolies.
Some of the features of an oligopoly market are-
The market entry costs are high, which creates significant barriers to entry and decreases competition.
When one producer in an oligopoly lowers their price, the others tend to follow, indicating that oligopolies have some influence over pricing.
What is the Purpose of a competitive market?
A competitive market is a marketplace where businesses compete for the attention of consumers and customers. Companies strive to differentiate themselves from their competitors by offering better products, services, and prices. The goal of a competitive market is to create an environment where competition encourages businesses to innovate and offer consumers the best options. Some of the purposes of a competitive market are –
To increase consumer options: The competition encourages businesses to come up with new products and services that can satisfy consumer needs. Consumers benefit from this as they are more likely to find the products and services that meet their needs.
To remove barriers to entry: When barriers to entry are too high, it stifles competition. A competitive market creates an environment where it is easier for businesses to enter the market and offer their services.
To offer similar quality products at competitive prices: The competition encourages businesses to offer similar quality products at competitive prices. This helps consumers get access to more affordable products and services.
To create innovation: The competition encourages businesses to innovate and come up with new ideas that can give them an edge over their competitors. This often leads to the creation of new products and services that can benefit consumers.
To promote fair trade practices: Competition helps prevent companies from dominating the market and manipulating prices. This ensures that consumers are getting a fair price for the products and services they purchase.
Competitive Market Examples
Following are examples of perfectly competitive markets –
Foreign exchange markets – The foreign exchange market is the biggest and most competitive financial market in the world. It is also a perfect competition model. It's made up of banks, commercial companies, central banks, investment firms, hedge funds, and retail investors. All of these players trade currencies 24 hours a day in an effort to make a profit. The currency here is uniform, and traders can access a variety of buyers and sellers. You can obtain reliable information about comparative prices, which makes it convenient to compare prices while buying currency.
Agricultural markets – Agricultural market or farmer's market is one of the oldest and most competitive markets in the world. It's a highly volatile market, as buyers and sellers come from all over the globe to make deals. Here, you can find a variety of commodities such as corn, wheat, cotton, and other goods. Prices change rapidly and can be influenced by weather, disease outbreaks, and other factors. Such markets often come close to perfect competition because multiple farmers sell identical products to many buyers, making it easy to compare prices.
Internet-related industries – The internet-related industries are some of the most competitive markets out there. Companies compete for market share, user base, and other forms of business success. New technology, services, and products are released regularly to gain an edge over their competitors. The internet has decreased barriers to entry, which means that it is easier for anyone to start selling goods online. One example of this is Amazon, where selling popular items is almost like perfect competition.
Conclusion!
In the end, it is clear that competitive markets are an important part of the economic landscape. There are many different types of competition, ranging from perfect to highly competitive markets. Production costs and the number of businesses involved in a market can all affect how competitive it is.
By understanding the different competitive market forms, businesses can adjust their strategies accordingly and make better decisions in order to succeed. With that said, it is important to remember that competition drives innovation, which is essential for economic growth.
FAQs
Who is a price taker in a competitive market?
A producer or seller that lacks the authority to determine the price for their good or service is known as a price taker in a competitive market. Instead, they are compelled to accept the market price, which is established by supply and demand, and they are unable to make any changes to the price.
What distinguishes a free market from a competitive market?
A competitive market is one when there are many buyers and sellers trading the same items and everyone involved is a price taker. A free market is one where there is neither outside nor governmental control.
What is competitive market analysis?
Competitive market analysis is a market intelligence process of gathering information about the competition and analyzing it to determine how to best respond, adjust and compete. This can help businesses identify strengths and weaknesses between their own products and services, and those offered by the competition.
Liked this post? Check out the complete series on Marketing