Human beings tend to contemplate and then plan the things they need on a daily, weekly, or monthly basis. We all have our budgets and try to fit our requirements within it.
From a middle-class to a wealthy class most of us plan, research, make a list and then buy the things which we deem necessary. Only in rare cases people deviate from their normal routine and buy something that they have not deliberately thought about in advance.
In simple terms, emergency goods are defined as the products that individuals have to use on an urgent basis during the emergency of any kind.
A person has not intended to make that purchase, but unavoidable circumstances are forcing him to do so because it has become an absolute necessity that is out of his control.
Emergency goods are those that an individual has to purchase instantly without thinking about ifs and buts. You will not find anything exceptional about them; instead, it is the need of the hour that makes them special.
Do not worry as these are easily available at numerous outlets. It is important to note that the perception of emergency goods may vary from place to place and sometimes season to season.
If you are living in a state where you do not get snowstorm but suddenly a warning is issued by the weather department that there is a chance of ice-storms then snow shovel will be an emergency good that you have to purchase from an outlet if you want to clear your pathway for traveling.
Meaning of emergency goods
Emergency goods are generally those items which you have to buy but have not planned to do so while contemplating your purchase list.
Why will a person purchase something which he considers an unnecessary expense? If I am living in a place where rainfall is regular, I will buy an umbrella or a raincoat but not a long woolen jacket for those rainy months. It will be a waste of money.
But if a warning is issued by the state that the rainfall can lead to failure of electricity for a day or two, then I will have to buy the necessary goods like flashlights, batteries, candles or lamps and other related items on an emergency basis.
These goods that a person has to buy immediately without thinking things through and in most cases do not have a choice of deliberating about it are emergency goods. These are also known as convenience goods as you can buy them conveniently at convenience stores.
It is not necessary that an emergency good has to be something extraordinary and expensive. Sometimes basic items become emergency goods because an individual cannot work in those conditions without it.
At the time of crisis, it becomes doubly important that some items become available at an instant's notice. The best thing about emergency goods is that most outlets keep them handy so that the customers will not have to suffer unnecessarily.
It is the critical need for a product that forces someone to make an unwilling but necessary purchase.
Examples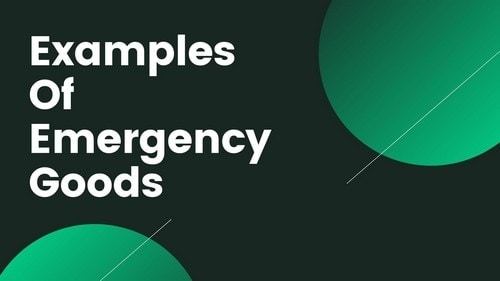 What will a person do if there is a sudden announcement in your locality that tonight there will be an electrical failure in the evening for four hours?
You will instantly try to go to your nearest convenience store and buy either candles or flashlights or try to arrange for an emergency connection so that you do not have to live without light or fan. This is what an emergency good is all about.
You cannot expect the weather to change instantly on any given day. Suppose you have to attend an important meeting and you already have several things to carry with you to the office, you look at the sky and see a warm sunny day without any hint of clouds or rain.
The first thing you drop from your bag is the umbrella or raincoat that you carry with you.
The joke is on you when it suddenly starts raining, and you have to go out to meet a client. You now have to buy another umbrella so that you can save yourself from getting wet and ill.
The umbrella at this time becomes your emergency good that you have to buy without the actual need for it because you already have one at home.
Remember, emergency goods include several things, and an important one is actually medicines. If an individual suddenly is gripped by a severe headache and he is supposed to attend an important meeting in a few hours then for him, the headache tablet is an emergency good.
He will have to purchase and have one immediately without wasting time. Similarly, once I was going visiting a site, and suddenly a nail scratched my arm.
It was a rusted one, and I had to be rushed to the nearby doctor so that he could give me an injection for tetanus. In this case, the injection became my emergency good, and I had to have it instantly.
This is what the concept of emergency goods is all about. You cannot prepare for it in advance even if you want to because no one knows that item he may need at a moment's notice and that too, without any rhyme or reason.
If you liked this article, we bet that you will love the Marketing91 Academy, which provides you free access to 10+ marketing courses and 100s of Case studies.