I was a
marketing
student in Mumbai around 4-5 years back before i started working professionally. Even though I was in a good college, I was clueless of how to actually learn practical marketing? Off course, Philip kotler and
Seth godin
were the Guru's but theory never could satisfy my need for knowledge. Thus, this guide has been prepared keeping students in mind and how to learn marketing practically for students. If any of you come up with more ideas (i bet there would be some teachers reading this), please suggest the same in the comments section so that other students can learn from it. So lets learn marketing outside the classroom.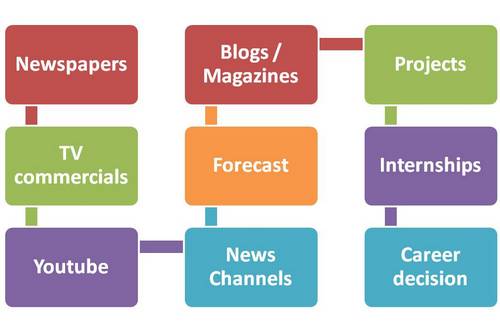 1) Read Business newspapers –
The first and the most standard part is to read business newspapers. This will not be easy at first due to business jargon, but this will help you learn the concepts in a practical manner and at the same time will prepare you for your interview and placements after your college is complete. Keep this a habit throughout so that if you think of starting a business any time down the line, you will have a lot of knowledge and learnt experience to have the patience and the intellect to continue with the business. At the same time, if tomorrow you become sales managers and marketing managers, you will know what strategies other companies had implemented to become the top competitors in their field. This huge information is available in 2-4 rupees or 10-20 cents in the local business newspapers. So although it is repeated by each professor in all universities, don't ignore this massive source of information for learning marketing easily.
2) Speed reading –
You can read several books of marketing management, marketing strategy and instead of reading the complete book, skip to the main parts such as BCG matrix models or any other such models and strategies which you think are useful. Better yet, take some time out with your marketing professors, and ask their advice on what topics are the most important to learn marketing. P.S – Most of them can be found in the
marketing tutorials
page of Marketing91.com
3) Watch TV commercials – 
The best and most practical way to learn marketing is through television commercials. A TVC is a snippet in the latest marketing strategy that the company is implementing. For example, in festive season, various E-commerce websites are busy in introduction of offers and promotions for their customers. At the same time, companies like Adidas and Reebok regularly prepare for the next sporting event and they give a powerful
brand
message with separate taglines in every different event. Thus, if you really want to learn marketing, learn from TVC's which will show you the various strategies of companies unfolding right in front of your eyes.
4) Browse youtube – 
Youtube has a lot of information from across the web. You can check out business related television shows you have missed, or check out interviews and speeches of marketing managers, CEO's and other important people from within the field and thereby learn their thought process, and why they had taken certain decisions within their company, so on and so forth. Thus, the more you watch, the more you learn. This is an interesting way to learn more about brands and strategies while having fun at the same time.
5) Check out news channels regularly –
This is an option though you wont need it much if you are reading newspapers regularly. However, if reading is not your style, then watch news daily. Business news channels, which focus on the stock
market
and business markets are more likely to show you marketing news as compared to other general news channels.
6) Think your own strategies for your favorite brands / industry –
I am an internet addict and I love the strategies implemented by E commerce websites as well as other blogs and online marketers. However, the challenge to becoming a real good marketer is to forecast the future. So if Christmas and new year are coming in December, what will your favorite brand do? For example cadbury's. How should Cadbury prepare for Christmas or New year in 2014? Forecast this, and then check it with the actual implementation of the Cadbury marketing strategy in that month. You will learn a lot this way – of what was the thought process of the company, what it was trying to do etc. On the other hand, if you forecasted correct, you will receive a tremendous confidence boost.
7) Subscribe to good magazines / Blogs –
Harvard business review
has a blog. So does Forbes. You can follow good
business blogs in India
as well. If you have the money to spend, then you can subscribe to magazines which can be delivered to your home. However, magazines do a lot of analysis but deliver the material later then the news. A better strategy is to follow the news as it is happening and check out the analysis on business and marketing blogs and learn more about marketing from these blogs. At the same time, comment on these blogs and get involved in discussions. For example – sign up on management paradise or mbaskool (and dont use these only for copy pasting your projects), but contribute to these websites as well.
8) Do self projects –
Do your own projects. It is not necessary that the college assign projects to you. I had done a project on Micromax 4 years back. But after that, I immediately did a project on Samsung. This second project was not assigned to me by anyone. I did it for my own learning. This way, I was motivated to contact marketing managers, get a personal interview with them, and in general get prepared in terms of knowledge and for my own placements. These self projects are the best way to learn about companies and their marketing strategies.
9) Take good internships –
Do what you have to, to get internships in good companies. Use references, contacts, call up people, apply online but the bottomline is, a good internship will teach you a lot about marketing in the real world. For example – a market research project will actually teach you the importance of a marketing research
questionnaire
. A college textbook can never tell you the problems you will face in analysis if your questionnaire is not designed properly. Thus, these things and many more can be learned when you take up an internship.
10) Plan your career in advance –
There are a lot of options in marketing when it comes to career choices. Within marketing there is
advertising
, digital marketing, sales, market research, banking etc etc. There are at least 11 different sectors out there and there are numerous job profiles which you can get. Dont wait for the profile to come to you, take the decision beforehand of which profile you want. One of my colleagues, was an automobile enthusiast. He had knowledge of each and every car brand. Today, he is a
marketing manager
in Volkswagen. This shows how passion can take you places. So plan your career in advance and think of how you want to achieve it. This will help you learn marketing better because then you get to concentrate more on the subject that you love.
11) Utilize your free time for good –
Don't be a robot. Have friends and have a good college life. Have some fun while you are in college. But even after studying and spending quality time, I am sure you can still take out time to watch some ads, check out youtube and blogs online, and in general have a good time while learning marketing. If you dont find yourself happy in learning and spending your time creatively, then marketing is not for you. And sales is definitely not for you. So, whenever you are left with some free time, browse around and check out a few things so that you turn out to be a good marketer.
I would love to know how you learn marketing in the comments below.
Liked this post? Check out the complete series on Marketing