Let us first divide "Market competition" in two different terms and first learn about each of them individually to understand market competition.  A market can be defined as a place where two or more parties comes together to exchange goods or services or any other information.
Generally, a market is called a place where sellers sell their goods and service in exchange for money. The market can differ on the basis of products or services sold or on the basis of other factors like government regulation, taxes, legality of exchange, price ceiling, buyers target, etc. and the simplest meaning od word competition is when two or more parties try to gain competitive gain or win over one another.
In competition when one party wins then automatically another party loses. By understanding the terms market and competition, we can deduce that market competition is where two or more companies or organization strive to gain profit by competing with one another using various tactics.
Market competition exists in various form in the market. For example, in monopolistic competition market, there are many companies which sell products which are a close substitute but are not a perfect substitute.
In this type of market competition, companies try to gain a competitive edge over other competitive companies by providing a variety of products, good quality of products, and by making the use of advertising and other marketing strategies.
There are a total of four types of market competition, and each market competition has different features. In this article, you will learn about the different types of market competition along with the features of each market competition system.
Different types of market competition
There are a total of four types of market competition. Let us learn about them one by one.
#1. Monopoly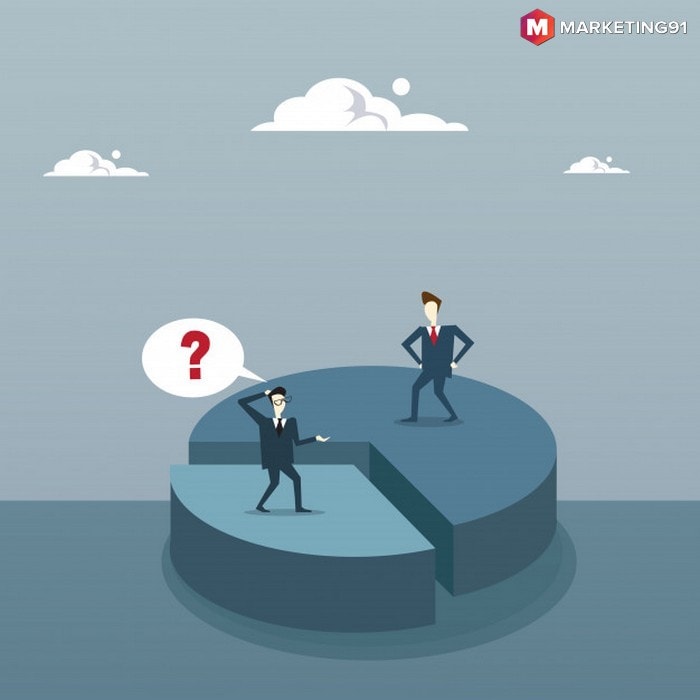 A monopoly exists in the market when there is only one seller in the market. The company controls a complete sector or industry. A monopoly exists in capitalism economies where there is no control of the government on the business transactions of businesses. In such scenarios, one company or a group of people takes control over the whole market.
The company has control over all the goods, supplies, infrastructure, commodities, and assets related to a particular service or product. Monopoly markets are highly undesirable market structure.
If a company has a monopoly in a particular market, then they can charge any price for the goods or services that they provide as no factor can restrain the high prices.
Monopolies have a competitive advantage over their competitors because either they are the only provider of the product or they control all market or the largest share of the market.
It is difficult to enter a monopoly market because of the high barrier to entry. A monopoly company can develop its control on the market because of the following two possible reasons.
It has acquired the patent for the product or service.
Government has permitted the company to provide particular services.
Monopoly market competition is highly undesirable as the monopoly company has the power to decide the price of the product. As there are no nearby competitors, there is no one to keep a check over the price decided by the company.
Because of this reason products sold by monopoly are usually sold at a higher price than their actual prices.
It is difficult for small competitors to survive in monopoly competition market. As being the oldest and strongest (financially) player in the market, the monopoly has good relation with the suppliers.
As a result of which they can buy raw material in bulk and can store it for a longer period. They usually buy a large volume of supplies at great discounts which are not possible for the small companies.
Because of this reason, monopolies have the power to start a price war to win back their customers. They have the power to lower prices of production to such an extent which is not possible for a small competitor to stay in the market.
The government makes policies in such a way so that no company can gain a monopoly and each competitor has its market share.
#2. Oligopoly in Market Competition
As we have learned that monopoly is one firm controlling the whole market and opposite to it oligopoly is when a market is controlled by two or more than small companies. In the oligopoly market, the actions of one company ha no significant influence on the other companies in the market.
Oligopoly is also not favorable for consumers as in oligopoly market price can be high because these companies decide prices mutually or under the leadership of one company.
As all companies have equal market share, they don't put extra efforts to get a competitive edge over the other companies which results in the slow innovation in the industry.
In addition to this, it is difficult for a new entrant to enter the market because the group of small companies has control over the suppliers and raw material required to produce products.
In this way, these companies make much higher profits as they would have made in the competitive market. All these factors are not favorable for the consumers.
Oligopoly market competition is usually seen in the oil industry, steel industry, tire manufacturing industry, grocery store chains, railroads, and wireless carrier industry. There are various reasons which cause oligopoly market competition.
The high cost of entry in the market.
legal privileges required to enter the market (for example, the license is required to use wireless spectrum.)
the requirement of a high number of customers to existing in the market.
Oligopoly market competition exists because companies decide to rather than competing with one another to live in harmony and earn profit by co-operation.
These companies either rises or reduces prices by mutual decision or they simply follow one leader, and if that leader rises the prices, then all other companies also raise the price.
#3. Perfect Competition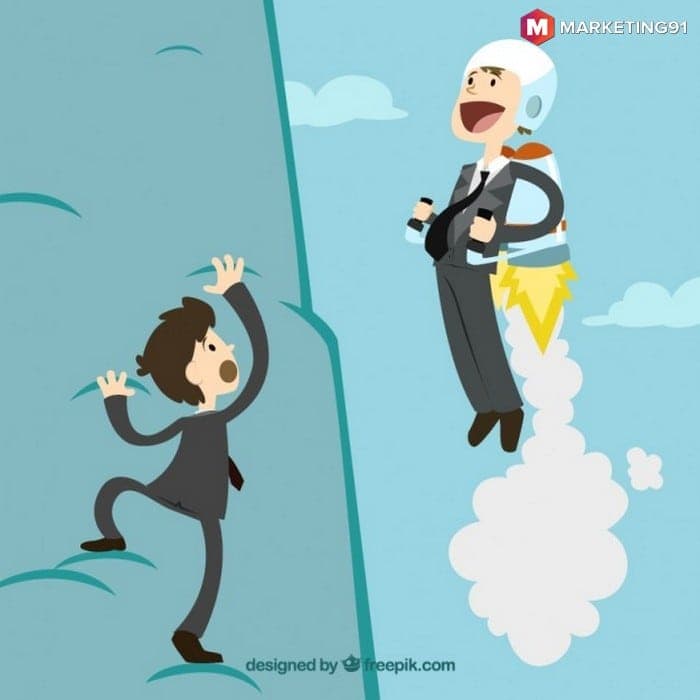 Perfect competition is nearly a real-life market competition. In this type of market competition, there are a large number of buyers as well as a large number of sellers. A perfect competition market is the opposite of a monopoly market competition.
In perfect competition, because there is a large number of buyers and sellers. The prices of products are reflected by the supply and demand. Each company earns enough profit so that it can stay in the market.
Other companies enter to share the profit if one company is making more profit. A market is a perfect competition market if it fulfills certain criteria.
There is no influence on the market share of a company in the price of the product.
Companies of perfect competition should sell an identical product.
No company in the perfect competition can influence the market price of their product.
It costs less to enter and exit a market at any time.
In a perfect competition market, buyers of the product have deep knowledge about the price charged by the firms and product sold by them.
#4. Monopolistic Competition
Monopolistic competition is a perfect real-life type of market competition. In this type of market competition, there are a large number of sellers as well as buyers.
But in monopolistic competition companies don't sell identical or homogeneous products; rather they sell products with a slight differentiation. That means these products are not perfect substitutes of one another.
The examples of industries where monopolistic competition exist are textbooks, restaurants, clothing industry, deodorant and fragrance industry, cereal industry, shoe industry, and service industry.
Followings are the features of a monopolistic competitive market.
No single company has complete control over the market price of products.
There is a large number of sellers and buyers in a monopolistically competitive market.
Consumers don't differentiate among the products of different competitors based on price.
A company in the monopolistic market has control over the price of the product that they sell.
There is a low barrier to enter and exit the market. Any company can enter or leave the market at any time and a low cost.
The decision of one industry does not influence the decision of other companies in the market.
There is high demand elasticity in a monopolistically competitive market, which means the demand for a product is highly influenced by the change in the prices. Customers will easily switch to closet alternative when there is a hike in the price of the product that they have been using.
 Companies make a high economic profit when they are new in the market, but as they become old other companies enter the market (due to low barriers to entry) and share the profit of the market.
In a monopolistic competitive market, companies are required to take the help of advertising and other methods of marketing because people switch from one product to another because the products sold in a monopolistic competitive market are close substitutes.