Businesses vying for the attention of the same customers are known as competition in marketing; it's a fierce race to demonstrate value and stand out from the other players in the market. Engaging in competitive marketing tactics can happen within a single industry or across multiple ones.
For example, two enterprises selling the same product may battle it out for customers based on price and quality. Digital marketing has also emerged as an arena of competition, with companies analyzing a competitor's social media presence while vying to capture the attention of internet users. This market competition can lead to higher quality products or services, more affordable price points, and better customer service overall.
What is competition in marketing?
Competition in marketing refers to the rivalry between various brands, products, and services striving for dominance in a single market. Businesses are in an ongoing battle to captivate the attention and devotion of customers with special offers, deals, or advertisements to get a competitive advantage.
Ultimately, competition in marketing boils down to companies vying for customers. Organizations strive to outshine their competitors to gain more patrons and boost revenue margins.
Companies need to be proactive in staying one step ahead of their competition and not just rely on industry trends. Developing creative, cutting-edge marketing strategies is essential for standing out from the competition and making sure that your business remains at the forefront of marketing efforts.
Doing research and keeping a close watch on what other companies are doing can provide invaluable insights into ways you can improve or enhance your strategy, allowing you to move forward with confidence in an ever-evolving landscape of marketing practices. To gain a better understanding of what is competition in marketing, take a look at the following examples-
Competition in Marketing Examples
Companies can engage in a battle for consumer attention by introducing promotions or ad campaigns that compete with one another. For example, two beverage companies may launch ad campaigns offering prizes such as free samples, discounts, or limited-edition products to draw in new customers. If their campaigns are exciting and captivating enough, it will encourage more individuals to be loyal buyers of the product – ultimately leaving them victorious!
A perfect example of how companies can compete with each other in terms of marketing is through price manipulation. One company may use the strategy of bundling their products together and offering them at a discounted rate, while another corporation might opt to lower prices for individual items instead. By utilizing these methods, businesses have the potential to draw more customers and amplify their market share.
Types of Competition in Marketing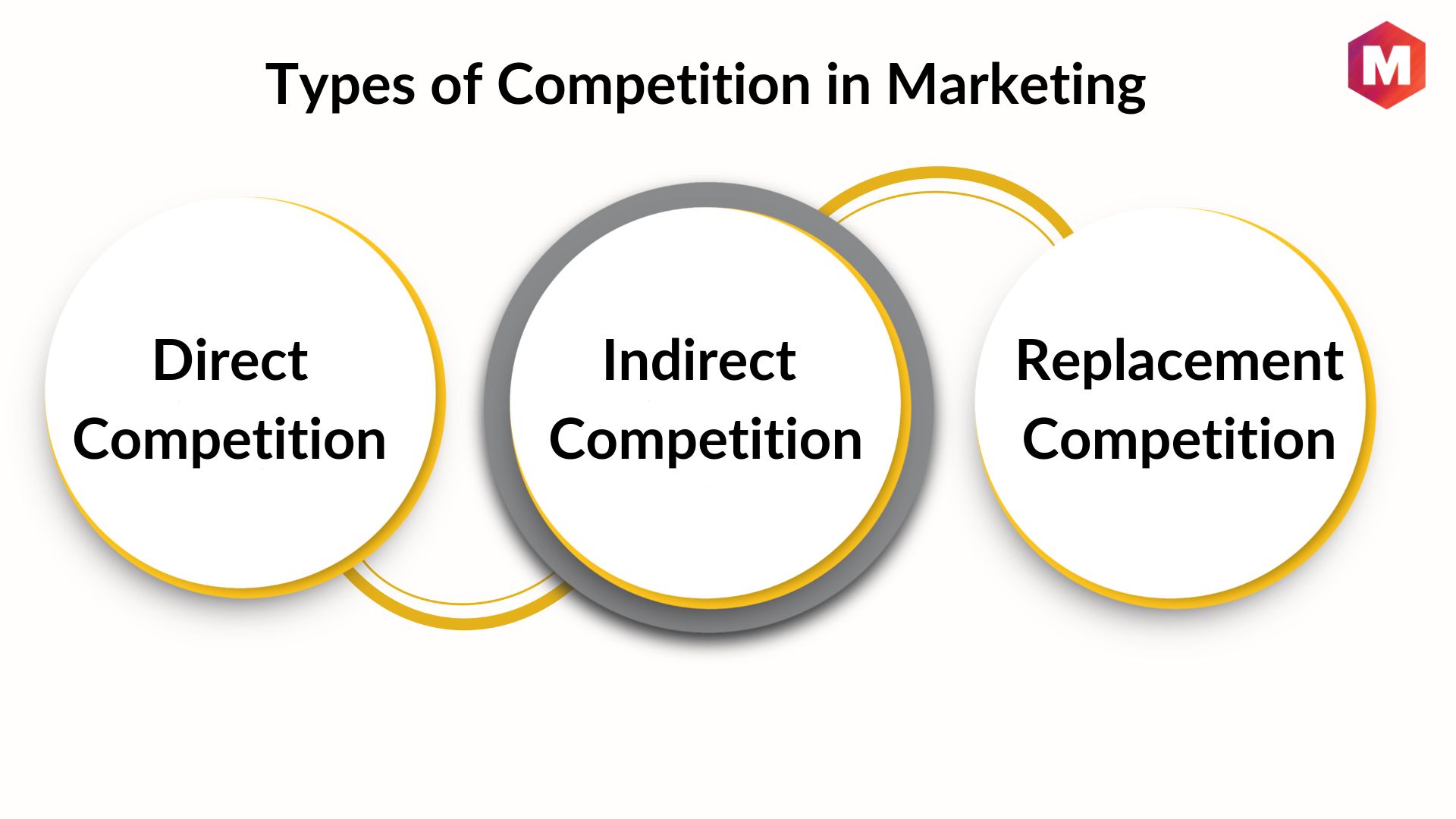 1) Direct competition
In the marketing world, direct rivalry is the most familiar type of competition. Consider two fashion labels (direct competitors) producing comparable shirts at similar prices while maintaining distinct values and distinguishing their products from each other – this illustrates the direct competitors perfectly. By understanding market trends and customer needs, companies must be able to create effective marketing campaigns and outcompete other businesses in the same target market to succeed.
2) Indirect competition
When two or more organizations provide similar products and services but hold distinct values and ambitions, this is recognized as indirect competition. Even businesses in various industries can still be indirectly competitive with one another – for instance, an airline website and a tourism platform providing flight reservation services can be competing for the same customer base, and hence can be indirect competitors. Therefore, indirect competitors need to conduct market research, find the relevant marketing mix and design a marketing strategy as per their values and goals after doing a comprehensive competitive analysis.
3) Replacement competition
Replacement competition pits two distinct companies from diverse industries against one another in order to capture a customer's attention. Take, for example, the battle between a Netflix streaming service and a book publisher. Customers now have the option of whether they'd like to spend their spare time engrossed in their favorite show or reading an enthralling novel – making these unrelated businesses compete with each other will take precedence over leisure time. Promotions around social media platforms
How Competition in Marketing Works
Businesses in the same sector are continually scrambling for consumer consideration by creating comparable services and products. With so much competition, you must stand out from your competitors to capture demand!
To be triumphant in a fiercely competitive market, businesses must discover unique ways to differentiate themselves from others. By offering unique value or experiences, businesses can distinguish themselves from the competition while attracting similar audiences.
Competition between companies can create a situation where one is preferred by customers over the other, leading to an environment of innovation and strategic marketing practices as they strive to make their products stand out. This in turn helps them gain more of those sought-after customers. Companies often formulate their fundamental marketing strategies by analyzing the competition. By studying their rivals, companies can discover which customer needs they are addressing and how to best meet them.
It's possible your competitors could have higher-grade products and services, better customer service, or warranties that are more in line with customers' core beliefs. After performing a competitor analysis, you can then adjust your marketing strategies to target the competition's current clients and attempt to win them over. This allows for an advantageous boost in both presence and revenue for your company.
Benefits of Market Competition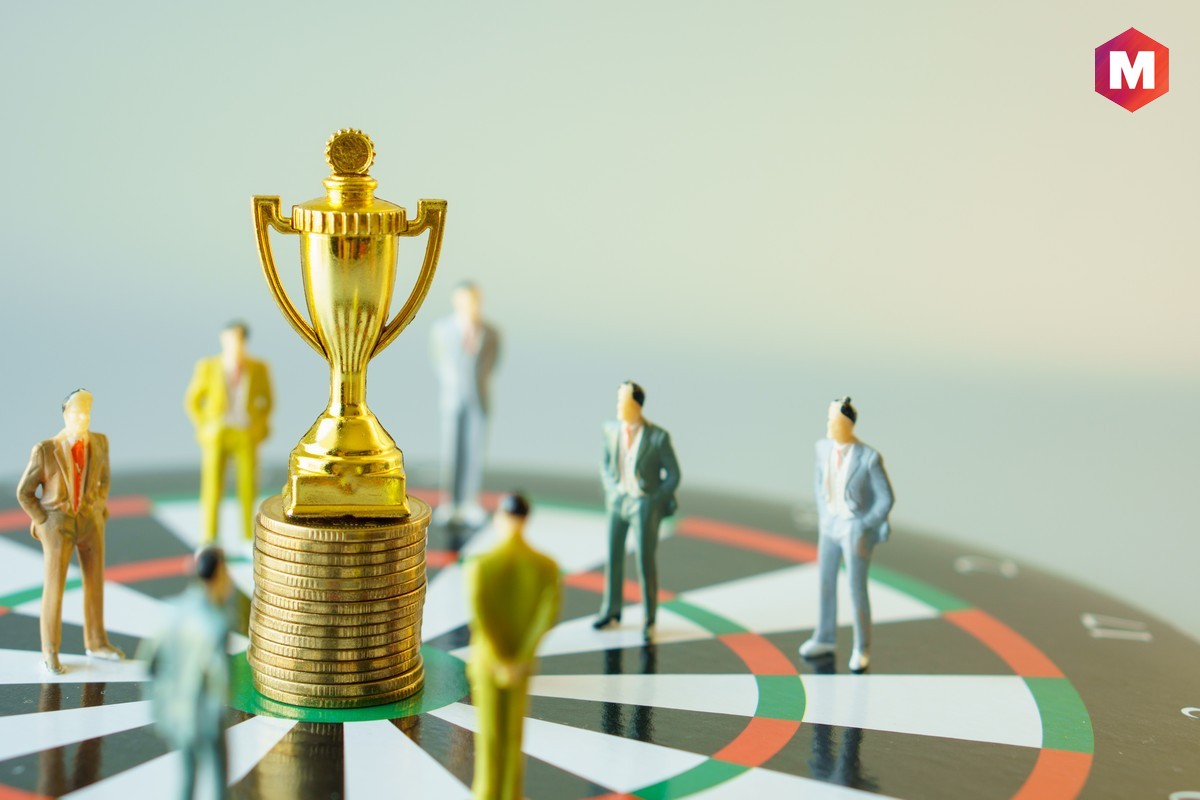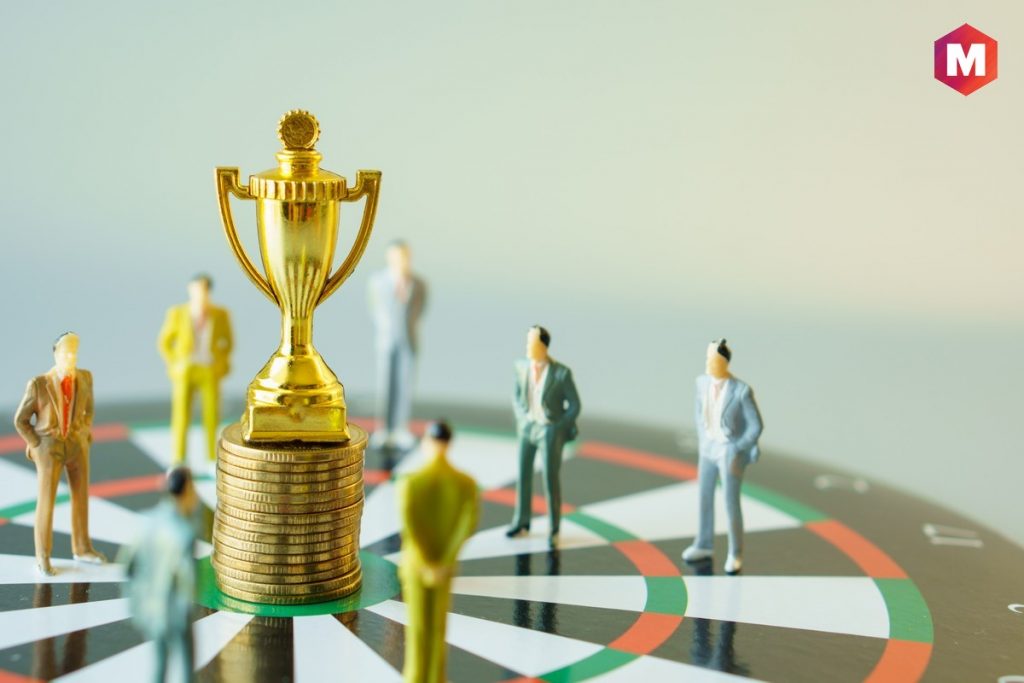 Creates greater product demand that further leads to higher profits and a larger bottom line.
Drives creativity and innovation in the industry that generates products that are more efficient and dependable while simultaneously making significant findings.
Offers a higher level of business acumen that helps businesses better comprehend how their operations are running and allows them to make more informed decisions.
Provides comprehensive customer service that can foster loyalty and devotion to your brand.
Optimizes employee efficiency through which companies can reduce their costs and increase production.
Accelerates business development that can rapidly propel the company toward its objectives and maximize growth potential.
Disadvantages of Market Competition
Increasing expenditure on research and promotional activities
Companies must continually strive to enhance their products and services to stay ahead of the competition which may cause severe pressure to perform
Customers constantly push to meet higher standards of excellence.
Customers may become confused when presented with multiple brands that share similar characteristics.
Employees are expected to raise the bar and reach higher levels of performance.
FAQs
1. Is it essential to comprehend market competition to be a successful marketer?
Yes, a well-rounded marketing plan cannot exist without competition in mind. It's vital to comprehend your competitors, analyze the industry landscape and understand how you can differentiate yourself from them for a successful approach. Furthermore, exploring rivalries enables you to receive invaluable information about consumer preferences and trends that can be used as an asset in future campaigns. All of this is essential when forming a compelling strategy that will bring success.
2. What strategies should I use to compete in the market?
To ensure maximum success, it's essential to build a customized strategic marketing plan for your target market and objectives. Create distinctive selling points that make your business stand out from the competition while optimizing your website, social media accounts, and customer support programs. Additionally, stay ahead of rivals by analyzing their tactics to gain insight into consumer tastes as well as industry trends.
3. How do I measure competition and market performance?
To adequately measure marketing competition and market performance, consider tracking key metrics such as customer acquisition cost and customer lifetime value. Furthermore, you can leverage surveys, customer feedback, or focus groups to collect consumer preferences and trends. Comparatively examining your own data with that of others in the industry will give you a better understanding of where you stand against them. Lastly, utilizing available benchmarking tools can provide an overall comprehension of the competitive landscape.
Conclusion!
After careful consideration, you can understand the concept of what is competition in marketing by considering these points:
In the world of marketing, competition is a fierce battle among businesses to outshine each other in terms of strategy and tactics.
Marketing competition involves thinking outside the box to gain a competitive upside.
Analyzing and monitoring your competitors is a critical factor when it comes to succeeding in the marketing world.
Crafting a competitive strategy in the marketing world requires an emphasis on customer satisfaction.
By competing in the marketing landscape, businesses can showcase their unique products and stand apart from others. This allows them to gain visibility among potential customers.
Liked this post? Check out the complete series on Marketing