Affinity marketing strategies is a key part of a solid and effective marketing campaign, where two or more companies work together in order to promote their respective brands by reaching the widest group of customers possible. This partnership enables them to offer a wider range of products and services to their audience, which leads both entities to increase their sales.
The main goal of a successful affinity marketing campaign is to increase the visibility and awareness of both brands, while also creating a powerful bond between them. The partnership will help both parties grow their business by offering a wider range of products and services to their customers.
What is Affinity Marketing? Affinity Marketing Definition
When we say affinity marketing we mean "strategic partnerships" between complementary brands which sell similar or compatible products, with the scope to increase awareness. The collaborative effort brings success and mutual benefits to both partners by targeting a larger audience. Nevertheless, Affinity marketing is not only restricted to two entities only. It can also involve any number of firms who can benefit from each other by being involved in the same affinity group.
Many type of businesses can partner in an affinity group, regardless the size, scope or product offered. These businesses can be from different industries, from small cafeterias to large credit cards companies.
An example of a simple affinity marketing campaigns is sports teams which show various logos on the clothes that they wear. The sports teams get money and sponsorship to buy better equipment and to spend more on the team. The logos get their brand recognised and they can view the tie up as a branding exercise.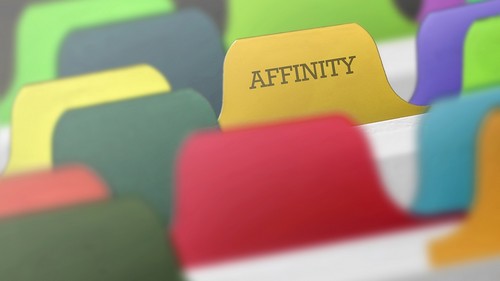 Similarly, if you look at any travel portal, you will see it as an affinity group wherein various people collaborate with each other. For example – travel agents, hotels, airlines, railways, food suppliers, local travel co ordinators, so on and so forth.
Moreover, affinity group members subscribe to a large category, and can vary from individuals to organizational entities. This means that shareholders, fans of a sports club, employers, employees or even customers can be included in this group.
Benefits of Affinity Marketing Strategies
This type of partnership, which is also known as affinity marketing campaign, are win-win scenarios for all businesses/parties included.
1) Benefits to Suppliers 
When joining an affinity group, the suppliers have the primary advantage of having access to the affinity group's information, and therefore they get a better knowledge into a simplified target audience. This advantage is bundled with a decrease in marketing research expenses, as they have the opportunity to carry out research programs together with other group members. Hence, it results in selling their products at a lower price, and consequently acquiring more customer base.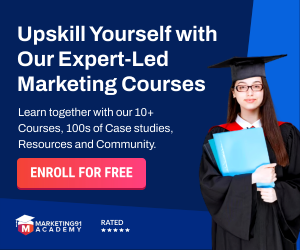 The customer lifetime value also gets higher, as the suppliers will spend less on retention rates, or simply because the customers will make purchases via other affinity group members.
A significant benefit which cannot be overlooked, is the enhancement of business image especially when the business partners with an organization which already has a positive relationship with a group of consumers.
The affinity group's data facilitates the operational efficiencies, like for instance the suppliers can target more accurately the marketing communications and deliver a clear marketing message. Moreover, the knowledge that the affinity group possesses helps the suppliers to get a faster and deeper understanding of the target audience.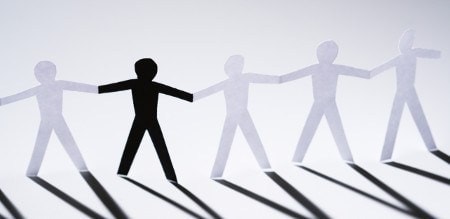 2) Benefit to Affinity Groups
Affinity groups can benefit from an increase in their profits through demand for a commission or a fee to each member who wants to join the group. Moreover, if they have a product to sell, they can also avoid or decrease merchandising costs and they also have the opportunity to increase their reputation without taking great risks. Affinity groups have also the advantage of extending or enhancing their brands at a lower risk and lower costs because they will avoid to become the direct supplier of the product or service.
Being all under one umbrella, affinity groups develop more opportunities for communication with its members which leads to effective collaboration and creates clear paths for achieving goals together.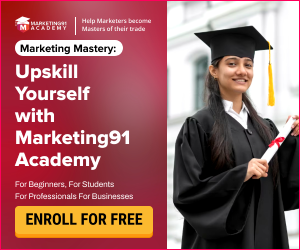 3) Benefits to Customers
Customers also benefit from these partnerships, but it will depend on the nature of the affinity group and the type of product or service they purchase. For instance, they can buy products at extra discounts and they get more confidence in what they buy, due to the partnership between their affinity group and the company. More than that, they also have the possibility to purchase items that have been designed especially for them, like in the case of sport clubs.
End-consumers also get personal satisfaction as they get the feeling that they have triggered an indirect payment to their cause-related affinity group by value of their purchase.
It is important to know that partnering or becoming member of an affinity group brings legal responsibility also, therefore both members have to draft terms and commit responsibilities in order to ensure that all the needs are met. Once these terms are agreed upon, the affinity partnership develops.
In today's business affinity marketing turns out to be an effective path in acquiring new customers and capturing a larger audience, particularly for businesses which still need to grow. Therefore, partnering with an organization which already has big influence over a specific segment is a shorter way to take which implies both benefits but also obligations.
Affinity Marketing Examples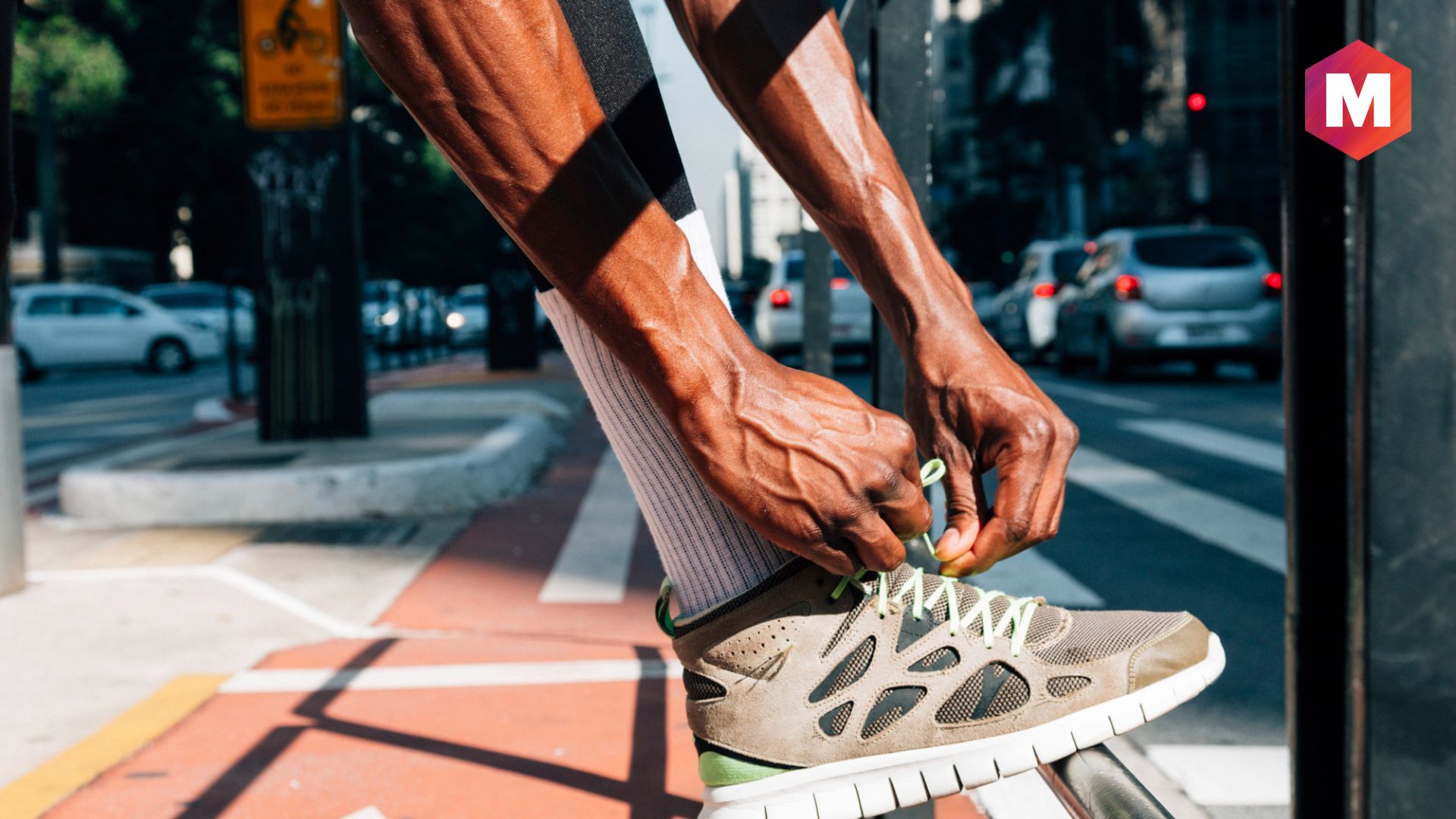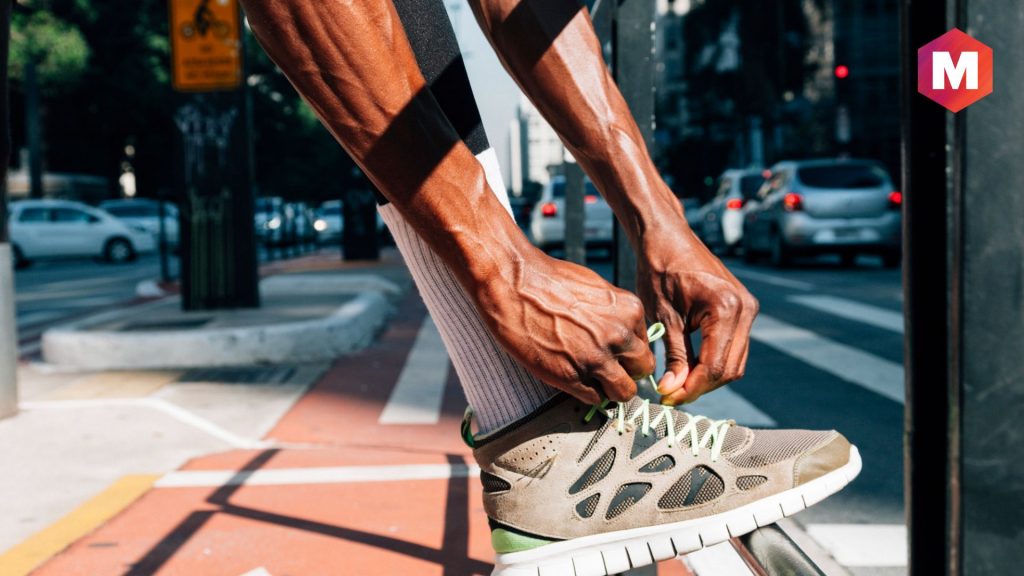 Affinity marketing is a type of direct marketing that involves a mutually beneficial partnership between two brands. The relationship can be based on similar values, shared interests, or even a simple appreciation for each other's products and services.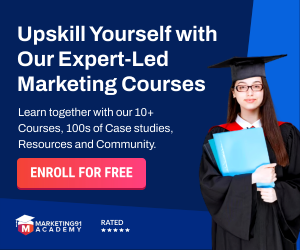 The most common examples of affinity marketing strategy include:
Athletic apparel companies partnering with running shoe companies to offer discounts on their products to customers who purchase athletic apparel from the apparel company
Automotive companies partnering with travel companies to offer discounts on their products to those who book travel through the travel company
Restaurants partnering with travel companies to offer discounts on their products to travelers who book trips through the travel company
Companies can also partner with a company in the same industry, but who has a different target market. For example in affinity marketing partnership, a restaurant may team up with a wine producer to offer discounts on their products to customers who purchase meals at the restaurant.
Affinity Marketing Strategies and Steps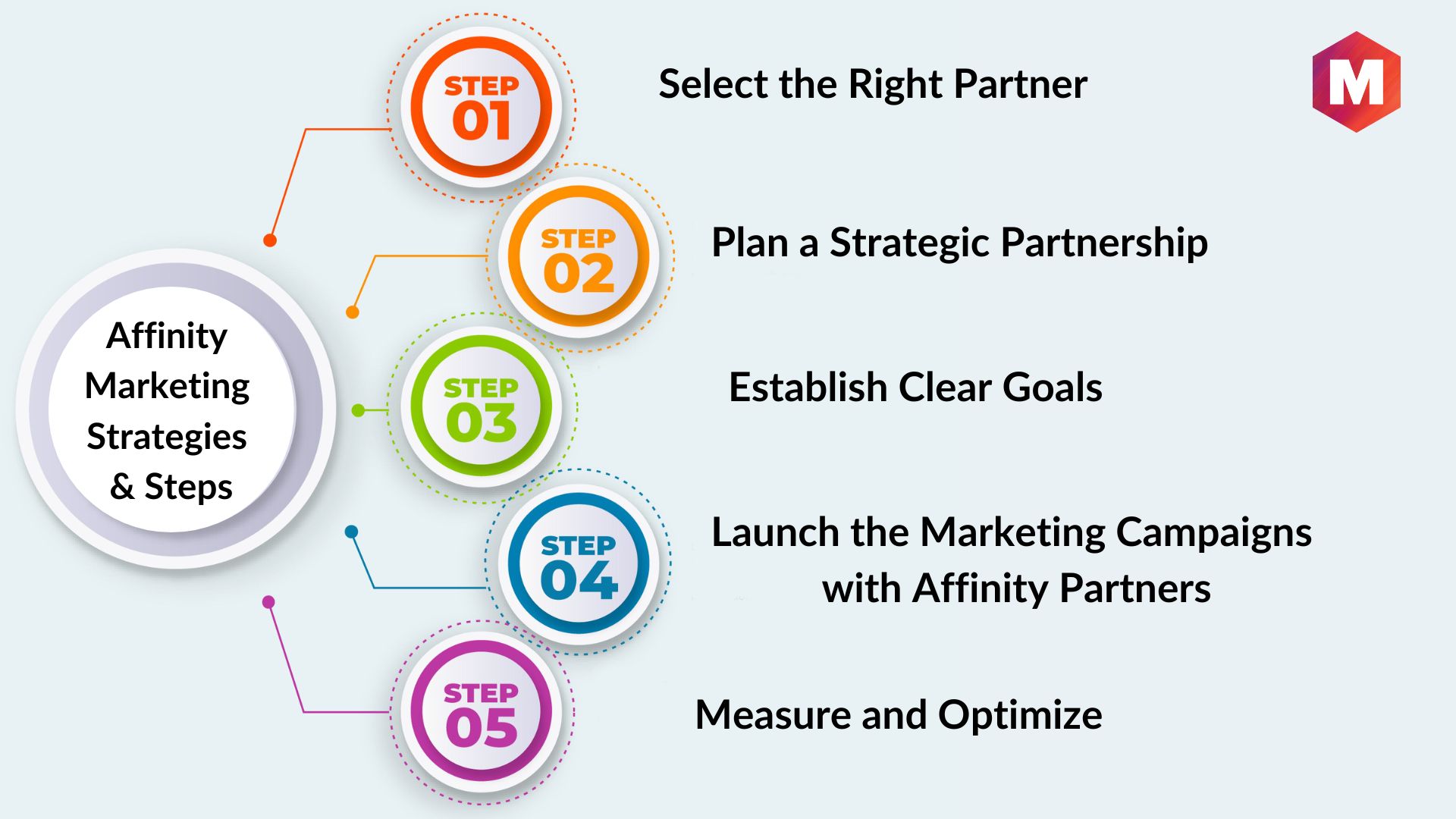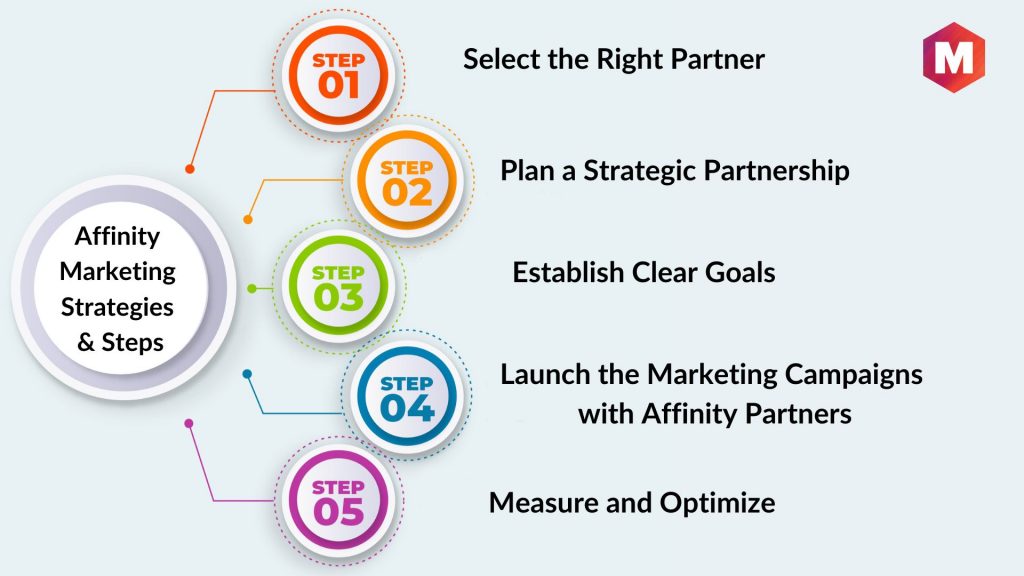 Here are the 5 steps you can follow to launch your affinity partnerships and leverage your marketing teams and marketing efforts.
1. Select the Right Partner
Choosing the right partner for your affinity marketing strategy is essential to its success. You want to find a partner who will match your brand image and your demographic, as well as offer the products and services that are most relevant to your audience.
2. Plan a Strategic Partnership
Once you've selected your partner, it's time to work out exactly how you want to work together. Think about what you'll be offering each other in terms of resources, benefits, and other forms of support. Then create a detailed plan for how you'll execute this partnership once it's implemented.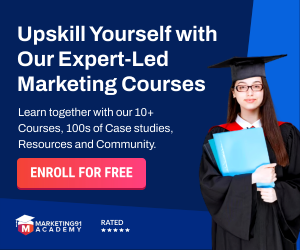 3. Establish Clear Goals
Before you can begin an affinity marketing campaign, you need to know what your goals are. Do you want to increase brand awareness? Increase sales? Boost the number of leads generated by your website? Whatever your goal may be, make sure it can be measured, so that you know when the campaign is working.
4. Launch the Marketing Campaigns with Affinity Partners
Once you've established your goals, it's time to launch your campaign! If you have a strong relationship with your brand partner, they can help guide this process by helping identify the best ways for them to market your products or services through their channels (i.e., social media) or at events that their members attend regularly.
5. Measure and Optimize
Affinity marketing is an ongoing process, so don't expect immediate results. Instead, measure your progress regularly by tracking metrics (by using a partner relationship management software) that matter most to your business such as number of leads generated or conversion rate (the percentage of people who complete an action). Use this information to adjust your strategy accordingly so that it works best for your business goals!
Affinity Marketing vs Co-Branding vs Cause Marketing Strategy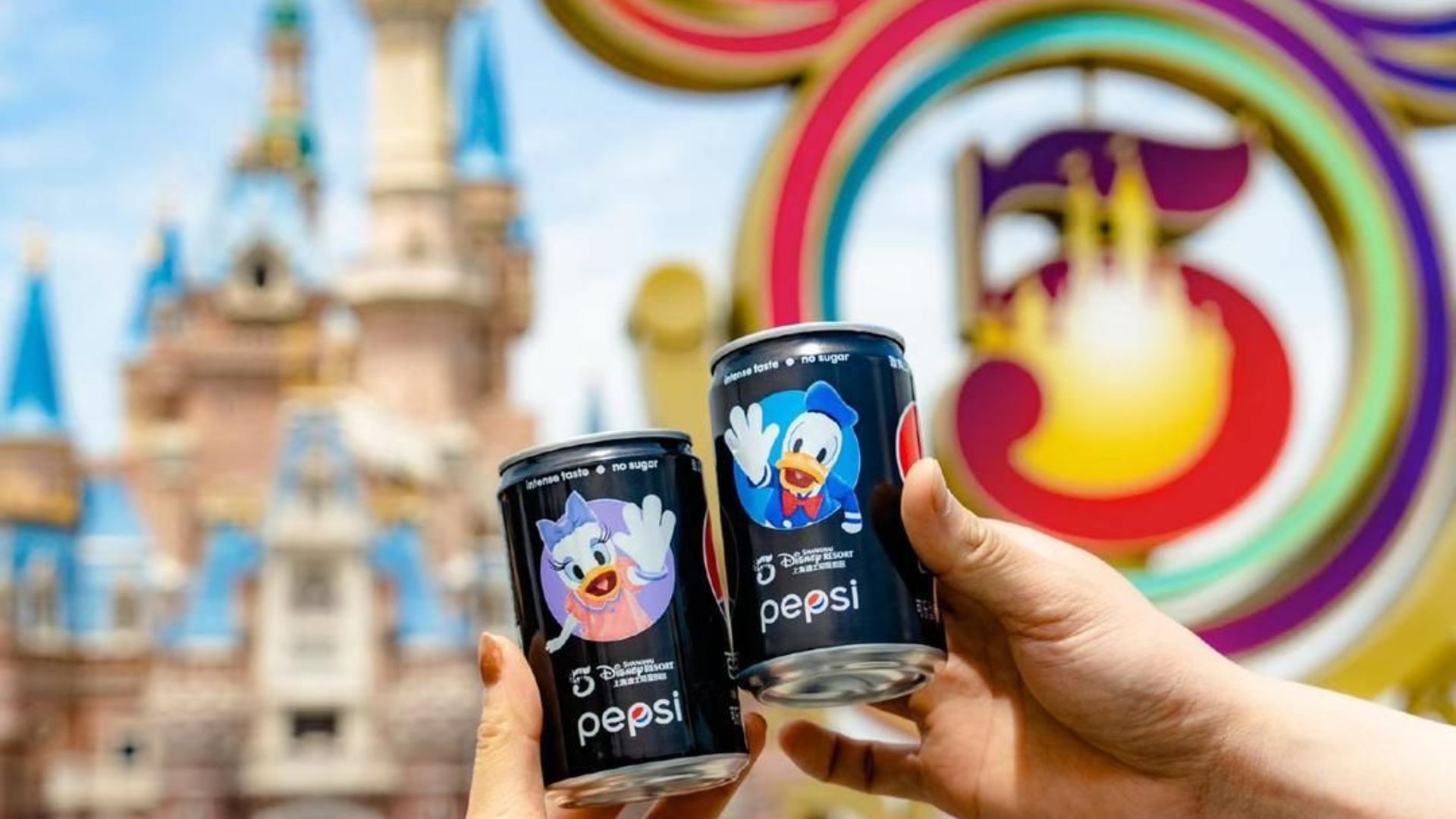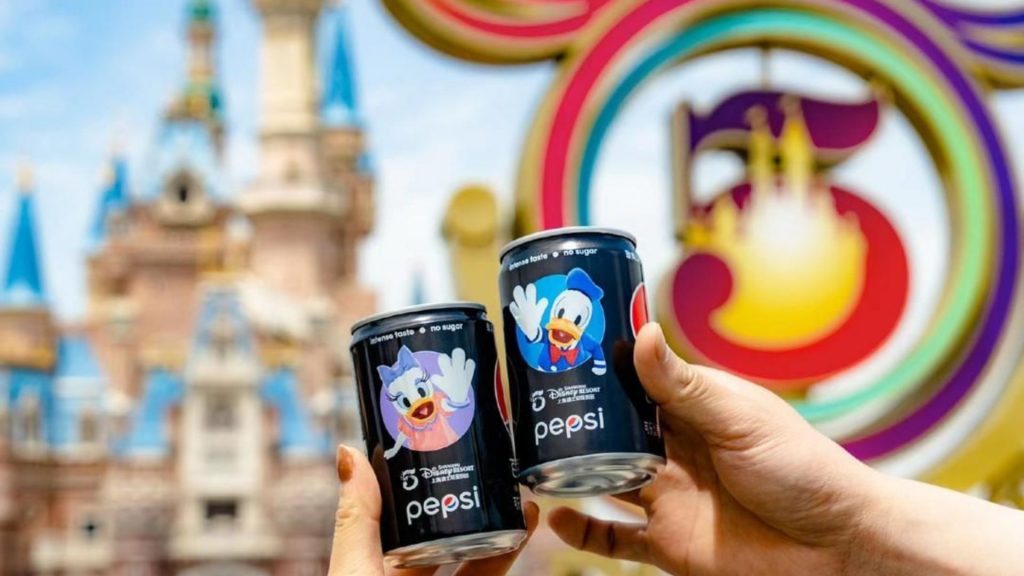 Affinity marketing is when a brand partners with another brand that has a similar target audience. For example, if you were selling camping equipment, you might partner with REI, which specializes in outdoor gear.
Co-branding is when two companies come together to create something new. For example, Pepsi might partner with Disney to create a co-branded soda called "Pepsi-Mickey Mouse Soda." Co-branding is most successful when both partners bring something unique to the table—for example, a type of product that one partner provides but the other does not provide (like Pepsi providing the soda and Disney providing the branding).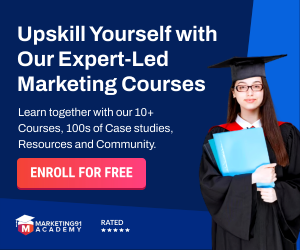 Cause marketing involves partnering with non-profit organizations to support a cause related to their work. This can be done in several ways, including donating money or making product donations, providing discounts for people who donate to nonprofits, or simply encouraging customers to donate when they purchase your product.
Liked this post? Check out these detailed articles on
Topic of Marketing
Alternatively, check out the Marketing91 Academy, which provides you access to 10+ marketing courses and 100s of Case studies.